The Windows 10 Home stand-alone price will be £99.99 in the UK and €135 in Europe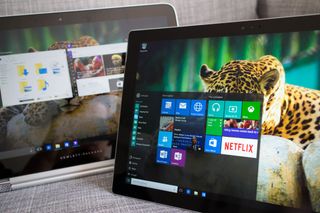 Microsoft has already confirmed that people in the US who want to install Windows 10 on a new PC will have to pay $119 for Windows 10 Home and $199 for Windows 10 Professional. Now the 'Get Windows 10' app has managed to reveal that UK residents will pay £99.99 for the stand-alone version of Windows 10 Home while the Eurozone price will be €135.
The app, as noted by Neowin and Microsoftinsider.es, is offered for people who have Windows 7 and 8.1 on their PC. It now shows the local pricing for Windows 10 Home, with the price cut out and "free" put in since those PCs are eligible for Microsoft's free one-year upgrade offer.
Officially, the app says this is the "estimated retail price" for the OS and that "actual prices may vary". However, with just over one month to go before Windows 10 goes live on July 29, we don't expect these prices to change between now and then.
Source: Neowin, Microsoftinsider.es
Windows Central Newsletter
Get the best of Windows Central in your inbox, every day!
CSR racing now available in windows phone store ( not available for us Region till now ) as universal app: https://www.windowsphone.com/en-us/store/app/csr-racing/0dbecca7-1fbd-4b...

Not available for you device.....!!! Lumia 1320 India...

Change your region Setting man

Not available for my Lumia 1520 either

Available for my Lumia 1520 UK

I would download it just for McLaren F1 ......oooo yeahhhh

Send a tip to WC instead of spamming here!

I sent a tip before this comment

Where is Windows 8 version?

It's kinda expensive if it stays that way. 135 euro is price of OEM Windows 7 Pro. Well, after upgrading my PC (not in the near future) I will have to go for Insider version.

You can't compare the price of a new OS to that of one that's several year old now. When Windows 7 was released, it was more expensive than Windows 10 will be now.

If rather we wont talk about price. I guessing who will buy this edition. For eg: If you have a windows laptop using 8.1 you're getting win10 for free. The ones who really want to ditch windows xo in their laptops would better buy new laptops windows 10 preinstalled. Correct me if I'm wrong, except enterprises individual users which are still on XP. Why they haven't upgraded their systems? Bcoz they can't afford to buy windows 7or 8? Or they are the ones who prefer always pirated or free products like India and China?

People who build their own PCs.

People who switch from other OS like Linux to Win10

Not talking about prices? Why? Buying a new laptop just to get a newer version of Windows doesn't make sense, especially if people already have good laptops and the the only downside is an outdated OS. 135€ for the OS is still cheaper than buying a whole new laptop for 500€ or more (I did my fair amount of research in the last few weeks and the laptops you get for under 500€ are either only good for web browsing/very light media consumption and light office work; or they have decent specs and come without an OS or only FreeDOS). I'm not one of those "individuals" who haven't upgraded yet, but most people who still use XP either really don't have the money to buy a new OS or aren't tech savvy enough to even know how to upgrade their OS (if they even know that this is possible). And not everyone who doesn't want to pay a large amount of money for a new OS is automatically a pirate.

Yes you can. Even more so because it's much cheaper to get Windows 7 Pro and upgrading to Win10 Pro for free than just buying Win10 Pro. That's the point here.

I'm almost positive that won't work because the date the key was activated.

I've not seen MS saying anything like, depending on how long you've had previous version of windows.
As long as you upgrade within the year, you should be fine.
They want to get everyone onto win10.

It doesn't say anything on MS's website about a date (only for users who bought/activated their version of Windows 7/8/8.1 before date xy). If this was the case then also people who just recently a laptop/desktop PC with Windows 7/8/8.1 pre-installed would be screwed (you don't know when the OS was installed by the manufacturer of the PC/laptop), or bought one during the free upgrade-period.

but 120$=107€ and 135€=151$ WTF? Why 28€/31$ more?

U cant tell me that in Europe its about 30% more expensive just because of 'more taxes'

we can. 20% VAT, import duty

In the US the tax is added on afterwards, whereas in Europe it is included in the cost. That's why initially things sold in Europe look expensive in comparison, but in the end they're not.

Because every single piece of hardware and software is more expensive in Europe. Taxes.

And here I am, thinking UK was also a country in Europe. Must've changed without me taking notice. :D
I think 135€ is a pretty decent price for an OS license. Definitely cheaper than it used to be, when a new OS was released. Damn, I still remember what I had to pay for Windows 95 back in the days.

Use Euro and you'll get a Euro price :)

I wasn't referring to the currencies, I'm well aware of the differences. I was simply referring to the title of the article which implies that the UK is not part of Europe. :P

Yep, same here. I hate when people mention UK and "Europe" as two different things.

I don't mind being in Europe but the EU needs putting out of its misery.

Depends where you are looking (and I don't mean pirating it, only legal ways). Built a new PC last year and some of the big electronics stores were selling Win 8/8.1 for over 100€ while smaller ones had copies for ~80€. And the UK has its own currency. And there are also different taxes throughout the EU (they vary from 17% to 27%; https://de.wikipedia.org/wiki/Umsatzsteuer#Umsatzsteuer_in_EU-L.C3.A4ndern sorry, only found the German version). It's a bit like when people rant about the Canadian prices being higher than the US prices (the confusion exists because their currencies both happen to be called "dollar"). Even more so with the Australian Dollar. They have the same name but aren't worth the same. A part of me also thinks that - and this might be 'tin-foil hat' non-sense - MS has priced Win10 that hight because they want as many of their current Win7 and Win 8/8.1 users to upgrade to Win10 within the first year, to quicken the changeover so they can abandon the older OS versions sooner. This would fit perfectly into their plans of unifying all of their gadgets (PCs, console, tablets and smartphones).

Well I'm thinking who will buy if windows10 home version is free for windows 7,8,8.1?? The one who is still using XP? Will he migrate from XP To windows 10? Paying 99 pounds.

The ones that aren't eligibles, the ones that will upgrade too late... It's already a lot of ppl

Upgrading too late means those would be the enterprise users or I can say upgrading at a slow pace bcoz they have complications and cost too to look after their systems. But I'm worried about ppl who haven't upgraded from XP. A lot of ppl use pirated XP copies. They use XP bcoz they get it installed from whatever pirated sources. Do u think would they PAY for windows10? Here's the matter in bit worried about those ppl and a bit angry too in them.

People who build their own PCs

Enterprise users are a different story, they don't get a free upgrade. Gee, looks like everyone with an outdated OS is a pirate in your eyes. There are LOTS of people who are simple users, some of them don't even know how to install programs, maintain their systems and need someone else to do this for them. Older people, people who just don't want to deal with the hassle of doing this on their own or don't know how to do this. They only know how to power their PCs up and down, and click on the things they need (Office, browser, etc.).

Mind share>price of OS. Make it available to all devices regardless of architecture free. Seems impossible? Someone will be making this possible soon. It's the only Killer "feature" left. Posted via the Windows Central App for Android

Glad I got Windows 8.1 for under $100 for a free upgrade to Windows 10

While giving out the free upgrade is nice there are still going to be people who will look for a pirated version of Win10 simply because they aren't eligible to upgrade and can't or won't buy a legal copy. Make the OS a cheap buy, say £25 and more people will buy a legit copy.

At the very least, Microsoft could offer Windows 10 for such a price (£20, 30€) for XP and Vista users for the first year. That would be the icing in the cake.

Cheaper just to buy a version of windows 7 premium which I can now get for about £65 and then get a free update!!

There are recycled Windows 7 COA keys on Amazon for around £25. Their sale is entirely legal within the EU (much to Microsoft's frustration!)

Will be there an Student version available?

I'm glad I have free upgrades on all my machines.

I'm excited, just exactly 5 weeks left to get my free upgrade. July 29 is Wednesday, so MS servers will probably be saturated that week. I'll probably try to get it on the weekend (Aug 1st or Aug 2nd) so it downloads faster.

I am from UK my question is the win 10 is in dvd media or flash? if i want to buy how can I get and is it the final rtm of win 10 ?? what about the availability of win10 pro in UK how much it cost ?can I get win10 pro in UK ?? Plz reply Thankyou

Windows 10 will be available as a disc and potentially as a USB drive that can be inserted into the computer for installation (article on the potential USB drives was recently put up Windows Central). It will probably also be available as a download from Microsoft that you will have to pay for before installing - that is, if you don't qualify for the free offer or run out of time to take advantage of it. As for the final RTM bit, technically Windows 10 will never be final; it'll keep being updated and keep improving. But yes, the version of Windows 10 you buy will be the initial, polished consumer release that will not be part of the current Technical Preview - the final product. No idea about the price of Windows 10 Pro, sorry, but if you're running Windows 7 or 8 Pro you'll be upgraded to Windows 10 Pro for free as part of the 1-year offer.

London lumia I reserve my place for update can I get the free update I am using win7 sp1 but my activation is a pirate I mean I activate my win7 through pirated key can I get the free update For the place I reserve ??