Windows 10 Insiders can download, but can't use, Edge extensions from Windows Store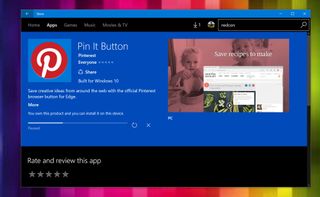 People on the Windows Insider program who have the current preview version of Windows 10 installed can now download a select number of Microsoft Edge extensions from the Windows Store. However, it appears those extensions cannot be used yet in the browser.
Microsoft added support for extensions to Edge in a recent preview build of Windows 10. However, it stated that those extensions have to be side-loaded to Edge in order to work with the browser. Now with some extensions such as Pin It Button from Pinterest showing up in Windows Store listing, it should not be long before Windows 10 Insiders will be able to directly download them without the need for side-loading.
Microsoft plans to enable full support for extensions in Microsoft Edge as part of its big Windows 10 Anniversary Update, which will be released for free later this summer. Windows Insiders are getting an early look now and we bet the next release for PC will let these Store installations work as they should.
Check out Pin In Button in the Windows Store (opens in new tab)
Windowsblogitalia somehow managed to get it work. Posted with the Windows Central app for Windows 10 on HP 250 G1 notebook. It is a scary old monster, I think :D

Yep http://www. windowsblogitalia. com/2016/05/estensioni-microsoft-edge-windows-store/

It's working for me here...

Keep calm and love Microsoft.

Screenshot shows this extension is not for Windows 10 ..so we can sort mobile extensions soon Posted from Windows Central for Windows 10

Even if MS made Mobile capable of extensions isn't it still up to developers to add them?

Pin it button works for me. I installed it and opened the Extensions menu, a popup came up asking me to enable it. (I'm on the latest Redstone fast build) EDIT: The button itself doesn't seem to do anything right now.

Just hover over an image on Edge and a 'Pin' badge appears as it does on 'Other' browsers

No, that doesn't seem to work yet.

It does on Mine... did you close and re-open Edge ??

It also works on a lot of images within edge with right click...

You can download on windows 10 mobile as well

Edit: Just throws error when downloading

It says you need to upgrade Windows.

There should be a dedicated section for Edge extensions in the Store app like Apps, Games, etc. So, if I start searching in the search box, it should give me an option to "Search in (Edge) Extensions" in the suggestions pane. Will post a feedback.

There will be a section. They just haven't updated the store on the current build and they will probably won't update it. They will release a new fast build with the section integrated.

I was going to say, I remember them saying they will have a extension section so they can be easily found and not thrown in as a app as it will just confuse users.

Pinterest releases its pin it button for edge but not its app for windows 10? Actually they

Microsoft has a lot of support for Pinterest, if you Bing search images on the Desktop, it has the option to add to your Pinterest board and it integrates boards from Pinterest into their search. They did have a app, but it was removed shortly after as it was just a web wrapper and a horrible one if that. Hopefully with the new tools with Windows 10, maybe we will finally see a full fledge app. One can wish!

Not a Pinterest user so the news doesn't warm me up, so to speak. I would rather have Edge not take up so much RAM to work and deal better with flash content. There is supposed to be a different team working on Edge but it feels like a section where the people work on if they ha e time left after dealing with the bugs

I've always said that extensions should be in the store but to get rid of confusion before it starts it should say for edge browser somewhere on the title or something

I wish they would make a app

Can't wait to block Windows Central ads!

You can already with CatBlock on Edge. Just turn off replace ads with cats, and its a regular adblocker now.

Damn this comment is the definition of thug life! Posted via the Windows Central App for Android

Chrome has so many. I hope Edge catches up fast.

YAY !!! I got it to work straight away... Downloaded > Agree to activate > Close Edge and Re open > hover over pic and pin it badge comes up > added to Pintrest :)

Sneaky. I would rather get adblocker from other source than ad agency.

? Posted from Windows Central for XL

You can smell the food, but you can't eat it.

#Extensions for Microsoft Edge to Windows Store: windowsblogitalia .com/2016/05/estensioni-microsoft-edge-windows-store/

I fear this will earn an "If you have to ask. . ." response but. . .what is an extension and why is this such a big deal? For months I've read article after article on this site about extensions coming to Edge but the articles assume the readers know what an extension is. I'm one of the ignorant masses; can someone explain why this is so critical? Thank you very much!

An "Extension" acts to "extend" the program, that is, it adds features that a program does not currently have. Some companies call them add-ons, some call them extensions. Same difference. The most popular extension, which isn't being made available for Edge yet, is one that allows a web browser to block advertisements, which generally is not built-in to the browser. I hope I explained it simply enough. In my book (I don't care what others think), there is no such thing as a dumb question. Only idiots that don't want to answer questions. If you don't ask, you don't learn.

Thank you rhapdog! Very helpful!

It is such a big deal because the default app is so limited in functionality that it is necessary to add it via extensions..just look at the bookmark management. A extension is needed to be able to use it at all..hope someone comes up with one rather quickly

It's working for me. Been using the translation extension. Posted via the Windows Central App for Android

Its weird that it also available in Windows 10 mobile for download but not able to download always show error. Posted from the best Lumia 640 running build 14332.1001
Windows Central Newsletter
Get the best of Windows Central in in your inbox, every day!
Thank you for signing up to Windows Central. You will receive a verification email shortly.
There was a problem. Please refresh the page and try again.