Closer look: Windows 10 January Preview includes new OneNote for Office Touch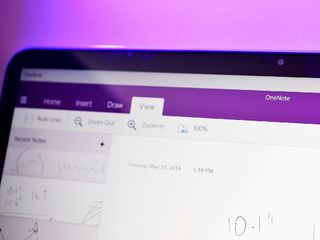 Yesterday, Microsoft let loose the latest overhaul of the nascent Windows 10 operating system aka build 9926. There are hundreds of changes throughout – some big, some small – but one interesting find you may not yet have noticed is the new OneNote for Office Touch.
Although it was known that the new Outlook, Excel, and PowerPoint would not be in this build, the status of OneNote was not heavily discussed. Most of us presumed that the same touch-friendly version of OneNote would be included, but instead we are getting a peek at the new Touch Office version.
The current version of Modern OneNote found on 8.1 systems is build 3327. The new one found in the latest release of Windows 10 Technical Preview is 3629.
The main differences between the two come down to the full Office ribbon at the top with Home – Insert – Draw – View and the various editing functions like bold, italicize and bullet points. The other significant change is found under the hamburger button, which now has a more robust functionality including search, print, feedback and apps, and a mildly redundant settings button.
The new OneNote is certainly more familiar to those who use Office and more intuitive to use. Of course, this is unlikely the final version of this app as users submit feedback to Microsoft on feature request and changes.
See our coverage of the new Store design and layout too.
Do you have the new OneNote for Windows 10? If so, share your thoughts on the design changes.
Windows Central Newsletter
Get the best of Windows Central in in your inbox, every day!
Daniel Rubino is the Editor-in-chief of Windows Central, head reviewer, podcast co-host, and analyst. He has been covering Microsoft since 2007 when this site was called WMExperts (and later Windows Phone Central). His interests include Windows, laptops, next-gen computing, and for some reason, watches. Before all this tech stuff, he worked on a Ph.D. in linguistics, watched people sleep (for medical purposes!), and ran the projectors at movie theaters because it was fun.
Hey Daniel! Why there are no hands on videos for Windows 10 for phones?

I have said this many times already: video was not allowed. Let's not turn comments into random Q&A with me, thanks. Twitter is a better way.

Don't worry. February is around the corner. When its released, u can make a video yourself and upload to whatever website you want. Don't worry, be happy. :)

Isn't Windows 10 for PC allowed to be filmed?

The question was about Windows PHONE 10......

What about a video of the new build from you guys? There are plenty videos out there but I would rather see yours

Stop replying then.. Posted via the Windows Central App for Android

I'm not sure if you got the memo but we (meaning WindowsCentral readership) are quickly gaining a reputation for being unnecessarily rude, and demanding. As if we are entitled to certain things just because we want them.
Your comment reflects that very much. It may seem innocuous at first glance but in context it's extremely disrespectful.
The Editor-in-Chief is taking time to talk to his readers and also attempt to maintain a clean, well organized comments section. That's awesome! He even provided a better way to ask those questions and all you say is "Stop replying then..."
Start asking in the proper manner. I'm sure he wouldn't have minded had the question been on topic. I've seen them update articles to reflect something that was missed or that comes up in the comments a lot.

Don't be angry my friend! Peace be with you.

Special dudes...... SMDH.

Hope they will update One Note on Windows Phone also.

Where u asleep during the event?

I just really hope excel on the phone will have some sort of macro support. ​

Yup yup it was told even on the event

I still have the old version on all the pc's I installed the new build on. Any way to get this if you don't have it?

Ummmm,, update your PCs to W10?

I am on win10, the latest build as I said in my comment.

Probably not.
.........
But, I recognize you.. Lol.

Try to go to the Store and install it from there.

Uninstall the old OneNote app you will get an update from beta store with the new OneNote preview app, that's what I did I uninstalled the OneNote and got "beta store" update with the new app:-)

Did you install KB3034229 (the update that should be available as soon as you've updated to 9926)? It enables the new OneNote app.

How is the performance of the new music app?

Unrelated. Also, it's the same app.

Hey, dude... While we're making unrelated comments, and seriously at risk of pissing Daniel off,, I'd just like to say one thing.....
.........
Hololens= Pornlens :-)
.........
Update..... And, on that note, will MS allow adult related applications in the store? Just something to think about because this could be huge for the porn industry..

I find it hilarious. The tech industry is questioning a practical and useful benefit for Hololens. Pornography seems to top the list. "Developers, developers, developers!"

If that's what people are going to use it for, and there's gonna to be market for it, I don't see how MS can refuse to embrace it.. It's just business.
.........
Imagine if you could use it during sex, and it could make your wife look like someone else... Lol❗

It can't, you can still see your real wife if she is in the room, and if you insert a fake wife, you can't touch her. So..

With all the demos, it would appear that everything is a bit cartoonish at best. The Microsoft exec that was Hologramized when they started the live demo was far from realistic. Unless someone is into creepy cartoonish characters...

I was under the impression that we were watching a video of him placed into the podium... CGI still doesn't look as good as that did. It was even paused initially.

The protected section doesn't work. Wouldn't allow me type my password

I am loving how MSFT is kind of going to the same design aesthetics like Apple. Apple too is giving modern look quite a boost in Yosemite and Windows 10 seems to be doing the same though for me Windows is looking better.
And the store is just a piece of beauty.

Apple is the one copying Microsoft bro... Not the other way round. Since when has Apple invented anything?

See
I am talking modern design as a whole. Not copying. Modernization of icons, menus, etc, is what I am talking about. And both the companies are working towards that.
And Apple might not have "invented" many things but it surely has made many things better.

FYI Who invented a virtual assistant?
Who introduced interactive notification?
Who made smartphones popular?
Please don't say apple dint invent anything..

Apple invented those, really lol

Apple didn't invented a single thing.there I said it again

Apple bought Siri, FYI. They didn't invent it.

1. Siri was its own company before Apple bought them, Verizion was rumored to buy them even 2.Android 3. That's not an invention

The point id not who is copying who... The point is who is winning and who is struggling...

Apple has 17% of the smartphone market worldwide and a tiny % of the PC market. Not so good lol

The pc market is in decline, and Microsoft has essentially 0% smartphone market share.

More like the other way around. Microsoft was the first to introduce Modern UI (called Metro) and then both Apple and Google started using the same aesthetics.

What the hell?
Don't you all get the comment? -_-
I am talking about modern design as a whole. Google's design is more child like. When I use it, I feel like I am using a phone meant to appeal to kids. And hence, I don't lime much of there modern design.
But Apple and MSFT (irrespective of who came first) are working towards a better modern design.

Apple copied Microsofts flat/metro design. Yet they still have the same boring rows of no info icons on their phones, nothing new or original there really.

He is not only talking about iOS. OSX Yosemite also has similar, and gorgeous, modern design. Windows already start that since Windows 8 era. But OSX beat them in term of nice look-n-feel factor. Now Windows 10, in my opinion, will retake it's place from OSX. Don't get me wrong. Yosemite still beautiful. But I like Windows 10 better.

Breh i feel u!!!! These wannabes just start yanking their fingers when they see the word apple or and android on ms related site and vice versa...
Btw i do love how microsoft and apple are working on their OSes design to better meet people's expectations.... Always loved the unified feel in apple's OSes, especially in ios since ios 7. Idc what people say, no matter how good the windows oses looked...they never felt unified... For instance office and mail app... They were crap. Apple always made their built-in apps the best in terms of design and features... now i think ms has got it right with the windows 10... Hope to see more of these kind of improvements in other apps in future builds... Good luck ms ;)

Why that? Is Windows losing its visual identity a good thing? I don't think so. And if I'm correct, the hamburger button first came on Android, so they're borrowing a bit from Google, I guess.

I never saw live tiles on ios or android... But i did see action center in wp which was in android and ios for ages, actionable notifications which came with IOS 8 last year... Clearly it's ms i see guilty of copying rather than the other two of them copying wp and metro ui... And clearly i see the other two platforms winning and ms's struggle to reach double figures in market share... Ignorance is bad for health people.. It really is...

And yet ignorance is what you talk
Apple have not really done anything that was not done before. They even,copied the notifications center.
I remember when iPhones could not even copy and paste, when it was established on Windows Mobile. So was sync calendar, photos etc to the cloud, years before Apple implemented this function.
I also remember when the the must have app on Android was an App Killer (needed desperately lol).
I also remember Palm and Windows Mobile because its what Apple and Android has basically copied.

I'm not really taking sides here (I use a Surface Pro 3 and Lumia 1020 as my main devices, and used to have a Retina Macbook Pro), but just thought I would point out that I remember getting a Windows Phone when WP7 was first out, and I also remember not being able to copy and paste - I think it was the NoDo update that introduced, but can't remember the details. I personally think Microsoft are still one of the most innovating companies on the planet. You could argue all day about who copied who, but I just use the devices and software that I want to use and which make me happiest.

Agree totally @Dan My family is a mixture of Android, iPhone, Blackberry and Windows users. From just want to text/call user to an IT Manager. I always say get the device and OS that suits your needs = happy users. I just find it silly when people here say things like Apple is best, just not true as an overall answer to peoples needs.

And then came WP7 that initially could not copy and paste as well. Besides WM did not copy Palm: Palm dominated the market and stop innovating... along came WM and brought it to extintion; after that MS made the same mistake with WM and along came Apple. If you want to go further back in history.... the same happened with WordPerfect/Wordstar and QuattroPro... along came Word and Excel and the former disappeared.

I like the Modern ui but win 7 aero theme is still my favourite, i cant let go of it, for that one main reason,

The grey title bar looks redundant and ugly. I wish it were purple color like the app bar below it or integrate into it.

That goes away in tablet mode. In fairness, I should have taken the screenshot for the new app in Tab mode to make the more equal.

Agree with dislike of gray bar as per original comment, but pleased it disappears in tablet mode. Would like it to disappear for phone and desktop too. Just my preference.

I see. It will certainly look good in tablet mode (which will be the primary use case for this W10 app) However, I quite like how iOS and Android Lolipop handle their status bar and allow apps to control the color and. The title bar here when used as desktop app looks redundant when there is almost nothing in the app bar beneath it (I.e between the ribbon tabs and the title bar). I hope this is just a work in progress design and will be perfected in time.

The title bar act like the usual title bar with close and maximize (if any) like previous Windows have. Nothing weird with that. I do agree that it's color should be adjustable like task bar did. :)

Why do these tabs have rounded corners suddenly? :/

The tabs look the same (Rounded) as the version for Mac OS, but I prefer the ones in OneNote 2013 for Windows (Desktop)

Totally agree. This really must be fixed.

OneNote UI is horrible. There is no way I can explain it to my mother or aunt. They ignore the program like hell. I hope they manage to improve the UI. On the phone OneNote is horror too when you have to navigate from notebook to notebook you have to press back a billion times and then go into a notebook and go a billion steps forward again.

And that's exactly what has been addressed in this version.

I think desktop OneNote is fine. Never thought it needed explanation.

And I use OneNote lots without any issues. Yes, the phone version could be improved, but Microsoft did show some improvements on the way with more to come.

If you are using the tech preview you should send that feedback. Click start and then click the feedback button. Copy your content, paste and send. There is a little tiny bit more to it than that but its fairly easy and your experience could be helpful.

This build just keeps on getting awesome and windows central team just keeps on making us who don't have windows 10 installed for various reasons more jealous my each passing article lol

They need to add a Card mode so all the Agile and Scrum fanatics will stop reinventing the wheel. Also, the use of the hamburger button needs to stop! Why the fuk would you create another hamburger in the app if the application's chrome already has one?

The blame the users who want everything android-esque...

Lol.... update denim version fo al device first, den talk abt soo called windows 10 preview

Please help daniel.
Windows 10 for phone come to Lumia 520,620.... And other 512mb Ram devices??
here someone in windows central forum say it will not comes with 512mb ram devices. So please confirm....

Way off topic. But, it was stated in the Microsoft Briefing that all phones on 8 and 8.1 will get Windows 10.

And then MS clarified that most phones running 8.1 will receive win 10, not all. Its a case of wait and see.

It's about features and Carriers.... nothing more. some phones will not run all features and it's obvious not all phones will be upgradable because of carriers, you know, like usual. so "all" phones was not correct because we all know that's not going to happen in the world of carriers.

I sympathize with Daniel. Some folks keep posting unrelated questions. Must be exhausting for him.

So basically, Microsoft is transferring the content of the Charms bar to the hamburger menu, in all apps.
And also, "OneNote" can be seen in three places if the hamburger menu is open. They'd better fix that.

While this version of OneNote will be a giamt step ahead over what we currently have on smartphones for a Tablet I by far prefer the older one. I might be biased because I am a big fan of the Radial Menu paradigm but I really do not like this latest version on my Tablet.

Hate that hamburger button :'(

I am a big user of onenote. Directly the snapshot hits a nerve and thus the following sentiment: NOOOOOOOOOOOOOOOOOOOOOOOOOO. I don't want a ribbon, I want a radial menu!!!!! I'm not giving up that functionality. I seriously hope microsoft would consider the users for winodws 10 can use the windows 8.1 version. Reasons: For the stylus, the more white space the better, more menu is less white space and less of a paper and pen experience. The radial menu solves this, because it's just a small modern UI icon that can expand when necessary. The radial menu can just about do everthing that the menu bar does now. The only rreason I can think of that tis is done in the modern UI app is so that it's more mouse and keyboard friendely. But theres a reason why all surface devices support the stylus. To be able to use onenote, the surface and the stylus for a more natural pen an paper experience. Adding a menu is not the solution. I seriously hope microsoft has an alternative version or significant solution for the surface pro and other stylus supporting hybrid tablets. It's bad advertisement for the the surface and what it stands for as tablet. The surface can just as well cease to exist and that we all return to pcs with or without touch screen. This is hard to swallow. (I know, I know, a bit of dramatization, but I think this is an important and relevant point, even if argumentative). Second disappointing. If they are going to bring a ribbon, then where on earth is the ink-to-text recognition functioanlity. Or will microsoft finally provide it "inline". Oh, yeah, I am going to feedback the hell out the new onenote for windows 10 (in a postive speaking manner of course, but somethings need to come and some things don''t need to change).

IMHO they should keep the design with the ribbon like this have a radial menu appear when your finger or a stylus is detected on the screen. Kinda like how the cursor disappears when touching the screen or the keyboard appears when touching the screen.

No worries, just like in big old Office 2013, the ribbon can be reduced to a option bar like we have in the mail app and Internet Explorer on the bottom (but then on the top).

How? I couldn't figure out how to make the ribbon go away.

As I recall, on phones and small tablets, the ribbon comes from a left edge swipe. So for smaller screens it will leave all the available space as useful space.

I'm loving the direction Microsoft is heading

The only thing I hope they keep from the current metro version of OneNote is the floating circle select tool. It is so convenient to switch pens and do other functions. That feature is the only reason I use the metro version of OneNote.

I also do like the radial menu! Ideally it stays optional, but I'm afraid most people prefer tabs.

Does it suck less? For example does it finally include ink to text?

Very buggy. On my touch tablet, when you click on text with URLs, they don't open

It would be great if there is a change of UI for online version too.

Looks pretty cool. But we will get this update on Windows 8.1 and/or Windows Phone 8.1 or is it only for Windows 10 users?

Seems like a fair chunk of purple wasted space above those tabs, but otherwise looking rather slick.

Oh nice! Been using OneNote a lot after switching from Evernote but the modern version just doesn't cut it compared to the desktop version. This kinda bridges the gap. :)

i have the last build and i still have old onenote...

Making a USB recovery drive right now. Win 10 looks to finally be in a place that I want to give it a shot and help provide feedback. Cortana was kinda the tipping point.

i have this, it was one of the updates pending for me in the store beta... not sure about it yet though... seems to have hidden a lot of functionality... i also have a Mail, Calendar, People update in teh store, but it won't install... just pulls down 0.5MB and then gives an error (reader does this as well, but all other apps installed just fine)

Seems like every time I open OneNote I end up with another set of sample notes.

A clear step backwards, IMO. Yes it may be more familiar but we have to move forward in software design. The OneNote MX design was so much more modern and the radial menu worked perfectly with touch. It's really sad that Microsoft only talks about "mobile first" and then moves away from its innovative UIs to something from the 90s with just slightly larger buttons.

Restoring 8.1... It's just too broken to even use casually.

I had to restore for same reason, even remote desktop don't work in 10. Now I have to reinstall my whole pc coz downgrade messed win 8.1 up really bad.

Remote Desktop works here.

I tried using this. Its pretty hard to use. Buggy as expected, but hopefully it gets better.

I'm sorry, but i have to say, i didn't like Daniels tone on a reply of the first comment.

You're perfectly entitled to that opinion. Personally I liked it, but that's my opinion. Basically people should stop posting off-topic and especially to try and get the attention of the writers. That's what the forums and Twitter are for, respectively.

I really like the new look of OneNote, its making things easier to find. I have like 5 notebooks with about 5 different pages each and it was really tedious to find things with the old way. The new layout makes it nice and easy to get in and out of sections.

Interesting they started with OneNote seeing as OneNote already has a touch version (although not as good) where the other Office programs are.... and have to this date been desktop only. :P

The modern one note right now is a total mess. I end up using the desktop version. Hope this is better.

The latest OneNote Modern app is much more useable on a Surface - good stuff!

I can't stand the taskbar shows up all the time underneath modern apps. It ruins the nice clean GUI of modern apps like OneNote.

Seems like Microsoft was lazy and recycled the app design from iOS/iPad.
Why are there two title-bars?

I'd like some dark themes for this, especially for the phone :P not good for formatting things, but easy on the eyes as hell

I wish Microsoft update the Outlook 2013, and release the outlook 2016. and better if with the new office 2016. current office 2013 are not good enough for current big data and also for tablet

If the cicle widget is taken away I may cry; swiping for different pens has become invaluable in my note-taking.

I hope that you can hide the taskbar while in tablet mode. It is a waste of screen real estate. I would also prefer to not have a title bar on apps as once again that is a waste of screen space.

No longer sync's with phone!!!!!!!

I'm all for improvements. This is definitely an improvement over the last rendition of OneNote modern. It will be interesting to see how this is polished up for the final version of Windows 10. There is a lot of time for tweaks.
Windows Central Newsletter
Thank you for signing up to Windows Central. You will receive a verification email shortly.
There was a problem. Please refresh the page and try again.