Windows 10 May 2019 update is blocked on PCs with USB drives and SD cards
All you need to do is remove external storage devices before installing the May update.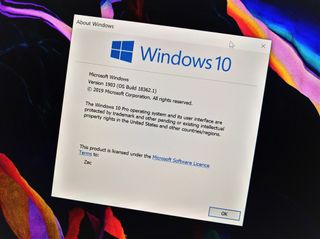 You can get your hands on Windows 10's big May update before everyone else, but you should remove your external storage devices before you proceed.
Windows 10 May update has a weird bug where it was found to be reassigning drive letters for external storage devices. For instance, if you have a USB hard drive that shows up as the D: drive, the update could shuffle it to the E: drive. As a result, Microsoft is blocking the update (opens in new tab) from installing on PCs that have USB storage or SD cards attached to them:
If you have a USB drive plugged into your PC and try to install the May update, you'll get a message that says, "This PC can't be upgraded to Windows 10." Thankfully, there's a pretty straightforward fix: just remove whatever external storage device that's attached to your PC, and you'll be able to install the update just fine. From Microsoft:
As noted by Ars Technica, this isn't the first time a Windows update messed with drive letter assignment. Build 1803 would randomly assign letters to recovery partitions, and then deliver incessant notifications about disc space running out. It's a much more manageable issue, but it's still weird that Microsoft wasn't able to catch this during early beta tests.
Hi, is this update already avalaible for non-insiders?

No. There's a reason it's called the May 2019 Update.

Do you mean yes or no?
Cos the name suggests it's for non-insiders

It's the May update... we are in April.

I thought it was called May update cause "maybe Microsoft may release it"

Well this update installed on my PC with an external SSD plugged in

Did the drive letter change?

On my Surface it did. I have a micro SD card and it remapped it from D: to E:. It reaked havoc on my OS videos, music, and docs folders, as I have those targeted to the microSD card. Eventually it got sorted, but it was annoying for a while there. Had to reassign everything.

Nope, everything stayed the same

You should never, EVER upgrade the Windows OS with an external drive plugged in anyway. Doing so invites disaster. That includes being attached to a USB dock (A or C) or expansion port. Be safe, limit your exposure to failure and unplug EVERYTHING that isn't required during the OS upgrade (including ALL USB devices (cameras, headphones, printers, etc.) other than mouse and keyboard.) If you have a home NAS, be aware that mapped network drives may have issues after the upgrade too. If you have a laptop, remove any SD cards first just to be safe. After the upgrade is completed, plug those devices back in one at a time to verify functionality, and upgrade any drivers that require it.
Now, the SD card, that will be an issue on products like the Surface Pro and Go where users have SD cards installed to extend their disk space, but the OS won't reside on that drive anyway.
There are reports of some 3rd-party Anti-Virus software not working (Avast, Avira, AVG, etc.) with v1903 (blue-screens), but I believe MS has blocked the upgrade on your PC until those issues are fixed. Some Vendors have already provided upgrades to support v1903 (Trend Micro for example.) Check with your AV vendor for v1903 compatibility FIRST before upgrading the OS.
As always, CHECK THE NOTES BEFORE UPGRADING, and run any MS upgrade checker they provide to make sure all your software/hardware is compatible first.

I don't do this and never had problems. Keeping everything in means that the OS can upgrade and re-install all the drivers automatically.

If all you use are the Microsoft-provided drivers, sure. But do you ever upgrade with non-MS drivers direct from the vendor like Intel, Nvidia, AMD, or your Audio solution? (or even from your hardware vendor like Dell or HP?)
Odds are if you never do, you only use Windows Defender AV anyway (which is fine.)
I'm not saying if you DON'T do this you will have problems, I am saying you can minimize any potential issues by following my method.
YMMV.

they've had these issues before it should just be a standard practice regardless

I've had many builds not install because of my SD card, hell sometimes windows phone had an issue with it 😅

Or here is a wild idea, msft can make an update that doesn't suck... How bout that?
Windows Central Newsletter
Get the best of Windows Central in in your inbox, every day!
Thank you for signing up to Windows Central. You will receive a verification email shortly.
There was a problem. Please refresh the page and try again.