How to get the Windows 10 May 2019 Update final release before anyone else
You can install the final version of the Windows 10 May 2019 Update before it's officially available, and here's how to do it.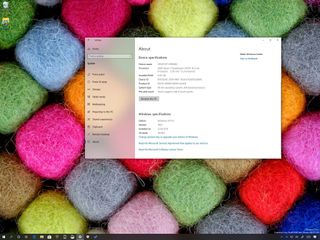 Although Microsoft is gearing up to begin its gradual rollout of the May 2019 Update, version 1903, for Windows 10 toward the end of May, as soon as the feature update is finalized, you can download the final version before anyone else with the Windows Insider Program.
The program has been designed to offer pre-releases of Windows 10 using three levels of readiness (Fast, Slow, and Release Preview), which developers and enthusiasts can use to test and offer feedback for upcoming features.
While the Fast and Slow rings are usually buggy, the Release Preview ring provides builds only when the feature update is complete. This means that if you want early access to the new features, you can use the Release Preview ring to upgrade your device to version 1903 before it's available to everyone.
In this Windows 10 guide, we'll walk you through the steps to download the final release of the May 2019 Update as soon as it's complete.
Important: Starting on May 21, the Windows 10 May 2019 Update is officially available for compatible devices without the need to use the Windows Insider Program. Check these instructions to get it through Windows Update, or using the Update Assistant or Media Creation Tool.
How to install the May 2019 Update using Windows Insider Program
Although this is the final version of Windows 10, using the Release Preview ring there are still chances of running into unknown bugs and other problems.
Also, in the past, once the finalized version was available in the Release Preview ring, it meant no more reinstallation of test builds, instead you'd only get quality updates to address last minute bugs. However, since the October 2018 Update, we've seen Microsoft making available additional preview builds that require a complete reinstallation, which will be the case with the May 2019 Update too (so be prepared).
Warning: This is a friendly reminder that modifying an installation of Windows 10 can negatively impact your current setup. It's always recommended to create a temporary backup before proceeding as a precaution.
To enroll your device in the Windows Insider Program to download version 1903 before anyone else, use these steps:
Open Settings.
Click on Update & Security.
Click on Windows Insider Program.
Click the Get started button.
Click the Link an account button.
Select your Microsoft account from the list (or use a different account).
Click the Continue button.
On the "What kind of content would you like to receive?" page, select the Just fixes, apps, and drivers option, which is the "Release Preview" option.
Click the Confirm button.
Click the Confirm button one more time to agree to the terms.
Click the Restart Now button.
After completing the steps, when the Windows 10 May 2019 Update is considered complete, and it becomes available in the Release Preview ring, your computer will get it automatically through Windows Update.
If you learn that the feature update is already available, you can also force the upgrade from Settings > Update & Security > Windows Update, and clicking the Check for Updates button.
Opting out of the Windows Insider Program
Once the May 2019 Update downloads and installs on your device, it's recommended to remove the device from the program.
To gracefully stop getting pre-releases, use these steps:
Open Settings.
Click on Update & Security.
Click on Windows Insider Program.
Under the "Stop getting preview builds" section, turn On the toggle switch.
Once you complete the steps after version 1903 is available to everyone, your device will gracefully stop getting previews, and the installation will continue to receive quality updates for as long as the feature update is supported.
Wrapping things up
While this method gives you early access to the final version of the May 2019 Update, you should be aware that releases in the Release Preview channel can also cause issues. Usually, it's best to wait until you receive a notification letting you know that the feature update through Windows Update.
Also, if you're already testing previews in the Windows Insider Program through Slow ring, it's not necessary to change your settings, as the code will be eventually the same in all the available rings. However, you can use the steps outlined above to stop getting pre-releases gracefully after the update is officially available.
If you're in the Fast ring, recommended to switch to the Release Preview ring as in the coming weeks, Microsoft will start releasing early previews for the 20H1 update coming in 2020.
More Windows 10 resources
For more helpful articles, coverage, and answers to common questions about Windows 10, visit the following resources:
Windows 10 help, tips, and tricks
Mauro recommends all these affordable accessories
Hi, I'm Mauro Huculak, Windows Central's help and how-to guru. I wrote the post you're reading now, and I know the Windows OS inside and out. But I'm also a bit of a hardware geek. These are some of the affordable gadgets on my desk today.
Logitech MX Master Wireless Mouse (opens in new tab) ($72 at Amazon)
I know mice, and this is the one I use every day. The MX Master is a wireless high-precision mouse that's very comfortable to use and has many great features, including the ability to connect with multiple devices, an infinite scroll wheel, back and forward buttons, all of which you can customize.
Ktrio Extended Gaming Mouse Pad (opens in new tab) ($12 at Amazon)
If you spend a lot of time typing, your palms and mouse will leave tracks on your desk. My solution was to start using gaming mouse pads, which are big enough for you to use the keyboard and the mouse comfortably. This is the one I use and recommend.
Supernight LED light strip (opens in new tab) ($20 at Amazon)
You could just use a regular light bulb in your office, but if you want to add some ambient lighting with different colors, an RGB LED strip is the way to go. This one is Mauro-approved.
Mauro Huculak is technical writer for WindowsCentral.com. His primary focus is to write comprehensive how-tos to help users get the most out of Windows 10 and its many related technologies. He has an IT background with professional certifications from Microsoft, Cisco, and CompTIA, and he's a recognized member of the Microsoft MVP community.
Downloading now. On Insider preview ring.

Yes everyone please update so you can test it for me.

Yes you should download it too so that you're the guinea pig for Microsoft

No thanks. I learned my lesson several years ago

If I install this release preview build, can I go to final build without formatting my PC?

yes that is possible. after installing the Release Preview build, there will be an option under Windows Insider Programme to opt out of future builds once it's on public release

With the whole insider program you can install the public build without formatting your PC. I leave a couple of my PCs always on fast ring.

Finally got 1809 on my laptop a few days ago, it refused to install. No way I'd ever go back to being an insider. There's enough trouble with broken updates on the "stable" channel.

Can someone help me?
Trying to update with this way, just like Windows Central told us, but my computer refuses to install.
Surface Book 2 os not ready to install this update, cause my computer has a driver or service that is not ready for this version of Windows 10. What can i do about it? The others versions of Windows 10 i had always installed via this way...

You say you use the Surface Book 2 - Is it with a Surface Dock by any chance?
If so, that may be why.
I read in a previous post, in the comments¹ that there is display driver issues with Surface Book 2. ¹ the comment by Philippe Majerus
"Wow, good thing they decided against skipping the release preview ring this time... that thing isn't ready for general availability!
How they failed to test it on their own Surface Book 2 with a Surface Dock is beyond me, the thing doesn't support a second external display anymore (two displays connected to the dock) and freezes the whole OS when trying to change enabled displays..."

Wow!!!
Yeah, I use the dock with two displays!!!
So it's not ready indeed hehe
Thanks, mate, guess I have to wait now... 😭😭😭
They didn't include some drivers to use with the dock... That's beyond me too...

I had the same issue with a Surface Book 1 but I don't even have a dock. It says I have a driver out of date. Might be Nvidia? Not sure.

On the other post they say that is the Battle eye service, just remove it and that should do it the trick. But, I will test it today, if it works, i will tell u.