Windows 10 Mobile build 10586.122 now available for Slow and Release Rings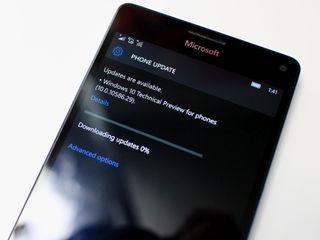 Following up yesterday's release of Windows 10 build 10586.122 for PC comes the mobile version for Windows 10 Mobile.
The release is only for those on the Slow and Release Rings of the Insider program as Fast Ring is limited to newer devices (e.g. Lumia 550, 950, 950 XL) and Redstone releases as announced by Microsoft in January.
Build 122 brings stability improvements and more as noted in a forthcoming blog post. We'll update this article with more information when it goes live.
To check for updates, make sure you are enrolled in the Insider program using the Windows Insider app and that Slow or Release Ring is enabled. If you are on Redstone release (Fast Ring) you will need to roll back the OS and then take the update in Slow or Release rings.
For those on the Fast Ring but not on Restone or who are not using a Lumia 550, Lumia 950 or Lumia 950 XL you will need to switch rings to Slow or Release to get today's update.
Afterwards, go into Settings > Update & security > Phone update > Check for updates.
Source: Microsoft
Daniel Rubino is the Executive Editor of Windows Central, head reviewer, podcast co-host, and analyst. He has been covering Microsoft here since 2007, back when this site was called WMExperts (and later Windows Phone Central). His interests include Windows, Microsoft Surface, laptops, next-gen computing, and arguing with people on the internet.
669.59MB if you were wondering. Definitely a Wi-Fi only update.

boy i wish i had that kind of internet speed where i'm at

20 secs where you live, here.. THREE HOURS, guess what country I live in :P posted from the slowest country in everything.

Nop:P ill give you a hint, its also the most expensive in the world:P Posted with all the power my fingers have, 1520.

Hmm, Japan? Sweden? Canada? No, Australia!

No, Slowest and most expensive:P Posted with all the power my fingers have, 1520.

Of course, The Philippines!!! :) haha!! Same here .. Ehere they said 3mbps but actually its only 300kbps.. Posted from Windows Central for Windows 10

Nop:P here its still slower, max 120 kbps and 125 ping think again:P Posted with all the power my fingers have, 1520.

*pick up his sombrero and his taco* at least I have health
*look his very low internet speed*

Mturk1995 must be from Turkey.

lol XD, and no:P my family name is turk btw:P posted from here.

U r somewhere in this world.

very close!XD, maybe we'll have a winner today!:P posted from here.

Only 240 here Posted via the Windows Central App for Android

Nah 50gb data plan included ☺

Pls let ppl know if its working well on 950 Xl ty Microsoft 950 XL &
Samsung Galaxy Note 5 Platinum Gold

How do you update the 950XL, I can't seem to get a definitive answer. My Settings>System>About screen says 10586.122 10.0.14267.1004. Whenever I check for updates it says there are none.

U haven't updated yet,how do u suppose to know

How does it works on the 640xl

great working and very fast

I thought that we no longer had to roll back the OS?

It's on a different branch.

Well, compare this to installing Windows 8.1 beta and then "upgrading" to a normal Windows 7 install disc without wiping the drive. It will be either glitchy or not work at all. Or, in mobile terms, installing Windows 10 mobile fast ring and then wanting to upgrade to Windows phone OS 8.0 and yeah, it will not find the update as you will be using a much newer version already.

We are not....... Windows Insiders with devices on the Fast ring which are not yet receiving updates from the Development Branch would need to temporarily switch to the Slow or Release Preview rings if they want to receive this build.

If you are on the Insider fast on a device that DID NOT come with Windows 10 I think you would be better suited to get off the fast ring. When they finally do release Redstone updates for the older phones you find that being able to wait for a few days before getting the update is a wise course of action.

I am on 10586.107 (Fast ring) Do I need to roll back and then choose slow ring? Or just choose slow ring right away.

Just choose slow ring in windows insider app. After restart you'll get this update.

No need to roll back just choose slow ring.

I see you say if you are on the Fast Ring you need to rollback your os then change ring. You don't need to roll back at all, you just need to change the ring to receive this update.

Even if you are already on Redstone release?

If you are on Redstone, why would you want to roll back? They will just end up bundling this into a newer build and if you go back to Redstone after updating to this build, you will just loose all of these fixes.

But that was the point I was making: If you are on Redstone and you want to go back to a more stable release (RS1 is not all that awesome, frankly) you need to roll back the OS. Putting it in Slow ring while on RS1 does nothing.

AH I thought also you meant more as if for people that are on the RedStone Branch (as in fast) need to roll back. Anyone with the old Lumia's not getting RedStone can just switch branches. I'm sure people on the RedStone branch won't be rolling back (at least majority of them).

Daniel, I have a 950 on Redstone. Would you recommend going back to the 586 releases due to stability?

I'm not sure Daniel's input is required here. Is your 950 more stable or less stable now that you are on the Redstone release track? Pick the one you feel was best. If you can't stand it, move back.

You are asking him if your phone is stable? I know my phone is as stable as before redstone but I have some more feature. 950 here

Hahaha... refreshing frequently... Gabe Aul tweets ..happy to see that tweety Posted via Lumia 640Xl

Charging my phone right now, before i back up and update my 920.

So if I'm on the fast ring with an older Lumia, that doesn't get redstone builds yet, I have to change for a "slower" ring... This doesn't make sense :D Posted from Windows Central for Windows 10, on HP 250 G1 notebook

No need to roll back! You just need to select the slow or the release preview ring.

If you are on RS1 and want to go back you do need to roll back.

RS1 sure but most of the phones are on Threshold 2.

So the now no anymore FR updates??

I think that the next fast ring update will be a Redstone build. They just haven't opened it up to all devices yet.

If only the battery life was better...

They have improved the battery life in this build. It's in the blogpost

I think you mean "hopefully the battery life is better". How can you comment on this updates battery life without even having time to evaluate it?

What is release ring? I only know of slow and fast ring

Dear there are now 4 rings in the insider program

Thank you dear
I'll look it up.
I gave up on insider due to severe battery drain and also since it damaged my L535 hardware. My 2G radio is damaged probably due to overheating

This time released for both slow and fast insiders .122 Posted via Lumia 640Xl

So fast ringers are stuck with .107 for now!!??

No, change your ring to slow +640/Win10

Did I miss something? Why won't these be pushed to those on the fast ring?

Fast ring is reserved for Redstone builds... Only be phones get that +640/Win10

Now I got to see whether I should stay on that or go back to this which seems more stable...first world problems

How can slow ring be on 10586.122 while fast ring is still on 10586.107 ??

Because fast ring is Redstone. Currently 14267.1004

Only for PC, fast ring on W10M is still on 10586.107

I have the 950 and on .1004 still but am on fast ring. Posted from my boss 950

No my friend..I'm on 10586.107...not on Redstone on my Lumia 640xl... 640xl DIMI516 WCentral W10m

Phones with W10M out of the box (like lumia950...) and running fast ring don't have same build as other lumias updated from WP 8.1

Imagine the rings as "lanes". The fast lane is setup currently to allow Redstone build eligible phones only. Since my Lumia 929 is not eligible yet, I'm pulled over to the side of the road for now. When it's my turn to get Redstone, I'll be allowed back into the fast lane again. As for the slow lane, since it isn't busy pushing another update, that lane is open for me to move over to and get the latest update that isn't Redstone. I'll probably do that to see if it fixes my sms notifications when my screen is locked. But maybe not. I'll give it a day or two to see what the tradeoffs are.

Thanks for such a neat explanation.

I'm glad I could help! Also, if anyone else has the same issue as me, this update did not fix my issue of not getting the SMS tone when a new message arrives while the screen is off.

For us no insider updates anymore. We hope that microsoft give in the future stabile updates for non insiders because batery and bluetooth are a big drama

I am on Nokia Lumia Icon, Fast Ring build 10586.107. Is it worth switching to the Slow Ring to recieve this update? I have noticed my battery drains like crazy on 10586.107, and if this were a beneficial update, I'd definitely switch rings.

Grab it! Posted from Windows Central for Windows 10

You mean.... Ios?
+640/Win10

When is the update for the fast ring coming for gods sake

I though fast ring was now for Redmond branch and devices released with 10?

But when in India officially

Wen in Mu and Atlantis? Heh.

Soon, sometimes next year.

So fast ring will get 10586.164 next week

I thought fast ring was now for Redstone branch and devices released with w10m?

Does this mean firmware is also bundled ? Since its also released in release ring ? Posted from Windows Central for Windows 10 Mobile.

This is OS only. No firmware

Hope the battery drain is finally resolved on my 640

Wait, i've got a Lumia 950XL and i'm in the fast ring program, searching for updates it says me that my device is up to date, so should i change to slow ring and install this update or since i have a Lumia 950XL i already have a redstone update so i don't need this new one??? Is better to download this or keepi the redstone on my 950XL?i'm confused

This isn't on fast ring. That's where the Redstone branch is currently residing for w10m phones 950 etc

That's my dilemna as well. No one has verified if these bug fixes are already in the latest Redstone for the 950. The update notes for this build also explicitily mentions the 950 so I am more confused now

It's downloading really fast for me, already 50% downloaded in a minute +640/Win10

Lumia 730 fast ring, wat i be to do???

This is getting too confusing now. I have no idea what ring to be in any more on my 1520. Posted via the intertubes

Agree. Gabe Aul needs to clear this up. He has been dropping the ball ever since he got promoted last year.

I was on the fast ring x.107 on my L920 -> no update. Switched to slow ring -> new update available x.122

U shud opt for slow or release preview cuz fast ring is now only for the devices which had shipped with win10 mobile.

When did they make this announcement? I follow most W10M news but didn't see it. Anyway, its stupid that folks on Fast ring with older models are stuck with older build than Slow ring.

They announced at the end of January and the first Mobile RS1 update a few weeks later.

I saw the previous build for Fast Ring was for the late W10M models but I don't see any mention of Fast Ring being no longer fast ring for users of older models. If that's what they meant, they should have made it explicit and more clear. It's obvious from comments here even many regulars of this site are confused. That tells me they didn't communicate well.

Seems pretty cut and dry to me... Posted from Windows Central for Windows 10
Using the Alcatel OneTouch Fierce XL for Windows 10

Until Windows 10 Mobile is officially released on the Lumia 1520, thus making it eligible for Redstone branch builds, Release Preview Ring is the one to go.

I understand that's for the slow ring, i'd like to know which firmware is better between the redstone one that i've already installed on my Lumia 950XL(fast ring) or this new one in the slow ring??? Is it worth to change from fast ring to slow ring to download this on my Lumia 950XL????

Can anyone tell me that , if I install release preview ring or slow ring then Is it possible to roll back to RTM build without hard reset to wp8.1, I have Lumia 730

Wait. I am on fast ring and on .107 build and it says my phone is already up to date. Should I switch to slow ring and update to this build or stay on the fast ring and wait for the next update to hit the fast ring? Lumia 640 xl

A new fast ring may never appear on sub-X50 devices, those shipped without W10M, again. Switch to Slow and continue to follow release news.

Previously I'm in fast ring, now changed to slow ring using wiondows insider app and I'm getting the update. No need to rollback to 8.1

Will we get windows 10 mobile this year on our old lumias?!

so... do i have to switch to slow ring or release ring to recieve the update?

Yup!! Release preview will be good

Sanga na be lavdyanno, Konta Bhokkat gele sagle

Matherchod ho kya bhenchod bosdk apni maa ka bosda kahi aur chudwao

All I want to know is if it fixes the alarm behavior...

And people are still complaining regularly about Mobile builds. I think they are doing pretty well with them lately.

Should I hard reset after installing .122? I'm on .107 atm

so now the fast ring is exclusive to X50 lumias?

Fast ring is for devices that shipped with W10M for now.

Yep, and it feels good to have our own ring :-) Well, apart from the one we sit on of course ;-)

This whole release thing of the RING became confusing now. I was always on the fast ring getting my updates. Now with some extra introduced rings the fast ring is being skipped on?! What the heck MSFT! On don't have any Redstone release and still I can't get the .122 on my L930, then to select the slow ring! Come on MSFT. Are also skipping upon your biggest insiders of MixRadio did?!
Please fix this or enlighten me how this works. Pfff... Where the heck is Frodo in all this. Posted from Windows Central for Windows 10

Frodo is standing right beside you, but he's wearing the ring.

A very slow ring I guess. He can't keep up anymore. Lol

Installing now on Lumia 830. Had to switch from fast to slow ring.

Soo... Slow ring and production ring has a newer build than fast ring. More power to you Ms and I'm smoking some expensive stuff right now to see the illogical view of this move. Posted from Windows Central for Windows 10 On My Lumia Icon

Bro the fast ring is on redstone n microsoft is providing redstone builds to the phones which had been shipped wid win10 mobile so for now the fast ring is only for them u need to switch to release preview or slow ring in order to get this build!! Now u can continue ur smoking.

It good smoke btw hehe.. Didn't know bout that change serious though. When was that officially announced? Everyone that burned their batteries up in smoke with older phones to test this OS is now shoveled to the curb on slow ring? Posted from Windows Central for Windows 10 On My Lumia Icon

It was announced in January on the Windows Insider blog and again in February. We have also mentioned it numerous times since.

I may just not be searching for the right phrases, but I'm not seeing anywhere other than this comment section where this change to the Fast Ring is made clear. That Insider Blog post seems to indicate additional builds for phones that shipped with Windows 10 mobile, but not a change to older phones on thet Fast Ring. When I search your site, this is all I can find on this topic before and after the change. There is this announcement from February 10 that 10586.107 was available for the Fast Ring. This was after the Insider Blog post referenced above, which is part of the confusion. And there is this announcement from February 19 that 14267 is available for the Fast Ring phones that shipped with Windows 10 mobile. Nothing in that article seemed to indicate that older phones on the Fast Ring would not receive any further updates past 10586.107 as we are now being told. I'm not questioning whether this was explained previously because I didn't read every single news announcement the past month, but did not find a clear answer in what I've just found on your site and in the blog posts you linked to. I think that is why there is so much confusion in this comments section.

Thank you :) Posted from Windows Central for Windows 10 On My Lumia Icon

Ok so I'm on a 950 with Redstone and I switched back to slow ring but can't seem to get the update! This is confusing

You have to roll back to threshold. This isn't a Redstone update. Far from confusing Imo.

Stability is for the weak. Give me more fast ring updates! :-)

Having read almost all of the comments here, I am surprised that many people get through the day!! Actually, I'm surprised they are allowed out of the institutions they reside. Talk about over complicate things.

Seriously, man. It's unbelievable.

How about Lumia 540's performance of today's update??

Fewer and fewer devices? Like going from Redstone to Tombstone

I'm also wondering how impossible it was for older devices to receive RS1 without official update to win 10 mobile.
They should write a book on a million ways to screw your fans up..

I can't admit that this is anything other than technology moving on. It's gonna happen eventually as we know but when your buddy has been coming through in the clutch for so long its tough realizing just close to Social Security age it is. I only hope MS or some developer releases a phone that can replace my 1520. So far, nothing yet.

What about the HP Elite x3? Posted from Windows Central for Windows 10

Yes. The HP Elite X3 one WILL make the short list...for sure! I'm saving up.

Still haven't gotten anything on my AT&T 950, did a full hard reset yesterday...still nothing since I bought the thing in November...any help would go a long way...

Explanation.
FAST RING: You won't receive this update bec. you're going to receive RS just wait for it, this time it's only avail. on x50 series. You won't receive any non-RS build on FAST RING.
SLOW RING: Will receive this update and don't expect to receive RS build bec. they're going to finalize the non-RS build to release on public.
I hope you understand...
*my idea on what's is going on.

that's correct Fast insiders = red stone builds slow= this update and soon the final official release

This update well be available for Microsoft Lumia 535?

When will it be possible? I live in Georgia (European region)

OK. Confused. This is for only Slow and Production users? What about those who cannot get RS? Should we change to Slow Ring and get this. Posted from Windows Central for Windows 10

That's pretty much what I did when to slow Ring, got the update than i went back to the fast ring.

Definitely speed improvements on my 1520.

Still have camera issues with Skype Video. Same error as before. Regular Skype does work. Posted from Windows Central for Windows 10

I love Windows Central.
When the day is going hohum, just look for the comments section of any W10M article. It'll lighten your day. :)

Rolled my Lumia 735 back to 8.1 and installed Windows Insider set at Slow Ring as asked in blog post announcing build. Ran updates only to find I was on 10586.107. I could update from there to 10586.122, but want to make sure I am getting all improvements and fixes, which, according to GabeAul "In some cases, improvements and fixes in this Cumulative Update will only be seen when upgrading from Windows Phone 8.1." Sent Tweet in reply to notification about update, but as usual crickets in response.

Something wrong? The build pushed for slow insider but fast

I'm with 14267 on my lumia 950xl very buggy stuck.... This build maybe better than mine ត្រោយលី

That's why I didn't take that build. My 950xl is great, don't want to mess it up.

Why do you keep saying both the PC and Mobile get the same updates at the same time ??!!
I mean, number wise Yes but common sense wise, NO !!
The PC build was for EVERYONE IN THE WORLD (I.e., NON insiders) whereas, the Mobile build (.122 and builds before that) was for only INSIDERS !!! It's DIFFERENT, Daniel.
A user who hasn't opted for insider preview will be on .107 only -_-

What's so good about the redstone update? Anyone?

I am using Lumia 730 - wp8.1, how will I get this update.? Is this build good enough to switch from wp8.1 to wm10.?

sign up for ms insider slow ring and then check for updates...

288.82 MB file India Posted from Windows Central for Windows 10

Is this build good to switch from wp8.1 to wm10.?

yes...there is strong possibility this could be the w10m final release!

I am opting out after this update. Hope firmware update follows up soon Whose among us is without sin

Keep up the good work Microsoft. Posted from beautiful Windows 10 Mobile

My data connection is not working after this update... Any solution pls.... I am using Lumia 730 dual sim

Yea, go back to a stable OS.

Given that there are two paths with WM10 updates, it might be better to reference builds with a bit more than just dot whatever to avoid confusion. I have a 950 and on 14267.1004 and that's where I should be. The build discussed here is 10586.122 and is where those on phones other than those released with WM10 should be. The assumption, of course, is the user is on an Insider program. And as an aside, I am very happy with 14267.1004 on the 950. We're getting close!

How come this can be a stable update. In my 640 XL, being in slower ring, this is the worst update ever i had. Many apps are not opening at all, showing as it needs update, though it is not updating.

Oh the risks of being part of the insider program. Try a hard reset. It fixed stuff for me. Posted from Windows Central for Windows 10
Using the Alcatel OneTouch Fierce XL for Windows 10

Every is smooth and working on my L925 and Fierce XL

Hi , I have Lumia 535 , can i installed windows phone 10 10586.122 on my phone ??

Yes Posted from Windows Central for Windows 10
Windows Central Newsletter
Get the best of Windows Central in in your inbox, every day!
Thank you for signing up to Windows Central. You will receive a verification email shortly.
There was a problem. Please refresh the page and try again.