Windows 10 Mobile Build 14364 for Fast Ring is now available, here is what is new (and broke)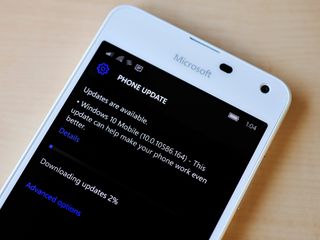 At 9 PM ET Microsoft hit the button for Windows 10 Mobile Build 14364 for those on the Insider Fast Ring. This refresh follows the PC update earlier today of Build 14366 and with it comes quite a few fixes and a couple of outstanding issues as detailed by Microsoft.
Improvements and fixes for Mobile (Build 14364)
We made some fit-and-finish updates to the Settings app such as tightening the spacing between checkboxes (like on the Sounds settings page). We also fixed an issue where settings pages wouldn't show a progress indicator if they needed a while to load.
We fixed an issue where a number of app logos were missing from notifications, despite them being visible in the Action Center.
We fixed an issue where the Alarms and Clock Live tile would still show that an alarm was active after a one-time alarm had gone off and been dismissed.
We fixed an issue where Cortana would prompt you to unlock your device before reading a text over Bluetooth.
We fixed an issue resulting in Microsoft Edge crashing when trying to scroll certain webpage.
We fixed an issue where disconnecting from Bluetooth speakers would result in the phone being set to vibrate if it hadn't already.
Known issues for Mobile (Build 14364)
You won't be able to deploy an app via Visual Studio 2015 Update 2 to a phone running this build. As a workaround – you can deploy the app by using the Windows 10 Application Deployment (WinAppDeployCmd.exe) command-line tool. We are working to get a build out with this fixed as soon as possible.
We are investigating data issues with some Dual-SIM devices where cellular data doesn't work correctly with a second SIM. Several issues relating to cellular data with Dual-SIM devices have been reported by Insiders with the last two Mobile builds and we're investigating these reports.
After installing this build, you may notice your Quick Actions icons are not in the same order. This is a side effect of the fixes/changes we made to Action Center. To re-arrange your icons to your preferred order, just go to Settings > System > Notifications & actions > (Quick actions) and touch, hold, and then drag to re-arrange icons to whatever position you want. Remember: the four items in the top row are what will show as your immediately viewable Quick Actions.
To grab the update make sure you are enrolled in the Insider Fast Ring then go to Settings > Update & security > Phone update > Check for updates.
Let us know in comments what you think of the update and if you find anything new.
Daniel Rubino is the Editor-in-chief of Windows Central, head reviewer, podcast co-host, and analyst. He has been here covering Microsoft since 2007 when this site was called WMExperts (and later Windows Phone Central). His interests include Windows, Microsoft Surface, laptops, next-gen computing, and for some reason, watches. Before all this tech stuff, he worked on a Ph.D. in linguistics and ran the projectors at movie theaters, which has done absolutely nothing for his career.
I hope they fixed the wallpaper issue like they did on last pc build

You mean "set as" from photos app? I'm going to get it in the morning. Maybe she's born with it, maybe it's Lumia 950xl

Yes and other apps can't set lock screen image or wall paper

That has been annoying. Dynamic themes no longer dynamic. Delivered with coach Jonno's 950xl

Lockmix has changed mine every day

Love LockMix :) Great app.

A big issues is the Phone app crashing when moves to the voicemail pane...

Doesn't do that here. There is an update for phone available now. Maybe it will fix that issue for you Rodney Posted via the Windows Central App for Windows 10
Using the Alcatel OneTouch Fierce XL for Windows 10 (Redstone)

I have the same phone that you own; I'd like to know more about the experience before taking this decision. If its not too much trouble, could you email me the details as to which are the pros and the cons of the latest Redstone build on the fast ring at grasado@live.com. I'd appreciate your input... Thanks.

Yea pretty disappointing.

Fix Cortana for countries outside the US ffs, it's dragged on forever and is a fkn joke.

Cortana Mexico is here since 1 month now :) Ahua!

Its there but I cant download the voice languaje (español Mexico). Everytime I try it fails ( Download error - Error al descargar) Can you use cortana???

Still waiting a fix for the dual sim problem

More than two months later and there is no fix for this...its incredibly annoying

Or they couldn't have let us test an operating system. Or listen to the people who complained that it wasn't released yet. Or include any of our input.
I know you hate this, but be patient. You do know we're currently referring to beta Redstone. TH2 is pretty solid right now. If you don't like unfinished windows 10 Mobile, get off the fast ring and go back to production. Edit: Classic Reddit style delete comment so I look crazy ha ha. This post was written from Windows Central, the app for Windows 10

Still waiting for a ton of fixes... Tired of these bull **** cosmetic fixes... I just want my phone to work half as good as windows 8.1 did. They got about 9 months left to improve or im switching to android. Been with Windows since WM 6.5 and have a lumia 950 which performs worse than my (now broken) 1520. I wish its screen didn't break.

I dunno, I went from 920, to 930 now 950xl, while the 950xl was a rough start, and I'm annoyed at the battery still (.318) it's a way better general experience as more things just work better than 8.1. My brother on his 1520 won't upgrade to the 950xl cause he's happy with w10m on it. W10m on my 920 and 930 now are pretty nice and fluid. Even my 625 updated to w10m is a better overall experience. My mom 640 on w10m has been great for her usage. Sorry that you are not happy but basic things like mail and edge browser are way better than 8.1 and I think you're missing out

Well, I agree with almost everything you said, had to disagree about Edge. The last build and the one released today are the first time I found Edge to be anywhere close to the last version of IE on WP8.1. Every website that freezes, crashes, or can't be zoomed makes me miss IE...smh

Interesting, I found IE on my 920 back then to be so annoyingly useless, so have pages hang on loading for me. New buggy edge on mobile was actually a relief to see more sites work properly. The other thing for my use case, I generally use mobile mode not desktop and I don't visit a ton of sites. I have my go to sites and prefer mobile optimized sites than full desktop sites on my phone. So my experience would be geared more to the sites I like to use and depend on. A lot of it is whether the website are using web standards or not I guess. Wc3 compliance! :) I do agree about horrible battery life with edge but .420 so far has me intrigued on that point!

Im sorry, edge on wm10 is the most broken browser since IE6... Sure its got a few cool feature... When they work!!! But half the time I have a freeze up, or an ad the wont close and I have copy the address and paste it into opera to be able to view the damn site, no matter if its mobile or desktop mode. And why the HELL cant I double tap the content to zoom!!!! So annoying I hate it so much. I could write a ridiculously LONG article of all the large and small things that totally ruins the experience for me vs wm8.1. At least 8.1 did what it was supposed to do 99% of the time, not 50. And it seems to be much more battery efficient. I have had to charge my phone (not totally) twice today, and im not even a heavy user (because I CANT BE) whereas on my 1520 running 8.1 I could usually go 2 days casual use. Also, auto correct and auto punctuation sucks BALLS! And I really miss highlighting a word or sentance or whatever and hitting the search button cueing a cortana search for what I highlighted. Now I have to highlight, copy, start search, past and then get a search query... NOT fluid!!!!

Hmm weird, double click on webpage worked fine for me at http://www.cbc.ca/news/technology/tridymite-mars-1.3634519 Just realized that I normally double tap to make it zoom Also agree about battery on edge, always #1,#2 battery usage for me, but I think .420 is huge. Agreed wordflow sucked but seemed to have gotten better 2 or 3 production builds ago.

Double tap to zoom's been working for me all the time, too

L950XL DS Double tap is working for me too, although several RS builds ago it didn't work consistently. The "key" for me is to wait for Edge to completely render the web page, THEN double tap. If I don't wait then either my double tap is seemingly ignored, or it zooms in initially only to zoom back out once the page is fully rendered. Double tap only zooms in on the FRAME you double tapped on. If there is only one frame on the page (usually the case with mobile optimized sites) then double tap does nothing. I can get 2.5 days casual use (weekends) easily since 1003, just as good as the TH builds for me This build is freaking fast for me. So far I am loving it. And Feedback Hub, which didn't work for me the last couple of build now does - but ironically I have little to report now!

Wait, so the 920 still got some upgraded? I have a 920 and went back to 8.1 shortly after they announce w10m would not be supported because it was freezing a lot, I figured we had reach the last w10m beta for it cause all I saw was in new builds was redstone.

Release Previews working fine, still TH2, regardless if officially supported or not. I won't go back to 8.1 if I can help it.


This is the fast ring build. It will never be as stable as production build.

If you're running on the Fast Ring, you can't really complain that you "just want my phone to work". If you want a stable phone that "just works", go back to Production.

The reason your comment is null and void os (means (meant) is) because im asking for basic features that were available for YEARS before, now missing. Im not complaining about things broken, rather than things completely missing. Fast ring fixes more than it breaks, and im on fast ring to get those new feature as soon as possible, instead of waiting (typed waitrng, didn't fix (typed fi) it) months to come down the pipeline. And even then, those feature are minuscule at best. They cant seem to add beneficial ones, rather fix nearly useless ones to begin with. Its like, no matter how many people complain or up vote (typed upvote didn't add the space, just left it) for features that need to be added. I could go on and on, but trust me as a user of windows mobile for nearly 10 years, this is my worst user experience ever.

Maybe that's also because they've said before they aren't focusing on win10m right now considering Redstone1 is aimed mostly at PC. You'll likely find your "missing" features once Redstone2 started being developed which is to be focused on win10m. +640 on Windows10Mobile

Fact of the matter is, for someone who has used LOYALLY windows phone as an advocate of the OS since WM 6.5 (and before with windows CE) and been an active member of this site since WM7, and am now threatening to defect, you might want to take my criticism seriously. Im no slouch, and not a person unfamiliar with the capabilities of competing systems and hardware. Its been hard to be a windows mobile advocate, but now, its just plain embarrassing.

I really dont share your experience. I agree, W10 on 920 is a bit slow but stabile, 8.1 is proper OS for the old phone. I'm running W10 release preview and phone rocks, its just that touch bug that is not W10 related. Then, with 950 Im running fast ring with my daily driver, its broken sometimes but not that much, it would force me to slow or even preview. And I know and understand, its developers preview.

"you might want to take my criticism seriously." - Why? Most of what you have written in reply to this article is vague and heavily exaggerated, with little mention of the missing "basic features". At the end of the day though, everyone's experience is different. Just because you may have been using the Windows ecosystem longer than others doesn't mean your opinion overwrites theirs. I personally believe that whilst Windows 10 Mobile has a few issues, it is leaps and bounds better than Windows Phone 8.1.

I dont see any vagueness in his comments... WP 8.1 had features that worked and a phone OS that worked. PRODUCTION today in WM10 DOES NOT WORK. It's a terrrible experience.. I have a 950 and 640... 950 on production .420 and .318 on 640. It broken. So stating "go back to production" is NOT a solution. MS has failed miserably to deliver the simplest of features on their mobile OS. I'm a fan, heaven knows no one that isnt would have left years ago and are apparently still leaving... I think jsnod's point is.. when you disenfranchise your strongest followers... YOU have failed horribly. Some would call it.. EPIC. No need to flame me for stating what is fact. Stick with WM10 it's your choice but try to have some empathy for those suffering with this feature lacking (comparably), bug ridden and app deprived OS that are in a carrier contract. cheers,

Well, first off my response to "go back to Production" is a valid solution to his vague "I just want my phone to work half as good as windows 8.1 did." in the comments section of a Fast Ring update. "MS has failed miserably to deliver the simplest of features on their mobile OS" - Really? Last I checked you can make calls, text, browse the web, receive and send emails, make calendar appointments, install apps, take pictures etc. I can go on, but I assume you must have been exaggerating. And lastly "No need to flame me for stating what is fact." - The only "facts" you have presented are your own personal experiences with the OS. My phone has been working just fine, but in saying that I wouldn't assume that this applies to everyone. You on the other hand assume everyone is having a bad experience by making sweeping statements like "WM10 DOES NOT WORK" and "It broken.".

If it's embarrassing then just go on and buy an iphone already.

wow, lets not go to extremes! We will settle on Android... And I agree that Windows Phone has some good features, but all of them "are coming soon" and that is just not good enough.

Switch to android.. I got OnePlus3 yesterday.. Back to android after 5years.. Windows is now just a bullshit.. Hopefully Android won't lag with 6GB ram!

Ok. so what are you gonna do with the 6GB of RAM and what features with Oneplus inspire you? and what else apart from these apps & games can you perfrom with the Oneplus? I would be happy if my lumia 950 has a 6GB of RAM since it will greatly help seemless functioning of continnum and possibly you'll see that with the surface phone. With Oneplus, you just have one option to switch pack to windows 10 mobile if MS releases the ROM as it was rumored earlier. All the best and keep rocking :-)

It will, but that's not the worst part. The worst is the unreliability, the lack of security and the data everyone can easily grab from your phone

You want a phone that works and yet you're going to leave windows for android. Obviously you haven't used an iPhone before. They are as stable as a phone comes. Even my S7 lags and freezes. My iPhone 6s for sure runs the smoothest out of my phones. But I prefer my Lumia for my daily driver.

yeah this is a huge issue, they need to put it as one of their priorities

This is really annoying. It should not take 2 or 3 builds to fix this critical issue.

You're right. People may say "you're on Fast, it's normal", but hey, we're now 45 days before 29th of July, that part of the "what's broken" changelog has been there, copied/pasted, for several builds, and I really hope that MS will fix it in time. As it's only a mobile bug (and not a W10 "universal" bug), it may delay GA of W10M Anniversary update.

What about battery draining fast problem???

Battery life has been quite good since the last two builds. ~Sent from L830

Battery life is not upto the wp8 standards. I could go 30 hours plus most of the days with my usage now it hardly lasts 20 hours. So lots of work to do From MS Lumia 435

How old is your device? Keep in mind battery endurance decreases as the cells age

Remember it likely isn't gunna get back up to that 30hour battery life. At all. The transition from Winphone8.1 to Win10M has added a lot of new features, which as proven with 512mb ram phones, it uses more resources. More resources means more battery life used. So don't compare it to winphone8.1 battery life as that had less features and not as much power would have been needed. When comparing battery life its best to compare it from Win10m TH builds to Redstone builds to see if it still needs improvement. Not a previous OS. I mean... They may be able to still improve battery life... But I highly doubt back to the "standards" of WinP8.1 +640 on Windows10Mobile

Which is counter intuitive to the direction they have gone on the PC side, reducing system usage and increasing performance on lower end hardware. With mobile technology, you should not just add features and system requirements without optimisation and improve hardware that seeming performs worse. Either optimize the software or for **** sake increase battery capacity to suit. I shouldn't have to charge twice a day to to do what I could do with 8.1... I don't need a 2k device in my hands when my eye cant tell the damn difference, it it means half the battery life. Give me a 6 inch device that runs 1080p with twice the battery life, ill take it all day long. Give me 4 cores instead of 6 or 8 it barely knows how to use for twice the battery life ALL DAY LONG!!!

That will likely be a battery performance bug. My 640 and 535 suffered it two builds ago. It was fixed are it was given as feedback by enough people. However regret they can only optimise the battery performance so much. That's why i said, "don't expect the same "standards" as winPhone8.1" My Aspire laptop doesn't suffer from any power issues and I've only recently opted that laptop into insider builds so I know the difference in battery life before and after. And its barely anything. So it's def. A device bug. Hopefully if you report it, they may be able to improve it? +640 on Windows10Mobile

Well, there I can agree with you. I also would've preferred they used 1080p screen (IPS would've been my choice). The one on 1520 was gorgeous and it undoubtedly would've increased battery life. I'll never get the kind of battery life out of my 950XL than I did from my 1520 but at least the previous fast ring build showed significant improvement (I can finally get through my day easily without having to charge with medium usage) so I have my hopes up the situation will improve even further now that they're focusing on optimization

I agree on this one, they ****** up pretty bad with those cheap oleds

The 435 is a 1gb ram phone not 512 mb ram. Mine is less then 3 months old and I have the same battery drain issues.

same problem with me on lumia 435

OS complexity is not up to wp8 standard too, you know, one of the things that uses battery

For most yes but some of us got funky things happening like the icon saying 100% when charging then actually being a lot less in reality after unplugging lol idk what it is

Battery life increasing fixes may come at the polishing state of the OS. Still adding and testing new features Sent from Nokia Lumia 730 on build 14361 fast ring Redstone.

Is anybody having problems downloading the Instagram app?

Well not exactly but mine wont even open since the last update (Windows for everyone)

I do, it says my phone is not compatible. But it was last night. Wtf....

Nothing "interesting" ...!

They announced that the June 'bug bash' begins today. They're getting ready to push this out to everyone running Windows 10. So I plan to report every little bug I've had in the hope that things get sorted out.

I'm hoping for better battery life too. 950xl

Hey Daniel, do you recomend using this build as a daily driver? Or is it still buggy?