Windows 10 Mobile build 14367 hits the Slow ring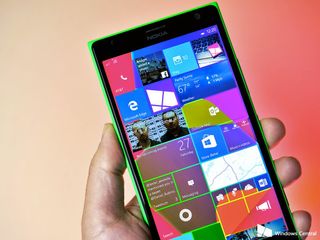 Fast ring Windows Insiders aren't the only ones in for a treat today, as Slow ring Insiders can now download Windows 10 Mobile build 14367 as well. Originally released to the Fast ring under a week ago, build 14367 contains a number of improvements, fixes and more.
If you're on the Slow ring, you should be able to start downloading build 14367 to your device. For much more, be sure to check out our original list of what's new, improved and still broke in the build. Also let us know what you think in the comments after you've updated!
Dan Thorp-Lancaster is the Editor in Chief for Windows Central. He began working with Windows Central as a news writer in 2014 and is obsessed with tech of all sorts. You can follow Dan on Twitter @DthorpL and Instagram @heyitsdtl. Got a hot tip? Send it to daniel.thorp-lancaster@futurenet.com.
Ha... This build is great though. My 640 is fast again.

Hey I got a question... Can you connect to your pc? I'm unable to on my 640

Yes. It does take awhile though.

I have a 640 that has been unable to connect to my pc for more than 3 months now. Is yours able to charge though?

I'm able to charge, fortunately

The 640 has an official W10 release, have you tried changing to that? I changed my girlfriends 640 to the release version and a lot of her problems went away. Perhaps some of it was due to a full reset as well, but when she's happy I'm happy. :-) Posted via the Windows Central App for Android

Be glad your not waiting like us on the release ring

Any major bugs in this build? I'm considering it for my 950xl...

YES! Worst build ever. On my 950, the homescreen takes forever to load. When it does finally load, it's frozen. This happens 75% of the time. This release drove me from the Fast Ring to the Slow ring. I have loaded it up in Slow Ring and it does Exactly what it did when in the Fast Ring. Terrible. I hope the New Fast RIng release has fixed it.

I have just installed this version last night on my 950xl. So far it works well.

I guess data bug and dual sim bug are still there..

No data bug on my dual sim BLU Win HD LTE. Works fine on both sims

I installed this build on my 1520 and it's night and day. It feels just as snappy as WP8. I had the regular consumer version of WP10 and for some reason it was pretty slow I can't believe I'm actually using Groove. As my default Music player. UI still is wack compared to the old Music hub app though.

Using on NL 930 as main phone, all seems pretty good and usable, battery life seems fine (for a 930) . So far all is working and running as expected, only issue was Cortana wasnt listening when opened but quick restart solved that. 930 Mic known issue: Tested Camera/Video Recording and Mic is now picking up audio normally again (was not in 10856 build) unfortunaltely for phone or skype call etc when on loudspeaker still can only just hear my voice when shouting.

For my L930 this build use more battery power than other builds.did you do a hard rest after upgrade ? Thank you

Yeah, my L730 is about fluid like snake . . . so smooth :-)

Really? Please use it for a day and report it here......

Welp...this build didn't go as planned for my Lumia 950 as it stuck in an endless restart loop with the Windows 10 logo and the Microsoft logo for several minutes

Dual-Sim issue still persists on my Lumiz 640XL. Hope there is an attention and effort to fix this as this bug is very aanoying

L950 DS gliding excellent on this build

Updated to this build from 10586.420 no hard reset done and I'd say it feels more fluid than the 420 production build!! Store working fine live people refreshing as it should no random reboots of my phone Cortana working fine new skype app installed and works fine phone not hot or doesn't seem to be draining battery! Lumia 830

Pleased to hear that, I hope it lasts not like what is happening to me. Please post more details of your usage overtime, would love to know if my phone is acting up or is it just the build

Been using this build now for the last 24 hours....no problems to report still stability good batt life excellent...(went to bed with 16% woke with 11) no crashing of apps or reboots nothing,all apps working fine....

Looks like I shall be doing a hard reset this weekend, maybe that will help. Thank you

Is there any problem in this build regarding opening apps like WhatsApp and messenger

I have issues from time to time, stuck on loading screens, but once that happens I restart the phone and I can open the application

So after hearing about issues in the fast/slow ring I back out before Redstone and am in the production ring... is it stable enough for me to come back? I use my phone all day everyday and don't want to have an unusable phone.

Nope, stay in production.... Slow/fast rings are equally unstable builds

Anyone has try it on 720?

Windows 10 Mobile: Each new build, a new headache. I stopped hoping! Stayu\ing with 8.1 forever. Lumia 1020. A phone that never run slow on W10 but met a ton of OS defects!!! No more experimrents!

better stay in production builds.... 10586.420 is the latest... little battery drain, app crash and scaling issues are there but it can be used as daily driver.... Don't sign up for insider builds... upcoming builds comes with little improvements and ton of fresh bugs.... MS is literally playing games with its mobile users.... Once Nokia Android phones releases in the market, MS mobile share would be 0.01%

Currently i am on preview release ring. But since last week, i cant update to 10586.420 from 10586.338. It shows msg" there were some problems installing updates" with error code 0x80091007. How can i resolved this issue?If i select slow ring, what will be done? My phone just updated to letest version? Or it swipe everything?? Please help me.

It's "still broken", not "still broke." The build does not have a bank account at $0 balance and this isn't ebonics, but English.

Pretty much has broke my 950. 50% of the apps don't work and I have had to delete them and reinstall. Edge has completely stopped functioning. But, seems faster . . .

I can't get my 950 to install this or the newest slow ring to even install. I just get :-( and constant reboots. I'm now stuck with what came on my 950 out of the box

Is there any way to stop automatic downloading build udaptes over wifi on wm10?? i cant find any option in update and security tab !!

Upgrading now... I hope it fixes my restart problems on my NL930

Wow, apps working but the stability is questionable. Apps like WhatsApp work for a while until you can't open it again. When that happens, one needs to restart to restore functionality as no notifications will come through. Further more, when these crashed happen, it is like the start screen is rebooted so it tasks a second to refresh, as if you started up your phone for the first time.

Just updated my Lumia 640 with this 14367. Previously with moderate use battery lasted about 4 days per charge, which was very good performance in my opinion. With this new version battery seems to last barely one day, with same kind of use profile. Something seriously wrong with this version and its battery consumption. Please, don't make this system unusable. It is bad enough that Win Maps navigation hasn't got voice assistance working for ages. Silence is golden, I guess...

Just a quick update on my issues guys. I did the hard reset and that fixed all my issues. Seems all the prices from previous builds were clogging up the phone making it unstable. This build is awesome on my Lumia 830
Windows Central Newsletter
Get the best of Windows Central in in your inbox, every day!
Thank you for signing up to Windows Central. You will receive a verification email shortly.
There was a problem. Please refresh the page and try again.