Here's what's improved, fixed and still broken in Windows 10 Mobile preview build 14367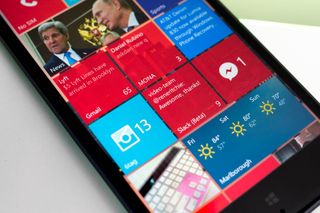 Microsoft has released a list of what is improved and fixed, along with a few known issues, in the new Windows 10 Mobile preview build 14367 that's being rolled out to Insiders in the Fast ring.
Here's what's improved and fixed, according to Windows Insider head Dona Sarkar:
For all of my fellow devs: you should now be able to deploy an app via Visual Studio 2015 Update 2 to a phone running this build. Thanks for being patient!
We fixed the issue where Quick Actions in the Settings app were flipped from the order you saw it in the Action Center.
We fixed an issue resulting in existing reminders failing to display in Cortana's reminder section, and an error when attempting to save a new reminder.
We fixed an issue where the text selection grippers would appear very tiny in certain places on high DPI phones, such as when selecting text in the reply textbox of an interactive notification.
We reduced battery usage when Microsoft Edge is running in the background.
We polished Action Center so that font size of dropdowns in interactive notifications is now consistent with surrounding text.
We fixed an issue where Battery Saver wouldn't be turned on after tapping the notification prompting you to turn on Battery Saver when battery is at 20%.
We fixed an issue that could result in dropped keystrokes when typing in Outlook Mail or Word Mobile.
We fixed an issue where, for phones that support it, the "3G Only" and "Only 3G or 4G" cellular options were not working correctly for some Insiders, resulting in 2G networks being selected.
We fixed an issue resulting in the Japanese Input Method Editor not working correctly in the All apps list search box.
We updated the Phone Update and Update & Security icons in the Settings app to be more reflective of the action.
Quick Actions in Action Center that turn on and off different functionality in your device, like Bluetooth on your phone or Tablet Mode on your PC, now have a transient On/Off text indicator so you can clearly see the state change for these. We fixed an issue where if you swiped up on a full screen VOIP notification, the dimmed screen behind it would flash. We also fixed an issue where you may not receive notification toasts until the next time the Action Center had been opened if you had tapped on a notification on the Lock screen but then aborted the prompt to enter your pin.
We fixed an issue where Lock screen page in Settings may show incorrect data while page is loading.
We fixed an issue where Quiet Hours might unexpectedly turn off after having been manually turned on using the Quick Action.
We fixed an issue where certain sample images were displaying in portrait rather than landscape when used as a Lock screen background and phone was connected to an external monitor. In fixing this, these sample images have now become available to select as a background for your second monitor using Continuum.
We fixed an issue that could result in key presses sometimes being entered multiple times over Miracast.
We fixed an issue where the "The accessory you're connecting to isn't working" error was truncated on the Connect settings page.
We fixed an issue where the Windows Hello icon might get stuck on the screen after logging in.
We fixed an issue where selecting a letter from the All apps list would sometimes scroll that letter to the bottom of the screen, rather than the top.
There are also a couple of known issues in this build:
We are investigating data issues with some Dual-SIM devices where cellular data doesn't work correctly with a second SIM. Several issues relating to cellular data with Dual-SIM devices have been reported by Insiders with the last two Mobile builds and we're investigating these reports. Thank you for giving us this feedback.
There is an issue where certain apps won't be able to set Start or Lock screen backgrounds.
Windows Central Newsletter
Get the best of Windows Central in your inbox, every day!
So, they are saying this build has only two known issues?

Well, in reality there are many more but it goes unnoticed. I have 2-3 issues in TH that has been fixed only NOW is RS. But im happy that its been fixed. Lock screen settings showing wrong data is one. Quite hours issue is another. :)

Set as.. Option is fixed at least. . . Was very annoying not able to set background or lockscreen. Thumbs up

I still hope to the fix in capitalization of the options in settings... Since TH the caps on "Extra" menu are wrong.

They only report big issues usually, you don't want a list of:
-some instability here -some crash may happen there -performance could be better here Anyway yes, since the last 2-3 builds I can barely find any bug, never ever see a rsuming or slowdown, I have great battery life, no phone crash and reboot ever (lumia950). You really can see we are approaching final release the whole experience now finally feels premium.

Lol.. No, no please keep the list to yourself.. I can't take ANYMORE!!!!

Ikr....my thoughts exactly

When did they fix the ugly iconic circular count on the Outlook Mail tile? It looks like a plain simple count now in Daniel's screenshot. Unless that's another app.

Can someone confirm if the count in the latest build is as shown in the screenshot?

I got two updates, first 14364 and then 14367

How big was the update? I use mobile data so I have to know the approximate size so I can get the correct data bundle

it was abt 140 MB on my L1520.

Wow! This build fixes several of my longstanding bugs. Looking forward to installing this tonight

Yeah but "We are investigating data issues with some Dual-SIM devices where cellular data doesn't work correctly with a second SIM. Several issues relating to cellular data with Dual-SIM devices have been reported by Insiders with the last two Mobile builds and we're investigating these reports. Thank you for giving us this feedback." This info is wrong since it was much more than LAST TWO Mobile builds...

Really!!!! Really... U need to be all that technically sarcastic..... Just because it wasn't addressed 2 builds earlier by Microsoft....... At least it's being addressed that's all everyone cares.... LOL My Flaming Hot Lumia 640XL DS

Look on the bright side. They've got rid of most deep-infested bugs so now their attention will mostly on this bug. :p

Groove update was already making me enough excited and now this build, yet here you are complaining on something they already anticipated, look at all the fixes dude, for me there are no bugs at all :p i have a sigle sim and i dont use any app for lockscreen, glance is fine for my peeky info

Looks like Microsoft guys copy and paste the known issues. Funny it is reported four builds before!

I guess they are still investigating the bugs and are preparing antidote...

Its really irritating that they haven't bothered to care about bug list. The data bug has been there for last couple of months and at least 7-8 builds and they just copy paste every time without even reading it. I really doubt if they are investigating it. From MS Lumia 435

So the data bug that freezes the phone when enabling/disabling the sim data is still there? thx!

Yap since build one of rs

That sucks!
As written somewhere in another comment, i have two SIMs, one german and one italian.
Using the german one, with RS the phone always crashes/freezes enabling/disabling mobile data, but when i put the italian SIM in, no freezing at all... Everything works great. But i cannot see why the german SIM brings the phone to freeze... Really weird. With TH2 no problems with both sims.
Maybe you can try with another SIM/carrier to see if this is also your case.
There might be for sure bugs in RS, and in some cases with some carriers the phone does not work properly. Or maybe this is related to the well known mobile data bug on dual sim phones, which freezes in the same way my mono-sim 925 does.

Dona is picking up the pace, me like that

She's just reporting what the team are doing, hardly think she should take all the credit. They're approaching the date for the Anniversary release, so it's all bug fixing and tidying up now. Kinda ironic that Windows 10 mobile is only (potentially) release ready a year after the PC build.

but look how they got parallel with the PC version. its not like you have to wait another year to get the same as PC features on mobile. im Loving it!!!

"We fixed an issue where selecting a letter from the All apps list would sometimes scroll that letter to the bottom of the screen, rather than the top" This! Thank god. Now they need to fix the screen timeout settings and the blank app items when sliding across to all apps or when expanding a folder.

Believe that all apps jump selection while small was annoying as hell, glad its fixed.

This was so annoying! Glad they fixed it :)

I had already gotten used to clicking the letter after the one I actually needed. Glad this is fixed.

That's amazing, Microsoft! I don't understand how the "media" keep saying that Windows 10 Mobile is dead, while Microsoft is in fact still actively developing Windows 10 Mobile

Thats why you need to ignore the media for the most part, especially those so called blog sites that like to post those click baity headlines preaching the doom and gloom of Windows Phone - I'm looking at you MSPowerUser.

True.. Everything you read on the internet isn't always true.. Haha

Oh come on, how else will Mike Allison get his 15 clicks of fame?

And to think Redstone2 is apparently going to be the update that focuses on Win10M. They're actively updating already and they haven even released RS1 so I wonder just how much they'll update when they're focusing mostly on mobile :)

Not sure what they have on plate for RS2, but I hope not all of it is something that requires new hardware (read Surface phone).

This has been a concern for me as well, and I have a feeling that this will happen:
Older hardware that currently support Win10Mobile like the L640/830/730 will get a trickled down version of the features that are supported by their chipsets (like how L920/820/1020 do right now). There is going to be newer chipsets that are capable of doing things beyond the current hardware.. Its like we can't have our cake and eat it too

Take a GOOD look at who's saying that. It's seldom a writer that actually "uses" the OS. It's mostly people whose job is hugely tied into social media and not actual operations or production.

I'm glad they're fixing bugs and I hope someday I'll be able to move on to a windows 10 mobile device with no compromises. But they are also taking away a lot of nice features which is worrisome.
Still have my hopes! Go windows! Posted via the Windows Central App for Android

The reason is simple they haven't shown the consistency. They have introduced many features only to be taken off within months of launch. From MS Lumia 435

Hah! The media has been telling us that Windows Mobile/Phone has been dead since, what, Windows Mobile 5? 6? Whatever version, it's just a zombie, I guess, since it keeps trudging right along.

The knows issues list is so short! :O
Awesome! :D

Don't fall for it. They never mentioned it so that it looks good. I really care about the functionality at this point of time, i don't even get into the performance and UX bugs From MS Lumia 435

This "Dual Sim" problem is consistent in "what's broken" category, seems they are working really hard to fix it. Keep it guys! :)

I had to stop using dual simm and I am not even on a mobile preview build it just stopped working right hopefully they can fix it

Only the internet on second sim won't work rest all is working

Nope when i add my second sim it gets real F,d up , Apps fail to open and freeze and phone starts behaving real wired with random reboots apps opening on there own

I still have my 925 freezing when i enable/disable SIM data. It is a similar issue related to sim data as for 640 dual sim.

Restart by press and hold power button when freezed then go to 'cellular and sim' directly without doing it in quick actions. it works most of times but something settings app freeze restart until you could turn on cellular data from the settings. If it turns on, no problem there after you can do it from quick actions.

mine just couldnt do 2 cards any more for some reason had to resort to carrying to phones again boo. The signal just dropped on the 2nd card to zero

Based on my experience there are some interesting points:
- when i use my italian SIM, the phone - Lumia 925 - works perfectly, it really never freezes at all when turning on/off mobile data.
- putting in my german SIM, that i must use because i am actually living in Germany, I always have this issue, so it is something related to the carrier, maybe some wrong data exchanged between the phone and the network. I cannot understand why my italian SIM works perfectly.
- immediately after a reboot/reset, when i turn on Aero Mode just before the phone connect to the carrier, and then off, i have no more issue with SIM data (even with the german SIM), until i restart the phone.
- never had a problem with TH2, so it might be a bug in Redstone - i know there are still bugs with dual SIM phones, so the SIM data might be related to this, and happens only with some mono-SIM devices... I will post some news if i find something new out.

Seriously??? My 640XL must be really lucky because I use my internet on my second sim and its fine... The phone really runs Windows 10 as stable as what stable could mean... That's why I feel like the Insider Team aren't doing anything... Every new build for me feels like nothing changed. I just need split screen ability and more apps in the app switcher.

Lots of fixes not many bugs i like it

I just downloaded this build its actually small in size . .

That's because its just a patch and not the full OS.

Sounds like battery life will see some much-welcomed improvement!

Data issues with some Dual-SIM devices. Arrgh

Dun trust media entirely. Media morality has long gone. Wht left is all bullshits & half truths..

Errr...What exactly are you referring to here by saying that? O_o

I cant still send and recieve sms. Its been on and off. Sometimes when i cant send receive sms i soft reset my device it works then it will not work again and at time whole night i cant recived and send sms.. And still they did not mention about that in this latest build.

Probably a very uncommon problem. Never heard that before actually. Have you done a hard reset?

I experience it since the first RS build i cant recieved send sms. With lumia532 dual sim. I tried hard reset and soft reset many times .

Hmmm... that seems a device problem... or it's not correctly configured with the carrier. I think you should go to a shop from your mobile carrier to try to fix that.

I think its software problem. Cause in 10586 branch i am not experiencing that kind of problem regarding to the sms. But when i am jumping to RS build that is when i encounter that bug.

Well, put the messaging app under "Managed by Windows" in the battery saver settings.

Too bad the dual SIM issues still aren't fixed. I wonder what on Earth the problem might be.

Hopefully it will get fixed soon before the public release. Dual-SIM issues might be fundamental OS issue related to networking stack or something related. This is likely going to get fixed since this is considered fundamental mobile phone issue with dual-SIM hardware, they can't publicly release with issues like these.

Awesome I just downloaded this build is actually small in size fewer bugs besides am not using dual sim I hate it.

"We fixed an issue where selecting a letter from the All apps list would sometimes scroll that letter to the bottom of the screen, rather than the top." YAY!

"We reduced battery usage when Microsoft Edge is running in the background"
Really hope so

Hopefully my Blu phone will actually see this build...been weeks since I could update with a complete wipe.

I see them but every build I tried on Blu Win HD LTE has made the phone completely unusable... Related to the mysterious dual sim issues?

Quiet hours when busy in calendar?...or should we just give up at this point?

Upvote it in Feedback Hub dude.

I did. But we shouldn't have to upvote things that were already there, that android then adds after.

I wouldn't give up, but that's a feature. I'm pretty sure they are concentrating on fixing bugs. I'm not sure whether the Gadget app not recognizing any Gadget is a missing feature or a bug ;)

Gadgets app is a firmware issue that MS has stated will not work while on insider builds of RS.

Its a feature that was already there in 8.1 that the competition has and they removed. Its been over a year. I often wonder of they really want windows mobile to fail. Lol

A number of build's ago there was an option to "Print" (via wi-fi) to a connected printer when viewing Photo's. Then on the following build it was gone! I really hope printing (from the Phone) gets fixed or implemented.

I'm on a fully-updated Lumia 950 XL on the Fast Ring and the option to print is still there.

If you have an HP printer, you can use HP's own app to print via WiFi. It won't help everyone I realise, but may help some.

Wow fast ring is fast again!... This is a beefy fix list too.. YAY!

Why my lumia 820 not get this preview build???

Because it is Redstone...

I hope don't need to do a hard reset to receive the corrections!

Hey Cortana still not working Lumia 1520 any ideas
?

I had to retrain Cortana on the 950. And even then it only works once in a while. She refuses to read incoming texts.

Just go to reminder tab on Cortana n come back to Cortana screen...it will work...its just a workaround though...

Had to go back to 8.1 train Cortana then upgrade to 10. . . .its working for me now. . .had been broken since 14332 don't restore if you do the same

I had to do the same thing to hey Hey Cortana working.

Anyone else not getting this build? One hour later it is still on 0%. I even did a reboot after 30mins. Give me the bugs please.

Rebooting was stupid. Last time this happened to me, it took 3 days for the "check for updates" to come back up.
Mine was stuck on 0% for 15 mins or so. Then it started.

Hi development team, can you change your battery percentage in side of battery symbol??

microsoft should employ more developers........................... am tired we fix we fix everyday..................... my phone is hot always 60 degrees celsius

That's the joy of being an insider! We use it, the phone reports back to them, we report with feedback, they collate info and look at it. If not for you, then roll back to TH. At 60c maybe you should grab a couple of eggs and have some breakfast. ;-)

Well, let's see. After rebooting, "Hey Cortana" doesn't work. I open up Cortana to see if the setting is still set -- it is. She just won't respond. I had to completely retrain her. So, I then locked the screen and tried "Hey Cortana". She did respond to my request for my calendar appointments. Then I asked to open Groove. She STARTED to say "Please Unlo.." then cutoff. I unlocked the phone and she finished, "...ck your phone first". Then did nothing. I tried "Hey Cortana" again....nothing. And she STILL does not read incoming texts or give me an option to reply via voice. Also, Bluetooth is still screwed up. When I connect to either of our car stereos, it still only shows Song Title or Unknown, and instead of the Artists it shows the Album Title.

I still not getting this build in lumia 820

Windows Insider is now integrated in settings app... Try logging in and giving fast again. And for this, the app should be installed too.

Lumia 820 is not compatible with W10M, you can only get the TH2 insider build by using the insider program (release preview ring). (with registory hack you can get RS builds, slow and fast ring, too but not officially.)

Look it up. NOT ALL DEVICES get RS builds...

The only problem I've been facing since last three builds are the same "Dual-SIM" problems on my Lumia 640. Work around is to soft reset multiple times until the "H" data sign appears. This if not seen, also implies few of your social apps won't open up. And multiple soft reset will create errors in SD card. When asked to scan, give "no". The scanner in phone will delete the data in SD card. Some tiles maybe blank in this case but can be brought back to normal by resizing those tiles. Now, if u want a proper function of SD card (ie, to scan it), use your PC. Connect the SD Card via card reader or adapter to scan it in your PC. Switch off the phone using the normal long press>> swipe down. Scan and then put back SD card and power it up. That should fix the "Dual SIM" issues completely. I haven't so far found any other major problems with this build. Posted From a Lumia 640, the most worthy windows phone of all..!

Thank you for this work around.

WOW so many fixes and mostly that were the annoying ones,..... this is awesome

is the build available to Lumia 520 ??

No.. Lumia 520 is no longer supported of windows 10 mobile. And this is a redstone build.

Only devices with 1gig of ram will get Redstone builds as the hardware requirements went up with Redstone builds.

Ok 640 LTE hour and half later it is installing.

Great... I literally just got 14364, and I haven't restarted to apply the update. So my phone will be out for a little bit

Does anyone facing check for updates working bug in store
In last two builds its not working
Tried hard reset too but it doesn't solved

For me, on this new build, the Store force closes and, if I try to download Microsoft Health it fails (other apps work).

I have not noticed an issue with the store and app updates on my 950, but I know others have had issues with the store so you are not alone. Just not sure what the issue could be in particular.

Can you please test if you can download the Microsoft Health app or not? When I try (other apps work) it says something went wrong and to try again later. My Band 2 is pretty much useless without it. Thanks.

I would have tested it last night but the update took much longer than usual it seemed to set up once past the gears screen after the first restart. This morning before I left, I tried to download it and it would not even let me type in the search box. Do not have it with me today to test further, but I imagine I'll be doing a reset sometime this evening on it. Just another reason the 950 is not a daily driver for me is little glitches like these.

No issues with store. MS health downloads just fine. All other apps are fine as well, even the new Win 10 Opera, with ad blocker built in!!!

Yes i am facing the problem with store where i cant update the core apps ex. Calculator,word, etc

I've been running RS fast ring builds as daily driver for a while now on my 950XL. No real major problems yet (read: need a factory reset).

Factory reset then can i restore backup without issues?

I restore my backups. Works fine for me. Back when we first starting having previews (I mean way back...) it wasn't recommended. But it hasn't made a difference now a days. For me at least.

To fix my issue of not being able to download Microsoft Health from the store I did a factory reset without a backup. My 950XL is now back up and running so I guess my issue was not resolvable any other way.

I didn't reset, no problems.

Yes.. A daily driver since the last few builds. Battery backup has been great on my Lumia 640.

Yeah. But I've had bad battery life. I'm going to try a hard reset tonight.

"We fixed an issue where, for phones that support it, the "3G Only" and "Only 3G or 4G" cellular options were not working correctly for some Insiders, resulting in 2G networks being selected"..... in this case which phones does support only 3G? does lumia 730 support ?

If only bug bash was their normal operation. We'd be up to windows 12 by now. Not falling for their bs excuses anymore

Its great with new build day by day i

Fixing the gadget app would be nice

Its a firmware thing. Insider builds doesn't Inc. firmware. MS stated that RS insiders wont have fully working gadget app.

When I double tap to wake up the phone it appears slide down to goodbye.i have this prob in two later builds on Lumia 1520 and it is sooo annoying.anyone else with this prob?

I have this problem as well with my 1520.

My issue is still not addressed. No response from anyone yet. Many Lumia 638 users encountering this issue "Navigation bar is overlapping the bottom of the screen. The apps where there is/are button(s) at bottom, cant be seen because of the Navigation bar. I have written many many many times to MS people, Insiders, written on many blogs, twits, no response from anyone. I can bet it's not only me who is having this. I have seen at least 4 Lumia 638 with this same issue...... Someone care/dare to respond please.....!!!!!!!????????

Used to have this problem on my Lumia 535 when playing games, they already fixed it since the last build

This is not the same issue with Lumia 535. On that device, it was only on games. That is fixed in the last built. With Lumia 638, each and all apps has this issue. Say for Camera, you will see the image capture button in half and no video button and three dotted settings. They are hidden inside the navigation bar. If you open Instagram, you cant see the buttons at the bottom. Outlook, Facebook.......I do not know what names I should mention, in every app where there is a button at the bottom, cant be seen. Funny is the feedback app, you cant see the submit button (arrow shapped) to post a feedback. I used "Windows Device Recovery Tool" to get back to 8.1.....no issue there. Then I installed the official Windows 10 update (an older built, I forgot) no issue there. I then used Windows Insider app to get into Fast ring and installed the latest built.....again the same thing. Navigation bar overlapped everything.

Hey bro, I also have Lumia 638. It seems like it is the problem with this specific model and from last 3-4 insider fast builds, it's still there. I don't have any idea if MS knows about this issue as this model is very rare :(
Like settings, messaging, etc system apps and many other apps' most bottom options are not clickable. I also submitted feedback about it. But, can't even find it listed.

i got this issues as well nothing have been resolve, keep on reporting to their so called FEEDBACK HUB but still no response, i already unenrolled to their slow fast ring preview update and when the anniversary updates come here we go again with the issue,

Is the phone reboot and SD card scan bug fixed on this build? Lumia 830

Things are going great, another update with many fixes and improvements after only a few days. Well done and keep it up MS! Windows Phone is NOT dead.

Mobile data setting are still missing on my microsoft 535.

Use only one SIM in ur phone. They will be back and pretty stable

Is anybody having problems with the Instagram app and messenger beta not opening?

The last several builds of Redstone have been quite wonderful on my 930. Until this build. Now my phone is a cranky mess.

Exactly in same situation. Battery drains so fast

No "what's new?" list in this build?

I'm actually stuck at 0% downloading for past one hour. Should i do anything or i should wait?

Did u try to soft reset ur device?

No i didn't do anything till now

Soft reset may or may not fix it. Last time i did that, it too me few days before the "check for updates" were back.

I thought it was only me who had the 3G/4G connection speed problem resulting in Edge connection.

Most annoying issue is store...it crashes and open so slow

Restart.. It doesn't crash for me. But random glitches and not opening. Nothing a restart couldn't fix.

Rats, no Bluetooth fix. My current build says paired but needs a reset to play through my earphones.

Ok.. Will restart now thank u :)

Does anyone encounter more bugs than listed above with 950XL? I might finally move to redstone update if these are the only bugs.. They're irrelevant to my usage

I wish the same... Can someone tell us??

Yes, my 950xl has lots of bugs on this version and previous versions..

What the heck?! They working that hard releasing 2 build in one day

Looks like Cortana's last UI changes revoked to old.

Why no one is talkin about the gps problem!!

Now that's a lot of "what have fixed"

Anyone having issue with their start screen keeps freezing and go into loading. Sometimes after loading it would work as normal but sometimes it just freezes and cant scroll or open any apps from tiles, for 20-30 seconds until it refreshes again.

Still battling with data on dual sim, very nice

Lost my Lumia camera after the update!!

The real problem of windows phone ia the apps. That's the truth. There is an app gap and microsoft needs to address that aggressively. There are many apps that may be available to windows phone and the other mobile platforms,but the WP app almost always lags behind in quality features. Some examples are CNN and Kik. So the argument of quality over quantity is no longer valid, Windows phone has neither of the above.
Discovery Channel's app, one of my favorite apps has stopped updating it's content since the 26th of May.
And the worst part is that with 1% share no developer is going to make apps for Windows Mobile solely. And I do not see very much interest in UWP either.

3g only mode still not working..

Seriously? They never fixed the crashing start screen in build 14366?

Does this build seem faster to you guys? On my L950 it is very nice...

Seriously? They never fixed the crashing start screen in build 14366?

They haven't fixed nor mentioned major bug, which is dead Live Tiles for Outlook apps. They are not updating message count nor date until resized or phone restart. And what is Windows Mobile without Live Tiles?

After having time to mess about on my Lumia 635 I can't get the phone to crash at all. Only bug I can find is that stupid Groove music bug that makes the phone still think your earphones are still in after removing the jack. But that's a Groove music app bug not a core OS bug. Anyway time to update my 2 laptops and 2 desk tops to this build.

I had to factory reset after installing this build on my 950XL. The store kept crashing when I searched for certain apps and Microsoft Health just failed to download completely. After the reset, I did not restore from back up, I noticed a few things. 1 - I have transparent tiles with a background now. 2 - Notification sounds work again. By this I mean that before all app notification sounds were the same so an SMS sounded like a Skype message and so on. I had not changed anything. Factory resetting put this back to normal. 3 - Scrolling all apps shows all icons. Some were just coloured squared before. 4 - Device seems much cooler. It was exceedingly hot again after my initial update from the previous build. Anyway, I just wanted to share this. Thanks.

What about battery draining problem?

Battery drains a lot.. Please fix it. It was good in earlier build...

What about the 'Saving...' bug in windows camera??

Email stopped working on my 950xl. Both outlook.com and exchange server. Anyone else!

In fact I go to manage accounts and they've both vanished. Yet still there when I go into outlook albeit empty. Grrr...

U should report it to Microsoft.... So they can Inc. There bug fixing list from two to three XD

From last 2-3build their is lot of battery drain on my lumia 640

Has anyone else had problem in updating and downloading apps with this new update?..and if so..any fixes?

Still waiting on: - DTtW for 950/950XL - USB Audio Class 2 - SMS over Bluetooth vehicle hands free fixed - WiFi 5GHz band connectivity issues fixed

Big piece of junk... Two builts ago i had no issues at all, battery lasting all day long.....last two builts battery drains in 4 hours light use. Is that a fix? A fix for who? I always say the same. 1000 well paid engineers for that? U guys like to get updates only to think u are ahead...but basically is stupid all your wishfull thinking...pathetic...

Take it easy dude. I noticed the battery issue as well but if edge was the culprit it sounds like that's been fixed. In any case, there's no need for such hatred. First world problems, remember.

Sounds like mostly very obscure issues. I guess that's a good sign.

hi there. no hate. i ve been with ms for the past 4 years on mobile and forever on pc...the most important thing on a phone is battery life, without it there s nothing...how can i be happy if two builts ago i was a happy man and its been two builts that they mess it again...hell bro they have 1000 people working and testing every built in every phone and i havent experience a single important change at all, minimal stupit little changes here and there...and every release is worst than the previous one...why not waiting a couple of weeks and trying to add new stuff and testing trougthout before releasing it to devps and advance users???????????????????????????????????????????????????????????????????????

Well, I do agree that battery life should be easy to test before releasing it to production, but I'm not going to judge their process which I know nothing about. We can only speculate about why they do what they do.

Did they improve the latencies while using key board? WP 8.1 was a gold standard for key board experience on my 730.
No insider build on any ring so far has ever matched up to that experience.
I reverted back to 8.1 coz if there is one thing that I use most, its the key board and wm10 has ruined it.

Why can't they fix something as seemingly simple as Alarms? It's been broken for several builds now. I have to use my 520 for an alarm because my $600 950XL no longer has that feature.

Don't use insider previews if you want a stable phone. The only time i've lost data (MS Health,SMS/MMSs, photos) was when using insider previews. Production is where its at IMHO, I can't wait until this update is done though, lookin good :)

Alarm is still way to quiet. Why did they mess with that? Was fine until three builds ago.

Battery life took a big hit. I lost 50% in two hours. An hour of that was in airplane mode.

try some rocket mode it will discharge 100% in 10 mins

messaging app and store app dosen't opened, what is the solution

Open your window or any window. Take 3 steps back. And throw your phone away. Problem fixed.

Lost my ability to launch messages, store app, and people hub. Nice build, not. On a 1520.

Does anyone face any issue with calendar notification not showing on the lock and glance screens....!??

The latset build make my L930 a hppy man-battery life improve alot-performance smooth and stable

This one is very good on the 950xl. No issues to report apart from text prediction. I haven't HR for the past 3 updates. Cortana reads texts and response via speech. Live tile and tracking still don't work, but not a deal breaker. Store works great, no issues with downloads. Overall, not bad. For those having issues, Dona is on twitter, and, yes, she does respond.

I wish. On my 950xl, I get four hours of battery life now. I have to carry a portable charger. I don't get why it would be different.

My 1520 is really starting to feel like a premium device. I noticed that whenever I am using it folks really focus on the screen... they are curious becuase it looks so different than the chicklets of IOS and Android, yet much more refined than WinPhone7 or WinPhone8. Folks laugh when I tell them it's a phone from late 2013.

Does this build is available for lumia 820

Anybody that's using a 640xl can tell me how it's going with builds?

Microsoft apps won't open, tried some soft resets without change, so I'M not able to open contacts, store , sport news, photos etc

Hey anybody facing app install error..

This stinks, battery problem has returned! It is as bad as 2 builds ago. Pretty much unusable, phone is super hot and all night on the charger only was able to get it to 60%. Lumia Icon

This's redstone updates are not even ready and Microsoft what's to release this in july as a anniversary update that's crazy.

Yes I agree, everything is totally crap!
Redstone will be even more bugged than Threshold release.

When would you fix the camera issue, I really dont want to flash my device to old firmware.

Lumia 930 is super hot and battery gone in a few hours. I lost 20% in about an hour and 4% in about 5 mins. Don't get why these builds aren't regression tested.

I agree battery performance is sub par, although this build i am spared of heating issues

now i can't use my phone with the latest build 14367 everything is broken and didn't work ( store , message , camera , can't preview any photo.......elc.) most of apps doesn't work after the update what can i do now? please help me quicly all my work is stopped now this update is so bad for me

I feel your pain dude, just posted my issues too

Is "Hey Cortana" working in this build? When I try to set it up on my Icon it just says Cortana needs to be turned on with a link to the Cortana settings page however Cortana is already enabled.

It release in july but not in 2016 its still crap

I doubt it will be released in July

Still no issues to talk about on a 950xl, battery is good, edge is fast, store works, continuum is really snappy in this build. For me this build is awesome. But all insider previews are betas. I've had issues with all os's I have messed with ios and android are not perfect either.

Is it just me or does any of you experience this issue: Phone hangs on loading screens, crashes and restarts, apps fail to ope (just shows splash screen then crashed out) some applications like gt racing 2 do not pick up touchscreen input. This is all on an 830.

Which phones support "3G Only" option ?

Just updated the phone and im gonna need to use the recovery tool. none of the apps are working, cant even go to message inbox. trying to hard rest now :/

Everything fine with 640 dual sim and 640 lte

Unfortunately, this release marks the return of the dreaded 86000C29 Exchange bug. I have a Lumia 929 and have been enjoying Exchange integration in all W10M versions. With the 14367 release, I was immediately greeted with a sync failure.