Windows 10 Mobile build 15252 rolls out to Fast ring Insiders
A fresh Windows 10 Mobile build is no headed out to Windows Insiders on the Fast ring.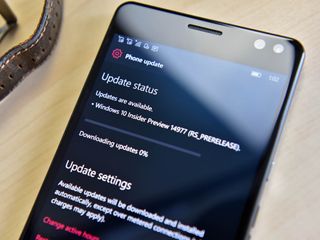 As we head off to the weekend, Microsoft has a small present in store for Windows Insiders. A new Insider build is now rolling out for Windows 10 Mobile, bringing Fast ring users up to build number 15252. That said, don't expect any big changes here; there are only a handful of tweaks and fixes included in this build.
Here's a look at all of what's new, from Microsoft:
This build includes all the improvements from KB4038788

(opens in new tab)

.
In preparation for the release of the Windows 10 Fall Creators Update, the product version number has been updated to 1709 just like PC.
We fixed an issue where, on powering the screen off/on, high demand for CPU could cause several apps to crash. Background processing of photos is an example of high CPU demand. In a photo shoot session, you may have seen the Camera app crash.
We fixed an issue with the Messaging app where conversation text was displayed incorrectly. Thanks to our Insiders that quickly highlighted this issue.
In addition to the new Mobile build, Windows Insider chief Dona Sarkar says that PC users on the Slow ring can now get their hands on build 16288. You can find the full list of fixes for build 16288 at Microsoft.
Windows Central Newsletter
Get the best of Windows Central in in your inbox, every day!
Dan Thorp-Lancaster is the former Editor-in-Chief of Windows Central. He began working with Windows Central, Android Central, and iMore as a news writer in 2014 and is obsessed with tech of all sorts. You can follow Dan on Twitter @DthorpL and Instagram @heyitsdtl.
Downloading on my Lumia 950 XL.

This seems like good news to me for Windows Phone fans that the build coincides with the Fall Creators Update.

Why? Seems just cosmetic to me.

Downloading now for my Alcatel Idol 4 Pro

Can some one update Lumia 830 ok fast ring?

registy hack to a 640/xl,550,650 to get fast ring/ slow ring builds :)

People like this ruins our mobile builds good going!

yes i can see that if it was 920 925 1020 820 but it 830 same spec as 640/640 xl microsft drop it just because it say nokia on it :)

My elite doesn't even power on after latest update

you tried th hold vol down + hold power to force a rest

Same problem with my 2 Elite x3 after installing Build 15063.608. I had to remove the micro SD-cards.

It downloaded by itself.. I was shocked that there was an update this fast.

11 comments so far. Nobody is even interested anymore. Good job Microsoft.

It's a bunch of bug fixes. It works. What more is there to say. I realise most android variants don't get this level of support but that's ok to come here. There is always an Apple site too.

Most Android phones don't cost a lot, and those who do, surely get updates. Also, those updates are not buggy beta releases which need atleast one restart a day to work fine 😐

For those who vote negative, apply cold water on burned area.

Every Android phone gets regular updates straight from Google. Android version number doesn't matter anymore, especially for a manufacturer skinned phone. Google has made it so many updates can come through the Play Store. All Android phones receive much better support than a Windows Phone. It isn't even close.

It appears that WC app for mobile is broken for some time. Hence, it makes difficult to post comments. Most people, they just get by fine with a mobile device in their pockets and use the WC app. You will notice a trend with multiple articles these days on this site, they all have one thing in common, less and less comments because of the broken app, I am pretty sure, that WC knows about it. I have done everything possible, cleared cache, reset app multiple times, uninstalled and installed app,reset my device to factory and back to latest update, guess what, I wasted many hours of my life with that. I could be wrong, I haven't seen any of the WC guys acknowledge that the app is not working correctly, but I could have missed it. Posted via web for windows central using edge.

I don't understand why did they stop updating Lumia 930/1520 devices. Cuz all of those upcoming builds are just bug fixes..

I guess MS wanted us to be like Apple fans and buy a new phone every year.

Except Apple release new devices every year, MS aren't releasing new phones are they

So they can concentrate on a few newer devices before the OS goes end of life and a new mobile operating system replaces it.

Big difference is when you buy an apple device you can expect a 5 year support cycle for software. Unlike MS where your lucky to get 6 good months.

i did upgrade the nokia 1520 to version 15250 by using interop tools but it seem the battery issue if play game or chatting it sudden off device display goodbye !!! after ard 10 minutes on the device the battery display 50% ??!! dont know what happen at all ? downgrade to 15063.608 also the battery issues !!!

You can install new builds by interoptool

Is it a faulty battery? Running it back on 8.1 -do you still get issues?

Definitely stopped using insider builds awhile back. Now, my phone just works.

Ill be upgrading my 1320 when I get home tonight. Traded the 1520 in to help pay for my Galaxy Note.

How much did you get for the trade in?

Downloaed and 950 running sweet. I also just bought a new battery for it, so it'll be good until 2019 when the Surface Phone ships

I'm waiting for Fluent design which probably release in next month.

I SEE OTHERS ARE USING THIS BUILD FINE, BUT MY 950 IS HOSED!
No UWP apps will start up. Once I try to open an app it disappears from my Start Screen (pinned) as well as the All Programs Menu.
This includes SETTINGS, Outlook Mail, File Explorer -- EVERYTHING --
Except one (fingers crossed it doesn't delete) is a legacy Windows 8.1 app which is based on Silverlight...?
My Media Center -- I NEED this app, I can't reset my phone or one of my older tablets because this app was removed from the Windows Store ages ago.
Is no one else having this issue?!
I reported it on the Feedback Hub on my PC, but no other similar problems appear to be reported on the Mobile platform so far.
I am so, so, so screwed.

I have same issue. L950XL DS....any idea?

"...Mobile build is no headed out to Windows Insiders..." No headed? Does that mean it does not have a head? Any way, it is installing on my Icon.

head something out to aim something outward; to move something on its way, head or front first. Head the boat out and pull out the throttle. I headed out the car and we were on our way. Let's read that as aimed.

I'll just add that I downloaded it this morning. Works good. Dual Sim 950XL (both sims operational) w/ an SDcard

I completed the update on my Elite X3 last night. Everything seems to be working just fine. To those who have had problems with the update, I wish there was a sure and certain way to determine if there truly is something amiss with the update, or is it caused (at least in part) by certain installed apps, or certain configuration options, etc. As a developer myself, I certainly dislike being blamed for problems that aren't caused by the programs I write, but are the result of external factors (hardware, user actions, conflicting applications, etc.) I'm sure Microsoft feels the same way too. They've had issues with some of the their updates, I know. But the fact that my smartphone is perfectly normal after the update, and another user's phone is not, THAT is troubling.

I agree with you, I have a Lumia 950XL and very seldom have minor issues

Likewise with you on the last part. Slack got 2 very quick updates. Not sure if it's Microsoft or Slack that's making the app so unstable.

To be on the safe side, I try to avoid the restart at least until the next build and its comments if people still have these problems.

No problems on my 950XL. Battery time seems to improve.
Windows Central Newsletter
Thank you for signing up to Windows Central. You will receive a verification email shortly.
There was a problem. Please refresh the page and try again.