Windows 10 Mobile build .164 meant for retail open market devices and is 'nearly identical' to .122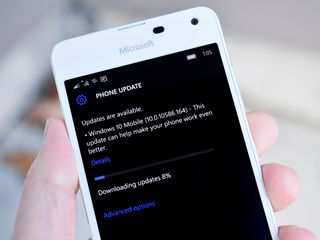 Microsoft published Windows 10 Mobile build 10586.164 starting at 1PM ET today for those on the Insider Slow and Production release rings. Also, this release is also going to retail open market devices.
Over at the Microsoft Community support forums (opens in new tab), Jason, who has been updating Insiders on features and new releases, shared some of the news.
As it turns out, build 10586.164 is "nearly identical" to build .122 released just last week. In a brief FAQ Jason answered some questions for users, which we'll re-publish below:
Q: Who is receiving this build?
A: This release is being sent to Retail open market devices as well as our Insiders in the WIP Slow and Release Preview rings.
Q: I'm in the WIP Fast ring. How do I obtain this .164 release?
A: Change rings in the Windows Insider app to either WIP Slow or Release Preview, take the update, and then change back to the WIP Fast ring.
Q: Why is it necessary for WIP Fast users to switch rings?
A: It's a publishing limitation. Changing rings will not be a permanent process, but it is required for this particular release.
Q: Why didn't Insiders get to test this release before releasing it to Retail users?
A: Insiders did get to test it! The previously released 10586.122 build is nearly identical to this new .164 build. There are no major feature changes between the two builds. Changes were focused on a few key bug fixes and other required updates to ensure this build was ready to release to Retail users.
Finally, Jason mentions that this is "a fairly small release overall, but it's important for Insiders to stay up-to-date".
It is not clear if this is the final shipping version of Windows 10 Mobile 1511 for all phones, including older ones. Those phones are expected to be updated sometime later this month according to an unverified report.
Additionally, it should be noted that build 10586.164 was also released for those on Windows 10 PC and you can find those changes here in our previous article.
Daniel Rubino is the Executive Editor of Windows Central, head reviewer, podcast co-host, and analyst. He has been covering Microsoft here since 2007, back when this site was called WMExperts (and later Windows Phone Central). His interests include Windows, Microsoft Surface, laptops, next-gen computing, and arguing with people on the internet.
Here's hoping the update for legacy devices comes soon. Maybe this build itself. The Windows Central Universal Application for Windows 10 Mobile on a Nokia Lumia 830

Hope they have squashed that bug where the background masking effect wouldn't appear on app list.

I actually haven't seen that bug, but I've heard quite a bit about it. I suppose I've just gotten lucky.

Go to app list. Open app. Press back once and you should exit to app list. There is no masking at that point. This is for reproduction. Lucky you haven't got that. It is bit annoying.

It's possible I simply haven't noticed this particular bug. Once this update is finished I'll check it out. It's highly unlikely this update fixed the issue you're speaking of, because this Build is apparently nearly identical to the last released Build.

It should be fixed because this bug is highly visible and UI one. And any build with UI bug this big is not fit for public as UI is what sells to them.

The Volume Control glitch when switching between songs is a huge UI graphical bug yet it has not been fixed through several Builds. Microsoft is understandably focusing more on performance and reliability above UI bugs. There's nothing wrong with this, no matter how frustrating it may be. I do hope Microsoft works more on UI with Redstone builds.

Yes. That's a big one too.

I'm also getting a bug where Volume Control claims all my music is being streamed, despite all 1800 songs on my phone being local. Then some bugs with Actionable Notifications "pulling away" from the top of the screen when you pull down on them, or the keyboard leaving behind a black space on the Lock Screen, or notifications being unselectable in the Action Center after dismissing notifications.

I'm having the exact same issues on my 830. Hopefully they get fixed soon.

None of the visual bugs (apps list, volume control flickering, streaming icon) are fixed in .164 unfortunately.:-( Lumia 830 confirmed.

This Build is essentially identical to the last one except for some minor bug fixes and such, so I'm far from surprised.

Yeah, these two most obvious bugs that alot of W10M users talk about. I really wonder how come nobody in W10M teams seems trying to address these issues sooner, as if they don't even use W10M themselves. It take us Insiders to point out these kind of issues that are obvious. I really do hope that by Redstone, they give at least a concern to UI polish. They started to make W10M looks highly unpolished and inconsistent overall, it shows they disregard design principles that at least Windows Phone had. For now, at least they're working on performance and reliability which is highly appreciated by everybody. First and foremost we don't want our devices crashing or misbehaving when doing some important task or while on emergency cases,

You probably have it and didn't notice it before like me. I wasn't really aware of it until it was pointed out and I tried the steps :)

Still happens in Redstone

That's unfortunate but not entirely unexpected either. It's still early in the Redstone phase.

Still there on Redstone, didn't notice it till today anyway :D Maybe it's because I am now used to Windows 10 where you always use the home button and not the back button.

It's always annoying when you don't notice a bug until someone points it out to you.

No it isn't for me, even knowing that I had to go to start and back to the list to see the difference between the right one and the bugged one, maybe it's because I'm already using a dark red background so there is not much difference :) and anyway I always exit apps with home button.

lol yup, I was sooo happy with windows mobile until I started reading the forums ;)

This is why it's really the QA of W10M task when in regards to bugs. Us Insiders don't have the tools nor methodologies for bug hunting, we're just thankful for some Insiders that do report bugs endlessly in Feedback app since forever. I really hope they step up their QA and bug fixers for Redstone phase.

You were not lucky, you were just blind. I am keeding, but I am always impressed so many people don't notice it until someone tells them where exactly to look.

It's also possible I simply haven't met the required circumstances to observe this bug. I open 99% of my apps from the Start Screen, not the All Apps screen. Not only this, I rarely use the Back button to back out of an app, preferring to use the Start button.

Do you use wallpaper background on Start screen instead on Tiles? That's where you get the bug when you open an app from All Apps then go back or close it. When you return to All Apps, viola! There is no dim effect!

I tested and I do have the bug, I just never open apps from All Apps and when I do I press the Home button not Back.

So this is indicates that everybody seems have this bug. Thanks for the reply! :) I honestly hasn't notice this bug first time I got my W10M builds since I don't use wallpaper backgrounds on Start screen, only the time I found out in forums then I tried changing my settings just for the sake of it and I found the bug. Still this bug should've been fixed earlier. Especially for users who setup background wallpaper, then this bug is completely unsightly.

That bug is even more annoying then constant "Resuming..." message. Posted from Lumia 920, Windows 10

I've been seeing that less and less as new Builds are released.

Resuming seems less of a bug and more of an optimization issue, or even underlying issue in the OS on how it handles processes. But yeah, this need a complete solution for this at least just on the point its not present on built-in apps.

Its srill there! Too hard to fix it im afraid

It's simply not the priority, I suppose.

I have that masking effect bug but actually prefer this as it's easier to read and is more pleasing to the eye.

One similar thing, or may it's the same bug, is if you have your Start screen background set to light, sometimes when you get back to the app list, the app list would display in the dark color scheme. If you then go somewhere else and back to the app list, it would display properly in the light color scheme.

Running build .164 on L930. Still have that bug.

Then twitter may finally release their w10 mobile app

That would be nice. Then I could check on my Twitter once every two weeks with a new app haha.

I can't download it on my 950. It doesn't find anything, not on slow not on production

Give it time. It's usual a gradual rollout.

FINALLY COPY AND PASTE ON EDGE IS FIXED.. 3 MONTHS TO FIX THIS :D

What was wrong with it, exactly? I noticed I couldn't paste anything on Bing, but I didn't really check to see if that was a bigger issue.

open a page, highlight text, select copy. now go to a text box on that page (or another page) and the paste icon doesn't show on the on screen keyboard. however you can paste if you long press on the text box.

Tried to download the update. While installing it said it needed 1.27GB space. Cleared up data and then after a while phone rebooted as usual. And now the OS occupies 4.51GB/7.2GB internal memory. The only 'apps' in the internal memory are now core apps that occupy additional 1.6GB data. How pathetic is the update process.
Why can't the updates be downloaded onto SD card and then installed on the internal further.
Lumia 640 here.

Changing rings will not be a permanent process?

Maybe he wants to say that..... Changing from fast to slow ring will not be there everytime, like as of now, it will change in coming future builds or after couple of few builds..

Right now fast and slow/release are on different builds, so you have to be on slow/release to receive the updates to slow/release. Eventually release will be released to be production and slow will be on the same build as fast, just like before.

"Needing" to change rings is not a permanent process

Great! I hope this is final Build so older devices start getting W10M.. By the way I'm using .122 build on my Lumia 640 and works great!

So we can expect some Polishing? I'm game for that!!!

So this is it.....but the crappy app camera still the same...ok... Posted from Dimi516 640xl W10m

Poor X20 devices... in WP8.1 we have MS camera that is fast but without so much features and Lumia Camera that's good but slow. Now we just have a slow one.

...and very bad quality when take a photo... Posted from Dimi516 640xl W10m

Now we've a combo of both!
More rightly to say... A combo of both's drawbacks ;)
A slow with not so much features MS Camera

I own a 830 and the Camera app seems better on W10M? I'm no pro but the pics I get seem way better than on 8.1.

I hope not. The camera is my only gripe about Windows 10 Mobile. The W10m default camera needs a lot of work. It takes around 5-10 seconds to finish processing images, and sometimes the photo doesn't even finish processing due to that persistent Rich Capture bug. Also, sometimes the Living Images doesn't even work, but I still end up with a static photo that is still 4-5 MB (yes, I know about renaming the extension as zip and opening it to retrieve the mp4).

Me too...my only issue right now is the camera...everything else is almost perfect for me...no complains.... Posted from Dimi516 640xl W10m

Lumia 735 downloading it now, release preview

If "retail open market devices" means Non-Insider Lumia 950 XL: Nothing here yet, again... (-> German CV)

My unlocked 950 is getting it here in the US. I wonder if this refers to carrier vs unlocked devices?

Well, I bought a carrier free device at least. But I have the ​strong suspicion that the device gets "branded" as soon as I put in my T-Mobile SIM. Nevertheless, I thought OS updates should be directly from MS now?

The device does not get branded by a particular SIM. It will always be carrier free. It just may not have hit all the update servers yet.

Might be. But how long will it take for the update to hit all servers? For desktop it is instantly (from my view). Last time I waited for build 104 for several days, then I did a hard reset which I wanted to do anyways and received the update instantly, obviously before the carrier settings were complete.

Well, desktop has more resources allotted for it as it has a much much larger userbase, and desktops arn't instant either, there still is a rollout delay, its just not that long.

Everybody is getting the update instantly in Germany too, just not carrier free 950 XL with TMO SIM it seems.

Build 164 is coming in right now on my 950 XL TMO-DE as well as the 950 O2O-DE of my collegue, exactly one week late. At least my 950 XL was originally carrier free, but got kind of branded by receiving carrier settings right after inserting the SIM card. I guess that's why VoLTE works, so I can live with waiting one week.

My unlocked 950 is on TMO also. I am installing now. Check again on your end. Maybe its just rolling out slowly. But TMO has no say (thank the lord for that).

TMO Germany? But OK, I will check again - checking took more than 5 minutes just now after I did a soft reset. Let's see if it is there tomorrow. I am not yet convinced that carriers have nothing to say. It is just irritating to read articles stating that an update is available for all and it is just not true, for whatever reason... ;)

None-insider builds are made available in waves, first by country, then carrier. So it makes sense that somebody in the US has received it before somebody in Germany.

These "waves" do not really make sense to me, sounds like an excuse. It was stated that OS updates would be carrier free. I never received build 107 until hard reset. Also these waves do not exist on the desktop, which has far more clients.

Microsoft works at turtle speed

No matter what is Microsoft's velocity is but one thing is for sure that their displacement is zero

Is it actually possible to have "displacement is zero"?

So it's not a frame of reference issue?

Sometimes I feel like it's only Gabe Aul that is "the whole Windows Mobile team".

The non insider Lumia 950/xl are going to get this update now right ??

Correct. At least the non-carrier versions for sure.

Yea, installing it now on Lumia 950 unlocked (UK)

.122 has been the worst build on my 1020. Everything was working fine before but now I get no sound notifications, keep missing text messages because of it. I'm also getting flashbacks of WP7 as all my tiles stopped updating.

Pretty sure they said they were testing the update experience on those devices with that build; did you hard reset? .122 running very well on my devices.

I installed preview build using insider. But after update resetted the device and never installed insider. So I'm getting the official update or insider one on Lumia 830

Like I can't say what you are getting, but one thing for sure MS will never (can never actually) deliver official update before time or before release date.
If u r sure dat u r getting 10586.164 build on WP8.1...
IT'S INTERESTING!!!! :O o.O Posted from the Forever stylish- Lumia 830

No I'm on wm10 .107 after hard reset

Ok I see, you'rnt on 8.1 but on 10M and without a insider app.
Though u r getting this!
Did u never received previous builds? Between this and .107? Posted from the Forever stylish- Lumia 830

Nope coz after reset i never installed insider app. I'm getting this coz without insider, my phone is on windows 10 mobile branch and this is a release build for those

Maybe, since u hv already enrolled for insider and already running 10586 build, then u r automatically eligible for receiving 10586.x builds... Whether you install the insider app again or not. Posted from the Forever stylish- Lumia 830

No no. I will never get the insiders build else would have got .122 installed. Only the release or to say official update for win 10 mobile

Woohh!! Exactly.... I messed up
Thanks for clarification Posted from the Forever stylish- Lumia 830

Tioes stopped updating for me too on .122 Resizing the tiles fixed the issue. Mails never give me any notification except in the action centre.

Who else their phone turns off and say that battery critical when using the phone a lot and the battery is bellow 70% Posted from here. 1520.

Sounds like it may be a bad battery. How old is it? Posted via the Windows Central App for Android

Im sure its from win10 mobile cz it started happening after the 5 previous updates Posted from here, 1520.

And my lumia 1520 is a year and a half old Posted from herr, 1520.

That's interesting and weird, I haven't got that issue but I do have an issue everytime I woke up I only got 10% battery even though I left my phone nearly full charged.

my 1520 is a early one and this update is all NO PROBLEMS, batt life is as good or better than 8.1 ever was.

Yes the battery life of mine is good too but when over using it the phone turns off suddenly telling me that the battery is empty and its bothering Posted from herr, 1520.

My Lumia 950 dual sim downloading the update now, non insider.

my lumia 435 ds downloading the update fast ring insider :D :D

No, it isn't. ​You have probably performed a hard reset, thus you aren't part of any insider ring (after a hard reset you must join the insider ring again). This means that you will be on the non-insider "Production" channel, which is also receiving .164.

Will download later tomorrow

OFFICIAL RELEASE FOR GOD SAKE

For my sake? Nah, in heaven we run Insider builds already.

Good to know God has chosen WP :)

From .122 to .164 is a lot of builds - can't imagine it's just a few fixes. Hope my 930 works better with it.

It's not 100% granted, could be bringing it up for some internal stuff. Doesn't mean there are much more stuff fixed.

It could also mean that there were more updates on the desktop os side than mobile and that the version number is just jumping up to match.

10586.x , x represents refinements, fixes or minor improvements in the build 10586. Thus, in a way, the number x represents the sub-build for the main build.
We're still on the same main build i.e. 10586 since November Posted from The Forever Stylish- Lumia 830

Finally an RTM build. But will stick with 8.1 on my 520.

Downloading on my L950 (non insider) Posted from Windows Central for Windows 10

Again not available for older devices

I updated to .107 using insider. After update did a hard reset and now I'm getting this update without insiders so is this official update for my Lumia 830

Once you are on Win 10 via the insider then you are now part of the Win 10 retail branch if you choose not to rejoin the insider program.

Hi Daniel, I would like to install the latest update to my 950xl how can I get it? What should I do? I'm seeing other comments that this latest build is available for non-insider

Wait for a few hours and try again. Non-Insider builds are sent out in waves, so it's possible that it hasn't hit your device just yet.

Thank you I will try tomorrow just to be sure.

Now, things are so complex that its hard to understand / decide to be updated.

You are testing preview software as a Windows Insider. You should expect things to be complex, and you should expect bugs. If it's too much hassle for you, simply go back to WP8.1.

I am aware, what I could do if I am not happy. However "Testing beta" tag doesn't gives the licence to behave as if, we are in lala land. Current build distribution doesn't qualify even peer testing, leave insider alone.

Does any one have this bug. When long pressing on the back button, then closing all apps by sliding down. Then going to main start screen and pressing back button once, I discover there is still apps running !

I'm not seeing what you're seeing.

Thanks. I'm having L930. U

I'm not seeing that either on my L930 in the UK - both before and after this update.

I've noticed the same on my 930 and on all the recent builds! It is not reproducible always , but often enough. I heard W10 supports more apps suspended on the background on devices with 2G+ RAM. Maybe the task switcher still supports max 8 or so apps and the extra apps just "flow over" from the switcher ☺

I had that maybe 4 builds ago.

Hey it fixes some things. The camera app still crashes every now and then on .122

I meant hope it fixes a few things. For some reason I can't edit my comment.

I hope this build fixes newly introduced bugs like no alert sound bug from the last build. But it's disappointing that they can't seem to converge to a good build for so long. I could understand one or two months of delay but it's been like this for 4 months now. Makes me wonder if the new guys from W10 and UWP know what they are doing. Before W10 merge, WP was a hallmark of stable and bug-free OS. Now it's just a poor man's version of unreliable OS that is Android. I hope they can fix this mess.

I hope this means ATT devices get this update. We had to wait an extra few weeks for .107 but at least we got it!

This. I thought MS was bypassing carriers for OS updates. That didn't seem to be the case for .107. And don't get me started on the firmware.

This. I thought MS was bypassing carriers for OS updates. That didn't seem to be the case for .107. And don't get me started on the firmware.

This. I thought MS was bypassing carriers for OS updates. That didn't seem to be the case for .107. And don't get me started on the firmware.

This. I thought MS was bypassing carriers for OS updates. That didn't seem to be the case for .107. And don't get me started on the firmware.

This. I thought MS was bypassing carriers for OS updates. That didn't seem to be the case for .107. And don't get me started on the firmware.

can anyone say me is force 3G network mode available in this release preview buid??

No that won't happen and doesn't make sense to

It makes a lot sense in places where there is weaker but faster 3G available but still the phone keeps switching to EDGE

Downloading on 925. I'm curious when e-mail notifications will come back to my phone. Since two builds they have gone. ****.

remove the live tile and add it again

Been with this trouble since started using w10m

Installed the build on Lumia 920. Tried opening my basic apps. Still "loading..." and "resuming..." screens everywhere... Posted via the Windows Central App for Android

I did it a week ago. Now I skip it until the next update.

Trying to roll my Fierce XL back to .63 to update to this build. I am currently on Insider Fast (Redstone). But the Windows Device Recovery Tool isn't recognizing phone. Followed the directions it gave to put it in "Flash Mode" because my device was not recognized and it still was not recognized. Posted from Windows Central for Windows 10
On the Alcatel OneTouch Fierce XL for Windows 10

is there a benefit to hard resetting a 10.0.14267.1004 insider build to pick up this build?

I don't know but hope that someone tell us. Or is the .14267.1004 newer, from the fast ring?

Greece here... Downloading .164 for non insider. Check your devices!

Currently I am receiving the Windows 10 Mobile 10.0.10586.164 update on my Lumia 950XL.

This build fixes the start screen freezing bug that was present in .122 build??

Is stereo or 5.1 sound for video recording working on 930 yet or is a firmware update in the horizon that fixes that?

Do any of you know if this will fix a Glance Screen issue. I clear the email notifications, yet they are still showing up when I glance phone. Or, do any of you know how to fix it? Thanks in advance.

It's been like that forever. AFAIK the only way it's cleared is if I open the email either on the phone or using Office Outlook on my PC. The free W10 Mail app on PC didn't clear it for me but I use Office Outlook instead so it's not a big deal for me, but for people who use the Mail it's probably a major PITA having to open the mail client on their phone to clear the unread email count. Issues like this is what's really disappointing about W10M so far.

Thanks for the response. Yes, it is really irritating. It defeats the purpose!

Any tip to get the Windows Device Recovery Tool to work? I'm on Redstone and want to switch to slow ring but the tool is not working. Posted from Windows Central for Windows 10
On the Alcatel OneTouch Fierce XL for Windows 10

Just installed.164and this is woooooooowwwwwww. Hopefully this build is finally ready for official release...... Posted from L532 with Windows Central for Windows 10

The bug where the keyboard disappear is back again

I still don't understand how in seemingly the only person who has noticed how inaccurate the keyboard is on W10m

Nah, I've noticed as well mate. The predictive text in W10M seems way off kilter compared to 8.1. I got used to sending extremely accurate SMS' on 8.1, to the point where I never bothered checking before I hit send. My first half a dozen SMSs under W10M were gibberish. Now I check them all, and I'm constantly replacing words before sending.

Odd. After this last update, my L920 (US ATT) no longer wants to charge on the Qi chargers here.

Just updated and then read your comment - went and checked wireless charging still working on my 930 here in the UK, phew!

That's cool. I'm still bummed tho. We have two different Qi chargers and mine is non-responsive on either now.

Have you tried tuning the phone off then putting it on the charger to see if it restarts? Only solution that may remain after a soft reset is a hard reset.

After .122, my outlook always crash everytime i opened..

L535 still not scaling properly in some games (like Badland). The right part of the screen is chopped off.If they fix those obvious bugs I am happy with the OS. I am not sure though if they are reading the feedback at all. I have also reported a bug in battery saver statistics and how to reproduce it yet it's still there after months.

Haha if obvious UI bugs like the stuttering Music-Display on the Volume-Overlay (when pressing the next button) is still not fixed (installing it now so I don't know yet) MS will once again be laughed at, and rightfully so. This single bug alone makes WM10 feel like some amateur OSS project IMHO.

I'm on the fast ring but I received the update when i woke up..

Still no double tap to wake at least i did not find it in L930 some battery issues too the rest is running smooth is almost there

Who else has the bug where you have the sound off and someone calls you and the caller hangs up without you answering it and then you hear 'beep beep'.

The .164 update has downloaded on my non-carrier, non-Insider 950XL connected to the Telstra network here in Australia. Just waiting for the battery charge to creep above 40% so that it will install. Any specific bugs anyone wants me to check for? That are OS related, not 3rd party app/game specific?

I'm not on and ring on my 950XL but I'm still getting it.... Is that normal?

Switched to slow... not getting the update yet, will give it a day before going back on fast.

You're not going to get it that way, you have to get it as a production release.

If it's nearly identical, why was it such a big update on my 640? There has to be more to it.

Camera quality (audio in video recording) still sucks

Micro soft should focus on bringing brightness option to% level instead of having low, medium, high. Automatic option.
Who support my option??

Previously I was on the fast ring and was supposed to get the 14xxxx branch build but was unable to get it so I switched to the preview builds. I still don't know why this happened. Is it only for new devices ? FYI: I have Lumia 525.

Whats new in this nothing windows 10 mobile no way near to finish its only suck day by day and i am like loser after purchasing this 950XL you peple post only in the favor of MS windows 10 no way acceptable for consumer market. its always take too many time to saving photos, loading photos, in the price of GALAXY NOTE 5, i got this crappy ****

Could you help me ? I can not install the new build and fail code 0x80070002

Sudden freeze is most annoying when sometimes we need our phone and it got freeze and totally unresponsive this should be fixed first and after rest 8-10% battery got reduced
Windows Central Newsletter
Get the best of Windows Central in in your inbox, every day!
Thank you for signing up to Windows Central. You will receive a verification email shortly.
There was a problem. Please refresh the page and try again.