Windows 10 Mobile preview build 15223 now rolling out to Fast ring Insiders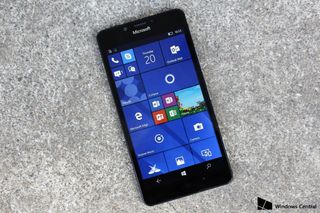 Though it initially didn't look like any new Insider builds were going to be released today, Microsoft has started rolling out a fresh Windows 10 Mobile preview build to Fast ring Insiders. Coming in at build number 15223, the latest release is a rather minor bump up from the previous, and contains just a few fixes of note.
Here's a look at what's new in Windows 10 Mobile Insider build 15223:
We fixed an issue where only the first VPN profile was being displayed in the VPN settings page via Settings > Network & wireless > VPN.
We fixed an issue where a meeting Time Zone was garbled in Chinese or Japanese.
Based on Insider feedback, we have changed "Phone Update" to "Windows Update" under Settings > Update & security.
If you're a Fast ring Insider, you should be able to grab build 15223 on your Windows 10 Mobile device now.
Get the Windows Central Newsletter
All the latest news, reviews, and guides for Windows and Xbox diehards.
Dan Thorp-Lancaster is the former Editor-in-Chief of Windows Central. He began working with Windows Central, Android Central, and iMore as a news writer in 2014 and is obsessed with tech of all sorts. You can follow Dan on Twitter @DthorpL and Instagram @heyitsdtl.
Installing this exciting new release! ahahahah

You better move to avoid falling into the crevasse. Earthquakes are dangerous!

Woa, somebody doesn't take sarcasm here, you got downvoted lol

Someone said it right on YouTube recently..
"We went almost a year, and heard virtually nothing about future plans for Windows on Phone... All of the sudden, there's something new to report almost everyday"....

I'm totally confused... At this point I'm sure WOA/Cshell/On Phone is for next generation hardware... So, the only reason for these builds is to update the last few current devices, one more time?
That's what it looks like to me.

If they do another cut and run, that'll be the death.

Another? How is that even possible with the UWP?.. We're already there.

I hope we are, but I'm worried they'll pull another 8.1. "These four devices get the newer builds of Windows! Other phones support will under a sunset period"

I have a feeling the 950/XL will be left behind.. The HP Elite X3 and Alcatel might survive

I think only the HP will survive. Have the same feeling regarding 950/XL. But if they do that, there'll be riots. Lol.

Not enough 950 owners form a mob.. :P

I do use continuum a lot, without the CShell I can get by, but... I have a feeling the processor isn't adequate

I feel the same. Processor might not be powerful enough. The Elite X3's Snap 820, however is powerful.

More powerful and power efficient, doesn't heat up as much either.. Just wish they would release an SDK for OnePlus5 or Xiaomi Mi6

Yeah, that would be awesome. Then we would have great devices and a powerful OS without heating, lags and a pleasant experience. 🙂

All W10 devices will keep getting UWP apps and updates. It's a non issue. Developer will keep targeting TH1 through RS1, all devices are running at least one of those versions, with the majority on RS1.

Well, we can't expect for 5 year old devices to be supported forever🙂

Yes, and I must say I appreciate the fact that I can still rely on my L830 for daily use

Hopefully the next one will be the much awaited fall update.... This feature 2 is extremely boring stuff

I don't think it will be significant when ready to launch... The Lumia 950/XL are discontinued hardware, and the 4s, and X3, are last generation hardware... We know, for a fact now, MS is working W10WCS for all Windows devices, including phones... I doubt if MS is still investing substantially in anything current. The next big update for Windows on Phone has to be for next generation hardware like a "X4", or "Surface Phone".... If what I'm saying is wrong we would be seeing a host of new features for mobile by now. By June (anticipating a fall release) it's too late to introduce new features.
Sorry, but this is most likely reality.

Exactly. No new features just patches. Same as what RT gets.

I think we'll get to see a kind of final update, like RT got, bring some compromised form of features from the main new version

too ****** funny. I say the exact same thing as unkitjc, and I get fangirl downvoted...love the fangirls when they their panties in a knot....

I feel you man. Like 7.8 Mango, yes!

I think it was MSPowerUser guys (or someone else, I just know I've read it) who installed the leaked builds on the 950 XL and said it ran fine except that the phone got hot because of the poor optimisation. It's true that MS is known for not releasing updates to slightly older hardware, but I still think (or want to think) that they are going to bring CShell to the 950 & XL.

New name for phone update :D Windows Update is absolutely better
Also its a start, isn't?

Anyone notice the words "Windows update" all jaggered like some weird font?

It's not a bug. Someone part of Windows team tweeted about it. https://en.wikipedia.org/wiki/Pseudolocalization

Ok. So MS has got a new bug to work on for few fast ring builds. Oh not to forget the wechat bug. I think the best fix MS can give for the wechat bug is to remove the app from the store! The MS approach.

Anyone else having troubles with Outlook Mail recently on Mobile? Its slow as hell.. is it my build and I need to start fresh, or is it something that's going to possibly be fixed with more updates?

It is this and also other apps too...but on my 640 keyboard is now a bit smaller from sides and harder to write on. Not sure if the builds are getting worse again.

I've got a tiny keyboard on my 1520, of course on slower ring....

Holding the space key on the keyboard and swipe left or right to change size of the keys

Mee too, to slow and crashes, somethimes it appears to be an old phone with 512 of RAM and single core processor runing windows 10. lots of lags during few seccond (about 10 to 15 seconds).

Insider builds will act this way. It is part of the deal: find issues, report them, help test fixes for the issues, report more issues, find the root cause .. and then solve the problem. Well, not exactly like that, but you probably get the point.

Yes, things that used to be handled in house. Now it's put on users to do.

How is that NOT TRUE fangirl that downvoted me....

waaahhhhh fangirl downvoter....you said something bad about microsoft...im going to down vote you...whaaaaahhhh.

You really care about downvotes? This i**ts will downvote you anytime you say something, so do not worry. Live your life, is more important;).

Of course not......I think it damn funny! which is why I respond in such...I could care less if any of the fangirls here up vote or down vote me...don't worry....this is a passtime..not a life for me, unlike some here...

When will we get a cumulative patch for mobile, though? After CU, my 950 xl has been pretty crappy, with resets and crashes.

Yes, today one was released.

I had no idea, and I made sure I checked for updates. Must have come after my check. Anyway, good news, I'll check it later. Thanks for the heads up!

Had same issue. Bought new battery, hasn't reset once

Bro where did you buy a new battery? I can not find a good one. Please help me.

EBay. AceSoft seems good.

Yup, ebay. Mine is yellow and white colored exterior.

Get a new battery. Been through it already myself.

Yup can confirm new battery fixes a lot of that. Lumia 950 I got a 3570mAh battery on ebay. It's working Great! Edit: AceSoft brand battery. $20 usd on ebay.

Had same issues starting in the last couple weeks, with original battery and OEM backup. Since this update I've not had a restart or random shutdown, and battery seems a lot more stable.

What do you expect? It is microsoft:)). I can't remember one version, just one, of the three mobile os's 7, 8(8.1) and 10 to work without buggs. I really can't. Windows 8.1 always crashed my lumia 1020 when using the camera more then 10 minutes...still does. Windows 7 is just not their where it supposed to be and windows 10 is a bugg party 💃.

Ugh after the cshell demo WC did all these fast ring builds are so boring -_- I just can't wait for cshell

And, to be honest, that's what you should be waiting for.

Why isn't this just a bug bash Tuesday update?

Because it's not ready for primetime, hence "insider build".

What is not ready? There hasn't been any feature changes to mobile with exception of an icon.

IDK, ask MS... It's their weird Mobile thing going on..... And, this is weird...

Well, I guess it's only weird from an insiders point of view. Being an insider can screw with your perception of the state of the platform.

USB Audio Class 2 support added yet?

I'm not 100% sure but my Dragonfly Black seems to work as expected

I have both the Red & Black. Yes, they work because they do not require UAC2. The Chord Mojo however does and that's a huge disappointment for the 950XL. Oh well, I've already preordered the Chord Poly to take care of that. Good to see another person here that uses quality audio peripherals. 👍

I hope that the two newest Windows phones from Alcatel & HP get the c-shell update.

Pretty sure they will...maybe even the 950XL...i hope lol

Alcatel S4 is huge disappointment to me. Wife uses it for month - more problems than L640 had in 1,5 year.
That is not counting very strange power and camera buttons placement for right hand.

X3 was running it, so it's guaranteed.

My unworthy 830 has update envy ☹

My 830 is on 1703. Insider release preview. No problems at all.

No, just insider on release preview, version 1703, build 15063.414

No, Insider Preview, Release or Slow.

Can anyone help me to get a fully functional battery for Lumia 950XL? I bought 2 batteries but both are useless, phone turns off suddenly whenever I take a picture or using the phone. PLEASE HELP!!

You most likely bought the fake ones. I had one from eBay and had same issues as yours. Returned and got refunded. Bloody Chinese fakes everywhere. Buy from rounded.com. They are heaps more expensive but they're oem.

If you bought well reviewed batteries, try WDRT.
I had issues charging with usb after a new battery, but wireless gave me a full.charge that lasted longer.
Also use an app like AIDA64 to view battery stats.

Yes buy mugen power battery from mugen website 9300 mah battery plus original quality last three time more than standard battery for $79.99

This is a very extensive update. Just wow!

No, if you act in the next 30 minutes they'll throw in not one, but two, extra updates! That's three for the price of one!.. But, you must act fast; supplies won't last long.

I'm just going to hold off and wait for the "Sham-Wow" offer...

I useta culd..but not any more. Me and my Nokia Icon got kicked out of the club.

You're lucky it lasted as long as it did.

I wish Microsoft just had a little Courage when it comes to phones.

I think they did damn well with the 640, low cost with very good functionality. Too bad it was just an experiment. It could become a real staple in the inexpensive smartphone market worldwide.

SD400, 1 GB ram in 2015? Yeah, real courage. That's a 2013 CPU.

Can anyone tell me why Microsoft is pushing this preview build to my new Elite X3 which I don't have on Windows Insider preview?!

Are you sure it's the preview build? they released a 'normal' update and an insider build at the same day. So if you are not an insider, your x3 is probably installing the normal update.

Are there any extra bugs in the current fast ring insider builds for mobile? Since they (apparently) aren't making any changes to the underlying OS it should work just as well as production?

Enough with all the mobile love! Can we get a new desktop build for a change!?

Why they never release something that was really a nice addiction? Just fix this and that but never see a real change, at this time I almost don't use my Lumia 950, because my xiaomi mi5s has a lot more of things to do, and every time I have anything new to be using, I still using windows because I like and it is a very beautiful system, but does it worth?

It probably does not "worth" for now. The current lineup of windows phones has been pushed down to basic support AFAIK. No new features.

Ahoj.Jmenuji se Mirek a z Lumií jsem velmi spokojen. Mrzí mě jen, že se dál nevyrábí. Ty mobily by uměli něco říct.

Miroslave, krme te ubolo.

Dona Sarkar destroyed WIP, children are laughing at us.

You really think she's the one to blame? 😅

The word Windows is so big it needs a 39.89mb update over the word phone.
Don't download this nonsense, garbled in Chinese...i never had that until now.
This 'Windows Update' (phone update) is written in wingdings font. what is this Dona woman smoking

They are doing tests -> https://en.wikipedia.org/wiki/Pseudolocalization

Regional settings i understand.
Why is the text Windows Update in wingdings?

Hasn't happened to me as my phone is in English, but I'm guessing it's placeholder for the language pack to replace. Until those are updated it'll still be garbled. Again, just a guess.

Look at TDinozzo comment above. I'm English too

Because it wouldn't have been easier to copy and paste the translated word "Windows" from somewhere else in the code.

This is an awesome update for me in that I finally managed to install the UK language pack , meaning Cortana now works. Couldn't on release ring despite clean install or the last version of fast. Now I appreciate language pack install on mobile has been related to positions of the sun and stars, the colour of underwear one has on and how many legs being stood on since inception....So may be something in the build, may be pot luck but Hooray for this update 😎

Can't install any language packs. :(

Working well on my Lumia 1520 :)

15222 already worked really well. Happy to see MS still pushing builds. Waiting for a new phone in about a year. Till then I will just be a happy camper :-)

It's really fast on my 950. Especially navigating settings.

Now I can search for Windöws Üpdaete, what is this? Old egypt font?
...ah so stupid, unbelieveable...
so now we know what we get fixed in next build....maybe ;)

Exactly, what a joke.
I thought April was two months ago

Pseudolocalization https://en.wikipedia.org/wiki/Pseudolocalization

The remaining 4 people on windows phone must be very excited right now.

Yes. Yesterday Uber updated their windows 10 mobile app for those 4 people. Last week Instagram updated also for those 4 people. Don't count other regular updates like WhatsApp, Twitter, Telegram, etc.

You're hilarious Jack. You should do stand up comedy with priceless jokes like those (my sides hurt)

Trolling an OS is about is lame as it gets. At least be useful, and troll FOX News or InfoWars.

Such improvements much features

Is this build okay to install on a Lumia 1520? Any feedback is very much appreciated.

Thank you very much. I'm stuck at build 15063.138. Do you know how can I get to this new build?

Possibly your device is not supported. If you've rebooted, it's time to do full restore. Use windows device recovery tool. Do not opt to restore from backup. Try again.

I have done this. I know that Lumia 1520 is stuck at Windows 10 Anniv Update RTM. Not sure if the same is true for Insider builds though.

I still can't get past 15063.2 no matter how many times I've tried resetting my phone. :(

Same problem here........

Make sure u re on fast ring, region is US and u re an insider

I've tried fast ring, slow ring, release preview ring, and opting out of the preview program. Nothing works and I've reset my phone several times. I've tried several soft resets, a few hard resets, and the Windows Device Recovery Tool. No matter what I do, it won't go past 15063.2. Everytime I reset it reinstalls that version since that was the last version that was installed.

I seem to have lost the ability to turn on the phone speaker when I release the phone from my ear during a phone conversation. Or the new build jeut reset the feature. Anyways, I don't recall how to activate the feature, which is pretty useful to me anyways.

Go to phone settings then audio routing settings and you will see the option there

Settings, phone, audio routing and enable it there.

Thx, must have been a transition problem between the two builds. For some reason, it started working shortly before I got your post.

Why my Lumia 535DS shows that your phone is upto date though i'm in the fast ring........my device get sticker at b.15063...........

Heating problem annoying me😣

Downloaded yesterday on 950 went smoothly and not having any issues. I didn't read about change from Phone update to Windows update but, I like it. That was good feedback. I've also noticed since last release Hello is working much better. I don't have to take my glasses of to unlock my phone. Loving Hello feature. I'd like them to add more features around changing security level on Hello.

Still they haven't addressed the issues with Edge mobile. Keeps reloading and getting blocked while surfing.

Like quite a few other people, my Lumia 1520 is stuck on 15063. Its been reset, reset with WDRT, and enrolled in Windows Insider multiple times. Anyone else have any luck getting past 15063?

Xbox apps not working to connect with this build

When will this build-16212 release for phone....??????????

I'm using Lumia 930 and on build 15063.414 creators update .....enrolled in the fast ring...then changed to release preview ring and even slow ring....still I'm not getting this update .....phone update says no updates available.....btw anybody experiencing bad battery life on build 15063.414?