Windows 10 Mobile build 10586.218 live for Release Preview ring and Retail devices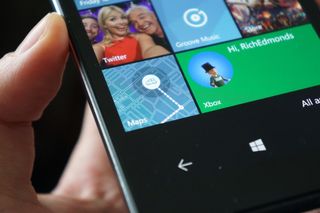 Microsoft has just released Windows 10 Mobile preview build 10586.218 to members of the Insider program on the Release Preview ring
This is likely the last preview version of this build before Microsoft begins rolling it out to all Windows 10 Mobile devices. Microsoft added the Release Preview ring for members of the Insider program who wanted to get the latest stable build before it is officially made available to the general public. There's no word on what is contained in the build.
We also have confirmation that this update is rolling out to retail devices too as in non-carrier branded Windows 10 Mobile phones.
Windows Central Newsletter
Get the best of Windows Central in your inbox, every day!
can anyone tell me if navigation bar is hiding or not for older win8.1 apps like WhatsApp ? most annoying issue for me in .164 version - From Windows 10 Nokia Lumia 730(10586.164)

Yes its happening with me :( Posted via Windows Central App for Windows 10/Android

navigation bar is not hiding for several 8.1 apps, no use of this update..... just waste of data - From Windows 10 Nokia Lumia 730

For Build 14295, It is going down. However, that area is blank and the app does not fit in the space of the navigation bar or remains how it was.

Just stay calm and wait for app update

It is probably because the app doesn't officially support W10M..

Dev has to fix that... issue still the same on the new .218 bild

same issue. same phone. same build. problem with navigation bar in whatsapp and few other apps

WP wait for the forthcoming info as to what is broken and fixed before downloading. Posted from Windows Central for Windows 10
Using the Alcatel OneTouch Fierce XL for Windows 10

Will wait* Posted from Windows Central for Windows 10
Using the Alcatel OneTouch Fierce XL for Windows 10

It's a production build, not beta. You should be fine.

It not likely that anything has (knowingly) been broken. This isn't a Redstone build, it's a cumulative update for the current release branch, you should be good to go.

Wait... Wasn't windows phone 10 supposed to be dead by now?

Lol Posted from Windows Central for Windows 10
Using the Alcatel OneTouch Fierce XL for Windows 10

Windows Phone 10 doesn't exist funny guy.

windows phone 10 never existed.

I think you forgot the /s, you don't deserve to be downvoted lol. Let's hope the Redstone build for Mobile arrives soon as well!

W10M is still very much alive and well..

Windows 10 Mobile is mobile edition of Windows 10 which runs on ARM chips. Dumbass. Sent from pichke materine ;)

Guess you are the dumbass cos the update bar looks like its giving my Lumia 520 a new life. Makay Chapulets | MTN CCR
Posted from my Lumia 640XL running Windows 10.

I'll try it out when I get home! Can't wait! Posted from Windows Central for Windows 10
Using My Beastly 1520

beastly !! did i read it correct? xD

Yes you read correct. Posted from Windows Central for Windows 10
Using My Beastly 1520

The only thing u don't like is that my cellular and mms don't work a couple days after updates

Yes I don't like that... Makay Chapulets | MTN CCR
Posted from my Lumia 640XL running Windows 10.

I'm getting this update and I'm not in the release preview ring o.O

Stop hacking microsofts servers!

Lucky im on the insider and i dont receive it !!

I'm not an Insider but my Lumia 950 is already downloading this update. Posted from Windows Central for Windows 10

Yup! Posted from Windows Central for Lumia 950

Downloading update.
The navigation bar issue is also annoying for me.
L730..

Really annoying for me as well. Someone should fix this.

it is not fixed in this update also...... MS solution is every app that developed in w8.1 environment must provide an update for UWP.... lol..... this issue driving me like crazy I had apps to pay bills, recharge, order food but was unable to make payment bcz they "PAY NOW" button is placed under the Navigation bar and it is not hiding so now has to open mobile version sites in MS Edge and use to make payments and if I use MS Edge there were lot of ads and I need to bang my head to complete one transaction...... - From Windows 10 Nokia Lumia 730

It makes me so happy I have dedicated buttons... Lumia 1520... Why make the nav bar on screen? Thats just stupid!

It was supposed to be for dual boot phones

Still, I noticed 950 and 950XL also dont have the dedicated buttons... I will never buy a phone that doesnt have bottons... For me it just seems wrong somehow.

They originally wanted that so if android was on the phone there wouldn't be issues, but I guess they just wanted to keep it.

Its not that important anyway. Im not planning to switch my phone for at least a couple more years... And once W10 on mobile stops being horrible monstrosity, I will even enjoy it at some point. But I guess not being a total dissapointment on mobile is "coming soon"

.218 on pc and mobile downloading now...... i have a lumia 625 (512mb) and is downloading .218 like a champ ;)

I hope it doesn't later bug up like a champ Makay Chapulets | MTN CCR
Posted from my Lumia 640XL running Windows 10.

Not for Release Production but also for Production ring as well. Posted from Windows Central for Windows 10

I hope there is more info coming. At the moment, nothing on Microsoft blogs, nothing on Twitter from Gabe. I'm confused. Oh, wait. No Insider tweet or blog, because this isn't an Insider release. It's Release Preview and Production Rings. Standard retail release. Okay. Got it.

Seems like it's a production build, not insider. Gabe typically doesn't comment on production releases.

https://www.reddit.com/r/Windows10/comments/4egyrg/windows_10_april_upda... Changelog list

Downloading on Lumia 950 XL DS and i7 Surface Pro 4. Both non insiders!

I'm getting an error :( lumia 930

It's there for public update!

Downloading on my Lumia 830 now. Windows Central for Windows 10-Microsoft Lumia 640

Hello Zachary,I didn't receive yet Windows 10 on my Lumia 640. Did you already got it on your L640 ? I'm in Germany by the way.

I jumped onto the Fast Ring to get Redstone when Microsoft announced I was supported. I didn't wait for the official update to crawl through AT&T.

Thank you... Is it very risky to get in to Fast Ring? Can I go back to 8.1 or 10 from Red Stone?

If you want Windows 10 Mobile but want it to be stable I suggest the Release Preview Ring. My daily driver (Lumia 830) is on Release Preview and it's awesome. Redstone is definitely less stable and more buggy right now.
Whatever you decide you can always return to Windows Phone 8.1 via the WDRT or Windows Device Recovery Tool. Just search for it on a PC, download it from Microsoft, connect your device via USB and follow the prompts. It's easy but rolling back to Windows Phone 8.1 will reset your phone so make sure you backup.

Thank you again for your help. One question more, I don't have PC I have only tablet. Is it possible to do it only via the phone.... To go back to 8.1. My tablet is Nokia Lumia.

You have the Lumia 2520 which runs Windows 8.1 RT. As far as I know you cannot use WDRT with 8.1 RT but I'm not 100% on that so I'd wait for a second opinion. Windows Central for Windows 10-Microsoft Lumia 640

Thank you again. You're good guy. Keep this way.

Thank you. I always enjoy helping somebody out when it comes to technology. Windows Central for Windows 10-Microsoft Lumia 640

No you can't... 100% sure

Thank you for confirming.

Maybe you could send it to someone who knows how to do that stuff

For some reason I'm not seeing the Release Preview ring anylonger....

That's certainly strange. What Ring are you on now/what phone?

Hey Zachary......how is the battery life on the 830 after this update....!!!??

It's solid. The Lumia 830 never had spectacular battery life but it's much more consistent than it was in earlier builds.

true this update is also for non preview members, updating my windows 10 upgraded 730.

I'm getting this update on my Lumia 920 and that makes me happy especially since that phone was orphaned out of W10M.

Good! my 920 is receiving this update too!!!

Downloading on my 920 also. What happened, I thought the 920 won't get any more Insider updates?

They won't get updates above the build 10586. This update is 10586.218

Will still get a few more Threshold 10586.xxx builds, but won't ever move into Redstone branch, same for 1020 & many others.

I will too, if it brings the stereo sound recording for videos.

I'm not getting it for my (newer & pricier) 1020... :-( I'm on slow though, so I'll change to release_preview to see if that helps.

I'm pretty sure x20 x30 will get this update. Lumia 640 XL DS
Build 10.0.586.164

Downloading it on my L735, not on Insider build.

Same, and mine is carrier branded too. Posted via the Windows Central App for Android

It's downloading on a non Insider/non Release Preview Ring aka Production Lumia 640 here. (Not branded)

Probably last build for my L720

Dowloading... Let's see if the app list dim effect and navigation bar hiding bugs were squashed with this update.

navigation bar issue still persists, they won't fix it ever.... all those apps has to release a Universal Windows apps until then this issue is not resolved..... - From Windows 10 Nokia Lumia 730

The navbar issue was taken care of in Redstone. I was hoping that ms would include fix.

It was fixed, don't know what happened

Downloading now to my AT&T Lumia 950!

Non-insider. I should have mentioned that! Thanks.

Happy to report that it is indeed available to AT&T L950 non-insider phone. Now let's see if it fixed some little annoying bugs.

Downloading on my Lumia 950xl, non insider.

Why haven't they got PC-like cumulative updates on Mobile yet? Every single one of these minor updates requires like a 600-700MB download, and about 1.2GB storage for installation. Always have to delete apps and make space. It is pretty annoying. The system already takes over 3GB space. Not at all a good experience on phones with 8GB internal memory. But then, I guess you get what you pay for.

They can't do that for Mobile releases.

Well, there definitely must be a way. Even iOS and android devices are able to receive small "patch" update, that are smaller to download and faster to install.
Regardless, if they are planning to release updates and features on a regular basis for mobile - same as PC - it's time they figured out a way to deliver smaller patch updates, and not entire packages.

I have the same problem every time when I download the updates.And it's very annoying. Posted from my Lumia 640 Xl dual sim 10586.164

This is surely a cumulative update. It only weighs 70.98mb Sent from Lumia 535DS india ❤

It downloaded around 600mb on my phone. And after unpacking, grew to around 1gb.

If I can show u the screenshot!!! It is really just 70.98 mb for me. And when I updated .107 to .164 then it was 283 mb. Btw your present build?

I'm not saying I don't believe you. Just saying that it took up more space on my phone.
Also, it's installed now, so I can't really share my phone's screenshot. All the extra stuff got cleared up. Perhaps, the next time. :)

Yeah. But it should not take that much space. I think there are some problems

how do you know its size in MB?

I always keep track of the phone storage in storage settings. As the update downloads and then installs I keep checking how much storage gets eaten up.
I started doing this after installations failed multiple times on past updates due to low storage errors.

As now i am in cellur data connection so automatic update is not happening and it shows if you want to download 70.98 mb using current data charges may apply. From there I knew the size.

What confuses me is that it's called "technical preview" even though it's coming in on my non-insider retail device.

Because W10M is still not "officially" released yet. Even my L950 which doesn't have 8.1 to fall back on is running a beta OS. Kind of sad.

I thought it was with Redstone and the 950(XL) back in November...

Downloading at the moment. Getting on my .164 l730

Hi anybody know why my phone is showing (Insider Slow, Insider Fast and Production) Only?

I think you have pre-installed w10(950,950Xl,650,550) and that's why you don't have the option to get back. Posted from my Lumia 640 Xl dual sim 10586.164

My lumia 640 is not showing also

I just download the insiders app.I can see
Insider Slow
Insider Fast
Release Preview
Production Posted from my Lumia 640 Xl dual sim 10586.164

Can you post the link here? I dont know whats going on with my phone

Check if you have update the app.Or just uninstall it and re-install it...
You are at 10586.164?? Posted from my Lumia 640 Xl dual sim 10586.164

Can you hit about and check your app version? Mine is 1.3.233.2

I have 10.0.14295.1000 redstone loaded

That's why...You have 14295.
P.s.
Check for updates.I think it's 1001

I'm not getting it for me 950XL on 14295.1000 unlocked regardless if I'm on production or fast ring. Tried rebooting, uninstalling/reinstalling Windows Insider app, nothing works...

It's an update for non insiders.Your 14295.1000 its different from 10586... Posted from my Lumia 640 Xl dual sim 10586.164

If you have 1429x.xxx you can't go back to 10586

Downloading it for Lumia 930 in the UK, retail version!

Downloading it on my L620 :) hope it solves the heat/battery issue

I'm going to ask one more time. When is the BLU Win JR LTE X130e going to receive the update? Anyone here have any idea?

Doesn't that phone have 512 MB of RAM? If so, the answer is, "Never." Nevermind that MS specifically advertised that it would.


No that is the X130q for US. The X130e has 1 GB of RAM and. Snapdragon 410.

M not a part of insider, still i'm able to make update. Here in India Seen on Lumia 640 Xl

It's rolled out to my AT&T Lumia 950!

Has anyone here updated the LUMIA 925 for Windows 10 ( Insiders )? Works well ? I'm afraid to update .THX

There are no specific issues related to W10M on that phone that I am aware of. It seems to run pretty much as well on my wife's L925 as on my L950. That said, W10M doesn't really run well on any device, so there's that...

I've just gotten 925 in some exchange. It's painfully slow with latest insider, after hard reset, don't know why, my older Ativ S and 735 work much better.

It's working much faster and much more reliable on my 925 than the previous insider build. I'd say it's almost stable. But you still see performance issues when scrolling fast.

lumia 640 without insider program is just updating

What carrier/country is your 640 on/in? Cricket US 640 hasn't even gotten Windows 10 yet.

It is only 70.98 mb..Ahh!! Sent from Lumia 535DS india ❤

Welcome bro. But it may vary from device to device

Downloading on my Lumia Ic... O wait, no!

Also rolling out to my carrier branded (O2 UK) Lumia 735 Posted via the Windows Central App for Android

I am currently on build 14295 on my lumia 640 xl which is not that stable and good. Can I get this update by switching from insider fast ring to insider preview/production ring?

nope, only option is to roll back to 8.1, then update and choose insider preview in windows insider app

What ring should I be in? I only have Slow, Fast and Production, is production the same as release?

you should be able to just download it. I went to settings and hit check for downloads, and it was there.

I tried all 3 and none work

I don't know what to say.

at what of the three rings are you? slow, fast or production?

What build do you have as of now ?

10.0.14295.1000 and I really want to get out of it since it introduced a great number of bugs

It's redmond build. You may not get the update. You have to wait for redmond update or switch to 8.1 and then update.

Thanks, I was afraid of that answer :(

Donloaded and now preparing to install on L730.

Will i get this update ...?
I was in the insider program..

Hey guys, I'm on insider but don't see release preview. I tried both slow and fast rings and neither has the update. I own a L735. Any help would be greatly appreciated?

Curent build details please ?

I'm on build 14295...however a few weeks ago I selected to stop preview builds on insider. Do you think that is why I'm not getting it?

This is Redstone build. You may not get the current update. Wiat for redstone update or downgrade to 8.1 and update to this.

Please provide quick feedback guys as soon as you install.

Still waiting for AT&T to roll out Windows 10 itself.

Installed on L730. Definately faster, Less "Loading.." text. Noticed in the previous build(164) that with time phone starts getting slow, problem in Settings, need to restart. So I hope "Stability, reliability improvements.." mentioned in the fixes also handles some of these problems.

Just updated my 1520, no noticable changes.

From the article: "We also have confirmation that this update is rolling out to retail devices too as in non-carrier branded Windows 10 Mobile phones." Hasn't come through on my Lumia 950 XL (dual sim) yet. MS Store purchase.

Got it ok non insider also.......

This is odd. I am not getting it for some reson. Guess I'll have to wait.

"Retail devices" means it's a Production update? Because all phones are "retail devices", the OS updates are usually referred to as Production.

I was hoping it would fix the install fl keyboard problem. I still cannot install any that don't come automatically with the OS. Tells me to try again later.

My L640xl becomes very hot while charging or even when connected with wifi. Battery drains faster. Please help!!! :( Posted via the Windows Central App for Android

Opted out and still get this update :P

Should this com to my lumia820 on slow ring, .164 ? So far no luck.

Hmm my windows insider only has fast, slow, and the opt out

My 950xl is through a carrier (Optus Australia) and I just got the .218 update so I guess it's not just non carrier phones. Posted from Windows Central for Windows 10 using Lumia 950XL

so I guess it's not just non carrier phones.

Steve, I believe the Optus 950's are unlocked so this might be why?

I am not using insider app. I upgraded from 8.1-10 using official non insider ota. I am getting this update.

I have received the update as well and I am not on Insider. Lumia 950.

My ATT 830 in the Production ring installed just fine, and rather quickly, it only took about 30 min. Everything seems fine but it was OK on .164 too

Lumia 640 At&t gophone unlocked? Will there be an update as of now?

I'm on Redstone latest and it's a pain in the ass, how to get this build, some1 help

Yes. Finland L950XL got .218 few hours ago retail and non locker.

Hey at least Cortana still crashes a lot! I'd miss that.

Can't MS change those circles and bring back the squares in People tile??

Can't get this build on my Lumia 540. Their build was 14295 and I tried to run via Windows Insider and tried to update again it say's "Your phone is up to date". How can I get this build 10586.218? Any help guys, thanks

i updated to this build but now i want to revert back to my orginal win 10 build which i received through upgrade advisor few weeks ago. Is it feasible to roll back to the previous build on my lumia 640xl ?

Can some-one verify this build to fix the typing sluggish issue with e.g. WhatApp or was this predictive-text-fix in RedStone (jee jee.. anniversary)? TRULY annoying when you have to slow down YOUR typing speed, because the f**** phone can not keep up. C'MOON!

Finally, a working build without compromise. I must have reset my 930 at least a dozen times

Im not an insider and I got this update 'over the air' just today on my Lumia 950xl...

Anyone facing a problem with offline maps on Lumia 640xl?

My phone is a Lumia 1520 that used to be with at&t and I unlocked it. In terms of updates, does it's still needs to wait until the carrier releases the update or do I receive them directly as a unlocked phone? I reset my phone and without insider my phone received 10586.164 and downloading .218 now. Is it on par with others?

How can I roll back just one build from WIN 10 mobil 14295 build? I don't want WP8.1, but this 14295 build really sucks.

I'm missing something. Been on Insider since the beginning but I don't have an option for a "Release Preview" ring, just "Insider Slow" and Fast.

windows update error 0x800f081f mobile while trying to install update 10586.218 already done reset hard reset but not solved please help microsoft LUMIA 535