Windows 10 Mobile receives update on 'Patch Tuesday'
Windows 10 Mobile is dying, but it received a "Patch Tuesday" update this month.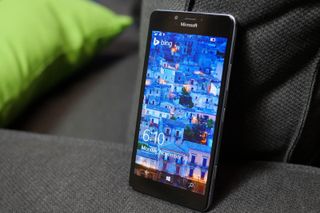 What you need to know
Windows 10 Mobile received an update through this month's "Patch Tuesday."
The update includes some of the same fixes that shipped to Windows 10 this week.
Windows 10 Mobile is losing official support in December 2019.
Windows 10 Mobile received an update this week as part of Microsoft's "Patch Tuesday" (via OnMSFT). The update includes some bug fixes that also shipped to Windows 10 devices this week.
The update brings Windows 10 Mobile's build to 15254.575. That build number is significantly lower than Windows 10, which has builds as high as 18362.239. Here is what the Windows 10 Mobile Update includes:
Addresses an issue that may cause BitLocker to go into recovery mode if BitLocker is being provisioned at the same time as updates are being installed.
Security updates to Windows Wireless Networking, Windows Server, Microsoft Scripting Engine, Windows Storage and Filesystems, Microsoft Graphics Component, Internet Explorer, Windows Input and Composition, Windows Virtualization, Windows App Platform and Frameworks, Windows Fundamentals, Windows Kernel, Microsoft Edge, and Windows Cryptography.
Windows 10 Mobile is officially losing support on December 10, 2019 according to Microsoft's Update Lifecycle page (opens in new tab). While Windows 10 Mobile has been mostly abandoned for a while now, there are still some users using it on their primary phones.
Portable (and affordable) power accessories we love
Each and every one of these charging gadgets will keep your favorite gear and gadgets going for longer, and none of them costs more than $30.
VisionTek 8,000 mAh micro-USB power bank (opens in new tab) ($13 at Dell)
This compact dual-output powerbank can speedily recharge any and all your devices, thanks to a two-amp "fast charge feature," using its micro-USB out port. Its simple design includes an LED indicator, and it costs about as much as a single ticket to the movies.
Panasonic eneloop AA batteries (opens in new tab) (From $13 at Dell)
Panasonic's rechargeable batteries are among the best available, and just a couple of them will keep your favorite remote, mice or other peripherals powered up when you need them. They're also eco. And the company's affordable charger (opens in new tab) fits and charges both AA and AAA batteries at the same time.
Belkin Qi Wireless Charging Pad (opens in new tab) ($30 at Dell)
This unobtrusive Qi wireless charging pad looks good (and kind of like a UFO …) and easily charges all your Qi-compatible device up to 5W. Its LED indicator lights up when you're charging. And it costs just $30.
Windows Central Newsletter
Get the best of Windows Central in in your inbox, every day!
News Writer and apps editor
Sean Endicott brings nearly a decade of experience covering Microsoft and Windows news to Windows Central. He joined our team in 2017 as an app reviewer and now heads up our day-to-day news coverage. If you have a news tip or an app to review, hit him up at sean.endicott@futurenet.com (opens in new tab).
😶. WM10 devices have been getting updates, I'd guess those on 1709 and above a tad more regularly than devices on the anniversary update. Although I wouldn't call them updates as they've been breaking things every update and unfortunately we have nothing like group policy on device to prevent these forced installs. Too much hassle to install an MDM solution for a single or just a handful of devices lol.

Yes, my 950 got the update. I wasn't surprised. Nor would I be, one way or the other. We all know there really won't be much of anything else done for the platform. But then W10m is pretty stable and I've had no issues, so I'm good with this. The Cortana experience alone is worth staying with the device, since Microsoft isn't doing squat with it on any other platform.

What Cortana experience? There's nothing in the feed, alerts such as sports results stopped a year ago, and I haven't had a need/desire to open the app in months other than to view/edit reminders, which is one of the only things left. To their credit, those still work well, especially the ones that are geo-based, very reliable, as is voice control over Bluetooth for texts.

Cortana's ability to notify you and read an incoming txt message will driving and the ability to respond verbally, completely hands free, still surpasses anything I have seen on Iphone or Android. IMHO

THIS! So true. This was a rarely spoken about advantage of using a Windows Phone.

I'm always feeling sad when talking about Windows Mobile :(

"Rare update"? We've been getting updates every month all along.

Exactly, Windows 10 Mobile receives updates every month along with Windows 10.

Actually it fixed a two-year-old bug for me. Now I can once again receive phone calls while the jack-cable is plugged in. I am using my Lumia 950 DS to listen to music in my car via a cassette adapter and the jack plug. But when a phone call would come in, I had to unplug the jack, otherwise the phone call voice would be lost completely. No phone call voice on the jack, nor on the loudspeaker, nor via Bluetooth. I would need to hang up, unplug and call back. Now it works again. I accidentally received a phone call via the jack cable, and viola, the phone call happened through the loudspeaker of the car. Like it used to for those nice 4 months as before, when I bought the device.

Stop using a phone and driving.

I never understand these silly comments… smh maybe YOU can't talk and drive, but others CAN...

No you can't use a phone safely in the car. You are distracted from the critical task of driving safely. https://www.nsc.org/road-safety/tools-resources/infographics/hands-free-...

Wow, an absolutely reference free infographic is certainly convincing. I guess we should all ignore real reasearch like this that shows the opposite: https://www.sciencedirect.com/science/article/pii/S0925753517320520?via%...

You know, you don't need to drive while being in a car. Ever thought about that?

Mine feels 10 times faster, I think this update will breath in new life to the platform! /s

Since I can't figure out why the screen on my 650 won't display it's not used anymore

Hilarious! I just booted up my 950 that's been sitting on my desk at work. 😂😂😂😂😂

Remembering when this used to be Windows Mobile site

This is good news . Just ordered a Lumia 650...just because. Currently using a Pixel 3a and it's the best experience I've had on Android yet. Still miss live tiles though. Just wasn't meant to be for windows mobile...shame.

Happy with my lumia 950XL. Still a great phone as a daily driver. Only issue I've had, as with all lumia phones I've owned is that the phone sometimes crashes when an alarm goes off of a reminder or alarm when pressing close too soon or the phone rings after a longer sleep period. The phone can stay stuck in a sound loop that goes on forever with an annoying sound. I think there's something wrong with the the native sound jingles. It happens about 2-4 x a year.
I'm going to miss the native OS and live tile experience once moving to the stale dekstoppy icons on android or iOS that looks 20 years, untill my phones dies and I need an new phone.
Has anyone considerd switching to a dumbphone after quitting windows phone? If so, why?

Yes if/when my 3 widows 10 phones break or no longer work i will go back to a flip/dumb phone.

No, I will continue with Windows 10 on ARM on Lumia 950 XL.

Yeah, I'm considering a dumb phone for the greater number of apps available compared to my Lumia 950. :( Kidding aside, I moved to Android for the final time about a year ago. (I've jumped several times previously but always came back to W10M when something about Android pi**ed me off.) I still have several WinMos around to play with, but I've gotten used to Android. As I often joke, Android let's me get more done with a phone, but I just don't enjoy doing it as much any more...

W10M is a relic at this point and when I'm using a modern app, it feels strange. Like hey, devs could really do cool stuff if they wanted. Office apps are really amazing, Mytube, Unigram. Too bad everything else is so... Meh.

I always feel like I get more time to myself when I jump back to my Lumia 950 XL from my Samsung S10. It is like I am using the smart phone more like it was suppose to. When needed only and nothing more....
Windows Central Newsletter
Thank you for signing up to Windows Central. You will receive a verification email shortly.
There was a problem. Please refresh the page and try again.