Your Windows 7 or 8.1 PC could alert you when the final version of Windows 10 is ready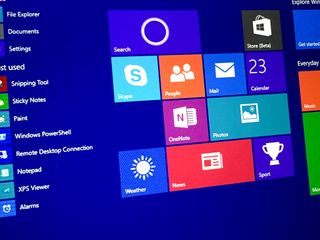 Microsoft may have released a file that will issue a notification for when the final version of Windows 10 will be available for download for owners of PCs with Windows 7 and 8.1.
The file was discovered after Microsoft released an optional, but recommended, update for both Windows 7 and 8.1 in late March under the support file number KB3035583 (opens in new tab). The official description states:
However, Myce reports that the update placed some new files in the OS, along with a new config XML file. It states:
Microsoft has already announced that Windows 10 will be free to download for consumers who own PCs with Windows 7 and 8.1 for the first year of the OS's launch. It's likely that this new notification file will alert those users when Windows 10 is available. Of course, any Windows 7 and 8.1 user can sign up for the Windows Insider program right now to get a preview version of Windows 10 installed.
Source: Myce
Agreed... Used too many times.

Guess nothing can beat "seems faster" yet, lol

When will it seem faster in India?

Please expect this notification to occur in 2018

When is the when thing coming to an end?

Because we are tired of waiting.. Oh man don't to know there are other companies make OSs and phone?

It gets there when it gets there. Just like any preview delays show up and that could push the project further from the "Release date". Patience my friend.

Seems When in India is the new... Faster

Windows 10 coming 10/10 in India

When will MS remove the keylogging and survailance crap from win x ?

... & When will it be ? :)

During summer in US. That means rainy season heee in India.

Why are there so many comments about India? Posted via the Windows Central App for Android

Yesterday, I downgraded to windows 7 from win10

None. For post like that the Internet should have an option to think for 2 seconds before posting.

Ya let us know cause W10 flows like a river on my PC, build 10041 haven't updated to 10049 yet, waiting for ISO file.

Lets have a party about it. You order pizza and I am going to sit at home.

Me too did it last week.. Seems stable!

Any issues? Thinking of updating my surface pro 3

I'd like to know too. Thinking about updating my Surface Pro 2.

Build 10049 is relatively stable, Project Spartan, not bad, but likes to lag sometimes. Other than that, no problems.

Me too. Start menu is not working in build 10049 after two days of work. Down graded to win 7 I'm just thing to do to win 8 and wait for win 10 to ship

Dropping now for preview does not guarantee a license for Windows 10 Windows 10 preview user shall buy copy.

if i read it correctly, no windows 10 preview users don't have to buy it, they will get the final version too when it's out

No, windows 10 preview user at launch will still working until 3-6 months, time for thrm for buy a license.

if you have a windows 7 or 8 licence, you won't have to buy another license.

If you have a licensed copy of Windows 7 or 8.1 you are guaranteed a free licensed copy of 10 up to one year after launch.

"Up to one year"
That's misleading. Up to would mean that after the 1st year, you will have to pay. But that's not the case. You should use something like "within the 1st year of the launch" or "provided you upgrade is the 1st year of the launch".
You get what I am saying.

I don't find it misleading at all. Up to one year after launch you get a free licensed copy. After that year, you have to pay to obtain a copy.

That's the whole point mate. It's not the case. You don't have to pay EVER, be it the first, second or even the tenth year. You see how what you are saying is misleading?

You're just making it more confusing than it needs to be. I agree that Microsoft's wording is a little ambiguous, but the poster you directly replied to said:

"Up to one year after launch you get a free licensed copy. After that year, you have to pay to obtain a copy."

That exact wording is perfectly clear and IMO closer to what Microsoft shoudl have used in the official statement.

Yes. That's what I am saying. That if you upgrade in the first year, then uts free forever. If you try upgrading after the 1st year of the launch, you will have to pay. See?
And astell has mentioned that you have the privilege of a free licensed copy for the first year and after that you have to pay to"keep" your copy licensed.
"If you have a licensed copy of Windows 7 or 8.1, you are guaranteed a free licensed copy of 10 "up to" one year after launch."

No, you do not get a licensed copy of Windows 10 for only one year. If you redeem the upgrade within the first year after launch then you get Windows 10 for free forever. If you want to obtain a copy of Windows 10 after the first year then you have to pay for it. Simple.

I have a question, please advice: Suppose I buy a a brand new laptop and right away install win 10 preview, and when the final preview is released do I get the genuine one or should I go back to whatever was preinstalled and then update?

you'll get the genuine one

Without rolling back to the pre installed one?

He LL get it for a Year. I suggest rolling back and then upGrading

Isn't the license stored in bios which it retrieves automatically when installing the iso?

You'll get a genuine one. Unlike earlier iterations, all updates from Preview till the Final build carry on the genuine license upto to end of 1 year from launch date.

Your laptop needs to come with Window 7 or 8.0/8.1 preinstalled by the OEM. Only then you'll get a free upgrade to W10.

That response clearly doesn't line up with the official response that stated that both authorized and non-authorized copies of 7 and 8.1 would be eligible.

For pirated versions I'll will likely install a 1 month trial version of W10.

It'll be full windows 10 it just won't have genuine status

It doesn't need to be "pre installed". Your computer just needs to be running windows 7+. Would be unfair for people if they had for example vista pre installed, the buy windows 8.1 then don't get windows 10.

Eagerly waiting for the Alert.

On my 512kbps connection sometimes I download big updates in chunks that is even if I shut down my PC the next time I switch on my PC the update progress displays it has already downloaded some% of the update file previously so will this be possible with the whole Windows 10 OS update if it becomes available as an update for my 8.1 PC via Windows update?

Might be since I downloaded the technical preview that way and even Win 8.1 update went in the same way.

Aren't Windows updates supposed to be delivered by P2P technology now?

Yes, via Windows Update. And only in Windows 10. It won't be available in Windows 7 or 8.1 for the upgrade *to* 10.

When Windows 10 comes first thing to be ensured is that all enterprises should be ready to upgrade. Windows means a lot when it comes to enterprises. Rest of the population is where Microsoft has to target mobile users as there are many ppl who still don't have a pc at home or a laptop with them but have a cell phone bcoz its a necessity. Therefore one place where Microsoft can gain more customers is Microsoft Office which has been marketed very well cross platforms. The second thing what Microsoft needs to do is start selling good graphics games on iOS and android ao that ppl adopt more to Microsoft apps. As Microsoft now is focusing more on cloud services like azure,sql server,dynamics,office 365 etc etc. They can sell their windows phonesand surfaces more to corporate ppl as they are genuine users to such cloud services providing companies a good Surface deal for employees with a discount budget Lumia device.

Microsoft also needs to invest more in Windows Phone/mobile exclusive gaming titles. They have Halo Spartan as exclusive but that was about it. Developing for other OS's is not a bad idea either now that we've grown used to it.

Microsoft has to adopt stratergy for all. Better hardware will make sell mpre lumias. 640,640 xl will be a good example. 730 is the best example.

Did this happen for users using wsus to get their updates?

Nevermind this update appears to be of the optional variety which meams manual approval

I have pirated windows 8.1 can now I can update my pc with new build of win 8.1....

Just purchase it from Microsoft store and change the product key.

Pirated copies of Windows 7 & 8 will receive the free update to Windows 10. They will remain Unlicensed though and you will still need to pay for a legitimate product key if you intend to actually use the OS for anything more than a demo.

But will the windows 7 SP1 non genuine will also get this update?

Read my answer right above your post.

Seriously Win 7 were upgradable to win 10?

Thanks. Last time my friend try to install the preview version but he can't adjust the screen resolution.

And free lol so much for paying to update to w8

Means it will tell us when the Windows 11 preview will launch? :D "final version of Windows 10" xD

One small step for Windows 7/8.1, one large step for mankind! Waiting for Windows 10...!

When will win10 be released for other lumias!!! Waiting since yesterday for the update... A week over since Joe's tweet

Give it time... Microsoft don't have an obligation to push W10 out prior to launch at all, users should be feeling lucky that they are. Microsoft will work to their timescale for their own stuff, if they haven't set a date then they won't be rushing towards one.

Ya they are not obliged but contractually, they have created a legitimate expectation, so its not wrong to ask because the week is due now. It's either they release the update or they say the bug they are hitting less they can't update on holidays or they are waiting for tuesday

Contractually? What are you on about? They're not contracted to do anything.

Marketing of the free upgrade to W10 is going to be critical.. MS should even have television commercials pushing people to go upgrade.

Or you know, everyone could get an alert on their computer like the article says.

No.. No, that's not enough.. A lot of people ignore these things because that's what they have been taught.... On a daily basis, or at least multiple times a day, you guys need reminding that we're dealing with the average consumer here, and many people don't understand this update stuff... A television commercial could pre warn, familiarize, and make the consumer feel safe about upgrading their machines... That way when they do finally see an alert the won't ignore it, or be hesitant to go ahead and go fourth with it.....
........
Some of you guys will never stop falling for MS's lack of making solid efforts to stimulate big awareness for it's products and services.... You need to start thinking bigger, and expecting more, especially when you've seen lackluster efforts fail so many times in the past.... Just saying.

You don't know what the alert is going to be though. No where in the article does it say what the alert will look like and how easy to ignore it'll be. For all we know it could be a huge popup telling people to "Click here to download" or "Click here for videos about Windows 10"

Know, I don't.... But, I also wasn't born yesterday, and neither were you... Lol.
.........
Just think, dude... As far as marketing, and awareness, what would the companies who are doing very well in mobile do with the release of W10❓❓...... They are successful because the advertise everything they do to death that way the average consumer thinks that's what's currently up...
MS is behind in mobile, and you question whether they should do the same❓ This isn't rocket science.

Really, because I think I have seen exactly one Android commercial. Never seen one for any of the hardware manufacturers. Not to mention, this isn't mobile they are releasing, it's the full release of Windows 10. Why should they spend on a massive advertising budget when they have over 90% of the marketshare as it is already? That other couple percent isn't going to make a big deal to them, especially because if they were to run their only competitor(apple) out of business, they will just have to pay them to keep them going again. You're right, it isn't rocket science, it's business, and MS have been doing it for 40 years. I think they have a handle on it.

Actually, I live in Dallas Fort Worth, and Google airs multiple Android commercials consistently.. They've been doing this for awhile...
......
And while you're right about PC market share you obviously fail to realize what W10, and the Universal app idea, is trying to achieve... IT'S GEARED TOWARD INCREASING MS SHARE IN MOBILE❗ Because mobile is where it's at... Seriously❓
.....
If you think for one second everything with MS is fine then you're either out of touch, in denial, or just being a blind fan. Not to be offensive towards you, but lets be honest here....... I'm not saying that it's time to panic, but MS has it's work cut out for them... Mobile is the future, and and right now Google, Apple, and Samsung,, have the biggest grips on mobile going forward... To use that old 90's PC market share excuse is out of touch... That doesn't mean that I'm dismissing the significance of having a huge chunk of PC market share, because that's what we're all relying on with W10, but it's not the ultimate goal... Mobile, dude... And, until MS starts selling loads of Lumia, surface, and Windows tablets, developers aren't going to take notice.....
........
Developers... Another reason I believe having your relaxed attitude is not very productive.... While you state your defense where are the developers❓❓❓ No, I'm sorry. All this great work that MS is doing with W10 just has to be made known to the average consumer... Marketing is key, especially in MS's case, or we're just all wasting our time here....
........ I can't agree with you on this, my friend.

You and I are some of only one who get that MSFT need to market themselves like crazy on Coca Cola like levels. Official technology sponsor of everything.

Yes... Like Ford, McDonald's, or any other company who wants the average consumer to be not just aware, but EXCITED, about their products, and services.... They have to BOAST about everything they do.. MS does a lot of good things,, they just refuse to let anyone know about them....
.......
MS needs to change this with W10... It's time to come out the woodwork...

Not if they do it norton/avg style & make it intrusive

Lol.... I thought about that..
But, TV ads definitely can't hurt.

I agree with Rodneyej on this subject. Many of my clients are afraid, truly afraid, of updating their systems. Everything that is downloaded is a threat, and the response is no. The other trend of thought is why are updates needed? Didn't they get it right the first time? Simple mistrust of technology in general. Can't underestimate these attitudes in guiding behavior. Last week, I found a Vista RTM system to upgrade. Massive advertising is one of "a realistic Microsoft's" goals. Don't know how realistic MS is.

You're right... Education is key, Bubba... Consumers want confirmation from multiple sources before they pull the trigger......
.....
I love that MS is going to do some type of notifications for current machines, but that's just on aspect of awareness... I think consumers still may need more.

After using Windows 10 for a year we need to buy the full version or windows 10 will be free only for the first year for us to download and after that we will need to buy it??

Once free, its yours for ever.

And that works for both pirated and non pirated versions of windows 7/8?

Pirated copies of 7 & 8 will get the upgrade free. They will remain unlicensed and you will still need to purchase a product key. Free is for Windows users that have paid for an OS in the past (7&8), otherwise you're upgrading to a free demo of 10.

That means that features will be limited? Sorry for asking so many questions

Yes it will be limited. Microsoft isn't giving Windows 10 away for free to anyone. They're giving Windows 10 away for free to their customers that have a paid/licensed copy of 7 or 8. You can still upgrade the OS but it's just a new coat of paint on the same boat you're already in.

It's free. You will not have to buy it after the first year is up. They haven't stated what it might cost for users to upgrade 'after' the first year is up, but I don't see why consumers wouldn't want to upgrade within the first 12 months. Those reluctant could wait until the middle of next year to decide.

As long as you install it while its still free, you get to keep it without paying forever.

I couldn't even install windows 8/8.1 . It says all my drives are in dynamic mode. Couldn't change it within disk management though. (T_T) (sorry fr my english)

Did you try to do a fresh install? If not I can help you.

So if I have a genuine Windows 7, is it possible to install genuine W10 alongside it, as in dual boot, without having to buy it ofcourse?

I would assume that if you install the tech preview alongside Windows 7 then yes, otherwise it will be an upgrade from Windows 7.

You can, you just need to activate over the phone

One way of doing it is install/activate 2nd instance of w7 then upgrade. Id imagine during this(like w8 update) they will offer the option to purchase backup install media

2nd instance? U mean I install win7 again from my backup discs alongside the present Win7 and then upgrade one of them to Win 10?