Windows 10 now claims more than 25% of the OS market, according to NetMarketShare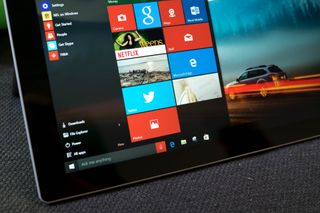 Windows 10 continues to creep upward in terms of market share, with the latest report pegging its share of the operating system market at just above 25%. That's according to the latest numbers from NetMarketShare (via Neowin), which account for the whole of the OS market for January 2017.
In finishing the month at 25.3% share, Windows 10 is up from the 24.36% share it enjoyed in the last month of 2016. And though it's made some progress, Windows 10 still trails far behind Windows 7, which fell only slightly to a 47.20% share in January. Windows XP is also still clinging to life with a 9.17% share of the market. Things go down from there, with NetMarketShare pegging Windows 8.1 at 6.9%, OS X 10.12 at 2.75%, and Linux at 2.27%.
Though it may seem slow in the short term, Windows 10 has actually enjoyed some solid growth over the past year. If you look at the numbers from January of 2016, Windows 10 only sat at around an 11% share of the market, according to NetMarketShare's numbers, while Windows 7 held a more commanding 52% share. Given that pace of change, it will definitely be interesting to see how long it takes for Microsoft's latest OS to overtake the aging Windows 7.
As always with these types of reports, keep in mind that this is only an estimate based on NetMarketShare's data, which is gathered by analyzing traffic across a network of websites using its service.
Windows Central Newsletter
Get the best of Windows Central in in your inbox, every day!
Dan Thorp-Lancaster is the former Editor-in-Chief of Windows Central. He began working with Windows Central, Android Central, and iMore as a news writer in 2014 and is obsessed with tech of all sorts. You can follow Dan on Twitter @DthorpL and Instagram @heyitsdtl.
I can see people hanging on to Windows 7 from a "I don't like change and it works just fine" mindset, but why Windows 8.1 is above 5% is a mystery to me. Seems like a no-brainer to upgrade to 10 to get the touch/tablet improvements as well as the desktop improvements.

The people I know are saying "It's good enough. I don't need Windows 10".

Hrm, to each their own. I will be the first to admit that my SP3 ran Windows 8.1 like butter but I gladly trade the occasional, very minor performance hiccup that comes with upgrading to Windows 10 for the UWP, Cortana and constant security/OS improvements.

OneDrive in Windows 10 is still terrible compared to Windows 8.1.

OneDrive in Windows 10 is borderline broken, in my opinion. For many, especially those who bought into the low storage advise (lie) that MS told, this is fatal.


Agree. The idea was that you could keep photos, videos, etc in OneDrive, be able to easily see through them and grab them as you need them. Having to keep it both on your Surface and in the cloud is completely useless to so many of us.

So is Cortana, woefully bad.

Windows 8.1 was awesome on my SP3. Problem with W8/8.1 was it shined on 2-in-1s and they weren't popular then. Too early for the OS IMO. I was thinking about how 8.1 ran on it the other day.

W8 brought the innovation we have in the laptop space today. It was much needed.

A lot of people (not me) think 8.1 is a better tablet/touch experience. Sure it had a few things right/better, but they don't outweigh all of 10 by any means. IMO

I also think 8.1 is better in touch... I would never stay on 8.1 because like you said, the extras are great for windows 10. Heck, the updates alone are enough. But 8.1 is better, imo, for touch :).

For touch, OneDrive, and WiFi, W8.1 is much better.

So subjective. I'm suspicious why did you upgrade to 10 if you (subjectively) think that W10 is bad/fatal upgrade (or even telling MS is lying). So far, running on lower-end PC (Core i3-4030U, 8GB, 500GB HDD, GeForce 820M) than yours, I'm getting W10 much better than 8.1. Insider Slow Ring, boot time is faster, UWP apps loading faster (than classic 8.1 Store app, which some still use Silverlight-based), connect to Wi-Fi faster. Don't blame Win10. Check your devices (and even internet) first before blaming OS. That practice is better than nothing to do.

Touch is subjective. OneDrive and WiFi are objectively worse on W10. WRT WiFi, the bugs are in the OS, not in the drivers, since WiFi is buggy on all of the dozens of W10 devices I have used, including Lumia W10 phones and MS-made Surface devices. As to why I upgraded from W8, I think I only did that on one W8 PC and one W8 tablet (which, being a Dell, has since died completely anyway, as Dells are wont to do). The rest of my PCs were either non-touch W7 machines or came with W10. By the way, I still run a mix of 7, 8 and 10 (and even one Vista) system.

And you are sure it isn't your router? I have 2 Surface devices, an HP Stream and numerous Lumias connected with zero issues (as well as a Windows 7 corporate machine, xbox, printer, etc.). I thought I was having modem issues, come to find out my router is what was causing all of my headaches.

I am sure. These are not home devices.

Then your drivers are subject to this. Even with Win8.1, problems are happening with drivers. I work on the office where there are PCs ranging from Win7 to Win10, and so far, the only problem that I faced is with drivers on each on their PCs, not with their OS. What's more, W10 is far more faster in boot time than 8.1, and even 7, but in other aspects are the same, if not better than those OSes.

Oh, come on, dude. I'm using Insider (Slow) and even with that, my laptop is far stable than before (albeit slower compartment as I said before). WiFi connectivity? Check, my phone is the root of the problem. Drivers? Check. Stability? Check. What else? Not even single problem happened with Win10, and most of bugchecks that happened in my laptop is with my laptop's power management (in which has been slightly damaged, but for most, still runs fine). And I do have tried other OSes (even Vista when I was still working on the second office), and so far, only Win10 is better in nearly every aspect (except touch, while I admit that Win8.1 is better in touch).

there are plenty of people who like Windows 8. its funny how its also twice as popular as Mac OS combined and still more than linux and macos combined xD.

Linux as a desktop has come a long ways in 20 years, but obviously not as easy to do with it spread out over many distros and without the super huge money in it. The server on Linux is a different story. I could pretty much run on Linux desktop complete (but normal users its has a way to go), server side its all Linux now and the remaining SQL is going Linux soon. Even though Linux desktop has a way to go to be competitive, I think it can if someone stumbles.

I couldn't care less about linux honestly. It will never be mainstream.

That is what Ballmer said about iOS.... never is a very long time. I'm not saying I would say likely.

Except that linux exists for way longer. People have been saying it will be the next best thing since it came out 25 years ago. It took iOS less than 2 years. If linux was to become a thing it would have done so a long time ago. PC's will be dead before linux ever gets close to taking it over.

Linux easily outsells all platforms these days. It isn't even close.

Android isn't based on the Linux kernel?

Except that we're talking about PC's. Android is not a PC OS, the few PC devices that run android are non-existent in the PC space.

Linux is very mainstream now, even if it isn't in desktops yet.

Calling Android, Linux, makes you sleep better at night doesn't it?

You have to ignore the new PCs to make Windows look good? Linux outsells Windows 4:1 in reality.

Lmfao, I think you lost your mind if you think Android are actually PCs.

They are PCs (Personal Computers), just running a bastardized OS (Android). Smartphone, Tablet, Laptops and Desktops are all just form-factors of a PC. Devices like the Surface line practically transforms between the latter 3 form-factors with 0 compromise. A true Surface Phone will practically transform between all 4 form-factors (via Continuum) with 0 compromise.

When I start seeing linux based PC's outselling windows in stores, maybe I'll believe you. But the fact is, when it comes to popular desktops-laptops, walk-in stores (and even a lot of online stores) show and promote windows the most, with OS X right behind it. Now, let's make you happy and consider the android chromebooks... How many of them do we actually see in stores, and not only that, how many people do you see look at one and say "this has more features and possible productivity compared to windows/OS X". Now I have nothing against android, expect for its major security flaws, and it is good for mobile use. However bring realistic, they have no huge ground in the PC market. I don't think I've ever seen a Linux based laptop out of the box before except the chromebook, and even then I've rarely ever seen a chrome book... Nevermind it being used

Except very, very few use it as Linux. They have bash shells for Android, but you don't see people en masse opening it and hacking like they do on the desktop. People are not running their web sites off of it. It may have the Linux kernel, but to call it Linux is simply stretching the truth.

So, if I have a virtually Win10 desktop being run from a remote connection via a iPad, is that a PC or a tablet? The PC actually doesn't exist... its being run on a server technically, but its still a OS running. I think that is why some of these numbers have to be taken in the context of the discussion.

It's a tablet streaming a PC OS...

That's basically as close as you can get, the numbers might not make sense depending on the discussion. I'm actually to the point to where most of these devices shouldn't be separated. I mean that same OS runs my 8 inch tablet.... my point is, I'm not sure separating stuff by form factor makes as much sense in today's world.

Right, they are all PCs. The is very little that I need my desktop for these days. Just niche things like desktop gaming or professional programs.

Computer gaming is a niche part of the desktop market. It has now even been surpassed by mobile gaming on revenue! They are both growing though and have surpassed consoles in revenue.

Or coding, or writing essays, or mass storage, server access, photo editing, file/image conversion, rendering, video editing, music editing, meetings over skype, superior website browsing, being able to see cached pages, JS, Java, and other sites and features such as hover menus that are broken on mobile...

I get what you're trying to say. But there is still a fundamental difference between using a PC and Using a tablet even if its running the same OS.

Android is reprogrammed so many times that it has not much to do with the linux kernel anymore. It is said that google replaced about 80-85% of the dlls nowadays. Linux != Android.

Android is not Linux... and the kernel.. Only name remains "linux" that's it. That kernel android uses is really old Linux one, and it's heavily modified by google. Those modifications don't reach main linux kernel, and add the fact that it's full of proprietary blobs...I wouldn't call that kernel linux... it's Google's modification, That keeps the only thing from linux world = NAME.

Linux is not just a OS that is created to run a PC. The concept of Linux is the freedom for the user to do anything with it, with support from almost everyone who is into Linux.
Android, on the other hand, is a closed OS inside Google's walled garden. Sure you can go the AOSP route. But if you choose that and plan on using any service other than the Google's as default, you can kiss play store goodbye. And the OS is not very helpful without the plethora of apps. So Android might be a Linux fork in terms of code. However, concept wise, it is lot closer to Windows than Linux. So, according to me, Android is just another proprietary than a Linux OS.

Linux is completely mainstream. Both Android and ChromeOS are Linux.

So, Linux is completely mainstream because one small part of it that a vast, vast majority of people never see and never use directly on their phone. Windows and games is a niche, people using Windows for work is niche, and so on, and so on, and so on. Got to love that twisted logic

But nobody uses ChromeOS :P :D

LOL. Still niche, although some schools want students use Chromebooks about sometime. Well, not quite sure why they chose this over Surface(s).

ChromeOS is based on Android, in which Android (now) isn't a part of Linux anymore. Moreover, comparing apples to apples, how many Chromebooks are on the planet? It's not even listed on the market share chart (actually, it's on Others).

matt, I think it depends on the user and device in question. For the desktop, generally I like the changes back to more of a traditional desktop in Win10, I acually think Win8 is much more efficient with touch though, not a big difference. Of course, I bought my parents Win8 tablets, the upgrade path was there only in theory as the devices I bought everyone was reporting Win10 upgrading on them as a nightmare... never even bothered to upgrade them during the free period. I had another family member, Win8 desktop... runs Win32 fine... barely a problem... why upgrade? Personally I like Win10 just fine, but to me its a beta at best... the amount of problems and bugs I have are on another level compared to MS's former OSs.... which is okay for me but heck if I want to help a relative upgrade to Win10.... they'll be calling me everyday. MS is all over the place as far as their OS and vision for the OS. Xsled, I think there is very little doubt in my mind Win8 is easier to deal with touch mode. And the bugs/problems for Win10 are just insane, at least during my 19 months with it.... but I know how to deal with these issues... no way I am helping a family member upgrade right now.

I do not think it's right to judge like that. There are other reasons not to upgrade to Windows 10. In my home, 3 computers remain in Windows 8.1 simply because a version of a program called Eberick does not work correctly on Windows 10. Upgrading to a newer version of the software would be very expensive and the Windows 10 would not justify such an investment. But it's a matter of time until the upgrade becomes feasible.


I see people saying windows 8.1 is better on tablet than windows 10 is. My guess is the windows 8.1 market share belongs to people who refused to upgrade to 10 when it was free because they don't like change, or they have it on a tablet with 32Gb of storage and can't upgrade the thing. Personally I preferred tablet mode on 8.1 but windows 10 is just so much better overall, especially as a desktop I'm glad I could upgrade for free.

There are more than enough tutorials to make Windows 10 work and look like Windows 7, and it is more stable. People are just stubborn.

Windows 8.1 is still better on tablets.

I have 8.1 on my HTPC for WMC and DVR. It works better than Windows 7 for whatever reason, as getting EPG working on Win7 can be a real nightmare.

Never has any problem getting EPG working on my Win 7 Media Center PC, and it was a default installation as well.

Never underestimate the power of "But I don't wanna!" Source: Working in tech support WAAAAAAAAAAAAAAAAAAAAAAAY too long.

Windows 10's tablet mode was and still is lacking key functions Windows 8.1.1 offered, including: Fluid Start Screen that's always smooth as butter and always ready instead of requiring refresh or waiting for thumbnails to load Quick and easy organization of multiple tiles (tap and hold to select multiple tiles), can't even do this in Desktop mode All apps screen that you could get to with one swipe, sort to your desires, and it efficiently makes use use of screenspace, instead of merely 3 columns in the center of your screen​ which you can't reach with your thumb while holding the tablet in landscape One gesture/click input to return to a previous app (swipe in from left) ​Snap more than 2 apps side by side Websites pinned to Start no longer show their favicons etc. Only thing better in Windows 10's tablet mode is the single gesture Task view, which is still not as smooth as Task View in Desktop mode. Tablet mode is currently a half-baked joke in Windows 10: https://answers.microsoft.com/en-us/insider/forum/insider_wintp-insider_... That said, there are other reasons why I prefer Windows 10 overall, Tablet Mode just isn't one of them yet.

People don't know all the improvements they've been missing with W8.x and W10

You do realize that some versions e.g. Enterprise do not qualify for a free upgrade to Windows 10. I am not surprised that those versions are stuck there.

Wow. So Mac OS has a share in desktop space as low as Windows Mobile has (well, had, probably) in the handset space? But everyone acts like Windows Mobile doesn't have enough user base to develop for, but Mac OS does? I'm not sure what overall numbers there are in each, but still, by that reasoning, Apple should just kill Mac OS, right? It's a failure...

Mac OS X 10.11 and 10.12 combined is 4.48%. All of Windows Phone is ~1%. Also, take into account all of the other Mac OS' that are below X 10.11...

So, "had" then. They were around 5% at one time, and people decried it as dead back then. It's be nice is Mac OS would drop to 1% soon too. Of course, I'd rather see iOS that low...

Nope... Usage numbers vs sell numbers... Keep that in mind.

Though the smartphone market is a whole lot bigger then the PC market. So 1% in smartphones should almost equal 5% in pc with total users ;-) And lets not forget that with the UWP you don't just develop for just the smartphone users but all of the more dan 400 million active Windows 10 devices. That blows Mac OS out of the water!

Macs are only high end devices so they are quite profitable even if sales are low. The issue with Windows phone was they were only selling the cheapest phones that weren't profitable at all. If all the Windows phone sales were the Lumia 920, then it would have been different. Instead all the sales were the Lumia 520.

Very true. Was the best selling one the 520? I have a 640 I'm currently using as a DD, and I thought they may have been the big seller. Trying to find a new 950, but AT&T only lists the refurbished ones on their website. I checked two physcial stores last week, but they had an issue with the system, and couldn't see if they could even get a new one.

It was in its day. The 640 may have surpassed it, but again it is a $30 phone. Each sale loses money for Nokia.

Nokia wasn't who quit making apps. Other developers did. It had nothing to do with the cost of the phones. Look at all the cheap Android devices here: https://www.cricketwireless.com/cell-phones/smartphones

Why is that relevant to developers? They don't sell the hardware so why should profit margin of manufacturers matter? Android handsets are largely cheaply made and sold models except for a few high profile high end ones. Yes the market share is huge for android, but shouldn't those cheap handsets mean nothing to the developers based on your post? They should care about market share of the OS and number of potential customers.

Low end devices do not have high revenue potential for developers. Look at Android, as you say, many are low end. Apple's App Store had double the revenue last year compared to the Play Store. Now imagine Windows phones tiny market share along with it only being low end devices. There is no wonder developers ignore it. It is surprising they have any apps at all.

I see what you mean. You're referring to the potential of customers willing to spend money on apps based on the willingness to spend money on hardware... right? There is definitely a correlation but I kinda think it's also pretty unique to Apple customers vs others in general. Nothing againt anyone here that buys Apple, but they tend to link their purchase of Apple stuff to their status. Edit: I didn't realize that the App Store was doing that much better than the Play Store. Ouch.

It is the Apple fanboy way of thinking. When WP had a 5% marketshare and well over 500,000 apps, it was a complete failure. Meanwhile Mac has less than a 5% marketshare and (according to one source) 30,727 apps while Win10 has over a million apps on the store with 16 million available elsewhere and 90% of the market and they still believe that OSX and Mac is poised to take over the market - and if you dispute that then you are a hater that needs to be silenced.

Is that Mac apps only? I would imagine iOS has waaaay more than that.

Yes, iOS has many more apps and that number is OSX only. The number of iOS apps will drop supstantially with the next version. Apple will remove all 32 bit apps from the store. Some of the analytics companies have said that only 40% of the apps on the Apple store for iOS have been downloaded 1 or more times. Apps that have been on the store for years with few downloads will not be updated, they will be removed from the store and that number will plummet.

Owned one Mac. Will never own one again. Over-priced pile of garbage.

Not really. Don't confuse what people post on enthusiast websites with what might be regular people just chosing what works for them (and maybe even being happy about it). Besides, I see a lot of Windows and Android people on similar websites shouting down others in the same manner. It happens everywhere, with cars, sports, social philosophies, whatever. In the case of using a computing ecosystem, it's not life or death and the user decides. That said, IF you own an iPhone, the ideal experience for a secondary machine MIGHT be either an iPad or a Mac, as the vertical integration (iMessage, Photos, Safari, passwords) is very good and very easy to set up if that is what you find most value in having. Detractors can call it a walled garden, but honestly that appears to be what is necessary if that is the stuff you want because each company is competing against each other and making it harder to do on competing platforms. This also of course requires the user to have an open mind to using Apple's services, just as they may place trust in MS or Google services. Yes, all those syncy-syncy things can be duplicated by using a bunch of competing or third-party services, but I know a lot of people who have no time to even start this process, much less maintain it. In the walled garden, everyday folks can see this benefit with minimal effort. If none of that matters to you, then you get whatever phone you want, and run whatever OS you want. With all choices comes limits. It's a simiar experience if you own a Windows 10 Mobile device--you really can only chose Windows 10 as your desktop OS if you want the most syncing benefits as well. What is confounding to me is that on any enthusiast website you visit, the grand conclusion is that if anyone uses another product or service, it's strictly a result of fanboyism or some sinister motive, as opposed to the simplest explanation--that person might just use what they like and what they believe works well for them. As someone who has tried it all, that is what I try to do, though the idea of trying it all is also fun. Just my thoughts.

Yeah this never did really add up. At it's peak, Windows Phone had somewhere around 5% yeah? That's 100's of millions of units. More than any game console. More than AppleWatch. More than Chromebooks. In line with Mac's. That always seemed like plenty of units to justify app development to me. And yet many of those things get/got more attention than Windows Phone. So it seems there was far more than just market share #'s driving the internest, or lack of, in releaseing apps for WinPho.

They claimed numbers is why they stayed away. As you just stated, that's BS. There is a whole crowd, including some devs, that just hate Windows and wouldn't support it unless they were making enough to retire off of in one week. Want a perfect example? Look at Netflix. You know how many people I know that use their laptops for Netflix? Including with traveling? So then were is the update to download movies and episodes for the Windows 10 app? There are over 30,000,000 of us. So dont tell me the numbers won't justify it. Just Windows hate and they will drag their feet until the OS becomes so huge it cant ignore it. Ridiculous.

I really think it was how MS approached mobile that left them in this situation. WM6 was scrapped for WM7, but, while promising, WM7 had real limitations in hardware. Then WM7 had to be scrapped for WM8, knocking down any traction in the app space. W10M basically did the same, and I think this lack of commitment at the platform level really killed off any developer interest. At the same time, iOS and Android were allowing for evolutionary updates to apps, so developers weren't cut off at every major OS revision.

Remember that WP7 apps can run on WP7-10...
But yeah, in OS update history. All WP7 users were left when WP8 was released. But at least with 10, not all 8.1 got "ditched"- majority did (*cough*NL520*cough*) though.

Yeah, MS jumping around probably scared off some devs. Hopefully they keep the UWP model around, and after some time, it will get developed more. Especially as W10 desktop numbers go up. But really, the only apps I miss that I can't use Edge to replace are Walmart's app (no price scanner in Edge), and Torque (OBDII car app). But there is a shopping/scanning app that will show all prices around, and CarDash is a good OBDII app. Not as many sensor inputs as Torque, but still a really good app. I just ordered my 950 from AT&T last night (managed to get a new one). My wife is NOT happy, but that's nothing new, lol

I think W10 is FAR superior to W7, I'm glad I updated my office computer. I love having a number Windows APP's that are cost effective solutions for work situations such as PDF JACK, DRAWBOARD PDF & ONE DRIVE integration. I would never go back. I agree that they could perhaps enhance the TABLET MODE- but I use my Surface 3 in tablet mode 95% of the time and really like it.

Tablet mode has come a longggg way though. Works very well on my Surface Book.

So Chrome OS is in the other category and yet I've heard so many people calling it a threat.

A threat it is. It doesnt mean it is succeeding or will succeed. It just means it could be, at some point in the future, competing more aggressivly with Windows. :)

Then I guess Windows Mobile must be a threat to Android to /s

Which is most likely why Google gave us the shaft repeatedly. *YouTube app*

Ever use a device with Chrome OS? LMAO. God awwwwwwful.

It's a big enough threat that MS is bringing us Windows 10 Cloud and WOA. Once the Play Store opens up on Chromebooks and the devices start shifting to 2-n-1s with touch screens and pen support, I think the threat will become more significant. I still don't think Google has a clear enough vision for ChromeOS, but some cheap and compelling devices might finally be showing up, especially if you are already invested in Android. With what MS has planned, at least they will be right there to offer a version of Windows that can be installed and sold on the same hardware.

I can see ChromeBooks might be a threat to Microsoft but I don't follow the reasoning that its a threat to you a normal user. In fact i see choices, choices leads to competition which lead to more favourable term for Microsoft user. E.g Xbox One current price and sales, would it be this low if Xbox One is the leading platform instead of PS4. Chromebook success would force Microsoft to be more competitive giving user better deal or more innovative features. So how would ChromeBook launch a threat to me?

It would take a little longer than MS expected, but the 1 billion goal should be reached in 2019 instead of 2018. Enterprises probably will wait till RS2 or RS3 before making moves. There are still a lot of changes and maturing to be done with W10.

It takes 12-18 months to perform a Windows upgrade project. From my experience, 60-70% of enterprises are actively pursuing Windows 10. Many started in-depth compatibility testing with 1511.

These numbers are somewhat misleading without a regional breakdown. According to StatCounter, the percentage of W10 is much higher in North America and Europe. Asia is starting to gain momentum but Africa is lagging behind. There are cultural and geographic factors to consider. Limitations around bandwidth is a big issue for many. Consumer demand is only one part of the equation.

Poor Andromeda will have a lot to catch up...

Does Chrome OS fall under other? I want to know who is still using windows XP, those computers are OLD. To my knowledge XP cannot handle newer hardware properly. Either way I haven't had XP on my desktop since 2007, and the last laptop I used with it was in 2009. I haven't personally seen a machine with XP in a few years.

Don't see ChromeOS on the list. Maybe it falls under Linux. Possibly they can't detect it properly to distingquish from Linux, or they are not considering it a proper desktop OS. "Other" includes Vista (<1%), older Windows & Mac, FreeBSD... From what I heard before though, ChromeOS accounts for ~1% of OS share, but that was a while back.

You would surprised to see how many companies still run Win XP on legacy production equipment. And when they do upgrade, it's to Win 7 (talking from experience). Heck, we still have a DOS machine controlling a piece of bespoke test equipment in production.

At home we have two old XP desktops. They hardly get turned on because they're slow and a pain to use. The only time they get some love is when someone thinks a certain old file, maybe, could be, probably is ok one of those drives. Because of how rarely they're used and of course not being connected to the internet I'd imagine they aren't counted among those in the article.

Interstingly, if you consider just the distribution of Win7/8/10, Windows 10 has already overtaken the lead. As of Aug 2016, Win10 was 43% vs. 42% for Win7 worldwide. The numbers are even more striking if you look at different regions. Western Europe: Win10 54%, Win7 33%, United States: Win10 55%, Win7 35% https://developer.microsoft.com/en-us/store/windows-app-data-trends

In trying to figure out why the rather big difference between those stats and Netmarketshare stats, I see that MS's data here comes from their telemtry data, which I would bet has a higher opt-in rate on Win10 than it does on Win7, so it may skew a bit toward Win10. On the other hand, Netmarketshare data is also far from perfect. The reality is probably somewhere inbetween.

And people say Windows is dying. Lol. Just look at the share OSX and Linux have. Windows at Nearly 90%.

Sad to see Windows 7 with such market share. I hope that is enterprise slow to adapt. There is no good reason for a home user to be on 7. 10 was a free upgrade!!! I love 10's UI and features.

The numbers for Windows 10 and Windows 7 match fairly closely to what I see from the U.S. based B2B site I run. For January 2017, W10 is 26.9% and W7 is 43.8%. Windows 8.1 is just over 4% and XP is less than 1%. All versions of OS X combine to about 14%.

I hear that "Own Worst Enemy" song playing in the back of my head when I look at that pie chart.

Poor Linux, lower market share than windows XP :D and also I know for a fact that most of that 2.27% linux users dual boot to windows anyways :D so TRUE linux user part is way smaller

I love how Chrome OS is not even named its so insignificant. Lol.

I work in IT for a large federal government agency and I can tell you we're just about to begin deploying Windows 10 agency-wide in the next couple of months. The interesting tidbit is that for our migration from NT to XP and then again to 7, both times during my career it happened a year AFTER support ended for those OS's (yes, we paid to continue support, but it cost taxpayers millions). This time it's happening well before. Both in the interest of saving ourselves that headache yet again, and with how easy migrating all our internal programs to 10 is proving to be, I feel this kind of adoption across hundreds of government and business entities will catapult market share in the next few years. By the time support is ending for 7, it will be in the range XP is now if not more so. The writing is on the wall. Like change or not, Windows 10 is going to be the biggest OS ever seen on the face of the earth.

Now...if only we would stop using stupid Blackberrys... 😒🍆

Yep this exactly. I hear so many naysayers talking about how Win7 will be the next WinXP, and Win10 adoption has died blah blah. The reality is Gov and business are moving to Win10 earlier and faster than any previous version before. It is really just getting started in earnest now, and will accelerate through this year and next. Three years from now, when Win7 hits EoL, Win10 will be 80%+ of the desktop computing market. I don't think any previous version of Windows ever commanded that much; maybe WinXP at it's peak? The US DoD set a goal for all PC's to be on Win10 by the start of this year, well that was over aggressive and everyone knew it, and that goal will be missed, but it goes to show the seriousness of migration this time around.

Is this true windows occupied 87% of os market?

Yes. That's why when people talk about doom windows I laugh my head off. Macbooks, Linux and Chromebooks, and Macs literally have no market share. That's why I always say when mobile OS is gone where does that leave Google and Apple?
Windows Central Newsletter
Thank you for signing up to Windows Central. You will receive a verification email shortly.
There was a problem. Please refresh the page and try again.