Windows 10 PC build 10158 pushed to the Fast ring with Microsoft Edge branding in tow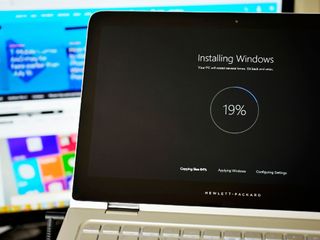 Windows 10 build 10158 is now rolling out to Windows Insider members on the Fast update ring. The wait for this build has been quite a long one, coming a full month after the previous build, 10130.
Build 10158 puts a lot of its focus on the Microsoft Edge browser, with Microsoft's Gabriel Aul detailing the following changes:
Along with the new branding from Project Spartan to Microsoft Edge comes a new app ID, so you'll want to back up your data before upgrading:
Microsoft Edge has a new app ID that will cause any favorites, cookies, history and Reading list items that you had saved in "Project Spartan" from previous builds to be lost after upgrading. If you want to keep these, make sure you back up your favorites before upgrading to Build 10158. To save your favorites, follow these steps before upgrading to the next build we release (do it now):
Copy your favorites from %localappdata%/Packages/Microsoft.Windows.Spartan_cw5n1h2txyewy/AC/Spartan/User/Default/Favorites.
Save them to %userprofile%/Favorites.
After upgrading to the next build open Microsoft Edge, choose Settings, and you'll see an option to import favorites from another browser. Choose Internet Explorer to import the favorites you saved in your %userprofile% directory into Microsoft Edge.
Source: Microsoft
Dan Thorp-Lancaster is the former Editor-in-Chief of Windows Central. He began working with Windows Central, Android Central, and iMore as a news writer in 2014 and is obsessed with tech of all sorts. You can follow Dan on Twitter @DthorpL and Instagram @heyitsdtl.
I was just sending you a tip about it, but you were faster than me.

Windows central aka "seems faster"

Do Edge favorites sync across devices yet?

One of my main requested features

I am still waiting for start screen sync which was there in 8.1 across multiple services.

same, it doesn't even grab the 8.1 start screen yet does it? Or will it ever at this point?

I have all my IE favorites from my laptop Windows 10 which carried over from 8.1 available Edge on my 920.

A dark theme? Does Edge have paste and go or paste and search yet or is this it as far as features for Edge goes? I mean if it is, this browser starts off behind Firefox and Opera and Chrome for basic stuff.

Seriously, can't be bothered to click a button after pasting?

seriously can't be bothered to add a feature that's been standard in all other browsers for years?

Seriously, it's in modern IE. It'll make it to Edge.

If you want this so bad, suggest it in the Feedback app. That's what its there for.

You sound like somebodies little sister, complete with crossed arms and neck roll. "If you want this so bad..." For the record, I already have.

As well as mark a text, then right click -> search.

This option is already available in Edge (Just double click on the text then right click, and select Ask Cortana (You're done)

It seems like a nice preview, getting more stable.
Only month and Windows 10 is released. so nice. Can't wait for final stable version.
Insiders program is nice but someday that has to stop on my side and go stable for all devices.
Hope edge syncs everything and more compared to IE and you can control it because while IE wad nice. Sometimes it would be buggy and stop synching tabs and such. So hope Edge will have a nice button and check boxes to control it if needed.

I would like to see features added from other browsers faster. Right now it I no reason to switch from say Firefox or opera, etc

Suggest all those features in the Feedback app. If they get lots of votes, Microsoft can get one step closer to giving users reasons to switch from any other browser.

hopefully install apps to SD is working in this build

This article is about the PC build...

I was aware of that... Thanks..

Palmujukka, you know laptops can take SD cards right?

No. He isn't aware of much.

Thanks for the info. Installed 10130 on my tab only for this, unfortunately.

Anyone know if this new version has the ability to block ads? This is one of the reasons I still ue IE11 or Firefox

Blocking ads is a form of internet warfare technically, so it is highly unlikely that MS would build 'user interference' into the browser in an easy to access way. I was planning on using FireFox on the phone for that sort of activity, or maybe there is no such option yet?

Tracking Protection Lists actually block a lot of ads for you, because moat ads have some form of tracking in them.

Is there a list which can block YouTube ads? Which one do you use?

It's becoming more necessary to block through Hosts these days as Advertisers are starting to use shady tactics to bypass AdBlocker plug-ins let alone the potential for having a compromised advertising host infecting your computer. That way it's across the whole system rather than just the browser. Some routers allow you to do this if not just modify the Windows Hosts file..

Then, there is this... http://betanews.com/2015/02/02/whats-the-point-in-adblock-plus-if-google...

I've had 10158 for a week now lol

So, are you in the "Faster Ring"?

Sure you did. It's not like it was compiled at 5:53pm on June 25th or anything.

not seeing the update yet

Installing on one PC but another it isn't showing up so I took a look and it's on slow ring. I change it and go look for updates still nothing go back to check and back on slow ring. What gives, I don't seem to be able to switch to fast ring on this device??

Same issue. Anyone see how to force the update?

I see the update but it refuses to install because I don't have more than 2gb RAM. Anyone know a solution other than "install more RAM?"

That's very odd, seeing as I was able to install the update on my Venue 8 Pro tablet which only has 2GB of memory. ... yet the update doesn't show up yet for my desktop PC which has 8GB memory, lol

It just says "You need to install at least 2 GB RAM before you can install and run Windows 10." And then exits.
I think it's because I have 64-bit Windows 10 installed.

Good to see the changes in Edge. Has anyone figured out how to import browsing history, not just favorites?

Installing now. Let the s#!+ show begin...

Smooth upgrade, smooth running OS. Good job, Microsoft. Just need the Mail, Calendar, and People apps working again, but using full Outlook 2016 Preview in the meantime. Looking forward to more builds...

Audio from Microsoft Edge plays while the app is minimized or in the background – another top request from Windows Insiders. And this needed to be requested in 2015 because... I'm glad it's there though. Now bring it to the mobile version please.

Because ... it's a beta browser? They highlighted that it was highly requested to show that they're aware of their users' feedback, not because it wasn't already planned.

Except that if you check out the AMA, backgrounding tasks wasn't planned for the browser. They told users to provide feedback on what we wanted.

sweet. downloaded esd less than 2 minutes, converted to iso and installed a clean copy.

Can you please tell me where I can find the ESD for download, and how do I convert it to ISO? Thanks!

mine keeps on saying no updates ,,

Same happened to me, but I've checked the delay upgrades box, checked for updates, then unchecked it and found the update.

Not available here in India yet.

it is available in india.

Wow, a month!? Didnt even notice things have been (mostly) that smooth. Time flies!

No updates available yet!

Serious issue with the download on my system it seems. System gets 85% through configuring update.. And then eventually reverts.

Same for me. Reverts back each time.

No update on my DV8P yet, sigh.

Is the latest build stable enough for daily usage (which include visual studio, android studio, photoshop, watching movie and browsing)? Thank you

The previous build 10130 already did...

I really like the Edge browser. But I'm finding several of my work websites not working. I guess it doesn't have a compatibility button. The price of progress I suppose.

Update is not available on my SP3 Pro im in California.

I'm still not seeing the update hit my Surface Pro 3, I was able to upgrade my desktop last night with no issues. Whats up with the Surface Pro 3??

Seems a doubling of efforts leading up to the 29th of July. Let's hope mobile tags along. While the latest build runs ok on phone and I actually even transfered my SIM for a day, enough is wrong, missing or broken to make it still a little too early. The worst thing was battery life. Caused major issues. However, I can't wait for the music app, maps, Outlook and Office to drop in the official launch come fall. Those things alone make it worth the effort to try it out for the day. On desktop, I have been running the Insider on my core PC all along (after January). There are still things not working well and it broke Cortana for me on one machine (region problem) and some apps die unexpectedly, for most work I have done just fine. Can't wait to get home and load this up!

Isn't it about time they push out a new ISO soon?

Been trying all day and can't stay on fast ring in order to find 10158 to save my life. Keeps resetting back to slow ring instantly. Tried every trick I've seen on the internet. nothing. AFAIK my registry settings are right. 10147 is build. I may have to wait for RTM at this rate.

I'm still stuck on 10130... :'(

Does an Edge update really justify a new build? A dark theme, really, is that what's a burning W10 issue? I thought Edge was an app that could be updated through the Store...? Is there actually anything non-Edge related in this build, you know, like useful...

Yes, ignore the poor reporting that only cares about Edge and have a look at the source - http://blogs.windows.com/bloggingwindows/2015/06/29/announcing-windows-1... Edge was only one of the headlines.

Bugfixes. Tons of. And this is more important than Features...

I cant install it via windows update! It says I need more than 2 gb ram.. Anyone know a way to install without needing more ram?

Getting high CPU utilization in Windows experience host and Application frame host on Surface 3 (no, not pro) 35%+ for each and then gets worse.

Anybody have IE missing from apps and on taskbar? Mine only appears with edge "open with ie" option....

How you get installation like on image ? I installed many ISO different builds but never had like this one. Still was like W8 instalation. I know, its detail but how you get it ?

Finally :D!
I was worried they really had decided to forget out us Insiders now that they got this close to release. I am blissfully mistaken :)

Wow, This installing window looks great... "Faster Ring"

Sometimes I see it sometimes I don't. When i do see it it goes to 1% and then fbl_impressive Professional 10158 - Error 0x80216017

im not getting the update for some reason. my windows update is set to fast ring but nothings coming through. odd.

how much is the size of this update? because mi internet really sucks and i tan keep downloading it an entire day.. and btw i don't understand why whe have to reinstall an entire OS just for one build, they can't add those new features to the new build and then rename it? because download the entire ISO again... hmmhhh

Cannot install that crap. VM Ware disk image gets filled up to the physical disk space if the host, then say bye bye to your preview install.

My Dell Inspiron is on Windows 10 Pro TP build 10130 and just now I have opted to Fast Ring from "Settings >> WIndows Update >> Advanced Options >> Choose how preview builds are installed >> Drop Down Menu >> Fast" but Windows is Showing Up to date. Please help

the download was at 63% and now it appears a damn error... i hate bugs, and i hate how Microsoft updates the builds... seriously why the hell i have to reinstall the entire OS just for a few options like rename of Project Spartan to Microsoft Edge etc.. why i have to download around 3GB just for those options?

Has anyone successfully upgraded from 10130 to 10158 on their Surface Pro 3? Mine keeps on saying there is no update available even when I'm already configured for FAST ring.

M using Dell Inspiron 3420 also on Build 10130 and opted for Fast Ring, Windows keep saying no updates avilable.

Mr. Hardeep Grewal, Me too using Dell Inspiron 3420 trying to upgrade from windows 8.1 to windows 10 i tried to do it several times but always the error is coming in 2nd boot phase and again reloading windows 8.1 tried all possible things can you suggest something else. How to do the upgrade? Regards Murthy

I think there is some type of big update problem with 10158. I'm not on a Surface Pro 3 and it keeps showing I'm up to date.

For me same was resolved by modifying some register values. Check this out it might help: http://www.neowin.net/news/failing-to-update-to-the-latest-builds-of-windows-10-here-are-5-fixes-to-your-problem

Same for me, SP3 build 10130 on fast ring and no updates available.

I'm using HP Stream 11 with build 10130 and Windows keep saying there is no updates available. Any idea? Yes, I checked "Fast Ring" ...

For me same was resolved by modifying some register values. Check this out it might help: http://www.neowin.net/news/failing-to-update-to-the-latest-builds-of-windows-10-here-are-5-fixes-to-your-problem
Windows Central Newsletter
Thank you for signing up to Windows Central. You will receive a verification email shortly.
There was a problem. Please refresh the page and try again.