Windows 10 PC build 10162 heads to Slow ring preview users today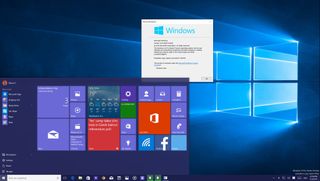 Windows Insider members signed up for Slow ring update for the PC version of Windows 10 will finally be able to get a new build soon. Microsoft plans to release build 10162, which launched for Fast ring members last week, to the Slow ring later today.
Microsoft has already released build 10162 as stand alone ISO files for users interested in handling a fresh install on their PC. The current build reportedly has reliability, performance, battery life, and compatibility improvements over older preview versions. Microsoft is said to be preparing a Release To Manufacturer (RTM) build of Windows 10 for release later this week to its OEM partners. However, it's likely that Windows Insider members on the Fast Ring will continue to receive updates until the official launch date of July 29.
Source: Gabriel Aul (Twitter)
Windows Central Newsletter
Get the best of Windows Central in your inbox, every day!
So no mobile build today ?

Ask @gabeaul he has the answer to that question on twitter

It's Monday. They don't do mobile OS releases on Mondays.

I still can't download this on fast ring -_-

I had to delete the softwaredistribution folder. Then is arrived after 12 hours from update site. But I wouldn't bother.

If you are on build 10130 it had problems updating. I downloaded the ISO, burned to DVD then ran the setup from there.

You can open iso by file explorer and run setup. Thats it.

They r busy guys.. Polishing desktop... only few days left.. So I think no build for this month.. After that.. They only have phones .. So hope we get builds 2-3 times a month ..

Working together. And the phone release won't be for months. Chill...

Not really, they're working together. Besides, MS said their focus would switch to mobile once PC is released

The have phone and Xbox and IoT and Hololens still

Slow ring and fast ring what these means ?????

These Rings have power to rule Mordor...

I got a problem with this build.
The NVIDIA driver for this build stops working when the game starts and relaunches it. But the game crashes cz of this.

I think the last build was bad for Surface 3 owners (I tried to jump into the preview today and saw the post about not installing on Surface 3 as I was downloading), does anyone know if this one would be okay?

Works well on Surface 3. Few bugs here and there. No show stoppers.

I have problem when first time I install windows 10 insider. My Toshiba C640 laptop got blue screen after 3 minutes I connect to internet. And then I was so difficult to find display driver that compatible to my laptop that makes me will waiting for official build.

windows insider will get that RTM version?

Only if you have genuine windows 7/8

Not True. You will recieve an update to the RTM version and any other updates that appear for 10 as if you were still in the insiders group, slightly before everybody else does so that you can report problems. If you ever leave the insider builds then you will need to have a valid product key to be able to use a genuine version of 10, if you don't have one and you stay on the insiders builds then you will be perfectly fine.

Why when you first enroll in Insider Program do you still get 10074? One of my co-workers just did it last week and that's what she got. Didn't 10130 go to slow?

Just download the ISO for build 10162

Don't need it -- i'm in fast ring. Just a general question as that's how most people would have been entering the insider program.

How did she try to update? I had the 10130 iso pushed down to me when I specified that I wanted an ISO today when I installed in as a VM on my main machine. If she did the update straight to 10 then I have no idea what she would have gotten a week ago

I think mobile build is coming this week

My guess is no mobile build until after PC is released. They're probably full focused on the PC release right now

I don't think so. Probably still slow to release, but it will be there.

I was hoping they would release another build for the slow ring and update their ISOs.

for the life of me the keyboard icon on my tablet is gone. I have no other keyboard so when I tap a text box... nothing happens. no keybaord... even in tablet mode. did clean install of 10162 as well. ergh, hope there is another update soon.

Full install everytime :(

I just reverted back to 8.1 cause 10158 10159 and 10162 keeps crashing my graphics card :(

I just started downloading it.

My pc cannot download the Definition Update for Windows Defender. It shows downloading 0%. Build 10162 is on awaiting list can anyone help me with this?