Windows 10 PC Insider preview build 14366 ISO files now available for download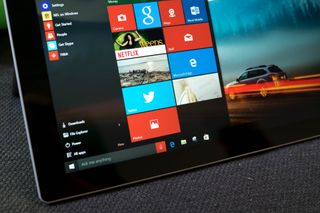 The ISO files for Windows 10 PC Insider preview build 14366 are now available for download, giving members of the program a way to perform a clean install of the build.
The ISO files are the same ones that were released to Slow members of the Insider program earlier in June. You have to be a member of the Insider program to download these ISO files. Also, be aware that you will need to transfer the ISO file to a DVD or USB flash drive to perform a clean install after you download. You can check out the full instructions for how to install the files at the Microsoft download link below.
Download Windows 10 Insider build 14366 ISO files from Microsoft (opens in new tab)
THIS SUCKS, Microsoft using a whole year to get windows 10 right for PC and Mobile, consuming a huge Internet data on ones expense.......

Only if the user is signed up for Insider builds. Production build updates come with much less frequency than Insider builds.

Just you exit Windows Insider Program, but for me, can continue.

Really??
Do you think that an entire ecosystem is made overnight?

Well you opted in for insider previews. Your fault.

Then don't join or use the Windows Insider program then? P.s. Are you also going to blast Apple and Google for, pretty much, doing the same thing?

It may be what the doctor ordered.

I wonder if you probe all the linux distributor sites leaving all your negativity on there On Going projects Saso? As said above if you dont like downloading new builds you should never have joined the inside program. But I guess whiners like you just joined the program for the free digital entitlement and don't actually post any feedback that would help Microsoft out.

i stoped insider preview even unlink the account still consuming 0.1 to 0.7 mbps i think "Background Intelligent Transfer Service" still consuming after stoping insider preview. so i opened the services(local) [or u can just open it by double clicking on the Background Intelligent Transfer Service under service host: local system(14) from task manager] and found "Background Intelligent Transfer Service" again opened it and changed the tab startup type automatic to disble. this can be work.sorry for my bad english
Windows Central Newsletter
Get the best of Windows Central in in your inbox, every day!
Thank you for signing up to Windows Central. You will receive a verification email shortly.
There was a problem. Please refresh the page and try again.