Windows 10 build 14965 heads to Slow Ring Insiders on Mobile and PC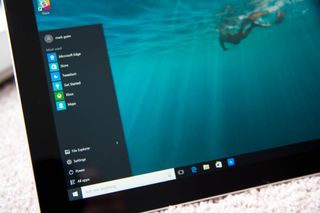 Windows 10 preview build 14965, which was just released to Fast ring Insiders a week ago, is now rolling out to Slow ring Insiders on PC. With this release, Slow ring Insiders can expect a number of bug fixes and improvements, along with a few new additions.
Update: On November 17, Microsoft announced that this build is also now available for those on Windows 10 Mobile in the Slow Ring.
Here's a recap of what's new in Windows 10 build 14965:
Controlling external monitors from tablets just got easier (PC): You can now drive content on a second display from your tablet without ever having to attach a mouse. The virtual touchpad lets you do more with a tablet and a second screen – just connect to another monitor, PC, or TV, go to Action Center and tap on the "Project" Quick Action to extend your screen.
Sticky Notes update (PC): Windows Insiders in the Fast ring will receive will receive Sticky Notes app update to version 1.2.9.0 today and we're very excited to share what it includes! We've expanded our support for Insights to many more languages and regions, with even more to come in further updates, stay tuned!
Windows Ink Workspace Improvements (PC): This build includes a number of improvements to the Windows Ink Workspace.
Enhancing the Address Bar in Registry Editor (PC): We were really excited to hear how excited you were about the new address bar in Registry Editor, and based on your feedback, we've already incorporated two new features.
Improving Your Hyper-V VM experience (PC): Following the new VM scaling options mentioned in last week's build, we've fixed an issue where depending on the zoom level selected, the VM window might not be created large enough to avoid scrollbars, despite their being enough space for it.
Other improvements and fixes for Mobile
We fixed an issue where, when using Cortana in French (France or Canada), the "Prendre une <photo/video/selfie>" (take a picture, video, or selfie) command was redirecting to a Bing search rather than opening the Camera app as expected.
We fixed an issue resulting in Cortana crashing if you typed "Create an appointment" then tapped on the resulting suggestion to "Create an appointment".
We improved the performance for English (India) text prediction.
We fixed an issue in Data Usage Settings, where after selecting the data plan to be unlimited, it would still prompt to set a limit. We've also made it easier in the Data Usage Settings for those with dual SIM phones to differentiate between the cellular data use on each SIM, and fixed a few other polish issues, including that the sort by dropdown on the Usage Details page was unexpectedly wide.
We fixed an issue where Narrator wasn't giving feedback when adjusting sliders, for example in Settings, or in the Volume flyout.
We fixed a migration issue resulting in Microsoft Edge to fail to launch for some Insiders after updating to a new build.
As with all releases, it could take some time for this update to show for everyone. Again, it's important to note that this is for Slow ring Insiders on PC only and doesn't include Windows 10 Mobile. Also be sure to look over our list of known issues and fixes in build 14965 for more.
Dan Thorp-Lancaster is the former Editor-in-Chief of Windows Central. He began working with Windows Central, Android Central, and iMore as a news writer in 2014 and is obsessed with tech of all sorts. You can follow Dan on Twitter @DthorpL and Instagram @heyitsdtl.
For the developers, this build fixes NodeJS servers not being able to start in Ubuntu Bash ("get network interfaces" issue).

Not convinced this should go to slow personally. OneDrive has a fairly significant issue; though I guess pushing to slow may increase the reporting rate and get it a higher priority. http://answers.microsoft.com/en-us/onedrive/forum/odwork-odedit/onedrive...

I downgraded due to random Bluetooth audio restarts etc

I was surprised to see the Slow ring catching up all of a sudden this quickly after 14965 went out on the Fast ring. It's not okay with the unexpected MS app opening, but aside from that, it's in my experience so far, a good build. And just as a note, Slow ring also still has the disclaimer it could be buggy and not for day to day use.

Yikes. Having some pretty serious issues with this build. Biggest being UWP apps launching randomly without being asked. Maybe shouldn't have gone to slow ring yet.

Thankfully, it seems that it is *only* the Microsoft apps that seem to be doing this random opening thing (e.g. Settings, Mail, News, Weather, Maps, etc.). That, and it's only once you've opened an app that it keeps reopening, so if you never use those, the problem won't be noticeable. And if it opens randomly, it usually doesn't actually work properly. You'll have to close it and open it again the way you normally do.

One thing I've noticed is that it does not happen when connected via RDP. Also, other then having to close 3-4 blank windows every hour or so, I've had them interrupt my gameplay on a full screen Win32 game.

Yesterday it was just Settings, and the Store, but starting today it added Mail. They each pop up about once an hour or so if you close them. Which I do, because I am anal retentive...

Yep, I'm up to News, Weather, Store and Settings all popping up. Settings is the only one that doesn't open blank.

Same here. Apps will quit working and they also open by themselves after waking up my surface. This is the worst build I've had in the last year.

Still stuck on an earlier version despite being in the fast ring, downloads the updates but fails to install... been like it for weeks. Actually it's only the Windows updates that fail, it downloads and applies updates/definitions for Windows Defender without issue.

I am as well. Thought it was just me

I hope they fixed OneDrive catastrophic failure issue.

Which failure? I've been out of the Fast ring since it started acting up with 3rd part AV/Firewall software and rejoined it with 14965, so might have missed it. But 14965 at least here hasn't given me any problems with OneDrive.

My answer would be No. Since the update I'm locked out of my OneDrive on the desktop. When I try and open the folder I get the error message "Catastrophic Failure". I've tried the standard 'reset' advice from MS but to no avail. Even after exiting OneDrive I'm locked out to the folder. I've tried checking/resetting security settings but nothing seems to make a difference. <update> I've discovered that I can successfully open folder in the lefthand pane of Windows Explorer but if I try and open a folder in the righthand pane I get the error message "Catastrophic Failure". Would love to know if there's anyway of fixing this short of doing a complete reinstall!

Can anyone help me set up virtual wifi network. The WLAN Miniport is still not right, an I can't figure it out

I use Synology NAS devices VPN server L2TP,. Works like a charm, although there is no lock icon anymore next to signal meter.. Mobile OS. Desktop Open VPN is there against same server..

Be Warned: If you play Planet Coaster, or intend to when the final version launches tomorrow, this build is NOT for you. There's a terrible mouse bug introduced with 14965 that causes Planet Coaster to be unplayable. Essentially as soon as you start trying to rotate the camera with the mouse (either hold right and left mouse, or middle button, then move the mouse) you get massive lag, DWM service cpu usage spikes and you get a beeping fest from your PC. It gradually gets worse until a PC reset is required.

Omg I asked since continuum existed to have a touch pad to control external monitor on my surface 3... They listened!!!! ;) lol

Anyone able to install .448 on RP yet?

Typing, with or without prediction is still unlawful slugish and poorly responsive on at least WhatsApp (silverlight). THIS IS crucial feature that need to be addressed like year ago. HOPE they concentrate on this FIRST. 950XL

I just moved to slow ring two mintures before reading this... now I am getting nervous

Curious how Fast & Slow rings are running on Lumia Icon/930? After a less than stellar experince w/ the early days of redstone 1 I moved my GF & I to Release ring. I've definitely heard less grumbling compared to this time last year. So whats the word?

Still stuck on 14926 set to fast Fast Ring even after a full phone restore. Tried all the different "workarounds" and finally decided to start from scratch. Gets to this version and won't go past it. Lumia Icon

Always that language dictionaries/prediction problem... Annoying!

No mail notifications HOORAY again :/

I Havn't gotten it yet, and i'm on the slow ring. Why am i not getting the builds?

I'm in the same boat. I'm stuck on build 14391 on my Surface 3 on Slow Ring almost a month after it was released to the ring.

After the update many a times it happen, That my device don't wake up after pressing lock key and ultimately i have to restart. The phone is not able to boot if the memory card is in slot. And after this update my phone is not able to read memory card .

Had to roll back both my PC and laptop after this build installed. Major image corruption in my web browsers with lots of failures to open webpages and others needing to be recovered. Rolled back and everything is fine again.
Windows Central Newsletter
Thank you for signing up to Windows Central. You will receive a verification email shortly.
There was a problem. Please refresh the page and try again.