Here's what's fixed and broken in Windows 10 Insider build 14965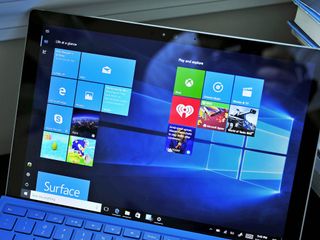 Microsoft has pushed out a new Windows 10 PC and Mobile preview build for Insiders on the Fast ring. As usual with these builds, not only are there new features and changes to check out, but Microsoft has also thrown in plenty of fixes to be aware of as well. Alongside those, however, are some known issues to take a look at as well. Here's the breakdown of what's fixed and broken in Windows 10 preview build 14965 for PC and Mobile.
Improvements and Fixes for PC
We have fixed the issue causing Internet Explorer to crash a few seconds after launch.
We fixed an issue where, when using Cortana in French (France or Canada), the "Prendre une <photo/video/selfie>" (take a picture, video, or selfie) command was redirecting to a Bing search rather than opening the Camera app as expected.
We've made some graphics improvements so the system will now respond better when WIN + L is pressed while playing a full screen game.
We've updated the ALT + F4 Shutdown dialog to better respond to DPI changes when connected to an external monitor. We also fixed an issue where the tooltips for the taskbar notification area items would be incorrectly sized after a DPI change until rebooting the machine or otherwise signing out and back in.
We've fixed an issue where File Explorer might crash when creating or renaming a folder on a network share.
We fixed an issue resulting in the text on the Outlook Calendar tile on the Start menu being slightly fuzzy.
We fixed an issue where deleted files might reappear in File Explorer with a 0 byte size.
We fixed an issue resulting in a Windows Default Lock Screen window sometimes appearing after logging in.
We fixed an issue resulting in File Explorer crashing after right-clicking an app in Task Manager and selecting "Open File Location".
We've updated our migration logic so that going forward from Build 14965, preferred UAC settings, startup shortcuts, and File Explorer folders that had been pinned to the Start menu will all now be preserved across upgrades.
We fixed an issue resulting in vertical lists written in XAML, such as those found in Groove Music, unexpectedly animating in from the side.
We fixed an issue resulting in Cortana crashing if you typed "Create an appointment" then clicked on the resulting suggestion to "Create an appointment".
We fixed an issue where in Microsoft Edge, after cancelling a file download, the progress bar for the next file downloaded might appear to be stuck at the point at which the old file's download was at when it was cancelled.
We fixed an issue that could result in the Japanese Input Method Editor (IME) periodically showing the candidate window in the upper left corner of the desktop and not being able to enter text into the Office 2016 apps and some other text editors.
Known Issues for PC
Double-clicking on an Excel document to open it from File Explorer will crash Microsoft Excel. The workaround is to open the document from within Excel.
Microsoft Studios games like Microsoft Sudoku, Jigsaw, Minesweeper, Taptiles, and Treasure Hunt may freeze at the splash screen on launch.
Other Improvements and Fixes for Mobile
We fixed an issue where, when using Cortana in French (France or Canada), the "Prendre une <photo/video/selfie>" (take a picture, video, or selfie) command was redirecting to a Bing search rather than opening the Camera app as expected.
We fixed an issue resulting in Cortana crashing if you typed "Create an appointment" then tapped on the resulting suggestion to "Create an appointment".
We improved the performance for English (India) text prediction.
We fixed an issue in Data Usage Settings, where after selecting the data plan to be unlimited, it would still prompt to set a limit. We've also made it easier in the Data Usage Settings for those with dual SIM phones to differentiate between the cellular data use on each SIM, and fixed a few other polish issues, including that the sort by dropdown on the Usage Details page was unexpectedly wide.
We fixed an issue where Narrator wasn't giving feedback when adjusting sliders, for example in Settings, or in the Volume flyout.
We fixed a migration issue resulting in Microsoft Edge to fail to launch for some Insiders after updating to a new build.
Known Issues for Mobile
If you used the previous 'date change' workaround to update to Build 14951 or Build 14955: Please don't use it any longer! The Microsoft account (MSA) ticket on your device needs to expire and then you'll be offered today's build. If you changed your date by 30 years… you'll want to do a device reset.
You will be unable to install additional languages, keyboards, and speech packs on your phone for the next few weeks. If you have existing languages, keyboards, and speech packs installed – they will carry over when you update to new builds. You just can't install any new ones. If you do a hard reset of your phone on these builds – you will also be unable to install additional languages, keyboards, and speech packs. You can use Windows Device Recovery Tool to go back to Windows Phone 8.1 or Windows 10 Mobile, install any languages, keyboards, and speech packs you need and then update to the latest build in the Fast ring as a workaround.
And that's it for the fixes and known issues in build 14965. For the full details of what's new, make sure to check out our Windows 10 build 14965 announcement post!
Windows Central Newsletter
Get the best of Windows Central in in your inbox, every day!
Dan Thorp-Lancaster is the former Editor-in-Chief of Windows Central. He began working with Windows Central, Android Central, and iMore as a news writer in 2014 and is obsessed with tech of all sorts. You can follow Dan on Twitter @DthorpL and Instagram @heyitsdtl.
This is not cool... When are we going to be able to install additional Language and packs??? Or Maps??

Why does the build say (RS_PRERELEASE) in the patch update title. This is way past Redstone is it not?

Because there is more than one Redstone...
I'm sure it would confuse you less if it were RS1_ and RS2_, but that might not be how MS works

I found a workaround for MAPS. There may be an issue, if you have "download over mettered connections" disabled. I am not sure if this is a bug, I will report it anyway, but you need to just make sure you are on wifi and the celular data is off > enable "Download over mettered Connections", and the maps will statr downloading. I observed this a few hours ago, and worked for me.

"You will be unable to install additional languages, keyboards, and speech packs on your phone for the next few weeks." - Looks like they're finally moving keyboard, language settings to UWP

since 3 or 4 builds before but yes, is totally worth

I have no idea what you mean, but I would love to hear more about this.

Is Improved Battery Use an obvious improvement in every build because that's what I wish to read on mobile improvements.

Me too battery is important. Keep downloading fast ring but after a day or two I keep rolling back as my battery on 950 xl drops to 52% overnight. It's the only bug I cant deal with. Language pack would be nice though.

I get nothing but error messages on my 640 and 640xl

This shouldnt be soo, cos i use L640XL and hope to update when O get home.

My 640 STILL says that it's up to date (14955). *sigh*

When are gonna get new features on phones?

They are going to add the word "we" in the next update.

First backend, then frontend, then performance fixes. Just like always.

When are they going to fix that sorry excusse for a "store"!!!

Does any know how long the msa takes to run out? I did it for first build that had this issue. The next build installed fine. 55 did not, I moved date one week to 10 November, it started downloading but didn't get past 0%. And now todays build. Still nothing. How long do I need to wait. I don't get what the msa is really!

Seven days after the date you set.

The original date I set must have long past, so surprised the last update didn't work, that's why i changed the date. I guess I'll wait until 17th. Thanks

I think I set mine to a month ahead, or something like that... so I just hard reset my phone. It was easier.

So same known mobile issues as last build.

Is there anything else besides not being able to install language packs not working for w10m? Anyone face any issues? I'm thinking of jumping into the fast ring

Fast ring was very sketchy a few builds ago. Something happened with the last update, and now I can't install Pandora (no idea why.. thats the only app I have an issue with)
Other than that, its getting better. I think its pretty good now, but your mileage may vary.

For me its battery again down to 54% over night but I only had six hours sleep that's a lot of battery gone doing nothing. Compared to having 92% outside the ring.

It doesn't say that it's fixed. Then again it doesn't say that it's still a problem...can 3rd party AV programs (Kaspersky et al) now be installed without issues?

I hope they get this keyboard/language packs thing done soon. All of a sudden a few builds ago my auto correct and swipe stopped working, i am assuming it has to do with that. i was unable to type more then one word at a time then had to close keyboard and go back in to type the next word... if anyone runs into this, a work around is to disable swipe and autocorrect in the keyboard options.

what about those who have a third-party anti-virus ... there's no mention of that

Try it and see! Install a free one such as Avast

For desktops: No mention if the installation with 3rd party antivirus software has been fixed. Has it? For mobile: Aside from a reset is there a way to determine or access this so-called "MSA ticket"? I forget how much I advanced the date for the workaround a couple of builds ago.

No, it is protected (for obvious reasons).

Is anyone else facing unexpected reboots and black screens several times a day ???

I finally know I'm not alone ! Went back from FAST to PRODUCTION release for this reason, to finally discover... it happens on Production release too ! Strange, it seems like nobody is reporting that issue in Feedback Hub, I don't understand... So how would MS know about it? ☹

So let's report it in the Feedback Hub to let them know about it ! This bug is really annoying !

i am facing the same issue. but probably it is hardware related issue. gave it to repair center yesterday

Are you sure that this is a hardware issue ? This is a tricky situation, where I don't know if it's a hardware or software thing. I think it may be a software bug as it happens sometimes with peculiar actions e.g. When unlocking the phone.

Nope. 950xl running sweet. No restarts at all ;-)

No, on 950XL.. unlocked, running on AT&T Its been pretty stable actually.. no restarts in the last week or so that I can remember (other than ones I forced)

YES ME TOO FROM LAST TWO BUILDS IN LUMIA 535

let's report it in Feedback Hub to let them know about it please ! This bug is really annoying !

Yes, ! only way i know sometimes is the message "your device has restarted"

My 950 is running well. Just 1 restart in the laste 6 months. This happened a day after installing last build (fast ring)... I thought the bug is back, but it seems it is ok now.

Is anyone having trouble with onenote app too? I can't synchronize my account since I updated to build 14959

The store on mobile fast ring is broken from two weeks???

Suffering from blank screens several times a day!

I was on the previous build, let see if this improves things...

You mean "black screens"?

I knew the date change work around would give you trouble later. So glad didn't go through it!

I did it and i were able to get the last two builds...

I've had issues with Groove/Cortana since before the aniversary update. Music doesn't resume after Cortana reads incoming text, or speaks navigation directions. Just getting Cortana to start playing music is a roll of the dice.

I hate to say this but it seems more responsive (faster) to me. I especially notice it when navigating through the settings. This on my 950. I'll check my 640 when I get home.

Anyone having the looooooong wait for the reboot??? I thought this was an issue that was going to get fixed from the last build. My 950XL gets stuck in the windows logo screen for a good 15-20 minutes before the phone reboots... Also, it just started giving me a bit of a problem connecting to the bluetooth in my car (Microsoft Sync... :( )... Any ideas on how to fix?

No problems here on my 1520

Great
Now my ssd detected as hdd again

So the date change I only did one day and a master reset after so that stops me for a week from getting the update. Battery life on current build is not as good as prior hope this resolves. Hey being on Fast build is living on the edge wouldn't think a workarond would slow me down.

The anti virus issue is fixed?

Yes, installed here with Norton Security running and no problems!

640xl, changing brightness doesnt work (low,med,high)or show any effect, in action center..only automatic.

No word on whether they have fixed it so that photos sent via Outlook actually works reliably. I've had to revert to using a L925 runnign 8.1 for this purpose at work. My 950 just cannot be trusted to do this reliably, and in fact fails probably around 8-9 times out of 10.

What does everyone feel about fast builds as daily driver?

Pretty stable for me L730

my 1520 is still waiting for a fix for my random critically low battery issue which causes my phone to shutdown. when i reboot the battery is back up to where it was, or sometimes it will go from %90+ down to %12 or so. this started two builds ago.

Had same issue long time back on L1520 too; the only solution is to get a new battery. Believe me

Anybody know if they finally got 3rd party cameras as an option for default camera? Last I checked, only the standard camera is available still.

Works fine on my 950XL, but not so well on my Surface Book. Had to go back to previous build due to several blue screen crases on Edge and MS Access using 30% CPU in idle

My Surface Pro 3 us stuck at 22%....

Mine too. Did you have the latest (November) firmware installed ?

mine stuck as well. 3+ hours

Did it finish in the end ? do you have the November firmware update installed ?

I left it for 4 hours and it completed, eventually ! Sat at 22% for 3 hours

would not get past 22%. Turned it off and reverted back. It was on 22% for 24 hours...

My Dell Inspiron is stuck at 0% for days now.

Why after every update my lap starts to freeze?

This update took 90 minutes! I thought these were supposed to be quick patches moving forward.

Om what sort of machine. My SP3 sat at 22% for an hour and then I switched it off and reverted. I wonder now if I should have waited ?!

Lumia 950...it was brutal

Edit: you were taking about mobile, nevermind

How is lumia 950 with this insider 14965 build? Is it stable for daily use?

Yup, on my Lumia 950 this build works fine, infact better than all RS2 builds. But the update size is 1.35GB. I found it with the help of Newtork Data App. In Antutu my L950 scored 76K.

We'll I worked out the msa would have run out the next day, but at the time thought I would set date to 10th. So another week for me it seems. Not sure why it didn't just download last week when date was pushed forward though? Just stuck on 0% then error, set time back and of course no update

1520 is running it like a beast which it is...nothing to complain about so far.

Edge don't work on my 950XL. Just the E for a short while, then shutting down. Anyone else?

Hey! Thanks for the fix in word suggestions India!

I think so, I just got back home after trying it in my office twice today. I'll take a look.

Completely **** i cant change screen brightness to medium or high, only auto mode and low light working from action centre

Thank you .448 just fixed my speedy drainage of my Lumia 1520, I was this . close to change my phone, and I did I bought Lumia 950 nice to have a back up :)

Too bad Language Packs can't be installed for a few weeks - it would be useful to allow me to uninstall / reinstall my Eng/US keyboard. After this build installed, all my predective text / suggestions / corrections no longer work, which means Swype also doesn't work as it can't interpret my swipes to suggest any words. I either have to change to an Engligh keyboard that doesn't offer these options or turn them off for my Eng/US keyboard to allow me basic typing with no predictive or corrective options. This makes typing on my phone feel extememly primitive, overnight I have gone from moderate, regular use of my phone to almost none due to this. And I have already tried Settings>Privacy>Speech, Inking & Typing and had it "Stop getting to know me" to reset the dictionary, but this was to no avail either. I am rather frustrated.

I can't download the update.

Dont update screen brightness not working

I just can't install speech language packs. Keyboard, language packs are installing great on this build. Just made a hard reset and it's great

People adjusted their clock by 30 years ? Crap Windows Phone will be long forgotten about by then..

Still no fix to the Excel crashing when trying to go to a different tab?!? Really?!

Mine still won't complete install after countless attempts. I have stopped insider builds for the time being on my Surface Pro 3 to keep it from starting another round.

After this update the Windows Store (blank screen), Mail (blank screen) and Photos programs are constantly launching automatically when I'm away from the computer. Anyone else have these issues and know how to fix?

I am having the same issue but Groove is also launching with a blank screen.

I have the exact same problem. I don't know why, but it's good to see that someone else has the same problem and I didn't just screw up the installation. I checked the box follow applies to me here so if you come across a fix please post.

This worked for me. Type "superfetch" in the Windows search box which brings up Services app. Open it then scroll to superfetch and stop/disable it.

Just waiting for a new build that hopefully addresses this. maybe this week.

Ever since I got my HP X3 on the fast ring (was on the slow ring until this update) my phone restarts several times a day only had 3 "black" screen since then, but then again never had them before... I can't make a phone call longer than 30 sec, or I need to be on bluethooth, then phonecalls of more than 30min -> an hour are no problem... any one else with this issue?

I have the exact same problem. I don't know why, but it's good to see that someone else has the same problem and I didn't just screw up the installation. I checked the box follow applies to me here so if you come across a fix please post.
Windows Central Newsletter
Thank you for signing up to Windows Central. You will receive a verification email shortly.
There was a problem. Please refresh the page and try again.