Windows 10 build 14965 now available for Insiders on PC and Mobile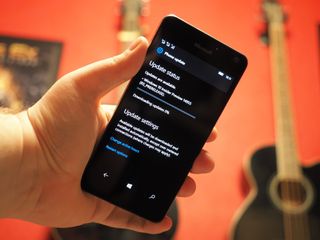 Microsoft has just started rolling out another Insider Preview build for Windows 10 on PCs and Windows 10 Mobile. Today's build in question is 14965 and is rolling out for those on the Insider Fast ring, featuring a number of new bug fixes, enhancements and features.
What's new
Controlling external monitors from tablets just got easier (PC): You can now drive content on a second display from your tablet without ever having to attach a mouse. The virtual touchpad lets you do more with a tablet and a second screen – just connect to another monitor, PC, or TV, go to Action Center and tap on the "Project" Quick Action to extend your screen.
Sticky Notes update (PC): Windows Insiders in the Fast ring will receive will receive Sticky Notes app update to version 1.2.9.0 today and we're very excited to share what it includes! We've expanded our support for Insights to many more languages and regions, with even more to come in further updates, stay tuned!
Windows Ink Workspace Improvements (PC): This build includes a number of improvements to the Windows Ink Workspace.
Enhancing the Address Bar in Registry Editor (PC): We were really excited to hear how excited you were about the new address bar in Registry Editor, and based on your feedback, we've already incorporated two new features.
Improving Your Hyper-V VM experience (PC): Following the new VM scaling options mentioned in last week's build, we've fixed an issue where depending on the zoom level selected, the VM window might not be created large enough to avoid scrollbars, despite their being enough space for it.
As with all Insider builds, it can take some time for the build to propagate throughout Windows Update, so if you can't see the build yet, give it a few minutes. Also keep in mind that for Mobile users, this update will download using the new Unified Update Platform, which will shrink your download significantly.
Windows Central Newsletter
Get the best of Windows Central in in your inbox, every day!
Zac Bowden is a Senior Editor at Windows Central. Bringing you exclusive coverage into the world of Windows on PCs, tablets, phones, and more. Also an avid collector of rare Microsoft prototype devices! Keep in touch on Twitter: @zacbowden.
10.0.14393.448 Available for Non-Insiders.

For me, too. Downloading now.

Cubs winning? President Trump? Now a new build?! Has Christmas come early this year?!

...and Ballmer returns :P

Maybe the second coming of Christ next

D/L now. Hopefully the Calendar live tile will be fixed! Tried alsorts and still have the issue. Another update for a 'dead' platform... lol ;-)

What's wrong with your Calendar Tile? Still showing the ring date after the workaround to get that build a a few builds back? Did you try putting a fake event in on the current actual date and then one on the date the tile is showing as well? The do a soft reset?
If that doesn't work of if this build doesn't fix it...after you do this update, you could try a hard reset to see if this fixes it.
My tile was showing the wrong date and the "fake event" trick worked for me.

Got it on Production in South Africa

It would be nice to know which new languages/regions are now supported by Insights.

I didn't get the update yet!

Only if you can download at all! Still saying no updates since last 2 builds!

I'm already in 14959.1000

That's what I didn't get yet.

Oh ok. Got it right away here. Maybe try changing your region?

Did you do the date workaround for 959? If you did, it will not show until you remedy that. Workrounds are great but sometimes the pay off can be a pain in the butt

Stuck on 0% again, like a couple of builds ago... anyone else?

Maybe this is your problem? https://www.thurrott.com/windows/windows-10/82741/microsoft-fixes-borked...

sorry, should've mentioned this happens on my phone

Don't download this build. It has a Donald Trump splashscreen.

Really......Jeez some people just need to accept the fact that it happened. Neither candidate has an empty closet, and I am certain there are other anarchistic forums you could post on should you wish to demonstrate. This isn't one of them

Guys, I just bought a SP4 and I'd like to know which one is better: join the Fast Ring, join the Release Preview or stay put.

Don't join fast ring if dont you want to be frustrated with things not working and having bugs. Do it if you want the newest things right away and you don't mind your pc doing weird crap.

Don't join fast ring if dont you want to be frustrated with things not working and having bugs. Do it if you want the newest things right away and you don't mind your pc doing weird crap.

It's my main computer, so I might skip this. Is the Release Preview a good call or nah?

Release is ok. I'm on release on my desktop and haven't had issues. Either do release or don't to insider at all I say then.

I suggest skipping fast ring if you have a desktop or a laptop that isn't a signature edition from Microsoft. First party hardware seems to run fast ring very well.

I use my Surface pro 1 daily on the fast ring and I have little to no problems with it working as expected. It's a little slower than it likely would be if it were on the release ring but its not enough to piss me off. It's also worth it to submit my data to Microsoft for fixing bugs AND all the new app updates only for fast ring come in handy :)

I've already signed up on the RP anyway. Better safe than sorry :P

I'm on the Fast Ring and cannot get this build or the previous 14959 build to show for download on my L950XL

Not much in the way of features: Other improvements and fixes for Mobile: We fixed an issue where, when using Cortana in French (France or Canada), the "Prendre une " (take a picture, video, or selfie) command was redirecting to a Bing search rather than opening the Camera app as expected.
We fixed an issue resulting in Cortana crashing if you typed "Create an appointment" then tapped on the resulting suggestion to "Create an appointment".
We improved the performance for English (India) text prediction.
We fixed an issue in Data Usage Settings, where after selecting the data plan to be unlimited, it would still prompt to set a limit. We've also made it easier in the Data Usage Settings for those with dual SIM phones to differentiate between the cellular data use on each SIM, and fixed a few other polish issues, including that the sort by dropdown on the Usage Details page was unexpectedly wide.
We fixed an issue where Narrator wasn't giving feedback when adjusting sliders, for example in Settings, or in the Volume flyout.
We fixed a migration issue resulting in Microsoft Edge to fail to launch for some Insiders after updating to a new build.

Hi all; Finished downloading and installing on my 950XL and my 1520. There is one error in Settings on my 950XL where the Data Usage is corrupt; nothing happens when choosing that option- I can see Data Usage and the rest is black. It tries to come into the settings in Data Usage but nothing is displayed. In my 1520 all function- also my Data Usage.......

Can it be downloaded with data our Wi-Fi

after i did this update my lumia 950 xl is telling me my sd card is write protected and cannot be used ><

UPDATED & WORKING OK FOR MY LUMIA 535 DS. BUT WE ARE STILL GETTING THE Messaging + AFTER EVERY RESTART

Does the Unified Update Platform (UUP) apply only to PCs and NOT mobile as well? I've been downloading this build for quite a while now and I'm not seeing it doing it quicker than the previous ones. I'm currently on 14955, L1520. Or perhaps the downloading is the same and the installation is where the difference is? Not how I understood it.

the difference should theoretically be in the size of the update. if the connection speed is slow or there's a lot of requests, etc., it could still take a long time. plus, it's actually only mobile right now and not pc yet. PC gets it later this year. http://www.windowscentral.com/microsoft-unified-update-platform-announced

Brightness cannot be changed in this update to my Lumia 1520...am I alone?

Lumia 830 has the same issue, automatic does dim, but all the other settings are the same level brightness.

Youre not...but im stuck in build 14946...unsuccessful in all succeeding builds.

Anyone else notice a problem with this build expressly the SMS app? I see that there is a new txt, but when I try to open it just hangs and kicks out, I can't even change the default app to Skype, or anything else for that matter. Also the notification/status bar at the top goes blank too.... They really messed up this build :( .

This is the worse bug on this release. SMS is completely broken. I have submitted the issue to the Feedback team, twice. I hope they will fix it very soon. I think the issue is actually in the Settings; the system is unable to associate a defaull app to Messaging.

Hey Guys, I seem to have gotten lost with all the updates. I'm still on 10.0.14905.1000 I am on the "slow" insider level. is this the latest? Thanks in advance.

Ever since I got my HP X3 on the fast ring (was on the slow ring until this update) my phone restarts several times a day... I can't make a phone call longer than 30 sec, or I need to be on bluethooth, then phonecalls of more than 30min -> an hour are no problem... any one else with this issue?

Submit to the feedback hub

Tnx Chris, couldn't find ho to, but I hope if I rate the build and give the error there it's sufficient? or do you (or anyone else) knows where I should do it in the feedback hub?

Happens on my fierce xl too. Tried rolling back with WDRT but even though it's on a "official" build now, it still does random restarted and even just sis itself off 5-8 times a day.

Anyone have any advice for whether a Lumia 950 owner should hop into the fast ring? What are the new features so far separating the anniversary and creator's updates this far?

This is strange, need some help please. I checked the store for new downloads, and found OneDrive trying to install but it fails. Ok so I rebooted phone and tried again. OneDrive is still trying to download. I had a weird feeling about resolution and went to settings and then display and my phone is set to 300% so I said to self lets changed to the recommend 400% , rebooted phone and checked store for updates , groove was their, updating but no OneDrive update. After groove installed i checked updates again came back with no updates. Ummmmm ok, back to display settings and changed it back to 300% reboot and back to store and OneDrive is there trying to update again. I did this dance 4 more times just to make sure I was seeing this right. If there is a app hiding in the background trying to update over and over , well that explains my battery draining and hi data or wifi use. Any thoughts or help would be welcomed. 950 build 14965.1001.

Im not getting any update since 14946 though all new builds were detected via phone update...error 0x80070057 is my problem.

Hopefully they'll get a release out before Turkey day.
Windows Central Newsletter
Thank you for signing up to Windows Central. You will receive a verification email shortly.
There was a problem. Please refresh the page and try again.