Microsoft confirms plans to bring some Windows 10X features to Windows 10
Microsoft promises a renewed focus in Windows.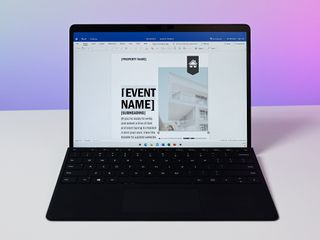 (Image credit: Daniel Rubino/Windows Central)
What you need to know
Some Windows 10X innovations will come to Windows 10 next year.
Windows 10 and Windows 10X will co-exist side-by-side.
Microsoft promises reinvestment in Windows.
Microsoft spokespeople are confirming plans to bring some of Windows 10X's innovations and features over to the existing version of Windows 10 as the company moves to refocus investment in the Windows operating system. Windows 10 and Windows 10X will co-exist side-by-side on PCs next year, and Microsoft wants to provide the best of both worlds on either platform.
Microsoft isn't yet ready to talk about which Windows 10X features and innovations will make their way to Windows 10, but it's likely to include some of the underlying platform improvements as well as new modernized user interfaces. Microsoft tell us that it will begin talking more about these plans over the summer and into the fall.
Windows 10X itself isn't expected to be ready until next year. Microsoft isn't committed to a timeframe just yet, but it hopes to have Windows 10X ready for single-screen PCs in the first half of 2021. Over the course of this year, Microsoft will begin to detail which Windows 10X features are coming to Windows 10, and how it plans to differentiate between the two versions.
Renewed investment in Windows 10
Microsoft's renewed investment in Windows 10 comes at a time where more and more people are using Windows PCs. Microsoft has seen huge engagement numbers with Windows 10 over the course of the COVID-19 pandemic, and wants to deliver the best PC experience possible to all one-billion Windows 10 users.
It's fair to say that Microsoft has put Windows on the backburner in the last couple of years as it shifted focused to other efforts at the company. But Windows remains an incredibly important part of Microsoft, and now that Panos Panay is in charge of the Windows client it seems the company is interested in using Windows as a platform to push software innovation once again.
The fact that Microsoft spokespeople are using words like "reinvestment" when talking about Windows 10 is a breath of fresh air for Windows fans who have been calling for Microsoft to refocus their efforts on Windows. The last several releases of Windows 10 have been very enterprise focused with not much going on the form of features or platform innovation.
It's likely we will begin to see this reinvestment come to life with Windows 10 releases in 2021, as that's when Microsoft is expecting to begin bringing Windows 10X innovations to Windows 10. Windows Insiders have been hoping to hear more about plans to test Windows 10X on real hardware, and although Microsoft isn't announcing anything today, it is something they are thinking about internally.
In the meantime, what are your thoughts on Microsoft's reinvestment in Windows 10? Let us know in the comments.
Windows Central Newsletter
Get the best of Windows Central in in your inbox, every day!
Zac Bowden is a Senior Editor at Windows Central. Bringing you exclusive coverage into the world of Windows on PCs, tablets, phones, and more. Also an avid collector of rare Microsoft prototype devices! Keep in touch on Twitter: @zacbowden.
Panos is the leadership and visionary Windows has been missing since Steven Sinofsky. Steven made some...brave choices, but at least he had a vision and saw Windows as a place for innovation.

Agreed. It should be an exciting next few years.

Hopefully optional. I don't need any of that nonsense on my desktop computer.

"that nonsense" hasn't even been defined yet, so how you can know this? You don't.

I tried the emulator and I do not want any of those changes on my desktop.

So you don't want updates to be fast or for apps to be sandboxed for better security and performance? 🤷🏻‍♂️

Security yes, performance no. A sandbox cannot magically improve performance, actually most of the time worsens it as it is another layer of abtraction.

...as opposed to always running that crap in the background even when you don't need it.

then maybe you should just go to Windows 10 version 1507 or 1709 that will never be updated again. or better yet stick to Windows 8

Don't worry, 10X doesn't bring anything new on the table, it takes away features. Hence the X. They are basically removing Explorer and evoke Win3.1/OS2 program manager. Without Explorer, File Explorer becomes an app and can't control drives.
Also removing Explorer removes the IE html which was the plan with chromium Edge

Better update system would be great and simplified post live tiles UX/UI too

Can we expect them to appear in the Fast ring this year in Windows 10?

New versions of Windows 10 on Fast Ring? Of course. Can you "upgrade" Windows 10 to Windows 10X via Insider program? Absolutely not. Will you be able to wipe your Surface/boot loader and install Windows 10X with external media? Maybe.

I mean the Windows 10 X features coming to Windows 10 in the Fast ring this year

I think this year is too soon. I think the icons and some other visual elements are the only things coming to Windows 10 from 10X this year. But who know what's on 20h2, they haven't said a thing about it.

😀😁 A little bit of hangover from the previous article

I am still hoping for a Cloud installation option of Windows 10X as simple as the Cloud Restore.

Zac says "Windows 10 and Windows 10X will co-exist side-by-side on PCs next year". What exactly does that mean? Dual boot?

It means you can buy one type of laptop with Windows 10, and another device/design with Windows 10X in the same store. Definitely not dual boot.

Thanks Daniel. It will definitely be an exciting year.

dual boot is a great concept but a bad idea in reality. Same goes for the dual boot Android/Windows devices out there.

Cool you know I really would like to see Windows 10x version uses only uwp apps and pwa.

A great article by Zac Bowden :)

If I could get better tablet mode in W10, I'd be very happy. Also, some better notifications, sharing and clipboard stuff - things mobile OSes do better than Windows.

Yes, please. MS desperately needs to make Windows more mobile-friendly.

Yeah. It's like they should develop some sort of mobile edition of windows. They could call it Windows Mobile or something like that...

I'll be confident in their renewing a focus on Windows when they propose a new developer platform instead of the current set of partially supported UI frameworks for creating powerful Windows apps. Not PWA, not UWP, no XAML please. Something more handy and groundbreaking based on the Visual layer API, InteractionTracker and other exciting things added to Windows recently.

"The last several releases of Windows 10 have been very enterprise focused with not much going on (in) the form of features or platform innovation." Well, that makes sense, given that the vast majority of Windows users are in businesses. The last thing enterprise users want/need is "platform innovation". They just want their critical business apps to continue working. Which is why Windows 8 was never adopted by businesses. But it is very interesting that they are actually using the term "reinvestment".

Actually there are some business who did adopt it, not because it's Windows 8 but likely because it is a more secure OS. There is an orgazination that I supported that was using Windows 8.1 until they finally migrated to Windows 10. Did the user hated it? Maybe some when it first came out, but once they know how to go past the Start screen or actually make use of it, Start screen was fine. It seems like most of the complaints in the forums are coming from personal use and not from actual average users who might be annoyed with changes until they know who to get around things.

Some businesses, yes. But it was not broadly adopted like XP, 7 and 10. Vista was pretty much ignored too.

Yeah not as widely adopted, but sometimes due to us "experts" actually more on moaning about it that maybe for average users actually don't mind or care as long as they can get past on changes. Actually I would say Vista can be challenging for average users since they actually introduced massive overall changes to Windows user experience than Windows 8 was, which was mostly confined to Metro UX but the desktop environment were largely like Windows 7 with some improvements and changes to File Explorer with Ribbon UI. Also Vista had a higher system requirements with tricky driver support that IT can be reluctant to adopt it. Windows 8 were largely have better compatibility even with existing Windows 7 machines. I found Windows 10 to have more issues when it was new than Windows 8 when it was new. Also can be a lifecycle too considering Windows tends to be have a long support lifecycle. It saves money and IT rather want consistency so it is easier to support and maintain.

"We aren't focused on Windows 10X any longer. We will be bringing some of the features to Windows 10 instead." How long long until this announcement?

I think reinvestment and innovation is the wrong word and framing of the situation and is not a sexy term anymore. Microsoft is just hugely behind finishing half baked software and a messy experience. I would first like to see them try and finish software for once instead of leaving us with half baked software after which they move on. It's becoming ever more frustrating and counterproductive to use the OS and software. Start menu and live tiles still need more file type support. I want to see more live tile options and interactive tiles. Android launchers currently do a better job than Windows.
Tablet experience has come to a dead stop, pen and touch interaction needs to get better in tablet mode as do UI and menu elements. Elements and frameworks like no date and time in the action center, making Windows search part of the action center, being able to rotate snapped apps in tablet mode in two orientations, improved app animations in tablet mode, better integrated pen input inline in all textboxes in tablet mode, missing easier to edit and improve access to handwriting recognition libraries, also professionally distinct, bottom app navigation in apps in tablet mode, start menu side bar and background editing, uniform experience for file dragging and dropping between all apps and app types as standard in tablet mode, highly improved indexed search for local and external stored files, bring back app hubs for native apps such as People, improve current hub apps like outlook (still missing attaching richtext invites in emails to a calendar item with drag and drop between email and calendar, and more, missing.

Live Tiles I think can be still improved and I believe making it Interactive Live Tiles basically becoming a widget is way to go. Other OS have widget system like iOS, macOS and Android of course is well know having this (abeit fragmented and honestly not always pretty and can be novice-unfriendly). For me not having a widget system for Windows 10 X is a huge miss opportunity, when the other platforms especially Apple has it and is well supported to the point they even make it always visible in iPadOS. Tablet Mode in Windows 10 is definitely needs a further work which hasn't been significantly improved pretty much since Windows 10. Since Windows 10 X is still far from ever replacing Windows 10, at least Home edition. Improving Windows 10 Tablet Mode should at least do the job. It is simply improving its UX to be more tablet-friendly and if they finally move to new File Explorer, which should be touch-friendly which will improve the tablet experience alot. Making massive overhaul improvements for Tablet Mode should not be taken as a fear from the user complaining for change, since Tablet Mode isn't the default mode on desktops and laptops anyways, even on 2-in-1s which is still defaults to Desktop Mode. Windows team seriously need to work on Tablet Mode. UX improvements especially for UI and visual consistent really needs to be addressed here. Microsoft is catering the creatives with their Surface line of products, all while their software is basically anti-thesis for creatives especially designers with its inconsistent UI and some UI elements are rather ugly or unpolished. It is an environment that seems like odd for people that may have eye for attention for details. Also having great UI inspires app developers and UI designers as well while working in Windows 10 environment. Hopefully Microsoft should understand this and really push in their development for UI and visual consistency to their own products. Not just talk about their vision and how awesome Fluent Design System is. They have to set a best example.
Windows Central Newsletter
Thank you for signing up to Windows Central. You will receive a verification email shortly.
There was a problem. Please refresh the page and try again.