Windows 10 support from Microsoft confirmed to last until October 14, 2025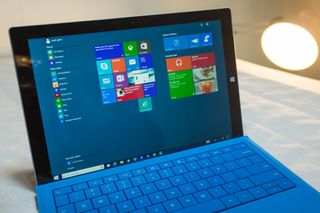 Updated June 14, 2021: The end of support date for Windows 10 has been known since 2015, but it recently made rounds on the web. We break down all the details in our recent coverage.
Microsoft has confirmed that it will continue its traditional 10 years of support for Windows 10. The company has updated its Windows lifecycle page, showing that its support for Windows 10 will officially end on October 14, 2025.
The page shows that mainstream support for Windows 10, like all previous versions of the OS, will end on October 13, 2020, over five years after it officially launches on July 29. The end of mainstream support means that Microsoft won't be adding any major new features or improvements to the OS after that date. However, security updates and bug fixes for Windows 10 will continue for an additional five years, again just like all previous versions of Windows have had, until the extended support period ends on October 14, 2025.
The page does have a footnote, which basically says that it's possible that not all PCs with Windows 10 will be able to use all of its future feature updates:
So if you are getting the free update to Windows 10 for your current Windows 7 or 8.1 PC, you should be able to keep using it with support updates from Microsoft for the next decade.
Windows Central Newsletter
Get the best of Windows Central in in your inbox, every day!
A decade plus of support seems about right.

By that time we'll have people living on Mars.

Yeah, and in 10 years we will have flying vehicles and roads trough buildings n sheet. Wait, they said that like 10 years ago as well? lolol

Not with our Goverment holding us back with their regulations and need to spend our money poorly.

FTL drives and worm hole generators :P.

We will have Warp Drive on april the 5th, 2063 ;-) Posted via the Windows Central App for Android with my Note 4.

Yeah, and time travel will be made possible on April 6th, 2063, which is how you knew that date on the other two. ;)

April 5th - Zefram Cochrane launches the Phoenix, mankind's first manned warp capable ship, from Bozeman, Montana

I'm diving into the first wormhole I come across. Posted via the Windows Phone Central App for Android

I hope world won't end before that.. :D

There'll be meteor close by in 2029

Wasn't this going to be the final Windows foreverrr??

Yeah, maybe new features will cost money, starting in 5 years?

You could speculate about anything. Yeah, maybe they will use a freemium model. Even if that's true, you don't have to buy those features. They can't promise support for 10 years and in 5 years say you will have to pay money. They will get sued. What they can do is keep offering patches and security updates and sell separate feature packs like they did with media center and theme packs in the past.

The one coming out this year is already kind of "freemium" :P

Windows 10 is not freemium, it has a price like other versions of windows. It is free only for upgrade and that too only for those who upgrade within one year. It is like a promotional model of Microsoft.

So, which addons cost money? I didn't see any announced. Freemium means you get the base software for free and pay extra to get premium features. So far, everything announced for windows 10 is included for free.

Yes but the version version of Windows 10 cannot last forever. Windows 10.1 (example) will have another 10 years of support

Yes, but the article leaves out an important detail. In the actual announcement, Microsoft states that this will be for "Windows 10 which launches on July 29th". That's actually kinda a big omission, since it means that Microsoft is going to do what they did for Windows 8 --> 8.1 and release a free update that extends the lifecycle

It is weird when their policy on deferring updates has changed even at the business sku level(though we have yet to see the successor to ws2012)

The successor to Windows Server 2012 was Windows Server 2012 R2. The next version after that will reportedly be released next year. We're all aiming the name will be Windows Server 2016, but the current test build still reports itself as simply "Windows Server".

Nothing last forever!!!!even you my dear

Does Apple still support the 1st release of OSX? I'm guessing they probably don't. No matter what, they have to have some type of limit when it comes to support

Or more to be precise do they support it on ppc hardware still

Apple support the current and previous versions. So right now that means 10.10 and 10.9 .

Yes and what comes next will be GATE's Gate1, Gate2, Gate3 and so on...:)

Microsoft might have released Windows 15/20 by that time

No, Windows 10 is the final version according to Microsoft. After which, it'll serve as a service rather than a product, forever.

Then...why it said support for next 10 years...? Microsoft should have said support upto till their company wind up... As Windows 10 will be their final software name with further builds giving periodically

That's mainstream support. We don't know yet if there will be upgrades like Windows 10.x. EDIT: LOL, agreed. Giving a deadline kinda makes people hopeless even if it's a decade or two. I think Microsoft will soon come up with a good answer for this mystery ;P

Will put this question in #AskDan weekly video... Lets see what Daniel Rubino thinks of it

Anything to cry about..... Now wonder why Microsoft gets a bad wrap even when they do good things

Forever is a long time. It's not going to be forever. At some point they will create a new kernel and they will rename the OS.

Gautam Kabiraj: "No, Windows 10 is the final version according to Microsoft. After which, it'll serve as a service rather than a product, forever." Yes, exactly. That's why I'm waiting for all the Doomsday blogs to start reporting that Windows will be dead in 10 years, because Microsoft is discontinuing Windows in 10 years. Just waiting for that to happen. Some of them are silly enough to actually believe it.

But this is the last OS iteration. Wonder how that works. Unless they're doing it like they currently are with Windows 8 support ending sooner than Windows 8.1 support.

Expected. Apple (and their fans) should take note because they suck at extended support. People seem to be willing to spend another $1,500-$2,500 every 5-6 years.

Actual this may end up like the apple model. If you are constantly adding features, at some point those features will excede the capabilities of the old hardware. The computers will become incredibly slow, Microsoft will up the minimum specs, and the old hardware will need to be replaced. Part of Apple's success is that they besically force their user to keep upgrading to the latest hardware. People being able to keep using computers that are 6+ year old is what is causing the industry to decline. In the past, the software would advanced with the hardware and the old hardware became obsolete in about 3 years. I've had my current pc for about 6 years and I still haven't found any software that won't run on it and they run well. In the past, I would upgrade certain components every few years.

Wasn't this version, the last Windows iteration? How can it have a deadline on support? Unless they mean this version of Win 10, without progressive updates.

That's exactly what this means

Yeah, it's unrealistic to assume that you get a free OS upgrade or even pay full price for it, and you get free updates and upgrades forever. You have to cut it off at some point and 10 years is incredibly generous. No other product is supported that long for free.

But they said that win 10 will be their last, right?? Its going to be a service rather than a product (something like that, I still remember)...

Yes but hardware limitations would ultimately limit how far each win 10 install can be upgraded. Older devices will be stuck on older updates..

Cool! So, for those who got Windows 7 and updated it to Windows 10 had just spent once for the OS and will receive support until 2025.

Too bad that Windows 7 machines have old specs. Sandy Bridge CPU I think was the latest CPU which came installed on Windows 7 and today Broadwell is not only faster, but consumes less power which means your energy bills will be much cheaper than if you kept your old machine and update to Windows 10. Also don't forget that most Windows 7 users won't get new features like DirectX 12, RealSense camera, that needs recent hardware. Just my 2 cents.

I use Windows 8.1 on a Pentium D 925 3.0 Ghz hp pavilion PC with 4GB RAM and 2 Gb graphics card, runs quite smoothly. This PC is from 2007! :)

Just like what these guys say here, how come Microsoft support Windows 10 until 2025 if this Windows is the last version? Enlighten me o lord of the Internet! Posted via the Windows Central App for BlackBerry

Windows 10 "Redstone" (or November Update whatever) update will be relesead as a free update and that extends the lifecycle over again.

Last version of Windows OS does not mean last OS from Microsoft. Nor does Windows 10 mean Microsoft having to support computers with tech that may by that time been built over 16 years earlier (from Windows 7 days). Technology marches onward. Everything has an end of days. - the Lord of the Internet has spoken.

Thank you my lord, you have blessed me with your knowledge and wisdom And cheers for all of you! Posted via the Windows Central App for BlackBerry

Windows 10 is the last version of Windows OS. The next OS by Microsoft will be Doors. Or was it Walls? I can't remember. ;)

Well, this is confusing. As you can see in the comments above, this is supposed to be the last version of windows. So what *IS* the real story now?

Mary Jo Foley from Zdnet said that Windows 10 was the last Windows, but I'm pretty sure that if Microsoft today said support of new features will end in 2020 means that something new will be coming, but perhaps it won't be named Windows.

Windows 10 "Redstone" update will be relesead as a free update and that extends the lifecycle over again.

No Redstone would be considered part of the Windows 10 life cycle. Just like SP1 (large updates) did not extend the consumer version life cyle of Windows 7 and similar changes to other Windows versions.

Yes SP1 Extends the lifecycle. Windows 7 RTM ended on April 9, 2013 Windows 7 SP1 ended on January 13, 2015 (Extended to January 14, 2020) Did you even read the source?

Windows 8 and Windows 8.1 have different support cycles.... so you can assume it from there. if not we will not in 5 years what will happen to Windows OS

Because there is going to be an apocalypses on october 14 2015. Thats why they choosed that day for last Windows.

Wait the appocalypse is Octomer 14,2015 that is only 3 months away. 3 months + Appocalypse = Half Life 3 confirmed.

The "APP-ocalypse" is when people finally realize that the OS is better than the sheer number of apps available for it. It's when sales of Microsoft's flagship phone really takes off. October 14, 2015...

I'm with everybody else...how are they claiming an end date for windows 10 support when this is supposed to be the last major update or no more iterations? Seems to be many open-ended and contradictory statements coming out of them these days.

Nice, looks like Microsoft is going to get this OS upgraded with new features for free until 2020. I bought a new Dell PC this year with Intel Core i7 8GB of RAM, 1TB of hard drive which I'll update to Windows 10 and I was hoping to receive great news like this. Possibly by 2020 my specs will be too low for the next technology and I will update my laptop again for another OS from Microsoft.

I think this is their plan. The PC market hasn't really declined. There are probably just as many PC in use. However, people haven't been updating their hardware because the software doesn't tax the system, except for a few high end games. By constantly adding features, eventually the hardware won't be able to keep up and people will have to update. Sure the XP users will be pissed off at this model, but most users want more features and for their computer to be able to do more things and won't mind upgrading if they know they will get a better product. If I was to update my pc right now, I really wouldn't get newer hardware but my user experience would be exactly the same.

You could just upgrade the hardware of your laptop instead of buying a new one, it will last longer that way

Seriously, except the memory what laptop component is upgradeable on main stream laptops.

Just ram and hard drive, and even then sometimes the ram is soldered and can't be replaced. Buy new laptops dont upgrade them, because you litterally can't.

This seems weird when they said that it's forever on the latest version.

They really didn't say that. I single employee said it during a demo. Microsoft has never stated that. I think eventually you will have a windows 11. The difference this time is that you will continuously get new features. In the past, you got security fixes and patches and tnew features would only be introduced when the next version of windows comes out in 3 or so years. I'm guessing when they redo the kernel and make some major changes, they will release a windows 11.

Because Windows 10.xx may come some time next year or next next year or very next year .

I'm not understanding what is going. Is windows 10 the last windows gonna Microsoft release?

5 years after support for WS 2008 R2/w7/whs2011 ends interesting

The OS will probably be free in the future with you having to pay for individual features.

Do you have any link on that? Is there any evidence that after 2020 you will need to pay to keep Windows 10 running on your devices?

I believe Microsoft is talking about this current build. When this build is upgraded (for free), then that will also have ten years of support. According to Mary Joe Foley, there's updates coming up this winter and next spring 2016 to Windows 10. Think like Ubuntu, there's updates every year for free and the support is always there as long as your hardware can keep up (or upgraded) with the system hardware requirements for the latest and greatest.

Exactly, this is "Windows as a Service" WAAS Previously Windows 8 added enhancements and was called 8.1, now instead of Windows 10 changing the name, Microsoft is just going to add new features like Xbox streaming, app store unification between mobile and desktop store, etc. but transparent to the user without need to reinstall a new ISO

Yes, my last three updates using Microsoft Insider for Windows 10 was seamless. Just download it and it updates the OS without removing any of my files whatsoever including my exe and msi (dot net) programs.

I don't think that is plan. In 10 years I don't think Microsoft wants to be supporting machines that may have technology that is well over 15 years old (Windows 7 updated devices). Nor do I think most users here want them to have OS that is forced to carry the dead weight of of these old tech. Microsoft wants to make sure they have an "out" dealing with support and they are letting us know what it is. Maybe they will just move on to a new OS model or continue to support for another 10 years from 10.5 (or however they name major updates) Perhaps, providing a free path for capable devices to a new OS model. Maybe the landscape will have changed: AR devices have taken root, cloud based OS are realistic thanks to true 1TB net speeds, or Skynet may have taken over by then. Who knows but , expecting Microsoft or any company to continously support any product for an unlimited amount of time is unrealistic. And not giving the end date for support before the sale of Windows 10 would enter Microsof possibly into a lot of legal issues in the future if they did not. It is not like the OS will stop working on that date, just means the consumer will not be seeing (guaranteed) any updates to the Windows 10 OS. Just because this is the last iteration on the Windows name does not mean a lifetime of free updates that would be silly, they never said that would be the case. But 10 years of support for the consumer product is much better than what the competition provides.

"A device needs to install the latest update to remain supported." Can someone explain what this means in more detail? I don't have reliable internet so I wouldn't want them to stop giving me updates because I missed one or something.

So you know how Microsoft extended renewed the support lifecycle for Windows 8 by releasing 8.1, and if you installed that free update, you get another year of free support? It's like that. You can miss a few updates, but if you go 10 years without installing the specific, critical updates, you'll be left behind.

We'll be running Windows 10.842 on an cranial implanted chip connected directly to neural pathways

So, there will be Windows 11, 12, 13, 14, 15 ... and so on, contrary to what MS said before!

Windows 10 will continue in the same way OSX does with 10.1, .2, .3 etc. So support will end for 10 but will continue for the current dot build. These may be free if they make enough off people buying extras OneDrive space, office 365 etc.. If not they may charge. That's my guess.

If this is truely the last new release of winows, thaen this doent matter. Microsoft will have to support it in perpetuity.

Try proof reading before posting please. Thank you!

Who wants to live for forever... Because there is death thus the life is interesting.:-))

Thought Microsoft said that "Windows 10" will be the last Version of Windows? So what does this mean? Some of the Builds are supported until then or the whole Windows 10?


no microsoft is saying if u stuck on windows 10 for 10 years & don't install any updates then microsoft won't support you further.

Obviously at this early stage, even they are satisfied with it.

I still hate that ill have to downgrade to Windows 7 via Microsoft support with my license key instead of just inputing the key on my insider build and going straight to RTM :/

There's room for clearifying in the future. I thought from the beginning it would be a subscription model(like Office 365, antivirus)but then again they wouldn't sell it as retail. Future will tell, don't think even MS themselves now at the moment.

I guess this will only affect enterprise, since companies and organizations will be the only ones possibly deferring updates indefinitely? (And possibly some people disabling Windows Update.)

In 2025 you yon't have an OS anymore. You will stream everything from Microsof's cloud OS. I'm pretty sure about this.

You may very well be right, one thing's for sure, Windows 10 will be a quite different thing in 2025.

That's amazing! So it's Azure for average consumers?

Not to be worry... Will switch to Mac in few years...

The thing confusing about this news is that microsoft announced that windows 10 would be the last operating system and would further only needs feature and api additions and updates. So I'm really surprised by this news. Microsoft has shown they have been building a new OS with one unified core. The rest on top can be changed. But what does that mean after 2020? Are we getting yet another OS with new core and new layers? If true, that would be worrying!

What after that?MS said there won't be next windows,what after 2025?

And no doubt in 2025 some people will still be complaining that Microsoft ended support for XP. Long live the past. Damn the future.

Who cares really and who worries about this now. In ten years anything can happen. Move on...

But they said Windows 10 is the last WIndows ever. So the next OS wont be named after Windows?

Praise the lord thank you Jesus!

October 14th? If they had said the 15th I would have bought it. Posted via the Windows Phone Central App for Android

Guess on 2025 Satya Nadella plans to leave Microsoft saying he's done a lot for Microsoft and it's time he should go for an investment in a start up.

and than what? wasnt windows 10 soposed to be the last windows? O.O

It's 2021 and we're talking about it again.
Windows Central Newsletter
Thank you for signing up to Windows Central. You will receive a verification email shortly.
There was a problem. Please refresh the page and try again.