Windows 10 support ending in October 2025 is old news
Despite reports and rumors to the contrary, Microsoft listing October 2025 as the end date for Windows 10 support isn't new information.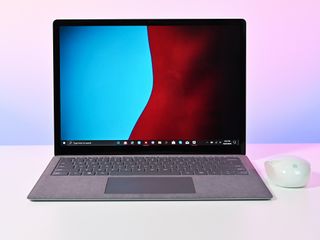 (Image credit: Windows Central)
What you need to know
A Microsoft support page states that Windows 10 will be supported until October 14, 2025.
This date has been known since 2015 but is making rounds on the web today.
The listed date of October 14, 2025 is not related to Windows 11.
Back when Windows 10 was new, Microsoft confirmed that it would continue its traditional 10 years of support for Windows 10. A Microsoft page for Windows was updated back in 2015 to state that support for Windows 10 would end on October 14, 2025. Now, that same date is making rounds on the web due to some reports and speculation.
A doc from Microsoft (opens in new tab) reads, "Microsoft will continue to support at least one Windows 10 Semi-Annual Channel until October 14, 2025." Some have said that this doc was recently updated, but that doesn't appear to be the case. According to the Wayback Machine, that phrasing has been on the website since at least September 2020.
In addition to appearing on the Wayback Machine's archived version of the page, our initial coverage outlined Microsoft's timeline back in 2015. Back then, it was stated that the end of mainstream support was October 13, 2020 and that security updates and bug fixes would continue until October 14, 2025.
Of course, we have gone past the initial listed cutoff date for mainstream support and Windows 10 is still being updated. Another Microsoft doc (opens in new tab) outlines the end of support dates for various versions of Windows 10, including when extended support runs out.
Some have speculated that the end of support date could be related to Windows 11, but the fact that the date has been known since 2015 makes that unlikely.
Get the Windows Central Newsletter
All the latest news, reviews, and guides for Windows and Xbox diehards.
News Writer and apps editor
Sean Endicott brings nearly a decade of experience covering Microsoft and Windows news to Windows Central. He joined our team in 2017 as an app reviewer and now heads up our day-to-day news coverage. If you have a news tip or an app to review, hit him up at sean.endicott@futurenet.com (opens in new tab).
MS should've committed to Windows 10x. They need to get away from legacy crap if Windows is to remain relevant. They could've just left Windows 10 alone for the people who need it or are stubborn/obtuse and released 10x as a new "fresh-start" Windows.

My thoughts also.
10x would have been a great OS for tablets and mobile devices. My expectation was for them to make the OS modular.
Core OS as a foundation for all, Plus one of the below unique CShells for each platform:
- for tablets.
- for Hololens
- for Desktops (+ probably other legacy components of Win32) this would be the equivalent of today's Windows 10.
- for Mobile devices (open source if possible so Microsoft don't have to commit too much resources on it for now based on their past experience with Win10 mobile).

Yeah it is a shame Windows 10X was canned. Maybe because it's a tough sell next to the more nimble ChromeOS. Google just does lightweight computing really well.

"They need to get away from legacy crap if Windows is to remain relevant." Doing this is a great way to stop Windows being relevant. Consumers forget quite how many companies globally rely on this and why MacOS has never been suitable outside of specific vertical markets. It's not a case of being stubborn/obtuse. Windows 10X is Microsoft ChromeOS. It wasn't going to even support modern Win32 app like Microsoft's own Microsoft 365.

Those companies will rely on Windows no matter what. Microsoft doesn't have to do anything. They could scale Windows 10 back to be more like Windows 7 and those companies and users would be happy. It is pointless to do anything else. They need something new and fresh, because eventually, Windows will be replaced by something and Microsoft can make that something or wait until someone else does.

Well, if you want them to get rid of legacy stuff, Windows 11 is getting rid of legacy stuff. Windows 10 ran on everything that ran on Windows 7, which ran on hardware before Windows 7. (Computers made since 2005) By upping the minimum requirement for CPU generation, they are killing off anything before 2017. So that is 12 years/60% of legacy system getting killed off. Now they can delete any code that had to work around quirks of Core Duo CPUs and early Intel iGPUs, or anything that doesn't support running in a hypervisor, or code that runs in an alternative code path when the TPM isn't present.

In Windows Central we trust. Now you mention it I remember seeing this date for years. It's also important as each version of Windows LTSC also has an End of Support date too.

oh good grief, MS must be loving all this free promoting, people getting excited and thinking there will be another version of Windows. MS may change the name, may, but it will still be Windows 10 with more rubbish added. Maybe Ms should sort out Windows 10 problems and finish it off before starting on another version.

Next version of Windows going to be rentel only if you want all the features like Office 365 is .?

As long as it runs Windows based software, that is all most people will want, and I doubt Ms will change that to subscription.

That won't happen in a distant future.

The LTSC/LTSB version of Windows 10 1507 is supported until October 2025. Later releases of the LTSC/LTSB version of Windows 10 are supported until years such as 2026 and 2029 (whatever year is 10 years after they were released).

the later LTSB/C releases were LTSB 2016 (based on 1607) and LTSC 2019 (based on 1809)

Come to think of it, Windows 11/Sun Valley isn't even really going to be a "new version" of Windows. Historically, new major versions of Windows(think XP, Vista, 7, 8 and 10), came with codebase changes that were large enough to noticeably affect program compatibility. Sun Valley will still be based on the same NT 10 kernel as regular Windows 10.
I expect that this will simply be a larger than usual semi-annual release, just like they've done every 6 months since 2015. Only new thing here is this might be a much bigger shift to the UI.

Yep. New icons and call it a day.

I see nothing on "Products Ending Support in 2025" page though, meaning they just made the decision and haven't had the chance to update everything. (https://docs.microsoft.com/en-us/lifecycle/end-of-support/end-of-support...) Yes they always put 10 years when they release a new version, and then they sometimes extend it (Windows XP 2002~2014, Windows 7 2009~2020). My feeling is that they just made the decision not to extend, effectively deciding the end date today. As opposed to Windows XP, which you can say "they've always put 2011 as the end date, we knew that since 2001" but it ended up not true.