Windows 10 Technical Preview has some restrictions that may bar a few PC owners from using it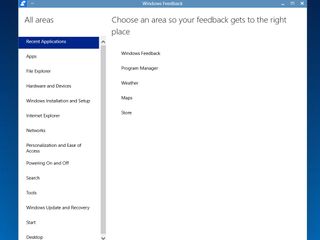 It goes without saying that the launch of the Windows 10 Technical Preview by Microsoft is not for every PC owner. Indeed, the company has posted up a list that indicates some folks may not be able to run the build.
First, here are the minimal system requirements for the Technical Preview, which are basically the same for Windows 8.
Processor: 1 gigahertz (GHz) or faster
RAM: 1 gigabyte (GB) (32-bit) or 2 GB (64-bit)
Free hard disk space: 16 GB
Graphics card: Microsoft DirectX 9 graphics device with WDDM driver
A Microsoft account and Internet access
In addition, a PC needs a screen resolution of at least 1024x768 in order to access the Windows Store and download and use Modern UI apps.
Microsoft says that "some PC processors and hardware configurations aren't supported" by the Windows 10 Technical Preview but did not go into details. It added, "A small number of older, 64-bit CPUs might be blocked from installing the preview."
In addition, installing the build won't let users play DVD movie discs with the Windows Media Player. If you have Windows 8 Pro with Media Center on your PC and install the Windows 10 preview, the Windows Media Center will be removed.
Needless to say, this preview is for PCs with x86 processors only. Devices like Microsoft's Surface RT and Surface 2, which run on Windows RT, can't use this Windows 10 Technical Preview, nor can devices that have Windows N installed. It also can't be used by any Windows Phone device.
The EULA on for Windows 10 Technical Preview shows that you have to be 18 years of age or older to access the build. If you have Windows 7, Windows 8 or Windows 8.1 on your PC before you install Windows 10 Technical Preview, it will keep your Windows settings, personal files, and most apps.If you are one of the few folks out there still using Windows Vista, you keep nothing when installing the Windows 10 preview, In fact, Microsoft says, ".... you must boot from media and perform a clean install."
Finally, Microsoft says, "If you're running Windows 7 without SP1, you can only upgrade to the preview by downloading an ISO file. If you install Windows 7 SP1, you can upgrade to the preview by using Windows Update or by downloading an ISO file."
Source: Microsoft (opens in new tab)
Windows Central Newsletter
Get the best of Windows Central in your inbox, every day!
So.. I can download technical preview from Windows update in windows 8.1.1?

Yeah, what does that mean?

no. preview.windows.com is the only way to download it.

Does this work with the surface pro 1

Yes but PLEASE don't! You might not be able to restore from the recovery partition if you do!

Yes, at least according to explanation on the site. It also advised you of what will be carried over

It involves being a little more advanced and manually having Windows Update nab it for you. How the hell you do it: I don't know. I personally am just using a bootable flash drive (made from WinUSB Maker, free online), since I'm installing on a separate partition anyways. But for those who know how: They have that option on Windows 7 SP2 and up.

Its not that much :D
Media player? Who needs that
We have KMPlayer

Or.. Apps from store
In win8.1.1 I use Music and Video at media.

Media center, quite a different beast.

Yeah, Media Center is why I'm not installing it at home. Media Center is my DVR that works with my quad cable card tuner. I'm guessing they plan to kill it in Windows 10 considering its missing from the XBox One as well. That alone will keep me on 8.1, just as it has kept me on the XBox 360.

Ditto. They've dropped the ball on the HTPC completely, despite the start screen and modern UI being an ideal interface for it (if MCE remotes were actually taken into consideration, e.g. no 'back' to exit apps). Seriously considering dropping my rigs and going to Roku. :-(

I'm hoping it will still be an add-on feature like it is in Windows 8.x. It makes sense that they wouldn't have a paid add-on feature enabled in a CTP version.

It is an add-on. Go to "add Windows features" and you'll see it's there. If you already have a license for it from Win8, you're good to go. It looks like the Win8 version, but some of the files will have a current date stamp. So who knows. To sum up: yes, installing Windows X (sorry, I'm a Mac guy) will remove WMC. But you can add it right back in.

Restrictions yes, but it week be worth it. Just need to get the right laptop, or back up thoroughly and update. Sad though this version doesn't support tablet

So Windows 7SP1 owners can get the technical preview from Windows Update? I don't want to replace it on my laptop.

Windows 7 SP1 users can upgrade via Windows Update

Welp, some of this is why I always load into a virtual machine first. Especially with a preview release.

If your CPU has the horsepower, than yea. But I've found VMs never quite run smoothly from laptop Pentium processors with no dedi graphics

I guess my thought of pulling an old XP system out of the basement and installing W10 on that one is probbaly out of the question.

That's sort of what I was hoping to do too.

Never know until you try. The worst that will happen is that setup will say the machine's specs aren't high enough.

I've got a couple old ThinkPad laptops of Pentium 4 era, running 8.1 quite smoothly. I will try 10 on them for sure.

If I upgrade my windows 8.1 machine to windows 10, after releasing the final version, will I be able to upgrade the current windows 10 with apps and other to stuff to final version ?

It is also probable not. I wouldn't count on it until you hear otherwise. You couldn't (at least not officially) with the Windows 8 preview.

No. At least not from any of the preview builds that Microsoft has released for Operating Systems in the past. Typically, the only build that still is usable is the RTM which will only be released a few weeks before the software goes out to everyone.

So it seems after release of final version I have to clean install the my current windows 8 again and update to 10 !

Very likely yes. Any CTP version should be considered a throw away environment. This is also the case with other MS tech previews such as MSSQL server, Visual Studio, etc. You have to uninstall them (and sometimes use special tools to fully clean/remove them) before you can install RTM versions.

I would assume NO. With windows 8 after people installed all the betas and oreviews when the final release was available you had to do a CLEAN INSTALL.

I will wait, as much as it pains me, I will wait for a few days and check out some of the posts on the forums. You all will be my guide on this dark pathway we have decided to explore :P

So, has anyone tried this on Virtual box or VMware? Did it work well?

Installing right now, Just picked default settings and told VMware that it was Windows 8 x64. Seems to work fine so far although I'm still installing.

I'm downloading it right now and will be attempting to install it in VirtualBox. We'll see how that goes.

I tried to install it on vmware player 10 a few times and get an error about failing to read from the media device(I'm using the iso download that I mounted inside vmware). I guess vmworkstation 11 is supposed to support the 10 preview, but I only have a copy of player. I chose windows 8 x64 as the OS I was installing.

I'm getting the same error

Installed and running on VMWare Workstation 9. Used the "Windows 8 x64" option during install.

I installed it on my VMWare ESXi server last night. It runs nicely, but I've not had much chance to play with it yet. I didn't need to do anything special, I just started with the Windows 8 defaults, upped the RAM to 2Gb, and booted from the ISO. I've got it in 2Gb RAM on one core of a Pentium G 2120, uses about 10Gb of disc space.

I'll be demoing this as a virtual machine. Thanks for the info though.

2gb of ram think their setting the bar for 64x pretty low

It's a minimum requirement, not recommended. It will boot, and operate, although slowly.

Downloading.... Installing this on my main laptop because yolo swag. :D As long as League of Legends will work, I don't care. Anyone knows if you can upgrade from x86 to x64 or do I have to run a clean install?

Ok, you just answered my question.

Yolo swag part? That totally cued me in.

I forgot the hashtags *#yolo #swag #life #windowsaintbad

Could you report back on the Lol status? :D

Yes.. waiting for bootable USB. Lost my promo games :( So sad... I will let you know soon.

Did you try simply using ImageX, bcdboot, and bootsect? That should pretty much take care of it instead of trying to use the builtin tool.

Installing in Hyper-V now. Also trying out the new server version (Windows Server 2015/2016?) :)

What I don't get is why I can't even download the ISO files from my Surface RT. I know I can't install them but I just want the download links to work.

Windows 7 users can upgrade to the final version for free? Via Windows Updates?, i just wanna know.

Why would anyone overwrite Win8 with a tech preview of a completely unfinished OS?

On a serious note. Because it's user behavior - the softwares you use on a daily basis will be sent to MS - in case something goes bad, you can actually tell them want went wrong and patch it. I'm a QA Game tester and user behavior is recommented for testing purpose.

Umm, how is that relevant to my question?

Why would anyone.... .... because you can help MS to develop a better OS for your device. If you bought win8, you can install it back without any issues. So, why not? Understand this? :D

No. Because it takes time to go back. Just because you have a disc doesn't mean everything will be fine. You still have to go back and install all of your applications and games, etc. Why would anyone not just use a VM? I am waiting until the consumer preview, and when it comes out, I will spin up a VM in HyperV and test Win10 that way so I don't have to go through the trouble of redoing my machine if something goes wrong.

I am doing the same as you, but in fairness a VM may not allow for some types of testing. Touchscreen, portrait orientation, etc. may be hard to test on a VM. If someone is interested in testing that type of functionality then a bare metal install may be perfectly valid.

Because they think there are no risks. And want to be extreme early adopters.

There are no risks. Besides some high latency when switching apps and a longer boot time, I don't see any other flaws. Waiting for the first crash.

What do you mean there are NO RISKS? You mean you've had no problems. These are quite different concepts. It's an OS in extremely early alpha, with unfinished and untested features. Of course there are risks!

Will the graphics card requirements remain when W10 is fully released?

Wait your not on at least a DX9 or higher card? You can get a DX11 supported card cheap these days ..

"In addition, a PC needs a screen resolution of at least 1024x768 in order to access the Windows Store and download and use Modern UI apps." So, Windows 10 won't be running on the newly released Toshiba Encore Mini, with its 1024x600 display... which is fine, because I don't think any Windows tablet should have less than 768 on the small edge.

Windows 8 also requires this resolution for Modern Apps.

I have it on a Dell Latitude E6430 at work, it has a resolution of 1366x768 and the Windows Store doesn't really display properly. I receive a vertical and horizontal scrollbar for the "floating window" of the app, then the modern app itself has it's on set of scrolling bars, so it almost looks like its working an an HTML IFRAME.

I would do a clean install anyway

Wanted to, but couldn't on an old laptop with W7 (fully updated). All I could do was an update.

Got it running in a VM so I don't wreck my rig :P

64bit version installed and runs well in a Gen 2 Hyper-V VM. 2GB ram and 2 processors.

iam using Wp 8.1....if i download and install technical preview which expries next yr...then is there a way to get back to wp 8.1 and install update what they provide ??? or shall i dual boot ??

Please read the article. This is not for Windows Phone or any ARM variant.

:( iam talking about laptop :)

Help me. I want to use the virtual PC but w10 say's I don't have a 64 bit processor witch I do have

Some older 64-bit processors week give that message on updating 8.0/64 to 8.1/64 also, i.e. my Pentium D. Didn't have the XD-bit feature yet, or something. Your case may be similar.

Dell latitude e5500 bios A19 with a Intel core 2duo CPU t7250 64 bit
The x86 say's to restart my computer and if I boot from DVD It doesn't start at all
The X64 say's I don't have a 64 bit cpu

You may just need to enable the CPU virtualization functionality. Many systems have it disabled in the BIOS by default... http://helpdeskgeek.com/how-to/enable-virtualization-in-the-bios/

virtualPC only runs 32-bit OS so you need to get the 32-bit OS version if its not avaible then try virtualbox which can run it at 64-bit

Do you always have to be connected to the internet to run it??

You have the same Local Account option as Windows 8. I'm running my work test machine offline.

No, but I think you need to connect with an MS account in order to provide feedback to the MS tech preview program. You can log in with a local account if you just want to try it out though.

The specifics on unsupported CPUs are actually were detailed on TechNet. In addition to Windows 8 requirements of PAE, NX and SSE2, to install Windows Technical Preview you will also need CMPXCHG16b, PrefetchW and LAHF/SAHF support.

Why is it available for vista. That os uses old CPU instructions

Been playing with it in a VM this afternoon and it works pretty well. Also, as I did not know how to set up an internet conneciton in a VM at first I can tell you first hand that it works fine on a box without an internet connection and will just make you use a local account and lock you out after a month just like normal Windows 8 without an internet connection.... at which point I am sure there will be a new preview to play with anyways. However, as you can't get it to do much without an internet conneciton I did get it figured out, and it was really weird being logged into my native machine and the virtural machine on the same box. Little things like changing the background on one would then change the background on the other once it synced. Though that is more a comment of working with a VM than win10 At any rate, it feels like win8 with a skin pack layed over it... not too exciting yet. Things are certainly cleaner from a UI perspective, but having a sprawling modern start menu flowing off to the right of a more traditional menu is not much better than the start screen of win8. If they really want to make it better then they need to make it more self-contained... maybe like the windows phone menu? idk, but while an improvement, I don't feel like this is the solution we were looking for.

You can unpin everything from the Start Menu and that Live Tile area will go away if that is what you want.

Will a Dell inspiron 15 be able to get it

I want a list of 64-bit processors on which this thing won't run. I won't be able to upgrade until later tonight but I have an older x87-based Intel processor and want to know if it will work.

Works like a champ in Virtual Box.

Can it be installed on tablets?

If your tablet uses a x86 processor (basically if it has Intel inside) then yes (Surface Pro, Pro2 and Pro 3 for example)

Works fine on my i5-750 in Hyper-V so it must be those Core 2 CPUs that aren't working properly.

It didnt stop me from installing it on my 7 year old laptop. https://www.dropbox.com/s/ff015m7tady95fr/WP_001192.jpg
https://www.dropbox.com/s/40e7dvra4187x2z/WP_001203.jpg

I'll be doing a Native Boot VHD install.

People at MDL report that activating using a WMC key will convert it into a Windows 8 + WMC edition! Some great findings in that thread. Check it out. http://forums.mydigitallife.info/threads/57062-Findings-about-Windows10/page5

It's running fine on an old HP laptop with AMD Anthlon II dual core M300 2.0 GHz

where is the windows 10 technical preview for phones

"Needless to say, this preview is for PCs with x86 processors only" Little confused here. How is it that when I go to MSDN subscriber download I see the "Windows 10 Technical Preview for Enterprise (x64)" too? Or is it meant only for subscribers?

"A small number of older, 64-bit CPUs"
Just like old hyper threaded P4s or even newer ones?