Windows 10 Technical Preview for phones is coming. Today!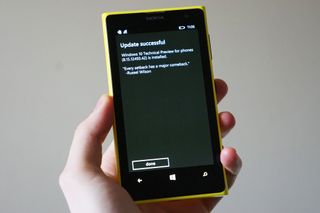 Today is the day! Microsoft has confirmed that the long awaited Windows 10 Technical Preview for phones will be pushing out later on today.
From Microsofts Gabe Aul:
Sit tight. We'll be back with more soon!
Richard Devine is an Editor at Windows Central. A former Project Manager and long-term tech addict, he joined Mobile Nations in 2011 and has been found on Android Central and iMore as well as Windows Central. Currently you'll find him covering all manner of PC hardware and gaming, and you can follow him on Twitter and Instagram.
Omg yes. I need to go ahead and sign up for windows insider lol

Please,,,, fast!!! Yeah, I'm waiting foh the video first

Hellll yeaahhh.!!!!!! No one could break the code that it was today XD

Someone did some crazy math on the first code article and guessed today

Many predicted 23rd Feb ..!!! Cool that guy broke todays code

Yes I predicted Thursday 12th Feb15 15.00pm PST.

1:16, dude. Wait for 1:16 PM! Only 30 minutes!

Its 13 in India and I said it for all wp lovers valentine gift in advanced.

24 minutes and gounting...

c'mooon -_- don\t release on 00:00 :|

Year 1316 was a leap year starting on a Thursday. .

I think it is 1pm Pacific 4pm eastern 1316 works for this.

Looking that way seeing as it is 124est, now.

I'm really going mad..... If it's true then what is the 1316 puzzle by Gabriel??....?... I'm so happy if it's true

Well I got deleted fast..

All I said was eff, I just shat myself, get me a towel...

You clearly haven't seen my avatar, this is a poop free zone sir.

I did use colorful language, but it was funny...that shit was taken down within minutes, like five...geez.

Holyshitballs itshappening.gif

I can't believe they're just giving it to us after how rude people were.

And to say being rude to Verizon and MS gets you nowhere, bullshit. Rewrite that fuckin article.

Yeh... No. I think no matter what, every day they got crap about it. This just so happens to be the day WC decides to tell people about it.

Maybe they were like lets give it to them and let them brick their phones! (As pay back :P). Joking aside, it is most likely coincidental.

I would just delay it for all the rudeness.

I would as well, but there's always someone who's going to be rude, so really, it wouldn't matter when they release it, but I wish they would've said something about it.

True. But the reactions on the forum would be funny :D

Entertainment it would be...

LOL as if a company could EVER throw a tantrum because of that. They are the ones who are trying to get customers, not the reverse. If they did that, they were the ones that would end up loosing.

My question is: Why are people so frekin mad that they dont get stuff now when WP8.1 hasn't even been out that long in general? Some people are just now getting it. Its just ridiculous how people demand something when they dont even let the previous OS get old yet.

Nothing to say about that. Most people shouldn't even install these early previews. The thing is Microsoft is too slow on their tracks (and not even considering the preview, because of what i just said). Its somehow shamefull for the company to have some country variant phones withou denim yet... It should be A LOT faster, and that upsets people, that start blaming MS for everything. For example, a riot is starting because of the supported list of phones to this preview and i think that people are right on that. It would be better for MS to release the preview to all lumias, even if it was later this month (and i think MS should have given a real date). As it is, people will start wondering why MS prefers some over others, and they have a point.

yeah you are 1000% right,they should first release denim for all phones,promised early janury....now it close to early march.... really turtle speed in terms of firmware update....

But its not always Microsoft's fault, its usually the carrier or OEM. (of course Microsoft owns Lumia now, so OEM doesn't apply to that.)

One of the best news I have heard in 2 weeks!!was waiting for it in the corner!! N u say u r going to register now!! Lol!!!

Was it 13:16 local time published? Lol

will it be available for Lumia 630 in India?

anyone else realised this proves the previous article wrong?
if you curse MS people, they do roll out things faster! :P
on a serious note though, spread peace. :)
and great job windows 10 team!

Guess I won't sleep tonight until I update :D

Though it's already 00:30 here, but I will try to wait for a few more hours. I wanna shout... Arghhhhh...!

Pretty much same here, mate! XD

I'm excited but I'll wait and see how it works on other peoples 521 before I try it

Omg I'm going to die from happiness!!

Hope Windows 10 is worth enough for our happiness

I'm actually nervous and I have the best, most capable, WP device, the 1520..

Time to begin our unofficial DDoS attack on the update server by spamming the update button!

Is there a update button?

No, its OTA, just hang in there.....*chuckles to himself*

I know mate.
I was just kidding with, okay mocking you. :P

Today is not fast enough, those lazy ms techs, jk...

i see what you did there.

Lol I laughed so hard at this!

They should make the day faster common people move thy horses........NOW........

You forgot to add Mo Fugger on there.

AND I'M FREE AFTER 4 TODAY. YESSS! There goes the rest of my day

Im free all day cause im home schooled and hey we have the same name (kinda) but nothing else matters than Windows 10. Hey! That just so happens to be a Metallica song... Well still, nothing else matters :p

I'm home cause I'm an unemployed Ph.D....actually, I just relocated been to my third (of three) interview for a director position....Ph.D. is true, though.

Me last warned me not to put prerelease software on my devices. It poses her off

Yeah.. Gabriel tweeted 3 min ago

And everyone on here follows him as closely as you to know this??? ...oh no...that was three minutes ago...such old news....geez dude

Shut up..! It's here finally :D

Freaking finally! Now, who can explain 1316 meant?

i guess... 13 hrs 16 mins...as i saw this tweet when i was at work... at violaaa...i guessed tht right

His first tweet was at 11:33 so obviously not 13 hrs 16 mins

Means on 13 Feb!! India!!

1316 was the first year that there was an officially recognized leap year. It happened on a Thursday. Since there's only one Thursday in a week and they said it was this week, its today.

1+3+1+6=11 hrs from his initial twit at 22:03 PST to this twit at 9:09 PST, he is 6 mins late :) That's what I predicted from his puzzle twit.

I tried intepreting it in binary form, like other CS geeks :) So, 1316(10) = 10100100100(2), counting only zeros, you get 1222, which could be 12.2. (12 Feb) 2PM? Last digit always bugged me.

Hell, I just asked Cortana to figure it out. I coulda told yall this yesterday.

Wow excellent work fellow C# programmer :D. I am terrible with integers, but great with variables lol.

1+3+1+6 = 1+2+2+1+5 = Today.

1316: 13+16=29=two-nine=tonight.
Oh yeah, and it's midnight here when I read this article lol. :p

It was 1316 minutes . Means 21 hrs 10 minutes approx

I am glad they didn't release it on Friday the 13th. Lol

Probably only come on Fri 13 for me.

By the time it releases it would be Friday the 13th for around half the world.

For which phones that is the question now

I hope my retired 920 receive it

I hope my still active 920 gets it, haha.

1st wave is for 1520 930 icon HTC m8 and 830 maybe

My 920 is still mint and anxiously awaiting this update!

Lumia 1520
Lumia 930/Icon
Lumia 1020
Lumia 630/635
HTC One M8
... and a few more I don't remember. I read it somewhere earlier today, but I can't remember the source.

http://windows.microsoft.com/en-in/windows/preview-supported-phones
This list is very small and doesn't contain even 920

I don't see the 1520 on that list....

May be they will do in phased manner. Not having high end Lumia......doesn't make sense.

At last ppl can calm down.... For a moment.

What!!!??? Right now I am talking to a dead person??? I must make an appointment with a doctor as well as a priest :-P or am I dead too??? ;-)

I was rightish, I said it would be 16:13 gmt but the hours would go back I time because of the different time zones. I think he left the British time in British summer time so it was an hour late

My guess is its not GMT but rather some US time zone.. So a few more hours..

Yeah Yeah Yeah Yeah Yeah Yeah Yeah Yeah Yeah Yeah Yeah Yeah Yeah Yeah Yeah Yeah Yeah Yeah Yeah Yeah Yeah Yeah Yeah Yeah

FREAKIN FINALLY!!!!!!!!!!! Glad I started days off today.

Finally??? Wow...not to much patience around here...

Great. I hope. 620 is included in it. But it is too old in the family. Let's hope it is included.

I hope the same, my 620 wants W10forPhones!

Just give me denim first..... I don't need windows 10 then

I guess every phone will be included just that 512mb ram devices might miss on some features. I guess!

Nope, unfortunately, as I read somewhere, the 620 (most likely, I'm not sure if this is true) isn't included in the first wave. This may change later.

:( let's hope for the best

I can't wait! Up Windows 10 mobile

Yeah buddy!!!! I'm going all in. Bugs included!! My 1520 is starting to get boring waiting on Denim. I'll just make sure everything is backed up first.

Hell Yeah!!!! Just finished installing Build 9926 on my pc and now WAITING!!!!

What was the meaning of 1316?

That's what I'm wondering too, what was the significance of the numbers?

Well, that wont make it today. I am sure 1316 must have some other explanation.

Obviously that's not right though because today is the 12th I was thinking 1:16pm

I feel it will be 4:00 PM on 13th for the first time zone. Maybe.

Microsoft is based in Seattle, WA (US PST timezone) so I doubt that's what they meant.

what is all these rumbles abot. I m a windows user can I benefit Fom this in anyway?

1300 New York , 1600 San Francisco. 1316

So I got to enjoy Denim on my icon for a day?

I knew it, today was going to be a good day. My 830 is impatiently waiting...

mine too, no more waiting for the denim update :-)

1520: This before denim? Att

Ooooooh my God...
I can't sleep today..

I'll wait a few more days till it's available for 625, but that's awesome! Can't wait for a hands on video.

Update coming through on my 822 now.

Don't joke!! It's a serious issue! Lol!!

False alarm, was a language update.

I was waiting for it like hell so i can see other people install it on their phones :D go go instal it

holy moly, i only just got denim today on my 1020, this is going to be fun

Let me know if it comes out/if it works well on Lumia 822.

Giddy up in the Windows 10 express train! Choo choo!

Yippee..!! Yippee..!! Yippee..!! Yippee..!! Yippee..!! Yippee..!! Yippee..!! Yippee..!! Yippee..!! Yippee..!! Yippee..!! Yippee..!! Yippee..!! Yippee..!! Yippee..!! Yippee..!! Yippee..!! Yippee..!! Yippee..!! Yippee..!! Yippee..!! Yippee..!! Yippee..!! Yippee..!! Yippee..!! Yippee..!! Yippee..!! Yippee..!! Yippee..!! Yippee..!! Yippee..!! Yippee..!! Yippee..!! Yippee..!! Yippee..!! Yippee..!! Yippee..!! Yippee..!! Yippee..!! Yippee..!! Yippee..!! Yippee..!! Yippee..!! Yippee..!! Yippee..!! Yippee..!! Yippee..!! Yippee..!! Yippee..!! Yippee..!! Yippee..!! Yippee..!! Yippee..!! Yippee..!! Yippee..!! Yippee..!! Yippee..!! Yippee..!! Yippee..!! Yippee..!! Yippee..!! Yippee..!! Yippee..!! Yippee..!! Yippee..!! Yippee..!! Yippee..!! Yippee..!! Yippee..!! Yippee..!! Yippee..!! Yippee..!! Yippee..!! Yippee..!! Yippee..!! Yippee..!! Yippee..!! Yippee..!! Yippee..!! Yippee..!! Yippee..!! Yippee..!! Yippee..!! Yippee..!! Yippee..!! Yippee..!! Yippee..!! Yippee..!! Yippee..!! Yippee..!! Yippee..!! Yippee..!! Yippee..!! Yippee..!! Yippee..!! Yippee..!! Yippee..!! Yippee..!! Yippee..!! Yippee..!! Yippee..!! Yippee..!! Yippee..!! Yippee..!! Yippee..!! Yippee..!! Yippee..!! Yippee..!! Yippee..!! Yippee..!! Yippee..!! Yippee..!! Yippee..!! Yippee..!! Yippee..!! Yippee..!! Yippee..!! Yippee..!! Yippee..!! Yippee..!! Yippee..!! Yippee..!! Yippee..!! Yippee..!! Yippee..!! Yippee..!! Yippee..!! Yippee..!! Yippee..!! Yippee..!! Yippee..!! Yippee..!! Yippee..!! Yippee..!! Yippee..!! Yippee..!! Yippee..!! Yippee..!! Yippee..!! Yippee..!! Yippee..!! Yippee..!! Yippee..!! Yippee..!! Yippee..!! Yippee..!! Yippee..!! Yippee..!! Yippee..!! Yippee..!! Yippee..!! Yippee..!! Yippee..!! Yippee..!! Yippee..!! Yippee..!! Yippee..!! Yippee..!! Yippee..!! Yippee..!! Yippee..!! Yippee..!! Yippee..!! Yippee..!! Yippee..!! Yippee..!! Yippee..!! Yippee..!! Yippee..!! Yippee..!! Yippee..!! Yippee..!! Yippee..!! Yippee..!! Yippee..!! Yippee..!! Yippee..!! Yippee..!! Yippee..!! Yippee..!! Yippee..!! Yippee..!! Yippee..!! Yippee..!! Yippee..!! Yippee..!! Yippee..!! Yippee..!! Yippee..!! Yippee..!! Yippee..!! Yippee..!! Yippee..!! Yippee..!! Yippee..!! Yippee..!! Yippee..!! Yippee..!! Yippee..!! Yippee..!! Yippee..!! Yippee..!! Yippee..!! Yippee..!! Yippee..!! Yippee..!! Yippee..!! Yippee..!! Yippee..!! Yippee..!! Yippee..!! Yippee..!! Yippee..!! Yippee..!! Yippee..!! Yippee..!! Yippee..!! Yippee..!! Yippee..!! Yippee..!! Yippee..!! Yippee..!! Yippee..!! Yippee..!! Yippee..!! Yippee..!! Yippee..!! Yippee..!! Yippee..!! Yippee..!! Yippee..!! Yippee..!! Yippee..!! Yippee..!! Yippee..!! Yippee..!! Yippee..!! Yippee..!! Yippee..!! Yippee..!! Yippee..!! Yippee..!! Yippee..!! Yippee..!! Yippee..!! Yippee..!! Yippee..!! Yippee..!! Yippee..!! Yippee..!! Yippee..!! Yippee..!! Yippee..!! Yippee..!! Yippee..!! Yippee..!! Yippee..!! Yippee..!! Yippee..!! Yippee..!! Yippee..!! Yippee..!! Yippee..!! Yippee..!! Yippee..!! Yippee..!! Yippee..!! Yippee..!! Yippee..!! Yippee..!! Yippee..!! Yippee..!! Yippee..!! Yippee..!! Yippee..!! Yippee..!! Yippee..!! Yippee..!! Yippee..!! Yippee..!! Yippee..!! Yippee..!! Yippee..!! Yippee..!! Yippee..!! Yippee..!! Yippee..!! Yippee..!! Yippee..!! Yippee..!! Yippee..!! Yippee..!! Yippee..!! Yippee..!! Yippee..!! Yippee..!! Yippee..!! Yippee..!! Yippee..!! Yippee..!!

It's ok brother. Everything will be just fine with you. Amen.

Awesome news, look forward to see peoples feedback and a deeper look at the OS changes. As an android user who is a WP fan I'm excited for you guys.. Posted via the Windows Central App for Android

Won my heart!! Now get a wo already n leave the shity lagdroid!!

Thank ye fer yer support. Lord knows we need it.

Oh my friends I was the first one who see it and I came to tells you!!!!! Yeeeeeeeesssss

Nice, now I'm waiting for people complaining about bugs and other key functions missing.

OMG! YES!! After a week my exams are over today and Windows tp is releasing today!!!!!!!!

I'm blowing my 1520 up today, because there's no way I'm not downloading this!

Yesyeatesyesjzvkxbksnjskdb

Its night over here...and I guess I won't be sleeping today

Sleep should be more important than a phone update...

You sir have your priorities all wrong :)

Feeling very very excited ...!

Right. I'm taking the rest of the day off. There's no point being at work today.

@Chef316 what's your problem dude... It's big thing for windows fans.. Don't feel it and you don't belong here

@ Dinesh Kumar Reddy C O. Dude, relax...

He's been saying similar shit to others as if he has the patience of a monk and is holier then tho to boot.

Oh well, I suppose I'm gonna make a new settings backup and wait for the Update while I do me homework, but thanks to the holly grace I'm not going to school today!

I knew this would happen..
Yes yes yes...
Welcome WP 10
My Lumia 730, 1020, 630 & 520 are Waiting for you...

You have so many WPs? Cool bro.

I have 5. 730, 920, 520, 535, 525.

I have 1 :D and I love my 630

Wow! The energy and happiness in these comments makes me proud to be part of it all. Windows Phones offer a crazy little community... But I love it

Makes it the two of us :)

Don't guess us by size.
Hail windows!!

Yup!! Size doesn't matter quality matters!!

Yes, yes we are :) I love our community and I am proud of it, unlike some communities (looking at u trolls of gaming...(sasuke uchica and Naruto uzumaki on youtube))

You know I just got my Icon working the way I want to now with Denim and there they go throwing all this into the mix fml LOL.

Yeah...read his tweet jst scnds before

Old news then?...guess because you read it already that they shouldn't have written an article on it...

I'll wait for initial reviews. As much as I'd like to dive in, my 920 is my only phone.

My 920 is a backup phone and ready. I would like to put it on my 830 ... but will try on 920 first.

Oh man I'm stoked!!! I can't wait! THANK YOU FOR MAKING IT TODAY! Today no longer sucks : ) BTW, GOOGLE AND APPLE FKN BLOW

Orgasmic News.... Yassssss

I came to read the comments

All windows 8,1 i guess..

He means WP8 devices with 512mb ram also.

Yayyyyyy :-) actually need to sign up first Haha

yesssss!!!! he also tweeted "Okay, going dark for a bit. Need to go push a button..."

Lol, that is pretty funny.

Our Lumia ships are ready for maximum WARP speed!

Really? Doubt it will be warp speed with a technical preview...going to be buggy

@GabeAul "Okay, going dark for a bit. Need to go push a button..."

OMG OMG OMG OMG OMG OMG OMG OMG OMG OMG OMG OMG OMG OMG OMG OMG OMG OMG OMG OMG
!!!!!!!!!!!!!! MY 820 WONT GET IT , ILL SUICIDE

I guess he meant at 1:16 pm today = 1316

Must've been. That or I thought it was 13 hours and 16 minutes from the time he posted the puzzle.

Yeeeeeeeeaaaaaaaaaaaaaahhhhhhhhhhhhh

Lego the movie is awesomer :D

Everything is cool when you're part of a team

A good team yes. A bad team no. Sometimes I think we need those "d*cks" Richard wrote about earlier. MS thinking we all and the market will just wait patiently and love them while it works would be more of an issue then a few impatient Susan's tweeting and posting their frustrations. We need those guys, they make us a good team too! Win10FTW!

Perfect! Just in time for my birthday today! Thanks for the gift Microsoft!

Lets update my 520 first lol..then my 920 jahaha

a very happy birthday to you :)

Its my birthday too today!
Anyways, happy birthday!

Very happy birthday anadi1984! :)

pardon my ignorance, but what's this for? won't this harm my phone if i plan to try it...? enlightn me please

Dont use it on your main phone, you should use a backup phone

oh, i see. my bckup phone is my previous WP7.8. i hv no othr WP8 here. so... nvrmind this one. was jst curious what to expect with this update if i jump in to this bndwagon. thanks!

I would suggest waiting a few days and look at the level of feedback from users in regards how well the roll back via LSRT works and it's perfomance in general.

Sweet....hurry I'm impatient lol

Great, I'll check back next week to see how it's going.

I love the irony of being a Verizon Icon user, waiting months for 8.1 and Cyan/Denim, and finally getting it yesterday, only to have WP10 Preview come out today.

ikr?? JUST FOR ONE DAY HAHAHAHA

Holy shitballs batman! :D

Considering Robin always used this expression when it was relevant to their current situation, it makes me wonder what would be going on if shitballs was in his quote.

Maybe he was taken by such surprise, that ya know... He shat a bollock? Or maybe he just didn't overthink his comment too much? ;)

I have a Lumia 635 that is anxious to check this out. If all looks good there, then a Lumia 920 is ready and willing (daily driver).

Hopefully they fixed the nav bar bugs, otherwise I'll have to sit this current build out. Which hopefully they do because I want to be able to experience W10 before I turn 30 this August.

I so want to install it on my LG G2 :/ but ;(

First ill see the video then ill install

Que "No Time for Caution" by Hans Zimmer :P.

It's raining with comments in here!

I told u guys, it's at 1:16 am yeah

WAITING...... . . . . .. . .. .

I'm so excited great news!!!

I just got signed up.. Feeling awesome :)

Awesome guys awaited for long time

Awesome! Ready to see it on 1520 or 930!

My data plan is expiring today. It's evening now in Zimbabwe, I can only buy tomorrow. I can't download it till then. Damn!

Will denim install with the update or will that be a separate update still.. Just wondering of I should wait so I don't mess my chance for denim if for sk.e reason being on windows ten causes anissue.

I'm so excited... I just can't hide it

Holy moly, I just clicked on this article as winamp hit -1:35 - playing Mountains (Interstellar OST) by the legendary genius Hans Zimmer LOL.

There aren't many composers like Hans Zimmer or John Williams anymore...

You guys didn't really cover windows 10 for phones much.. Not sure if I should be excited lol.

Very little to cover I suppose

At what time is the update will be out

inb4 10,000 bricked phones. I'll wait until the aftermath is cleaned up.

Yes Sir, Finally The Wait is Over & Hope Everything Gets Updated For 1 GB Ram Phones Also. Waiting For Nokia Lumia 820

1:16pm today or the numbers added up equals 11. Could be 11pm. We'll know soon enough

Hell..!!! My phone battery is low now

Umm... Charge it, maybe? Just a thought.

YeeeeeeeeeeeeeeAaaaaaaaaaaahhhhhhhhhhhhhhhhhh oooooooohhhhhhhhhhhh man cant believe it exicted alot wiifii on
No sleep today jus check for update!!!!!!

Dammit, I said today earlier :-\ Peer pressure man, peer pressure..

Yeahhh Finally Posted via the Windows Central App for Android

Downloaded and installed! Seems faster :)

Hi everyone. Great news. One question: if i install this, will i get denim upgrade later? Greetings

They said it will have a roll back funtion

No Denim, no preview. AT&T 1520

You can get the technical preview without Denim

You won't see a dedicated userbase like Windows Phone's. Having said that, I prefer to keep my newly acquired 930 clean from any developer previews or insider programs. I'll get it when it's ready for the public. Have fun guys.

I hope, that first wave will include my 520 too :( However, thank you microsoft , Thank you Windows Central for your great job )

1316 military time is 1:16pm so hopefully they'll release it within the next hour or two

And I'm just sitting here wanting Denim, lol.

Far from it, recommended you do it on a secondary device or wait a few days if you really want to put it on your daily driver. Then gauge from the feedback on how the roll back works / general perfomance if you want to take that risk.

Absolutely. Just do an rm * and go ahead and install it...

Can't wait, pls get a vedio fast

I just busted a nut when I read this on Twitter lol Posted via the Windows Central App for Android

You're all welcome. I knew this would happen as soon as I realized I left my dev/test phone at home on the counter. Grrrrr

Oh, and this will NOT be going on my newly Denim-ed Lumia Icon! I'm crazy, but not stupid!

Ya know, I not excited anymore

Thankfully... Thanks @gabeaul sir

Ok so whats up with the peeps who already installed?

Is this true or I don't know how to read this article. yeeeeeeeeeeesssssssssssss

Anybody tell me what is the time in US JUST NOW

Today ?? I thought 1316 meant Friday the 13th at 16.00, guess I was wrong... but no regrets.

Boom. That's my day complete. So now can we call Thurdays update Thursday for phones ;)

Cant wait and also, we will be shaping and providing crucial info to help microsoft delvery a great Phone OS. This is really gogin to start to pay off specially now both phone and computers are running the same software. We are going to see some really great things and a explosion in apps in the future!

Definitely. When denim will arrived for your phone you need to downgrade your phone OS from win10 to 8.1

I think you are talking about last century.

Bumhole Google doesn't even show this article in search results!!!! Jealous bum!!!

I am ready for a good time... Yay!!

The insider app no longer in the store

Feb 13th , 16:00hrs aka 4pm

I can't wait for the comment "when It will be out in india ? " lol

When in india!? When! When! WHEN! my windows phone 7.8 needs it! :P Kidding, lol. Those comments really got tiresome along with comments asking why isn't an app free however fortunately it seems the flow of such comments is slowly dying down

M also waiting for dumbs like yours comment.

Sooooooooooo please to listen it........... It was a long time but today in the day.

ARE YOU READY FOR A MIRACLE

Yes and the miracle will be that it installs without issues.

I have already said in twitter to Gabriel Aul about it in the puzzle

This article gave me an erection :-)

Feeling like already installed!

Aww yisss. Not throwing it on my HTC M8 but the Lumia 635 is definitly going for a spin!

Checked every 5 minutes for this news.. !!! Excited :-D

inb4 10,000 bricked phones. I'll wait until the aftermath is cleaned up.

But not gonna be ready for 920 by today though, right?

Truly what you're doing here? If you don't respect people who worked hardly for years to bring us such fantastic OS, I don't know why u r looking for this preview??

I knew it was going to be 13:16 today...lol

Hell yeahhhhh, time to try it out and give our feedback!!!

So was the riddle the time its being pushed...? 1:16?

Oh yeaaahhhh!!! Can't wait!! :):)

Getting Win10 before Demin. Psh AT&T.

Looking forward to preliminary hands on videos. Time to provide feedback!

Finally ! Is it comimg for all models or selected one only ?

thanks for letting us down. :)

Hurreeeyyyy... At last the wait ends !!

It's going to come at. 16:13 Seattle time

I think its going to come at 20:00 Redmond time

But what abt the video that was supposed to be released??

Wow, so many comments for a few minutes. I really hope Ativ S is on the list for first phones to get the preview

That's nice! What a shame I won't be able to test it - since I sent back my Lumia 830 for the third time now for dead pixels. If they won't find them this time - I go berserk.

Patient enough. Give us Windows 10 for phone right now. That is command

Omfg where's Denim for 1520????

Denim will be replace by Windows 10 . Denim features will have in windows 10. That's my guess.

Nope. Denim is a firmware update. Windows 10 preview is an OS update. They are two different things.

Installing it on my Lumia 925!

There will be blood today. Between the phones that won't be initially supported and the bugs and it not being available immediately after they press the button. Should be fun.

I have put an dozen instances of "imperfect lock" on winamp playlist and a skip full of popcorn cooking, this should be interesting :P :P.

Yes,yes !!!!
I'm feeling like a kid ,on Christmas Day lol

I HOPE 520 IS INCLUDED IN THE FIRST BATCH SINCE I DON'T WANT TO DAMAGE MY PRIMARY PHONE. OMFG

Same here want it on my Lumia 520 don't want bugs in my primary phone.Jesus I pray to you.

I called it!! I said today and at 1:16pm!!!

YESSSSSS!!!! YESSSSSS!!!! Cumon son. What?! Awww yeaaahhhh

Bitter Sweet Shimmer ... I meant Shiver Me Timbers!

In ready..... Living on the edge with my Nokia Lumia 928 (Only device owned)!!!

Ohhhhh WC I just wanna see EVERYTHING I mean it strip this Preview all functions wifi direct USB OTG ...........and cooo but seriously am not installing it just want all the info.

wooow i am ready with me 1520 .. can't wait wooowwww.... heheheheheeheh

Just got denim on my icon yesterday

I did broke the code
https://twitter.com/zee_26/status/565909127054888961
https://twitter.com/zee_26/status/565826767282114560
My guess was correct but I don't know my path was right

Waiting with very excitingly ..
pls do fast...

I'm going to hold off till I see how many of you all brick your phones...before I download

When is it coming for 520?

Can't control the happiness

I would proceed with caution and wait to see its stability first. I'll be waiting a day or two to assess things

Rollback feature confirmed?

Agreed but I expect Microsoft to be patching it quite heavily in the first few days when certain bugs are uncovered. Best thing about a technical preview is that the experience will rapidly continue to improve :)

Roll back. Hopefully better than current backup system.

Good luck everyone. Let me know how it goes. Definitely waiting a few days, but I do want to try it out.

Anyone know if Lumia 920 is on the support list? Checking this site for days now hope I didn't waist my time :D

Nokiapoweruser had a list from a source....and supposedly 920 is included....at least I hope

Thnx, still is one of the best Lumia's out there

I know....had it since 2010....but will finally upgrade with the new flagship coming this year

I have 920.. Not holding my breath.

tried registering on my 920, still no build...

Cant wait to see the video

Get ready with your tissues.

Guys.... any plugin to reload the insiders page every 05 second.??? Index finger in paining...

Now what do we have to do next to get preview?

Download insider app and register

Yeah that was what I need

Is it will available for 530.
???

The question is... which devices will be enabled for updating... (praying for my 920)

should we do some chanting now?? (also 920)

But still they've not mentioned which mobiles will get it

I said wait for all with Denim :)

I assume we should either turn off or delete the "Preview for Developers" app before the upgrade?

I turned off in case 920 got denim.

I don't get it. Do we need only the Windows Insider app? The Preview For Developers won't be need it?

Can I get this in Lumia 625 8.1 pfd ?? Please help

I'm so ready for the Windows 10 Preview update.

The download server will stop from the heavy load ... lol :D

Looks like it will be live in about 3hrs 45mins

He'll yeah!! The day has come finally ••

Wow. Hope they are not going to start with selected few devices

i bet, it is... thats the "heartbreaking" moment

Do we get to keep our apps when we install it? Or all the apps are going to be deleted?

I think 100% is keep apps. Install windows 10 just like Black upgrade to Cyan

Only time will tell. We will see apps suddenly die :(

I'm sure about a thing... My l920 will not see wp10 today :/

No comment. Said this weeks ago.

dont be sad, you're not alone...

my guess was right.... lol

Fffffffiiiinallllyyyyy !!!!

Pls bring to 520 today :(

Okay, who was right with the 1316? xP (including timing)

Truly I don't know what u r doing here? If you don't respect people who worked hardly for years to bring us such fantastic OS, why u r looking for such preview!?

Soooo many comments already!!!

Do.i need to wait for Lumia Denim first?

It was suggested to me not to install the preview on 1520 without Denim (on ATT here) unless you are prepared for issues. I'm sure someone here will, so please post your experience if you chance it, thanks!

Do we keep checking our windows insider app? Or regular phone update?

Love you Microsoft... Kiss for you

Wow..... Awesome love to test preview build.

Guys please update every shit about it here.. I definitely want to know them before installing it....

13 16...1 and 6/3..2...12

1520 still haven't received Denim though. Would that matter?

Mahn seems nervous. Hope it will be good

?!?!?!?!?!?!?!?!?!?!?!!!!!!!!!!!!!! AHHHHHHHHHHHH MS DONT FUCK ME ON THIS ONE. As long as I can txt and email and no bricks idgaf GIMME GIMME GIMME :D

Interesting to see what major apps will probably not be working on the initial build.

Having just gotten official Denim yesterday on my Icon.....i think I'm going to wait and see if and how buggy it's going to be.... If it runs good for most I might give it a shot

How to download Windows Insider? Some one help me

Probably thought screw it, let just flip switch lol.

ok... Now we can sleep in peace. :)

I'm half expecting people to complain about it not be ready last year.

I hope it comes out for the 920 soon because that's now my spare phone. :D

How about military time? 1:16 pm?

Its available! Oh no its not

Holy shat!! Holy shat!! Holy Shat!!....... Ok.... I'm calm now..... Holy shat!! Holy shat!!

I'm awestruck hearing this message.. Eagerly waiting..

I've got the W10 tech preview on my home PC as my Main and ONLY OS, No backups (Data/OS on seprate partitions), never have. Installing this on my L1020 daily driver, no damns given. No complaints from me when things don't work, its a PREVIEW!!! Living life on the wild side, FTW!!!

Pls tell me at wat time..??

Well I'm not installing it on my phone right now until my nee phone comes within a few days, since I bet it's going to be unstable as fuck and that's not good for a daily driver. I just hope it'll run alright on 512MB devices. ​

1st wave is for 1520 930 icon HTC m8 and 830 maybe

How many got Heart attack? Lol !!!!!


Please for Lumia 920 too.....

Hopefully it doesn't break MMS on my icon again lol

Based on the comments I'm gathering that Denim is useless with Windows 10? If so then how?

what phones are in the first wave for the preview?

Everyone gonna crazy here now :lol

I'm sure 920 will see W10 today

Hope i can update my 920!

Windows 10 with my partner....Waiting for my perfect partner- Cortana.... She Is the one obey my words....lol

When it's released, please don't download right away. Leave the bandwidth open for me. Thank you Sincerely, VIP

Ok now I want to know how 1316 link to this more than I want the update

Fiiiinalllllly finally fiiiiiiinallllllllllllly fiiiiiiiiinalllllly

I waited it yesterday, I'm jumping ship to iOS ice cream lollipop on a xperia Zm8+

I wanna try it but only got 1 phone :(

Button button button button... Push ittttttt...

Hahaha lmao!! Even before A-stupid-T&T release the Denim update lol.. Sorry bums. :)

well, im in jersey, eastern time.....im guessing by 1pm.....im nit going to waste my time hitting update button all day, that for sure.

Hope the 830 will get it too

How to sign up for windows insider.?? We weren't find a preview ...

Waiting with my damn 525.....come let rock MS....

Words is not enough untill they will not released, b'coz Lumia Denim is not released till date for Lumia 1520 in India. I cant believe hearsay.

Guys,, does developers can got that update

Block market places comment and rating system in windows ten mobile, because of some app doesn't work, they rate them very low

This isn't for all phones right?

Hopefully the 920 is included

Am so happy to hear this. I cant wait to have it on my windows phone. I so much love windows on phones.

My cracked screen 920 it's ready, if it will even get it. :/

Come on damn it. My erection is going down already.

Hope it will run on my 830 tpp

And I JUST reset my phone to get Denim! Dammit!

Great news!! However, I'll be the first buzzkill. :P Soon we will be flooded with comments of "I waited all this time for this??" "none of my stuff works." "wth was ms thinking?" "that's it, i'm going to android/iphone/" "still not available in my country". Daniel and co, I don't envy your job LOL :)

Awesome. Now I hope it's working fine with my L1520

My Lumia 520 & 635 are both ready.

1➕ 3equals 4 & 4-16equals 12 that was the puzzle 1316

Why don't I find the App called Windows Insider in the Store? What do I do to install this?

OMG, so much positive!)))) at last!)) i'm happy too)) backing up my files)

Don't care much about installing it on my L525. Just want the video.

Hi all WP Friends Just a question, will we get this as an update or a preview Build with windows insider? My cracked screen 625 is ready too lol From Paris with love

Highly tempted but, to be honest, I am not sure if I will install it. I have only one phone and I don't know if all the apps are available. I also don't want to take the chance to lose comunication because my phone loses its charge too fast or the phone services become unavailable or some weird thing like that. If I had a backup phone, I would install it without hesitation but since I don't, I think I'll wait and keep track of what people says.

Lumia 630 Lumia 635 Lumia 636 Lumia 638 Lumia 730 Lumia 830 These are the only phones supported. http://windows.microsoft.com/en-us/windows/preview-supported-phones

haha. I will get windows 10 before denim update. That's cool :P

Imagine this: all phones supported in first preview! That would be so awesome, waiting to install and give feedback on Lumia 630 if its supported!

I knew it, the hint was military time

This is all cool and exciting but I'm wondering if I do put it on my 1520 (AT&T version) (also my main phone) what will happen when AT&T rolls out the Denim update? I would love to put it on my T-Mobile unlocked phone but from what I understand won't be available for the 925 at least for now.

maybe the video has the background song "RUDE". coz some became rude to him lately. :D

http://windows.microsoft.com/en-us/windows/preview-supported-phones Lumia 920 isn't on the list damn it

Will it work in Lumia 625

I think it will be rolled out for limited set if Lumia phones http://windows.microsoft.com/en-in/windows/preview-supported-phones

Basic requirements......?

Yes yes yes yes hahahah sex sex sex all night :D

backing up my phone now :) which for some reason, it hasn't done since last october?

I said tomorrow but close lol

What time it is coming? In indian time?

OMG my dick is standing up :-) can't wait to install this update. Now if only I had some money to buy some wine to sip on :-(

Wondering which time zone for 1:16pm... Ahem 13:16 hours....EST, PST, Alaska, Hawaii?

imagine i was busy for few hours then this news, haha Love you Microsoft!

There'll be no stopping the Windows 10 juggernaut! Get in!

Only thing im worried about while installing on my daily phone is the alarm .. I hope the alarm doesn't break like it did when the dev preview came out .. Ugh

I'm a member of the Insider Program. Will you guys post how tos later?


I'm still getting used to having Cyan/Denim on my Icon. I don't want to screw with anything until the new has worn off of yesterday's update.

I have my spare L920 ready to go. Bring it on!

Uh yeah I'm right. 2/13 @1600...;)

How to signup in windows insider app in phone for getting preview of win 10??

Sleepless night.... Here the time is 23.30 but eagerly waiting

A guy has a 22 month old Lumia 520.And yet he is looking forward to Windows 10 phone update.That,guys,is,FAITH.and that guy is me.lol.

You can download right now in the program!

I've enrolled for Windows Slow, but after rebooting, nothing to download (checked via settings --> phone updates).
However, i'm still a little bit worried to install it on my primary phone, but i think i can't resist it...

NL925 in Jamaica and I`m getting an update. Update seems rather small though, will report after installation.

As I suspected, the update file was too small to be Windows 10 TP. What was that update all about as it wasn`t Denim either.

What's the local time there ?

Bad luck... My 625 will have to wait.... http://windows.microsoft.com/it-it/windows/preview-supported-phones

10 %update status as of 12:07 central time U.S.

I'm super excited for this!!!

Where's the list of supported devices? My Lumia 520 is not so happy! U_u

Folks... 630 india... update downloading.... start insider and keep checking Fast or slow choose wisely... all the best

Nothing for Lumia 820. :(

I'm torn. I want to install this and see what's there but I don't want to live with what is essentially incomplete software on a day to day basis. I might use my old 920 to test it out but it has a hairline crack in the screen that affects touch in some areas so I'm not sure if I want to try it out on that. My 1520 though would be a nice test. I might try afterall if I can roll back should it be too buggy.

Yeeeeeesssssss!!!! Posted via the Windows Central App

Hellllllllllllllll......
yeahhhhhhhhhhhhhhhhhhhhhhh

Windows 10 is only working on these phones right now: Lumia 630 Lumia 635 Lumia 636 Lumia 638 Lumia 730 Lumia 830

Lol that's funny this one guy guessed that with the puzzle and got dislikes lool he was right though. Posted via Windows Phone Central App

Should have said for some windows phones

Fantastic thks so much microsoft for my windows 10 prievew on my nokia lumia 930 FLAGSHIP device. Ops soz its not available for the 930. Wow and thats how to start wining people on your windows 10 platform. (dont care about the excuses.) im a huge windows lumia and 8.1 fan but this is just 1 nail in already growing coffin, you really should suport the people that buy your flagship devices and advertises praise on them. Now i have to defend to my friends my lumia 930 owners and ignored. But gz on all you luck windows phone users that can try it, i just think its a huge marketing mistake in a long list of pr messups and it kinda says, nothing changes. Disapointedbutr still room for 2-3 more nails.

Downloading now on my 830. Hopefully will be completed in another 20 mins.

Dang! My phone is not on the list. Nl920

lumia 620 can use windows 10 phone preview?

Hi, Please confirm Lumia 720 is get windows 10 technical preview update?

Be kind for MS Lumia-535 users!!!

Msft guys i have a problem with my microphone which occurred just after updating my 925 from 8.0 to 8.1 ..i have seached alot on this issue and it seems software issue.. Will w10p update will fix this for me...or please suggest what to do..please please please....
Windows Central Newsletter
Get the best of Windows Central in in your inbox, every day!
Thank you for signing up to Windows Central. You will receive a verification email shortly.
There was a problem. Please refresh the page and try again.