Windows 10 version of the popular PicCollage app helps people create memories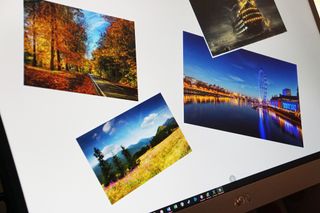 If you want to do some scrapbooking but don't like making things in the physical world, the recently launched universal Windows 10 version of the PicCollage app may be for you. The app, which is a highly popular one on iOS and Android, allows users to collect and mix images, text and more to make highly detailed digital collages.
Here's a look at its features:
Import photos from your Pictures folder and web image search
Simple touch gestures to rotate, resize, flick to delete
Double-tap a photo to edit photo with Lumia photo effects, clip photo, adjust borders, copy/paste images, and "flip" stickers.
Draw anything you want on your collage using Ink!
Just tap on the lower-left Frame icon, and swipe to select a frame to make an instant collage!
Clip photos by outlining the area you want with your finger
Lots of backgrounds and stickers to choose from!
Download template collages for your collage!
Share your creations to Instagram, Facebook, Twitter
While the app is free to download and use, it does offer additional templates and other content via in-app purchases.
Download PicCollage for Windows 10 from the Windows Store (opens in new tab) (Free)
Source: Microsoft
Windows Central Newsletter
Get the best of Windows Central in in your inbox, every day!
Is this a product of porting?

I do not care about the app but it is very interesting to see an android/iOS app coming to windows10 and windows10mobile as universal, let's hope this is a new trend.

Works on: PC, mobile device. ;)

You're arguing about something that can't really be proven yet. Since Windows 10 Mobile isn't officially released, anything missing isn't necessarily about it not working or being released to the OS."universal" is a term written as basically a rule for the application to work accross platforms as long as the hardware supports it. Just because you don't see it in the mobile store doesn't mean it's not universal, it just means it hasn't reached the unfinished product (or the store hasn't finished indexing in your area and you just can't see it yet)

Why I can't use in window mode? It doesn't looks like an UWP.

"the recently launched universal Windows 10 version of the PicCollage app "
Dont call anything Universal if I cant download on my phone with Windows 10 Mobile!!

Yes they have it, they said in an e-mail that the mobile will be published with Win10 mobile launch.

Wich email?? I dont get why wait to Mobile launch to make it available if is "already universal"...

Because windows 10 mobile is bugged and the typical user will leave a bad rating for your product even if it is not the app fault but an OS fault? Just a guess...

Because Win10 Mobile doesn't even exists out there. And if their apps run like crap because of the issues of a beta OS version every user will put some crap review on Store based on a Beta OS. I can't blame dev for not putting their apps on it, like Team Viewer.

universal does not mean automatically available for the phone. it means one base code for all devices. up to developer to offer all device access. id love for it to be on the phone but its for thebdeveloper to decide which devices get it. halolens runs win 10. i dont expect it to have every single phone app just because it is universal. jesus. and btw... win 10 mobile is in preview. maybe after it is officially launched the dev will make it available. talk about running alpha software and complaining.

it's not an universal app.. from the store: "Processadores compatíveis: x86" the universal apps works on any processor (x86/x64/arm/etc)

I think you can create an universal app and then restrict target processors. Then you can change that at a later time.

Yeah you can. It will be open to mobile with official launch I believe. (next month)

Is there any number about how many apps are/were sold in the Windows (only) Store...?
I have the impression that people do not buy apps while at PC (presumably because they r working)...

First time I have encountered an app that forces full screen in Windows 10 (no windowed mode). Click the button to exit full screen and it goes right back to full screen. I don't like that.

Um... Why couldn't they let this app to Win 8.1? I'm not ready to go to Win 10. **duck and cover**

Has anyone been able to download it? It tells me "This app will not work on your device" So mad!
Windows Central Newsletter
Thank you for signing up to Windows Central. You will receive a verification email shortly.
There was a problem. Please refresh the page and try again.