Windows 10's Unified Update Platform is already showing promise with Windows Insiders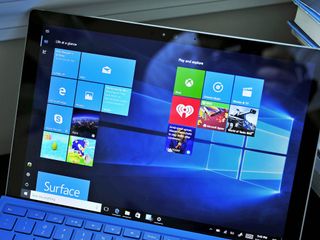 It looks like Microsoft's efforts to reduce Windows 10 update sizes are showing solid results for Insiders. In late 2016, Microsoft announced a new Unified Update Platform (UUP) for Windows 10, aimed at substantially reducing update sizes for users. And while it's only been available on PC and Mobile for Insiders to test thus far, an update from Microsoft's Bill Karagounis shows that it's already having a substantial impact on download sizes.
To recap, UUP works by what's called differential downloads. Essentially, that means that each update contains only changes that have been made since the last time you got an update. The result is that you end up reducing download sizes by quite a bit, ultimately easing the stress updates may have on your bandwidth.
Digging down into the hard numbers in Karagounis' latest update, anyone downloading a new build with differential updates can expect a pretty substantial decrease in download size. Specifically, the median download size for a differential download is pegged at just under 1GB, compared to full packages (referred to as canonical), which can come in 2.5GB.
Windows Insiders will continue to receive differential downloads via UUP for the remainder of the Creators Update testing and moving forward. Retail users won't actually see a big impact until the next feature update after the Creators Update because the feature itself won't arrive until the Creators Update rolls out to the public.
Windows Central Newsletter
Get the best of Windows Central in your inbox, every day!
Dan Thorp-Lancaster is the former Editor-in-Chief of Windows Central. He began working with Windows Central, Android Central, and iMore as a news writer in 2014 and is obsessed with tech of all sorts. You can follow Dan on Twitter @DthorpL and Instagram @heyitsdtl.
I agree the experience has been great so far for me...

Just downloaded 15048 and it was well over 2GB in size, upgrading from 15046

Is it same as the patches for AOE: Castle Siege? Cuz game is about 400 MB (I think), and every update (patch) they release is about 20-40 MB so you only download the update, not the whole game again..

That's what patch in essence is.

Great idea when it works, 4 attempts on my l640 before it would install.. So 4 times the b/w.. Having to remove apps from internal.memory is now Beyond a joke. MS needs to remove redundant files after up date to free space on mobile.

I wish, takes forever to download and install

Nope, not according to the experts who don't have bugs in their exclusive bug free versions.

ok i use to have my computer set to auto log in after an update so that i dont see that we changed something. now for some reason its saying we changed something. does that script still work that we ran last summer or do i have to run it again. or is there a setting? it was nice when it just logged in and was running after an update. edit seams its broken found in the feedback here. please report it if its not working for you. https://aka.ms/Np7gvl on a side not it still takes forever for updates to download. i haven't noticed anything yet. should i say it seams faster the downloads?

Eh, download is the fastest part of the process. Preparing for install, install, and migrating data are brutal. Even if the download was only 1mb the process still sucks

Said that, only to get snide comments from people who claim there are no bugs. No bugs no need for new updates to fix bugs

Agreed. The process isn't even transparent on PC, given that a huge part of the process still happens in the background as you're back to the desktop. At least on Mobile they make this process clear by not allowing you to (try to) launch some non-native apps until they're fully reinstalled. I want to believe that UUP is just the first step onto a refreshed upgrading system. Make the packages smaller, then change the process. Let's see what they have in store for RS3 or whatever the next update(s) is)(are?) called.

Can't update from Build 15043 to 15047 on my Lumia 640 because there is not enough internal memory left after the download (700MB, at least) + Reserved Space + apps that require installation to Phone Memory (most of them by Microsoft). I find it hard to believe there are over 700MB of code changes between builds - it simply does not reflect in the changelog or user experience. The 3 biggest problems currently:
1) Microsoft does not inform the user how much free space is required for each Build Update. This means we have no idea how manu apps we have to move or uninstall, and it's a frustrating and slow process of trial and error to get a successful install. There have been times when I've just given up. In at least once instance, I eventually resorted to Hard Reset, and installed the update before reinstalling the default apps.
2) Can't download Updates to SD card. Why the heck not? This alone would free up enough space on most people's phones that he problem would no longer be a problem.
3) Each new attempt to Update involves downloading the Update, even if Downloading successfully reached 100% on a previous attempt. Why not reuse, or give the user the option not to? That's a lot of wasted bandwidth and doesn't respect the fact that many people have data usage allowances on home networks as well as mobile.

Quick question I've got the Asus x205ta from last year it's a ok laptop but the rubber feet have fallen off and it scratched all over if you were me would you spend 179 pounds on a new Acer es2 11.6 my Asus has 2gb ram and a atom z3735f the Acer has 4gb ram and Intel celeron 3350 both have 11.6 inch screens any advice will be welcomed

None of this really matters if the platform is dead (it pretty much is). Don't get me wrong, I like my backup 950XL, but in an echo chamber of enthusiasts, what does this matter? BTW, where is the "blue light filter" already? Was that a hoax?

Windows isn't a dead platform. You seem to be referring to mobile only but this feature is for PC and Mobile. Also it matters because they are trying to improve the platform. It may not have many users but would you rather Microsoft not work on improving it at all?

That "Blue light filter" is well and truely alive on the Insider Preview.

That's what needed to be from the start. For the every feature updates downloading the whole build having size around 3 GB is completely non sense.

Exactly. Being an Insider cost a lot of data. This might help.

Sab insider ke update bakwaas hai. Phone ke bhi aur pc ke bhi. 15047 update me whatsapp hi nahi chal raha hai

Windows walo apni company utha ke band kar lo

Sirf problem hai acha kuchh hai hi nahi jo bhi update ata hai koi koi problem jarroor hoti hai

Uhh.......hmmmmmm, my Lumia 950XL will no longer back up, throwing up an error code. Oh wait, I see, it's not an uncommon thing, happens a lot apparently. What was I expecting!!!

:)) only where it could count, it did not make even a dent: DEVS! UWP is a failed project that no dev is interested in.