Windows 11 build 22000.65 rolls out to Insiders in the Dev Channel with more changes
Improvements to Start and other UI areas are today's top billing.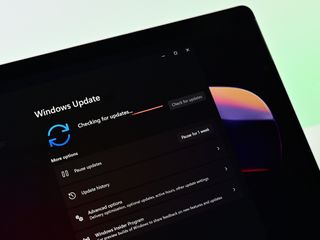 (Image credit: Daniel Rubino / Windows Central)
What you need to know
Build 22000.65 is now available in the Dev Channel.
It includes improvements to Start, Settings, and Taskbar.
More changes and enhancements on the way.
A little over a week after the first Windows 11 preview build, Microsoft is back with another one that includes even more new features and changes. Today's build is 22000.65 includes a new Search box in the Start menu, many more modernized UIs for areas such as the battery low indicator, and much more.
Here's what's new:
Start now has a search box to make it easier to find what you're looking for.
Taskbar will now show across multiple monitors which can be enabled via Settings > Personalization > Taskbar.
We have updated several system alert dialog boxes such as the alert for when the battery is running low on your laptop or when you change your display settings with the new Windows 11 visual design.
The 'Power mode' settings are now available on the Power & battery page in Settings.
Right clicking the desktop now directly has a Refresh option without needing to click "Show more options".
Right clicking a .ps1 file in File Explorer now directly has a Run with PowerShell options without needing to click "Show more options".
Available snap layouts when using smaller PCs in portrait orientation have been optimized for that posture. You can now choose to snap three apps on top of each other, instead of four quadrants.
Based on the collaboration with the most popular GIF provider in China, weshineapp.com, GIF selections are now available for Windows Insiders in China via the emoji panel (WIN + .). If the location is set as China, then GIF data will appear from weshineapp.com.
Right-clicking on the volume icon in the taskbar now includes an option to troubleshoot sound problems.
There's also a whole bunch of fixes:
We fixed an issue where it wasn't possible to click the Show Desktop button with your mouse at the very edge of the Taskbar.
We fixed an issue where the date and time in the Taskbar weren't reflecting your preferred format.
We fixed an issue where the preview window might not display the entire window when hovering over Task View on the Taskbar.
We fixed an issue pressing ESC or clicking the desktop wouldn't dismiss the window of open app preview thumbnails if you set focus to it after pressing WIN + T.
We fixed an issue where if you rotate a PC to portrait orientation and back to landscape, it could result in app icons not displaying in the Taskbar despite there being room.
We fixed an issue resulting in Settings failing to launch. If you were impacted in the previous flight, please see here.
We fixed a noticeable stutter in the animation when closing Quick Settings and Notification Center by clicking on their respective icons in the taskbar.
We fixed an issue where the Quick Settings and Notification Center windows were missing shadows.
We fixed an issue where it wasn't possible to launch Quick Settings by setting keyboard focus to it in the taskbar and pressing the Enter key.
We fixed an issue where Quick Settings wouldn't render correctly if you removed all settings except volume.
We fixed an issue that mitigates Focus Assist enabling unexpectedly.
We fixed an issue with the animation in the touch keyboard when resizing it in Settings.
We fixed an issue where Sign-in Options in Settings had an unexpected checkbox under Facial Recognition with no text.
We fixed an issue where the button to disconnect a work or school account in Account Settings wasn't working.
We fixed an issue where Lock screen Settings had a toggle with no text.
We fixed an issue where the title of the Advanced Options page under Windows Update in Settings could be missing.
We fixed an issue where the "Windows privacy options" at the bottom of Privacy & Security > Search Permissions in Settings wasn't working.
We fixed an issue where the Open Navigation button could become overlapped with other text.
We fixed an issue causing Settings to crash when applying a theme under Contrasts.
We fixed an issue where parts of Settings were unexpectedly in English for some non-English languages.
We fixed an issue resulting in pinning and unpinning apps from Start not working, the command bar in File Explorer disappearing, and the snap layouts unexpectedly not appearing until rebooting your PC.
We fixed an issue that could result in the elements of File Explorer's title bar being unreadable due to low contrast.
We fixed an issue where some of the icons in File Explorer's context menu could be blurry.
We fixed an issue where the "see more" menu in File Explorer's command bar wouldn't dismiss when you clicked on Options.
We fixed an issue that could result in not being able to create a new folder on the desktop.
We fixed an issue resulting in Search having grey boxes sometimes instead of app icons.
We fixed an issue that could result in Search dropping the first keystroke when pressing the Windows key and starting to type.
We fixed an issue where when hovering your mouse over the Search icon on the taskbar, the third recent search would not load and remained blank.
We fixed an issue where if you searched for Windows Update, it would open Settings but not navigate to the Windows Update settings page.
We fixed an issue where system text scaling was scaling all widgets proportionally and could result in cropped widgets.
We fixed an issue where when using screen reader/Narrator in widgets it wasn't properly announcing content sometimes.
We fixed an issue where resizing the Money widget could result in the bottom half of it not displaying anything.
As always, you can check out the Windows Blog for the full changelog, including a list of known issues! Microsoft also says that it's holding a Windows 11 bug bash right now, so submit feedback if you're encountering bugs!
Windows Central Newsletter
Get the best of Windows Central in in your inbox, every day!
Zac Bowden is a Senior Editor at Windows Central. Bringing you exclusive coverage into the world of Windows on PCs, tablets, phones, and more. Also an avid collector of rare Microsoft prototype devices! Keep in touch on Twitter: @zacbowden.
Nice to see the quick iteration on releases with Windows 11.

it going to be nothing but quick changes, its a dev build. Nothing new or nice about it. Standard dev practices.

Yeah well, let's be honest - when the insider program first launched this was normal - but lately, things got really slow. I'm just providing positive feedback that we got an announcement, a few days later had a new build and just over a week later got updates/fixes already. Kudos to Microsoft for keeping the momentum up and having the stars aligned for once :)

Cumulative update, not new build. major build number has not changed.

Title of Microsoft's article "Announcing Windows 11 Insider Preview Build 22000.65." No need to be pedantic here. It's an updated build.

no, its a cumulative update

How about we call it a cumulatively updated build 22000.65. Happy? Having said that in windows update it does self identify as a cumulative update, so I think we have to respect that. :-)

We don't have to respect someone being a ****** for no reason. Microsoft has always referred to new builds when updating an Insider ring so the fact that the OS refers to cumulative updates internally doesn't really matter if that's the only system available to the OS because that's how the developers designed it. I'm not sure that talking about cumulative updates to an OS that isn't even officially in public beta really makes sense anyway. Regardless, everyone is entitled to do as they please for themselves but someone telling us that we should not use the terminology that Microsoft themselves use is being a ****** for no reason. Well, there is actually a reason but I don't think I could mention it here with reprimand

That should have been "without reprimand". Note to self: proof read better on first go.

Can we get the Windows team to work on the Duo for just 1 week?

When will android app integration come ??

No ETA, but likely later this summer.

get the Duo working right first before they get android issues in Windows

I don't think one has anything to do with the other, in this case. It's not like Windows 11 is Android based, unlike on the Duo. The issue mostly comes from having to tweak the OS to work with two screens properly. Windows 11 will simply run Android apps, in much the same way Bluestack does, but a bit more integrated, if my understanding is modestly correct.

"We fixed an issue where it wasn't possible to click the Show Desktop button with your mouse at the very edge of the Taskbar." *** THIS FIX IS GOLD

Kind of makes me wonder why there is a search icon on the taskbar, but I suppose some folks won't know how otherwise

Is there a setting option to hide the search bar in the Start Menu?

you can hide the search icon from the taskbar Settings > personalise > Taskbar. Then clicking start and typing straight away becomes search.

I don't see the ability to move the taskbar yet..... Hopefully in the next update.

Microsoft has stated this will not be possible in Windows 11. Only enough votes on the feedback can change this.

Maybe it was just me, but in the first release, I couldn't get to "Night Light"...it wasn't an option even if it was syncing with my other Windows 10 devices. After this update, it shows up now.

Update stuck on 69% for the last half hour. Looks like I found a bug....

Same here, did it finally move further ?

One of my computers did as well However it finally moved on. About 30 mins later.

Widgets seemed to be fixed but the app freezes after new login window appears.
What the use of notifications when they still dont trigger an action. CLicking doesnt do anything.
Taskbar on dual monitor only works with auto-hide disabled.

That search box at the top of the Start menu inclines me to ponder the possibilities for the form factors that this OS can come and/or work in. I'd wager a 6.5" to 8.5" or Windows "phone" like device is in the works - if ever MS or an OEM then thew a SIM slot into it.

I don't understand why we need search bar if we can just start typing and it will do the same without extra clicking?

I have to say, I'm enjoying Windows 11 way more than W10. I think the woeful experience of Windows 10 Mobile coloured my experience with W10 as a whole, as did trying to use my Surface in tablet mode. Windows 10 never came close to being a touch friendly UI. Tell you what windows 11 would look good on, with that centered task bar and touch friendly UI...a duel screen device. Like say, maybe a Neo or Duo 😁😁😁😁

Would t be surprised if the duo was just fleshing out hardware with android and future model will have some form of 11. Hell, maybe it will get an update to 11. Doubtful but you never know. Is the boot loader locked?
Windows Central Newsletter
Thank you for signing up to Windows Central. You will receive a verification email shortly.
There was a problem. Please refresh the page and try again.