Windows 11 is getting a refreshed Photos app, and here's the first look
The Photos app on Windows 10 hasn't been great, but it's getting an overhaul for Windows 11.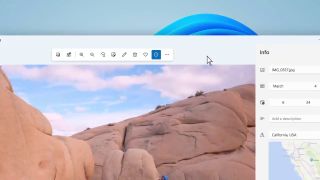 (Image credit: Panos Panay / Microsoft)
Ah, the Photos app. My favorite pre-installed staple Windows 10 application that is very barely fit for purpose, with its frequent crash events, sub-par video editor, and lack of meaningful updates. Thankfully, for Windows 11, it's getting a bit of a refresh.
Joining other apps like Windows 11 MS Paint, the new Photos app looks to retain the fundamentals of its predecessor, while adding polish and (hopefully) new features. It looks as though the full photo view will give users the ability to view multiple photos at a time, showing a timeline of recent snaps across the bottom. This borrows typical designs seen on mobile devices, which have frankly run far, far ahead of Windows with their capabilities for basic things like photo and video editing. It's absurd that my phone comes with a better video editor than my PC, but alas, that's Windows in 2021.
Windows chief Panos Panay shared the video above offering a glimpse at the refreshed app, which doesn't look too different from what we already have. There's no word yet on how it will improve on its features and capabilities, if at all, but given how Windows has become arguably the worst of all major platforms for out-of-the-box media editing, we can only hope. But hey, I do really like the spot removal tool, it makes hiding dust from product review photographs really easy.
Windows 11 is set to start its grand roll out on October 5, and we have everything you need to know about Windows 11 right here.
Windows Central Newsletter
Get the best of Windows Central in in your inbox, every day!
Jez Corden a Managing Editor at Windows Central, focusing primarily on all things Xbox and gaming. Jez is known for breaking exclusive news and analysis as relates to the Microsoft ecosystem while being powered by caffeine. Follow on Twitter @JezCorden and listen to his Xbox Two podcast, all about, you guessed it, Xbox!
This has been needed for so many years now. You're right about how the smartphone apps for media manipulation have exploded in capability and take full advantage of the computing capabilities of the smartphone. There's no reason why Windows should have an also-ran out-of-the-box media experience and force users to have to look for apps (Free or Paid) to get things done otherwise. This applies to the photo, video, and music players. I was forced in early 2020 to move from the Windows Mobile 10 smartphone (end-of-support, no WhatsApp, etc.) to an iPhone 7, and I was blown away by how I was suddenly opened to a mobile media/content creation and sharing experience that buried my Windows Phone experience (out of the box) and fast-tracked my content creation activities (I am somewhat creatively inclined). It was like I was set free from an invisible ceiling. Who knows how many ordinary people got into creative activities (music recording and production, video editing, etc.) because of the MacBook apps they explored. The Windows software application experience has always lagged behind the Surface hardware in bringing a cohesive story to creatives, save for 3rd-party apps. Here's hoping Windows 11 changes the game and brings them forward.

The Photos app has incredibly slow zooming. Try double clicking on a photo, you'll get the zoomed-in view but you can't scroll around while the full resolution preview loads. IrfanView can load huge images almost instantly at full resolution but Photos can't, even with using GPU acceleration.

The current Win10 Photos app is quite literally bloated garbage. I sometimes wonder if it was maybe designed by high school interns at Microsoft or something? I only use it because of seamless access to my OneDrive camera roll synced from my phones and other devices.
Like you, I also use IrfanView as a standalone photo viewer - snappy and to the point. Photos is the worst inbox app bundled with Win10.

I believe almost all of the WinRT-styled apps were all intern-designed apps... not sure why Microsoft didn't go on a buying spree to get some half-decent first-party apps...

I hope they fix the RAW image bug I've been experiencing. I recently switched to being a Windows-only user and the Photos program has bugs with RAW images I've taken on my Canon and Sony cameras. Lightroom takes care of my editing but it would be nice to at least view the photos quickly before deciding which ones I want to import into Lightroom (or for showing to family/friends). Apple's Photos app viewed them without issues, my iPhone and iPad Pro open them without problems as well.

Yeah, and the colours are sometimes old using Photos app. I'm surprised that this bug didn't really get fixed before, maybe I assumed most photographers gave up and use something else? As much as possible, I don't want to use another photo viewer if I can, just to reduce redundant apps on my PC. But I have to due to poor 1st party apps.

Candidly, I hoped they would deprecate Microsoft Photos (yup, it's terrible) and then put good features into OneDrive. Now? Looks like Photos will live on.

I hope they add the ability to add tags to photos that's embed in the photo's file header, and then provide means to search on these tags. I do not like application based tagging. I want tagging at the image file header level. This way the tagging lives with the file and is potentially potable to what ever app wants to use it. Application based tagging will only live with that particular application; which is not a long term archiving strategy.

The new multi-select functionality would be especially useful for batch editing and sharing of photos. I hope the app is well polished and performance is way better than current one, not to mention fixing crashing issues as well. There is also a problem when viewing RAW files that Photos app tends to crash, some colors glitching and also not really viewing the full resolution of it even zoomed. It is quite slow to use as well.

Windows 8.1/7 photo viewer is faster than w10 PV.

He might be pumped to share new W11 app improvements. I'm less pumped to discover that my barely 3 year old surface book 2 and surface go won't support Windows 11 😒

You can still install Windows 11 via ISO and just upgrade that way. No difference.

Isn't there still a difference on the support you will receive on an supported hardware? I imagine you can download the security and feature updates and manually install them each month, like a caveman. App updates? Will they happen on unsupported hardware?

You think they designed for w11 when they designed your SB2 4 or 5 years ago? C'mon man!

I take your point, but it's still never a good idea to leave users behind with software updates, particularly if the hardware they've spent £££Thousands on is only 2-3 years old. There are 10-year-old laptops running Windows 10. Those laptops, which would have been 4-5 years old when W10 launched, are still getting software updates. The Windows Operating System is supposed to be ubiquitous. Windows everywhere, for everyone. That hardly applies when they create a brand of hardware that is outdated by its own software 3 years in. There's an inherent sense of wrongdoing and unfairness in that.

"but given how Windows has become arguably the worst of all major platforms for out-of-the-box media editing" It's a joke. macOS has the excellent Photos app, plus iMovie of course which are both quite feature rich, especially for freebies. This extends to iOS too & quite frankly I've been quite shocked at just how much I can now do, especially with editing videos just within the iOS Photos app. I just don't understand how the Windows Photos app (and most of the built-in apps for that matter) have remained so consistently awful over the course of Windows 10's existence.

Windows is more and more a business OS whereas has been losing market share among private customers in favor of Apple and Google. It is understanble that the development of App such as Photo and others of this kind has been lagging.

That's because the bean counters at Microsoft think doing the bare minimum for "consumer" apps is still good enough. Then theres still the idiocy of solely using telemetry to dictate design and feature availability.

I am only moderately excited about the design overhaul. I would be happy if that'd be my biggest problem with the Photos app. Being somebody who had invested recently in setting up a Synology home server, I was shocked to find out that the Photos app to collect photos from a network drive is a mess full of bugs. Namely it only picks up about 70 of my ten thousands of photos. And it comes down to photo naming schemes as well as to some other bugs. Simply terrible.

Hopefully, they completely turn off that auto generating (recent photos) album each time I open it

I just want to able to hit cursor-right, and consistently get the next photo in a folder. Maybe I'm doing to wrong, but for me this is hit or miss.

Been awhile since I used it, but it may only work when the image is zoomed out. Or maybe it's a focus problem, in that the image doesn't have focus of the UI.

This happens to me all the time, can't seem to figure out why, hit or miss like you said.

Remember Microsoft Picture It! that was a nice piece of software you had to purchase but was worth it. I would rather the OS have a good viewer but leave the editing to other packages of software. Same with video editing. Let's get the OS running awesome and let others build apps for it that run awesome instead of just okay OS with everything built into the OS.

Yes bc the os engineers builds the inbox apps 🙄

I wouldn't think they would exactly but it is Microsoft, but they would be bothered often on how it ties into the OS and resources that it takes up and so on and on.

The new photos app should be colour managed.

THIS!!! I hope the new Photos app respects the ICC profile. Currently photos tend to look not as accurate than what is intended. Mine tends to look bit more saturated than usual. The old Windows Photo Viewer works fine, but do we have to use a legacy app just to get this rather basic functionality?

Asking them for 360 equirectangular support for years!

All I'm asking for…. - Proper photo organization and tagging - Ability to flag or unflag images for review/editing

It is good looking, but I wonder if will match the kind of functionality I have on my iPhone. Currently, I find easier to manage my Photos with Google Photos than using the Microsoft Photos App, despite the fact all my pictures are automatically saved on OneDrive and my Windows PC.
Windows Central Newsletter
Thank you for signing up to Windows Central. You will receive a verification email shortly.
There was a problem. Please refresh the page and try again.