Microsoft announces widgets for Windows 11, promising 'personalized feed powered by AI'
Windows 11 will feature widgets that app developers can use to create interactive experiences.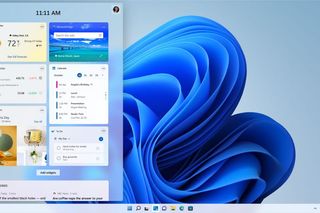 (Image credit: Microsoft)
What you need to know
Windows 11 will include widgets that will work with developer apps.
Before the OS was officially announced, it was believed that the widgets might be limited to Microsoft.
Developers will be able to use widgets to build interactive experiences.
Microsoft announced Windows 11 today, including a long list of new features. The new operating system will support widgets, allowing developers to create interactive experiences. Widgets are popular on Android, iOS, and iPadOS, so adding support for them on Windows should help Microsoft catch up with its competition.
Before the official announcement of Windows 11, it was believed that widgets might be limited to content from Microsoft, essentially making it a repurposed news and interests widget. That is not the case, as Microsoft explained that it will open the platform up to developers.
Microsoft's Panos Panay calls widgets a "beautiful sheet of glass" that delivers a personalized feed powered by AI." He didn't detail how the feature will work, but it has been confirmed by Microsoft that at some point, developers will be able to access it.
This is a developing story. We will add more information as it becomes available.
Windows Central Newsletter
Get the best of Windows Central in in your inbox, every day!
News Writer and apps editor
Sean Endicott brings nearly a decade of experience covering Microsoft and Windows news to Windows Central. He joined our team in 2017 as an app reviewer and now heads up our day-to-day news coverage. If you have a news tip or an app to review, hit him up at sean.endicott@futurenet.com (opens in new tab).
I knew it! I like this over the live tiles!

Geeze, what's with the dislikes? 😒

This is a logical progression from Live Tiles. I'm hoping that more developers use this than those of Live Tiles as it is a nice and effortless way to get all my information in one glance. Clearly widgets have found success otherwise Apple would have never introduced them. If I can swipe from the left and see what I need to see for my day in one convenient location it would be great. Live Tiles had their use, but with most people pinning their most used apps to the taskbar, the start menu wasn't it.

Yup, it is a logical evolution of it, though not exactly since current Live Tiles by the looks of it won't have a new home on Widgets panel. It is simply being killed off instead. So we will have to wait from the developers to adopt it from scratch. What I hope is they will address the bugs and glitches that Live Tiles were never fixed previously throughout the Windows 10 lifecycle. I'm glad that Apple revitalize widgets again since they first introduce with iOS, then iPadOS always show widgets on the left side, then iOS allows widgets on normal homescreen. A huge departure and change with iOS UI since it was first introduced on 2007 with very simple grid of icons. Lately even Google remembers it has its own widgets on Android and doing some improvements for it.
It would be really shame not having any widget system and just killing Live Tiles as it was speculated since we are hearing about Windows 10X, which don't have any widget system at all. A regression of Windows feature that we had since Vista. What I will miss though at least what I see for now is the liveliness of the Live Tiles with its flips, fade and slide animations when cycling through contents or notifications. For now, it looks static, it does the job but lifeless. Though there is still a problem with this new Widgets panel sharing from Windows 10 Start menu Live Tiles. It is hidden under a menu, which requires to manually click by the user to show. What was Insider were suggesting since first introduction with Windows 10 was to allow Live Tiles to be pinned on desktop. Similar to how Vista and 7 was with Windows Gadgets. Hiding this under a panel will remain always hidden from the user without any option to have it always visible on the desktop.

100% agreed with you. It's not progress, it is replacement being it for better or worse. I simply see no point in taking away the ability to mix icons with tiles or widgets or whatever progression is called. It is simply so convenient to have icons placed next to around your live tiles that you can check for whatever information you like and then have the app you want to launch in case of whatever right next to the tile giving you the alert. I can't see any advancement from having myself restricted to invented ways. Whatever new Start Menu Windows 11 brings, I can't see why it could not feature either Live Tiles or Widgets along with icons simply having a switch, toggle or setting that would have an icon-only view (even by default).
I have no idea why any shell container is not acting as a canvas to feature any thing I'd like to have there. Why the taskbar cannot act as a canvas for icons. Or small-sized square live tile if I wish. Or a wide, narrow widget. Same for Start Menu and the same for the widgets pane. These places are all canvases holding whatever controls. Following on on this logic, all those taskbar icons for volume control, keyboard settings, date/time display or whatever could simply be placed where ever you like. And they could feature extended functionality as well.

Yeah, for me, able to mix normal icons (just a square tile) with actual Live Tiles allows me to really organize my apps in a way made sense logically for me. Its subjective, but at least it allows the user to have that option, especially if you have so much apps. The fact that new Start menu don't even have folders and groupings anymore forced me now to rethink how I will organize my pinned apps once I fully migrated to Windows 11. Start menu isn't even resizable, so some apps are bound to be always hidden from view until I scroll them. Therefore, I kept using the Start screen option since I have a huge space to organize my pinned apps and Live Tiles and see all of them on view, even on my 4K monitor. I just must center them on my arrangement, so it looks proportional. By the looks of it, only the very commonly used apps will be pinned on the Start Menu since if the pinned apps are hidden from view that you must scroll, it's no different browsing through All Apps list anyway. For my desktop PC, I can at least pin more apps on the Taskbar due to size of my monitor, but for my Surface Book, I will be more careful what apps to pin. Now Widgets has its own dedicated place, it will be interesting how I will interact with it since I will be now more deliberate to either chose viewing and interacting with Widgets or just lauch apps from Start Menu. If Widgets were at least can be pinned to desktop, I don't have this 2 separate usability interactions since I always have Widgets on my view and just open Start to launch apps.

Tiles are app based, widgets are web/news and RSS based. I don't see the progression

Glad to see people like this news but for me I just hope, and I assume it will be the case, that we can turn all that off. I hated live tiles and have absolutely no desire for widgets or a personalized feed.

just head into the settings and turn all those off, and left align the Start button. Simple and elegant

It can be turned off, at least disabling the Widgets button. Live Tiles were possible as well, but sadly there never was any single option to disable it altogether and have to manually disable Live Tiles each. I believe at least with Windows 8.x allows multiple selection to disable it?

Yea, I always just resized the tiles to the smaller size so it showed no information other than the icon.

That widgets panel looks boss, with Panos' attention to detail, and the ability to customize layout and add developer apps seals the deal.

Windows 7 gadgets rises from the ashes of history but with AI this time! Yeah, go the unwashed masses, more AI! Yeah! Snark aside, this is great certain things. It seems I was the only person on the planet that was made sad when Windows 7 gadgets were banned but now I can rejoice and dance in fields of daisies once again. The more things change the more they stand in place. Onwards Progress Pilgrims!

"Before the official announcement of Windows 11, it was believed that widgets might be limited to content from Microsoft." Here I get to say that I told you so. That belief never made any sense and seemed clearly wrong. The very name, "Widget," indicates that it would be open to developers to perform various unspecified tasks. Otherwise, they'd call it something like "News and Weather." Further, this was always the clear heir to Live Tiles, but presented in a way that's a better match for PC and tablet form factors.

It wasn't "believed." That was just Zac Bowden not calling his contacts and asking questions, and instead waxing philosophical. Journalists call contacts and ask questions.

Glad that this was the case now. So killing Live Tiles is worth it if we can get something superior, an evolution from Live Tiles. It was already experimented that Live Tiles to be evolved as Widgets and was called Interactive Live Tiles (long yes) as part of Microsoft Research Project, before Windows 10. Many thought that may end up with next version of Windows, but instead Live Tiles never evolved on Windows 10, hidden under Start menu and Start screen were just glorified menu. Live Tiles is slowly getting killed on Windows 10 due to neglect, not because of lack of developer support, which there are quite amount of support from many UWP apps, but Microsoft themselves slowly ignoring Live Tiles and never open up to Win32 apps. Now the question is, will Windows Widgets also available for Win32 apps, or at least with Project Reunion? Windows apps are mostly Win32 apps, and not able to tap to Windows Widgets will keep this feature remain niche.

Can we get live widgets that update data like live tiles? 👀👀

The widgets are live and get updated usually once per hour but you can reduce the number of updates per day

By the looks of it, Widgets will. There is no reason not having one. But if it will have some animations like Live Tiles? So far it looks static.

If it's anything like the new "weather' widget they pushed out in the most recent Windows 10 update, it's pretty much the opposite of a "personalized feed", since you cannot even turn off the news portion of it.

That's just the News and Interest feed which was speculated or at least no one seem to know that there will be no proper replacement to Live Tiles (not even Zac or at least Zac is keeping it secret). News and Interest is basically MSN feed on Windows Shell.

Long live live tiles tablet mode lol

Windows 7 had a similar thing but MS removed them as a security concern, how they're back...
Windows Central Newsletter
Thank you for signing up to Windows Central. You will receive a verification email shortly.
There was a problem. Please refresh the page and try again.