Windows 8.1 Update 2 references found in Windows 10 Technical Preview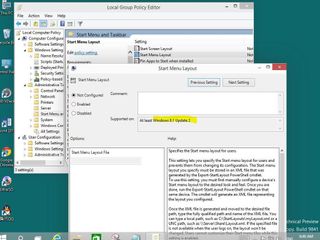 References to a now cancelled "Windows 8.1 Update 2" release have now been found inside the code for the Windows 10 Technical Preview that was launched earlier this week by Microsoft.
Microsoft had launched Windows 8.1 Update 1 in the spring of 2014 that added some improvements for using the Modern UI interface with a mouse and keyboard. In August, it issued a small update for the OS that added a few new features but the company said, " . . . despite rumors and speculation, we are not planning to deliver a Windows 8.1 'Update 2.'"
Now a screenshot from the preview build of Windows 10 that clearly shows a reference to Windows 8.1 Update 2 has been found by noted Windows watcher "FaiKee" on his Twitter account. Exactly what Microsoft would have put into Update 2 will have to remain as pure speculation. However, the company did announce at BUILD 2014 in April they planned to offer a Start menu to Windows 8.1 owners "as an update". It's possible the company decided to change their minds and put that long requested feature in Windows 10, rather than in an update to their current OS.
Do you think Microsoft should have added a Start menu to Windows 8.1 or did they make the right decision to add that feature as part of Windows 10?
Source: Faikee on Twitter via Neowin
Windows Central Newsletter
Get the best of Windows Central in your inbox, every day!
Talk about windows phone update 2 this is wpcentral not wcentral bc

Actually they just ran an article discussing the name change they are thinking about doing since they cover practically everything Microsoft related.

No is forcing you to read this news Plus anything Windows will be Windows Phone soon anyway

I think you mean WP will become just windows

You do know that the plan is for Windows 10 to be the OS for WP, right? WPC had a poll recently about a possible name change because WP as a name will be obsolete when Windows 10 becomes the one OS for all devices.

Does this mean that windows phone will be named windows 10 for phone ???

Yes, something like that is expected.

At Microsoft's latest meetings. The set out a goal. That all devices. Including Netbooks and Windows Phone will be able to run Windows 10. So yes, the next Windows Phome update. Is going to be, Windows 10.

And with Windows 10, coveted unity will occur between the devices.... but the charm will be lost in having a "Windows Phone". Ah well.

Charm or isolation? I'll take convergence over charm.

You see, I don't mind convergence at all, I actually think it's a great thing for Microsoft as a whole (Cloud-first, mobile-first... right?). It's also a great move to make things more efficient, faster, sync better.... that stuff. But I have the feeling.... we're losing.... something. Something we're going to miss. Something that set Windows Phone apart from iPhone and Android. As everything converges, we lose originality. We lose the art that Windows Phone was meant to be. I got Windows 8.1 originally thinking it would be like Windows Phone.... it wasn't. It's modern, not metro (if you know what I mean). Like the switch from unique connectors to wireless/usb/bluetooth controllers on game consoles. Sure, unique connectors were a pain, but it was a tradition now lost. Same as unique battles between OSes. Now there's only Android, OSX, and Windows. I don't know if I'm just being nostalgic, but I'm warning you, something beautiful is about to be lost. And it won't be pretty.

I think I know what you mean. It would be like the mechanized, modular future of Windows. That is probably similar to how I feel about driverless cars. Once something has been enriched with passion and creativity, it becomes something else.

Not at all that this change is bad, it's just change, and, for better or for worse, something will be lost :/

Put ur tail between ur legs and move it along skippy. "Windows" phone central is about Windows and Phones. Your just upset they don't release WP updates every week

Given that the future for Windows Phone is DIRECTLY tied to Windows 10, this is very relevant.

Apparently Ravi is taking over Daniel's position lol

And Windows PHONE will be just WINDOWS!!!

BC at the last was awesome..

Talk about being an ignorant, obnoxious and simple minded person !!

Your father should have used protection.

Update and when? They should have released an update long time back for 8.1 and not become cheeky by adding it as a selling point to push Windows 10...

Read the whole the article. Sent from somewhere. Don't worry I ain't illegal.

First microsoft says we'll not launch update 2... But now there is this leak.. They better bring windows 10 sooner than this!

U mean sooner than the already announced release?
#Build2015 Sent from somewhere. Don't worry I ain't illegal.

They made the right move putting it into a new OS. I see people all the time running the old Windows 8 on their computer unaware a new update even exists. If they would've put the start menu in an update it would've ended up the same way.

People typically don't check for updates. They probably didn't know there even WAS an update to Windows 8.1.

Hence why I like the rumors of Microsoft redoing how updates are handled in Windows 10, to try and ensure people get updated, whether they realize it or not. Just so long as there's an opt-out for power users and control freaks, of course. ;)

Yeah I agree. I do see that often. Its very odd, but it is a failure on the consumers part.

My friend did not know that his pc was upgradable to Windows 8.1 (he had 8) and also before updating to that I had to install other 100 something updates. 1-2GB in total. Sent from somewhere. Don't worry I ain't illegal.

Isn't that due more to how it was distributed?

OS updates don't happen like mobile update. They happen like Apple updates. All computers at once. Depends on the time. When it is available in the US at daytime, at the same time it is available in india at nighttime. Sent from somewhere. Don't worry I ain't illegal.

I know so many people who are still running Windows 8 stock and are completely oblivious to Windows 8.1 even existing. Definitely a smarter move making it part of the new OS.

W8.1 stop deliver update 2, how about WP 8.1 update 2? It could be another story.

Windows phone update two is now windows 10

Maybe. There might be another update with the Denim firmware for Lumias.

So there will also be Windows(phone) 8.1 update 2 rolling by this fall of 2014 waiting for that

Any News on WindowsPhone 8.1 GDR2?

Or GDR1 for all the phones stuck on vanilla WP8.1?

The name "Windows 8" was trained due to stubborn people and social media trolls. I would have loved seeing Microsoft reggae this update sooner, but going under a whole new title may have been what they needed to begin with.

I guess was right to help increase windows 10 sales.
I have noted on my windows 8 an option to access files easier on right size after apps.
Have anybody else noted the option too?

Yes,they should give start menu to Win8. People adopting learn new style then have to learn again. Silly imo

Read about Windows 10. No need to learn anything new. Sent from somewhere. Don't worry I ain't illegal.

I read a lot about it and installed it. I love Win8 but for those just getting it, yes, they will need to learn a new way for Win 8 then again when on Win 10

What's so much different?
U can get back the start screen, the start menu is like the start screen, task view is almost like the multi window view, the charms is missing which everyone (almost) demanded and the apps open on desktop but can still be made full-screen just by two clicks/taps. T Sent from somewhere. Don't worry I ain't illegal.

If they included it in an update I bet the new os would be 9, not 10.

If they had released the Start Menu without the benefit of Continuum, those with hybrid devices may feel like they were getting the shaft. Even a selectable option doesn't make up for that. The transition has to be clean, automatic and ultimately, "stupid proof" or the UI / UX divas will endlessly criticize it. Tim Cook and many other competitors will never admit it but they were wrong about convergence. Windows 10 will scale to nearly every platform that exists and some that may not exist yet. The efficiencies that they will achieve from using a modular code base will be astonishing. It really is ground breaking stuff. The nay sayers can eat their shorts. This is what innovation looks like.

So far, I like Windows 8.1 a hell of a lot better than 10 TP. But the potential of 10 is through the roof. just have to wait and see.

Remember, it's not a finished OS. We may like it more at the end, or not, as was the case with Windows 8 after final release.

I keep on flitting between hope and doom, I have to admit I think MS should push on full steam ahead on Windows 10 now, but please get Cortana over to the UK before 10 gets released....... Not saying I would actually use her but it's been a long wait so far. Bob

I think it's the right move to wait so they can incorporate user experience feedback to make it work better for more people. They can't afford to get it wrong this time after the 8.0, 10 has to get everyone willing to upgrade.

Look forward to have Cortana arriving Asia soon.

She's already there, China is in Asia.

Well how about Singapore, Thailand, Malaysia, Indonesia, Japan, Korea.

Pls improve the keyboard prediction in English and Chinese language, thanks.

If the speculation is true regarding current Win 8.1 users getting a free upgrade to Win10, I'm ok with it.

That was my concern as well, I was surprised to not see many mentions of this in the comments.

It's still in beta, but it could be great to have a demo

Not needing the start menu on my surface, but that's me!

10 should have been a 8.1. Update imo.

I think the technical preview is effectively what 8.1 update 2 would have been. It adds the start menu and the ability to run modern apps in a window, but most of the rest of the features are incomplete. It's also more stable than I would have expected for a pre-beta build. My guess is that they made a decision not to make any major design changes in 8.1 as update 2 would have looked drastically different than update 1 on desktop PCs. They could have called in 8.5 or something but they probably didn't want to waste time with a major new release when they have this huge new version coming out next year.

This stability is largely a result of the Agile development mantra. You build features, or parts of features, to completion, meaning that it is fully tested, stabilized and ready to ship. It might be changed, or extended, or canceled. But at any point in time it is in a released state with full quality and continuous integration. Things work "all the time" and nothing is left to the last steps of testing and polishing. Example, the Start Menu might be missing a lot of features, and might end up quite different. But what has been built so far, works and had been validated. Most software companies have moved over to this model now, and ditched the old waterfall approach.

That is a great description of Agile. From what I understand, that was inspired by Yammer's in-house dev team. Talk about the tail wagging the dog.

I personality don't miss the Start menu, but if it's gonna be in Win 10, they should backport it to Win 8. Not doing so would make 8 the oddball Win version. Tho it may not really be a priority if they ultimately make Win 10 available to both Win 7 and 8 users...

1. That would mean Windows 10 would not add any value. 2. Windows 8 is already the oddball version, to put it mildly. Nothing will ever change that.

This could be the most exciting thing to be found in Windows 10... Just kidding.

This gives me a good feeling that windows 10 will be a free (or realm cheap) update from windows 8.1

Yup... Instead of updating it in maybe update 2.. Its better they swiitch them to an major update where Windows 10 stands!! Hoping it to be an "New Era of Operating system"

Yes, they made the right choice as that is one of biggest and most visible of all changes. Also it simplifies the upgrade path for enterprise and corporations as they can jump straight to Windows 10. When they take the plunge is another matter entirely as roll outs take ages.

Cc cleaner. (For those who know that) said Windows 10 was 8.1 Pro preview

Gee, I remember the day when people used to be able to have a different opinion without being be-littled, attacked and made fun of. I miss those days.

Owell how does this effect anything?

Don't know if it's been mentioned yet, but in Windows 10 in PC settings under 'Update and recovery' there is a new option. 'Preview Builds' where you can check for new preview build releases (Like updates, but I image much larger in size)

I was almost certain the desktop would go away in the next version of windows. I was looking for horizontal and vertical screen splits, no more windows piled on top of each other. Metro drawn out to it's full potential. Instead what should have been called Windows 8.2 is being called Windows 10. Very underwhelming for skipping 9 and going to 10.

Hey can someone help me, i tried downloading the technical preview using chrome twice already...it says that the 64bit version is 3.8GB but my download always stopped at 2.98GB than if i try to install it it says file is corrupt. I'm just so frustrated i waited 16hours for each download but the results are always the same...what seems to be my problem here? my laptop checked out on all the requirements, i think my problem is the downloaded file...anybody?

Your problem is your using chrome try I.E I wouldn't be surprised if google just dont want people downloading win 10 so they mess the file download up on purpose.