You can create and publish Windows 10 apps with latest Windows App Studio update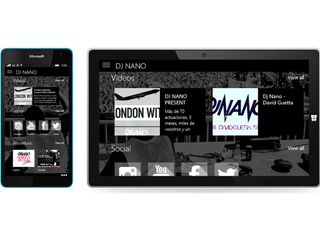 If you want to make and publish your own universal Windows 10 app in the Windows Store, but you don't know how to code. then the latest update for Microsoft's Windows App Studio is for you. The update will now allow users to not only make Windows 10 apps, but it will also create a Windows Store-ready package for it, without any need to use Microsoft's Visual Studio tool to do that job.
Here's a look at the new features that have been added to Windows App Studio:
Windows 10 Store Package with Screen Shots - Windows App Studio now generates a Store package for your Windows 10 apps, including automatically created screenshots for the Store listing.
Immersive Simulator (full screen web view) - No one wants to preview their app only in a tiny viewport. Included with this release is a big full screen simulator into Windows App Studio. Now it's easy check out the app you're building and interact with it in a full screen mode as you're working on it.
Windows App Studio Collection App - Wouldn't it be great if you could easily manage the contents of a collection for an app without making any update to the app itself? Now you can with the newly released Windows App Studio Collection App available here

(opens in new tab)

. This app lets you easily manage the collections for all your apps in real time without the need to go to the Windows App Studio website. Update the data in the app and it will update the data in your relevant projects and apps with no additional actions required.
Live Tiles Editor - You can now design dynamic Live Tiles for your Windows 10 apps from within Windows App Studio. This will work on any Windows 10 app you create with the exception of Hosted Web Apps. With this tool, you fully customize your Live Tiles to make your app more dynamic for your customers when they view it from the Start menu or on a Windows 10 mobile device.
In addition, the new version includes initial support for apps that can run on Windows 10 IoT (Internet of Things) along with a Hero Image Editor and many more improvements.
Source: Microsoft (opens in new tab)
I would really like to get into app development for Windows, though I only know a bit of programming. I'll try this.

Me too. Though I started learning about coding by Visual Studio.

Can I built apps I don't know codes.

You can use the app studio without knowing any code, but it's always better to learn the code and there a millions of free resources available to learn .NET.

You can use them both... Code can be done in app studio to get started then tweaked and modified in visual studio

W10 Apps are looking very rich in design.

This is really nice you don't need to be a professional programmer in order to build your own universal apps. Nice Microsoft

It is and it isn't. I think this is just going to add a bunch of crap apps to the store. We already have enough of those as it is.

While it undoubtedly will do that, it will also bring some quality apps too, obviously you can't expect anything like Facebook but it will be really good for local apps for small businesses. My brother owns a small business in a small town, and this would be perfect for him to just list his available stock and announcements, maybe a few of his customers will get the app and find it useful.

Yeah I knock up a rss feed based one in 15 minutes and a live tile. so thats a nice easily way for a small business to do it.

Don't know with this version, but with the previous ones you could just make very very very simple apps and the phone simulator worked very bad. Even a small collection of sound files with an associated tiny image was almost impossible to be done. I will give a try to this new version although I'm very sceptic... Better to go with Touchdevelop even if it's a long time that is not updated and a minimum of programming knowledge is required, but at least I created some small games with it.

This should be perfect for me. I'll give it a try.

I think this is a great idea. The only problem is that this will spawn the creation of more shi$&# apps

Exactly!! However, as far as I know, there's no similar tool for Android or iOS, and yet, the amount of crappy apps on their respective stores is unbelievable

Well they still have to get submitted for publication first though right?

The submission review process is mostly automated and to do with testing for bugs and performance issues etc. The human review part is also mostly to ensure that the app is what it's described as and isn't illegal etc. As for the actual quality of the app I don't think there's a viable way to review and reject in most cases, as I said previously in a comment a terrible app might be great for a few people and useless for millions, but should it be rejected solely on that basis?

MS needs to do a better job of getting apps.

MS does more than any other company to entice developers, they physically can't do anymore than they already are. If the new Facebook and Instagram apps don't suck and stay supported then there is a good chance other companies will follow.

Can I built app I didn't know thing about codes.

Yes you can Posted via the Windows Central App for Android

Windows Development has a bright future.

Im still waiting for input fields. to do searches that aggregate information from a JSON feed or something.. or even the ability to filter data or something more than just a series of static pages and an RSS feed.

Do you know any languages?

Gonna give this a try for sure

Yeaaaa but publishing need to pay :| . I hate paying Posted via the Windows Central App for Android

It's only $20 one-time but I got it free because I had an .edu email address

I got free windows store developer license from dreamspark.com, try it!

My 12 yr daughter has been making her own apps for her phone and it looks simple enough.

Very nice... She has a wonderful future ahead of her. Show her support and keep her inspired... She might make the COD or Halo... It is very possible or even the new facebook or twitter... Possibilities are endless...

Or a candy crush like game... and she could be rich... And ill be there to marry her :D

I have no idea how it can be possible to create apps without coding. What are the results of this process? I'd say no one will be making a new facebook client this way.

I haven't tried it yet but I'm guessing you're right.

Anything is possible and it can happen... I use many platforms to make one app... So it is possible...

I created Hot Spot Miami for Windows Phone using nothing but app studio. It details the best places to go in Miami by days of the week. Check it out for reference

This is what I created!
Check out "Lumia 360" for Windows Phone https://www.windowscentral.com/e?link=https2F%2Fclick.linksynergy.co...

I like and it has some integration with app studio 8.1 apps and can be updated to 10. I like it and works great... The ground work has been done. Time to have to have fun and have fun... I wonder if it will work with halolens... I hope so... I am see Ing some big projects coming soon...

It should be noted that if you want to sell your app then some coding is required if you want to have a trial version. Also if you want ads in the trial version some coding is required. There are also minor things like sorting collections alphabetically, if you want to do so, that require some coding. I haven't tried this newest update but I have made two 8.1 apps using App Studio and both of them I had to code for. It gets really annoying updating the apps because when App Studio has an update, I have to build my project and recode everything I coded by hand. If you are good at coding and just looking for something that will save you time then I wouldn't recommend App Studio because in the long run, it doesn't.

Would love to do this and then port app to ios/android. Can this be done?

Great for beginners, but learning strong-typed languages and some markup is still the way to go. Plus a framework or two. I went from dabbling in C++, to C# to Swift.

Can anyone make a proper YouTube app like they have on Android?

I've made many apps using this thing, seriously before this, it sucked completely. And also u can't advertise so there's no way of generating any sort of revenue. But unfortunately some MS employees didn't knew this and when I asked them abt it, they said that it should be coming which was completely wrong. Hell with these MS's untrained employees. Posted via the Windows Central App for Android

When will MS make Windows 10 Mobile it Open Source
Windows Central Newsletter
Thank you for signing up to Windows Central. You will receive a verification email shortly.
There was a problem. Please refresh the page and try again.