Windows Camera on Windows 10 Mobile picks up support for Lenses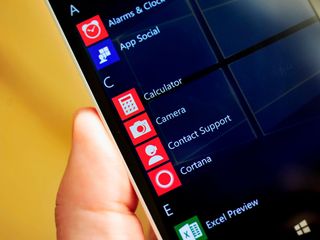 If you're a big fan of lenses in the Windows Phone 8.1 Camera app and lamented their absence from Windows 10 Mobile, today is your lucky day. An update pushed out to the Windows Camera app on Windows 10 Mobile has heralded the return of the feature to Microsoft's latest mobile OS. To access lenses, you can tap the ellipses menu in the bottom right of your screen in the Camera app. From there, tap "Lenses" and you're good to go.
For those unfamiliar with the feature, lenses in the Camera app essentially act as plugins for other photo apps. For example, after you take a photo, you can then send it out to a compatible app, such as 6tag or Bing Vision, through the lenses menu. If you're pumped for the return of lenses, you can pick up the update from the Windows Store at the link below.
Download Windows Camera from the Windows Store (opens in new tab)
Dan Thorp-Lancaster is the Editor in Chief for Windows Central. He began working with Windows Central as a news writer in 2014 and is obsessed with tech of all sorts. You can follow Dan on Twitter @DthorpL and Instagram @heyitsdtl. Got a hot tip? Send it to daniel.thorp-lancaster@futurenet.com.
Windows camera dimensions is bigger than Lumia camera dimensions, but Lumia camera still better

Anyone else see the focus ring appear after you take the picture?

I think Windows default Camera has pretty much same functionality, correct?

So does it support 4K recording and the same resolutions / image settings that the 930 has with Lumia Camera? How about the 1020? The last time I used Windows Camera it didn't have support for it.

Well, the 1020 is never getting 4K support, so you need not compare it on that front.

Of course 4K on the 930 only ;) I was asking about 5 / 38MP Shots with and without DNG.

Yep, support for the L1020 camera remains elusive and, as far as I can tell, isn't planned anytime soon (if ever) because the L1020 will not be supported at time of release.

I always get better pic in windows camera than Lumia camera

Anyone knows how to get rid of the camera sounds? I have disabled it in the settings-> sounds but nothing happens.

A lot of the sounds are messed up. I don't have it on my camera but I have it on other notifications that I turned off.

Some countries, such as India, have a legal requirement for a sound to be heard when you take a picture on a digital camera.

there is no such legal requirement in India

That's some serious made up shit :D

What do you mean by dimensions?

Yes, and now windows camera not support auto continuous focus camera video mode,

Lenses are already on screen in 8.1, why remove that feature?

because it was in lumia camera and this official stock windows camera made again from starting

Still lumia camera is better.

The camera is very very bad. And when viewing the photos there are horizontal line.

yes , when you captured photos in potrait mode , it automatically turns into landscape

I've had that problem occur too. Most notably in low light. Posted via the Windows Central App for Android

Yes..This is true. Except the lines running through mine are all verticle. :P

Same issue here. EDIT : apparently the update fixed it !

Yes, I have that problem too.. It has lines and is slow when I actually take the picture

Wish you could pin 2 or 3 lenses to the camera screen for easy access.

Now that we are talking lenses, Did anyone notice that bing vision is missing in the Windows 10 Mobile preview? Kinda frustrating that we cant scan QR codes anymore.

There's a lot of good stuff we had in WP7/8 that doesn't necessarily make a lot of sense to move away from, but yet here we are, for the sake of progress. I loved the convenience of WP7's search functionality, with separate buttons for local search, music search, and vision.

Nothing's final yet! More can show up! Just keep throwin in that feedback.

As annoying as that is, there are a bunch of barcode / QR code scanners in the store. However, the one thing that I use Bing Vision for more often than bar codes is for scanning text to the clipboard. I guess I'm going to have to look for something to take its place. :(

Office Lens is your friend.

I'm still baffled as to why they couldn't put Bing Vision in Cortana, next to the button to identify music- or why they had to cripple Bing Vision in the first place.

This too baffles me. Especially since well before windows 10 previews started rolling out I was excited for Bing vision to migrate over to my surface pro 3 eventually...doh!

Theres other apps that do the same thing guys.

Not just Bing Vision, but most if not all the good lenses are missing. Lumia Cinemagraph, Lumia Selfie, Panorama, Refocus... at least for my Lumia 920.

Im soon about to get my Lumia 640 LTE and was planning on going from the defaul Win8.1 Denim to Win10 Build10512. What is the best app to get the very most out of the camera?

All are shit in windows 10 , camera processing is very very bad , no app will help

Lumia Camera Beta is awesome..

Can I get this on the win10 build?

All are better in windows 10m than denim. So use any of them

Thanks a ton guys for your feedback! Just grabbed my Lumia 640 tonight and am loading up that preview now! What a great upgrade from my 635! :D

You can have Win 10 Mobile with Cyan

I don't know if this is new but when I turn on HDR (Rich Capture before) I can then edit it.

The store is not allowing me to download any apps for lenses...I have the Lumia 1520 with build 10512. :P

Dont know if this is off topic, but after updating my lumia 930 to build 10512 just now, the camera has circle orange tint in the center, heeeeelp..!!

Bing vision isn't here though , no QR code built in support nor translation support , I don't want to download an app for a single function !

Just download the app. There is Bing translation apps, there's qr code readers. Jeez, stop complaining.

It doesn't h​erald the return, it is the return. Herald would mean it came before the return and told us it was going to happen.

This has also fixed the issue with the horizontal lines in every photo when using HDR effect. Lumia Icon. Welcome back lenses, going to try the DOOM one right now!

I love the default system camera. Is there the Bing Vision again?

Still working for over sampling on 1020 and 1520?

I have never been 100% happy with the camera apps on Windows Phones. I go all the way back to an HTC Trophy. My Nokia Lumia has great camera specs, but the camera software needs a refinement. It is confusing for an end user to have to navigate through 10 different Lumia/Nokia camera apps for features that could easily be rolled into one significant camera app. ​

I think that's what they are trying to do with windows camera, rolling all the best features into one then closing down the rest

I disagree. One camera app cant do it all. That's why there should be a lens button to easily switch to a different app that does something else you want. One camera app with everything can be confusing and not work well at everything.

I disagree, One Camera App can do everything and it can be extended with lenses thus should have the core functions built-in and not rely on lenses.

They still do not have a panorama option. Preciously there was a Lumia panorama lens now there nothing . Whats the use if a good camera without panorama

With this update, cam lags a lot. Not sure if its just me, L925

I installed this update with high hopes, but once again Windows 10 mobile has let me down. To date, 10 is the most disappointing version of windows phone ever. Even WP7.5 was better.

It's not finished, wait until its done before making an opinion

It's still a Technical Preview. Not the final build and still under development!!!! Geez....people need to stop complaining about stuff when they are testing Alpha and Beta software!!!

Bwahaha keep telling yourself that. Same load of crap we heard before 8.1 was final as they started the disemboweling of WP.

Woot! Parity with 2012 FTW!

Windows Camera has better digital image stabilizing algorithm than Lumia Camera. That with OIS = much smoother videos.

I wish they found a more intuitive way to use lenses. It's a good idea but nobody ever thinks of using them. It needs to be easier to find and use.

Should be a short cut "icon" on camera screen, maybe additional choice where you can now switch between pic/vid

Or long press short cut to reveal drop down menu of lenses

It should be on the bottom left corner, on phones sub 4.5" that makes sense. Larger phones it would make sense to place it under the gallery view icon / padlock icon. With double tapping enabling a grid view and tap & hold enabling a curved scroll wheel for the all the installed lenses. Never the less core functions such as panaroma, should be in the scroll wheel under before burst mode.

When you hit lenses, you get a list of Apps. That's it. No way to use them from within the Camera.

They should be much more concerned with photo quality and user experience, all photos coming out of Windows Camera are crap, and I'm not even talking about how broken rich capture is with random horizontal lines popping out. Thank god I got Lumia Camera back again with 10512

I get pretty good pics with 640 and it doesn't even have rich capture

how have you got Lumia Camera back? assuming this isnt lumia camera classic? i'm trying to get this back on Lumia 1020!

I always get Lumia Camera back by doing a hard reset on my 1020 after I install each new build. Just don't restore from backup.

I cannot get it on Windows 10 at all, don't matter what I do.

i see. hadnt thought of that, i giess its a bit like the stock apps that come back like o2 priority

Rikycaldeira, how did you get Lumia Camera back again with the latest windows 10 build? Nothing in the store as I can see! Windows Camera doesn't support 4K video recording

We can now take picture in 16mp & 5mp instead of 5+16mp is this new?

Still horrible!! Mediocre photo quality! Trash app.

Still under development...its basically a beta. Stop complaining and give suggestions in the Feedback app!!!!

When do we see windows central app for windows 10 mobile??

I am on L920. after update and run the app, it is green screen, camera is disfunctioned. Any suggestions for that?

Soft reset worked for me.

Shame you cannot get the Lumia Camera on Windows 10 :\ It means my 1020 is staying on 8.1, though I'll probably sell it soon and get a Motorola X Style since it's so cheap.

People in forums and on Twitter keep saying 34MB .jpg and .dng options will be coming back for the L1020. I keep trying new builds and rolling back to 8.1. Be nice if someone from MS said it's in the plans to bring it back.

This already existed on a MUCH better operating system: Windows Phone 8.1. Windows 10 Mobile continues to be a lame system by comparison.

Here's just another guy hoping Bing Vision comes back.

Appreciate is MS getting default camera from Lumia camera concept, but pls take care the camera software very well, it is one of the important feature to get customers focus.

Any body using lumia camera pro app in windows 10 10512. If i upgrade from 8.1 to w10 10512 will i be able to use lumia camera pro app?

I can start Office Lens and Lumia Panorama from the app list, but it doesn't show up under Lenses in the camera app and there's no option to pin the lenses to the camera screen.

Oh no, they've put the image algorithms of Lumia Camera 5 to Windows camera :(( I really.don't like how the app handles overprocessing here, too much saturation and terrible front camera. I'd always use the default camera or LC Classic for the more natural colors. They blew it :((

No lenses showing to me in lastest build :(

Lenses still doesn't work
Windows Central Newsletter
Get the best of Windows Central in in your inbox, every day!
Thank you for signing up to Windows Central. You will receive a verification email shortly.
There was a problem. Please refresh the page and try again.