Windows Central app build 17 brings some formatting fixes and 3rd party YouTube support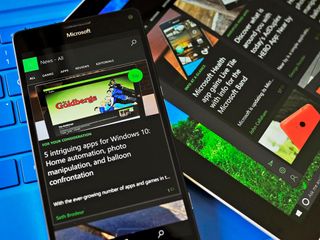 The Windows Central app for Windows 10 and Mobile is getting a small patch update today, and it should be hitting your devices soon.
Today's build brings only two new small features as our developer Daniel Gary continues to work on the finer points of formatting and bug fixing. Here is what is new and fixed!
Windows Central 1.1.17 (build 17)
Added 'Read in Browser' button
Improved article formatting
Support for 3rd party YouTube apps
Fixed a bug that could cause the live tile badge count to be incorrect
Fixed a bug that could show duplicate articles on the live tile
A 'View in browser' button is one of the most requested features. Now when you are reading an article, you can quickly tap a button to open it directly in Microsoft Edge (or whatever your default desktop browser may be).
Regarding article formatting the text in each story is better indented (instead of being at the edge), and the scrollbars should now be working for those on the desktop.
For third-party YouTube apps you can now hit 'Play' on the video and if you tap the YouTube logo (see image below) you gain the option to open the video in your preferred YouTube app e.g. MyTube! or Tubecast. This option mimics how you can open a YouTube video in another tab if in a web browser and it should be good for those who like using external apps.
Note: For our Windows 10 Mobile app the behavior is different as it uses the m.youtube.com player. Instead, just tap the title of the video to open in a third-party app of your choice.
The other fixes are for some bugs regarding the Live Tile and incorrect badge counts and duplicate articles, which are self-explanatory.
We still have some more work to do for article progress indicator and more so stay tuned as we work through those requests and more on our UserVoice page. Speaking of, remember, no need to leave requests or feedback here in comments as our Windows Central UserVoice page lets us track issues and feature requests. So if you want your vote to count go there instead.
Download Windows Central for Windows 10 and Mobile (opens in new tab)
Daniel Rubino is the Editor-in-chief of Windows Central, head reviewer, podcast co-host, and analyst. He has been here covering Microsoft since 2007 when this site was called WMExperts (and later Windows Phone Central). His interests include Windows, Microsoft Surface, laptops, next-gen computing, and for some reason, watches. Before all this tech stuff, he worked on a Ph.D. in linguistics and ran the projectors at movie theaters, which has done absolutely nothing for his career.
I love this new app. It just keeps getting better. Keep it up man!

@Kyle Stilkey:
Wait. Wh...what?!
There's finally a developer responsible for the app that gives a duck about updating and fixing stuff?! Contrary to Jay T(o lame to care) Bennett?
Tell me more! Where to signup (for Windows 10)? Oh, wait. It's still not available to regular people...

No need to be a jackass Posted via Windows Central for Windows 10 (Ludicrous Speed Ring)

@danielgary:
You're right, Daniel. Certainly no NEED to, but pretty understandable given all the annoying bugs the Windows Phone version of the app has.
I know one solution could be to enlist in the insider program and download the current app. But not everyone has a spare device available and some people want to save themselves the hassle of dealing with a beta status OS on their daily driver, cutting them off from Windows 10 Mobile and it's app ubiquity.

Me too. Absolutely Amazing. App Posted From Lumia 638 Windows 10

If anyone doesn't want the QR code and app icon in the article then do vote at UV

Keep up the good work.
Hopefully soon we wil get a fix for tapping notifications. Tapping notifications for articles and/or comment replies don't take you to the article or comment. Yea. I uservoiced.

I'd love to see this fixed too. One big one I want to see next.

Great job wish we could get mobile builds as fast as we been getting windows central builds.

Don't you know the difference between developing a single app and a whole OS? FYI they are releasing some build every 1-2 weeks...

Don't you know the difference between developing a single app and a whole OS? FYI they are releasing some build every 1-2 weeks...

Same here, not directly open the article Posted from Windows Central for Symbian Belle

"Hopefully soon we wil get a fix for tapping notifications."

We're aware, but to be clear it's not so much a "fix" or even flipping a switch, but rather a lot of extra coding and navigation elements to be put into place since we have forums, comments, and articles to contend with making it a small project in and of itself.

I'm patient and well aware that these things don't happen over night.

Will wait. I know it could be time consuming. Keep up the good work. Loved it so far Posted From Lumia 638 Windows 10

This is my favorite UWP app so far but we really need the "Save to offline" list feature that is on the 8.1 version of this app. It's already been suggested a couple of place in the user voice web site. We need more votes for that feature. c'mon folks go find it and vote. And no, I'm not talking about the offline article caching either.

Just FYI, the app caches ALL articles, so you can launch in airplane mode and read your articles completely offline. Alternatively, you can share to reading list if you want. Posted via Windows Central for Windows 10 (Ludicrous Speed Ring)

No, you are still miss understanding me. The old app has a "Save to Offline" list which is actually just a way to book mark an article. Currently on the old app we can press and hold on an article and an option pops up to save to the offline list. Or we can open an article and then slide over to the options and tap on the "Save to Offline" list button. Then anytime we want we can go to the menu and tap on the "Saved to Offline" list button and see all the articles we saved. This is good to have because sometimes we don't have time to read all the articles in the moment we are scrolling thru them. So if we can quickly scroll them and select which ones we want to save, then we will be able to find them easy later. Instead of having to scroll the a long list of articles hoping to find the one we were interested in earlier that day (if we even remember).

Ok, sure, makes sense. So essentially a reading list. I should be able to add a bookmark feature or something similar. Posted via Windows Central for Windows 10 (Ludicrous Speed Ring)

Yes exactly. If you don't mind doing that and have the time and budget for it then that would be excellent. It takes forever to scroll thru all those other articles to find the one you didn't have time to read earlier in the morning or on the previous day. Thank you very much. You rock.

:) Posted via Windows Central for Windows 10 (Ludicrous Speed Ring)

Another thing I forgot to mention is. If you do get to add this feature could you make our reading list/bookmarked list sync between devices. This would not only be good so that we can get to our list from any device but also for on those rare occasions when we have to reset our phone we won't lose our list.

That's Great Daniel. I also want that feature. I used a lot in Old app. It would be great if you bring it. Thanks Posted From Lumia 638 Windows 10

I have never save any article to offline reading... Why do you need that?

If you know you're going to be somewhere where you are going to have no service/wifi, or can't use your data for some reason, adding things to offline reading is totally necessary

Mine favourite is still "Baconit"... Perfect App...

Mine favourite is still "Baconit"... Perfect App...

Mine favourite is still Baconit

Is it just me or does the store link not work for any external link.

They link through their ad company. So... if your prox/network/browser is doing any network/ad blocking, that may be to blaim. I personally do not have any issues with it.

This is good. Now we just need the video ads stop on the WC website so that I can enjoy this experience too. It took 3 min to type this.

Please add reload indicator while refreshing news Posted from Windows Central for Symbian Belle

Still didnt fixed the bug that I reported tho. Yes I did used uservoice, noone voted but the bug is still there.

When you turn your phone into landscape mode in comment sections and then turn it back, it throws you back to article but the app still thinks that youre in comment sections (you can tell by the nav buttons) Also, the notifications dont redirect you to the article and PC app dont refresh by itself on start (you have to manually reset)

Really would like like to see ' go to latest comment' option back. Having to scroll down to see the latest comment is a pain in the arse. Love the work. Posted from Rebel Base, Hoth.

This can certainly be added, but I'm also considering allowing you to sort the comments in reverse chronological order(newest first). Posted via Windows Central for Windows 10 (Ludicrous Speed Ring)

Sweet. Thanks for the feedback. Posted from Rebel Base, Hoth.

Upvote for the signature ☺ +640/Win10

Good work, keep the updates coming Posted from Windows Central for Windows 10

I can't open the apo nor uninstall it and it's making me crazy. It also gives me an error while trying to update it

I love the new app on my 550 but it continues to crash and it doesn't open when you touch the app. Sometimes I have to touch the app at least several times for it to open properly. But overall, I love the new design and I love the new app. So I just hope it continues to be develope to be equal to the 8.1.

i'll wait til its finalized, lovn the current version


Daniel. Did the desktop app made the website views goes down? I mean, before this app, I opened the site every 15 minutes. Now I just open the app if the news is good. Can you talk a little about that? Thanks =]

Still no love for WP8.1.....

Nor is there going to be. This is for Windows 10. Back-porting to 8.1 would be a waste of time. There is already a perfectly good WP8.1 app available. Posted via Windows Central for Windows 10 (Ludicrous Speed Ring)

Still no love for Windows Mobile 6.5.3 (insert unnecessary and incorrectly done ellipsis)

We should totally build a Windows Mobile 6.5 app Posted via Windows Central for Windows 10 (Ludicrous Speed Ring)

Sounds good to me. And I'm sure all WC fans will donate to get it done.

At my university, we used some old PDA-s at our university for field work. They were running a version of Windows Mobile 5 or 6. I don't remember right. But it was so strange to use it after using wp 8.1 and w10m on my phone. Like having to switchback to XP from win 10. I was on the retro train :3 :D I know, this is a littlebit offtopic, but this was the first thing that came to mind reading your comment :D Posted from Windows Central for Windows 10, on HP 250 G1 notebook

@Daniel Rubino:
Your statement would be more on the point if Windows 10 Mobile was already available to everyone publicly and had outrun Windows Phone 8.x's marketshare already.

I'm experiencing a bug where notifications aren't showing the app logo to the left of the title on my 950.

v16 has been a disaster. Articles don't refresh, Push Notifications remain enabled no matter what the app crashed, Live Tile was whole unreliable. Hopefully v17 fixed some of the issues

How to watch on YouTube using the mobile app? Posted from Windows Central for Windows 10

Finally!!! Third party yt app support! That's what I missed from "news' apps so far. And you guys made it! Keep up the good work guys ;) Posted from Windows Central for Windows 10, on HP 250 G1 notebook

Live tile still doesn't show the number of unread articles

Working here. Not sure what to say.

Am I doing something wrong I can't play video via the video tab on my 950. I plays embedded video fine just none on that tab. Great app by the way guys.

So.... I've been using the old one. I kept wondering why mine didn't look like the pictures. Loving it so far, very fluid and dynamic, love it! =D

Daniel, are you going to level text inside articles? Posted from Windows Central for Windows 10

The app is coming along nicely, I enjoy using it. I the way article text are formatted and being able to watch videos directly in here. I would like to see improvements when pressing the back key from the forums, screen doesn't refresh and remains blank.

Still not completely used to it. Articles get cut off and hitting back doesn't always take you back to your last step. Posted from my boss 950

notifications still dont launch to the proper article/comment reply/thread reply

Does anyone know if Windows 10 Mobile works with Sprint cell connection in the US? I am really wanting to do the upgrade on my 635 via Windows Insider, but don't want to lose my cell phone connection with it.

I still can't install this app on my laptop, it's the only app I get an error with, it always says"Try the download again. Something happened at our end". Does anyone know of a fix for this issue? I've tried various fixes related to the store, resetting, clearing cache etc. nothing has worked so far.

Haven't git the new app yet!

Love this app Posted from Windows Central for Windows 10

I want this W10 version to my android phone! Posted via the Windows Central App for Android

while in the comments part a swipe brings the next article. is it intended?

If you swipe left or right on the command bar on the bottom it will take you to the previous or next article and swiping up and down will jump you to comments or back to the article you're viewing.

Awesome! http://behance.net/kevingates

How about an option to sort comments, or go to the latest.

Not sure if it's just me but often when I click a headline the app freezes then crashes. Daymn

Just got it. Looks great!

I hate when I have to scroll for minutes to find the comment I added

I meant it should bring me to my comment
Windows Central Newsletter
Thank you for signing up to Windows Central. You will receive a verification email shortly.
There was a problem. Please refresh the page and try again.