Windows Central app build 18 headed to your phone and PC with even more improvements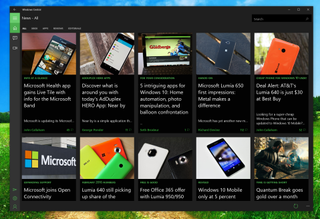 The Windows Central app keeps chugging along. We're pushing out updates as soon as we're getting new features, fixes, and general improvements coded and tested instead of waiting for 'big' updates. After all, you're likely – and hopefully – using the app frequently.
Today's update is for build 18 (1.1.18) and like yesterday's does not bring any big spanking new features, but it does tidy up things and even addresses one of my pet peeves. Here is what to look for as the update hits your phone (likely in the next hour or so).
Windows Central build 18
Navigating to an article always refreshes comments
Navigating to the news page always triggers a refresh
Light theme article formatting now matches dark theme
Hyperlinks in article and settings now match accent color
Article hyperlinks now match the accent color you choose under Settings (see in below image). This change replaces the default 'dark blue', which was admittedly hard to read in the Dark Theme. If you change your theme, you may need to restart the app to update the hyperlink colors, no biggy.
The refresh fixes are nice additions. Now, when you navigate around the app – especially back to the News page – the feed will auto-refresh. Same with diving into an article to refresh comments. Prior to this, you would on occasion have to restart the app for all the refreshed comments to appear and that was hardly ideal.
For those asking about notifications and hyperlinks to deep link back to within the app, we are well aware of the desire for this feature and it will be coming. Just note, this is not a switch we flip on or just code a line into the app to enable as it requires a lot of coding for site navigation due to comments, articles, and forums all being a part of that system. It will happen, but we will need time.
Likewise, for the next build we should finally have the 'progress loading indicator' up and running as well (it almost made this cut).
Remember, no need to leave requests or feedback here in comments as our Windows Central UserVoice page lets us track issues and feature requests. So if you want your vote to count go there instead.
Leave a review?
Finally, we kindly ask if you left a negative review of our app after it was initially released to consider revising that review if you think we have made improvements and addressed your concerns. If you haven't yet left a review for our app either on mobile or for PC we ask that you take the few minutes to do so. It greatly helps our visibility in the store and in rankings so that others can experience our app, the site, and great community. Thanks!
Download Windows Central for Windows 10 and Mobile (opens in new tab)
Daniel Rubino is the Executive Editor of Windows Central, head reviewer, podcast co-host, and analyst. He has been covering Microsoft here since 2007, back when this site was called WMExperts (and later Windows Phone Central). His interests include Windows, Microsoft Surface, laptops, next-gen computing, and arguing with people on the internet.
Good to see quick updates and fixes but still using 8.1 app as my main app as it misses a lot of features from 8.1 and some things are not good.
I really miss the vibrate when new articles load up. Under comment section add comment and other icons are above(they should be below for better reachability), articles take time to load, pull down to refresh not working, n more.. Hope they fix it soon :)

I didnt receive any update... Uninstalled and installed back.. But still no update.. Its old windows central app in lumia 640xl ..windows 10 ..

It is a different app and u have to download it additionally if u can see the link then use that else open in web browser and then download it.

I like this one more than the old one (for w8). Installed this and uninstalled that yesterday

Why I can not comment an article with the new app ? The "reply" button is disabled ! unable to click on it, I don't understand why... I'm connected with my username.

The send icon looked grayed out prior to the last update, but the most recent update has a black icon. I replied using the app, so I know it works...

I can reply on PC but not on the phone .... (button is grayed)

That's odd. Works on both for me. This post was via phone app.

Have you signed in? Posted from WC 920, 1520, 920, 635, 640 950XL

This is a test reply in app with the reply button

Maybe try logging out and back in. It might not think you're logged in.

You are right.
Logged again and everything xorking again.
Thanks

That is good to fix the bug quickly. But I really want the notification sound from the old Windows Central app. that tone sound really cool. Posted from Windows Central for Windows 10

If you want it now you can download the "melodia" app. It has the wpcentral sound, you can download it and set as the windows central notification. It's the exact same one they used.

Windows Central As A Service.

They're getting better with every update though, just like Windows 10/Mobile OS.

Would have been good if the app automatically picked the accent color we use in our pc/phone.

Guys, try to focus a little more in background and initial start

I was a strong supporter of releasing this app months ago. Even with Daniel's explanation of delays stories I was nit satisfied. I'm happy to say with the constant improvements/updates since it released, this is my go to application for all news Microsoft. I removed the 8.1 from my 950 with the last app update. Keep it up Dubb C.

Looking forward to the accent color on hyperlinks as that has made them hard to read. Also, still can't load on pc due to store error.

Sweet Posted from Windows Central for Windows 10

Thanks for the info on notification deep linking waiting patiently for that

JC... you guys need to slow down.. :)

Feels like we're on the Windows Central insider program, keep up the good work... Posted from Windows Central for Windows 46 Universe Edition

It keeps getting better and better

How I wish it was Twitter

When I enter a forum post and then press back it goes back but shows a blank screen until pressing back again at which point it jumps to the forum select page, which is one step to far backwards.

Amazing stuff by the developer.

This one is good, but I don't like tile. The white logo is too big. Old one is better Imo Posted from Windows Central for Windows 10

Also there's no edit comment yet. How do I know of new articles? Your doesn't show, no notification... Posted from Windows Central for Windows 10

ok i have posted an idea on users' voice page

The new version hung on on my phone at startup, with only infrequent bursts of network access. Force-closing and restarting did not fix the issue. Seems to works normally again after uninstalling and reinstalling. Need to make that reply button visible. Otherwise the app is definitely improving. I have now jumped ship from the WP8.x app.

Reply button is hidden because there are 5 buttons for this story: Read in Browser, Share Article, Download App, Article, Add Comment. The Add Comment button is visible for articles without a download.

I wonder why Microsoft didn't think of this while creating the new W10 design language. What if there are more than 4-5 command buttons? Where to place them? The WP8.1's pivot screens had all the options. But what in W10M?!

I can't help but chuckle at the fact that WC announces their app updates as "Builds".

I'm curious why that's humorous? It is literally a build number. Posted from Windows Central for Windows 10 (Ludicrous Speed Ring)

Rubino,
Even tho you're a double agent, I'm liking how swift mr. Gary is about this app. Keep up the good work and provide examples how win 10 apps should be built! Posted from Windows Central for Windows 10

lumia 640xl updated to 10.. But i did see any wc updates .. Can anyone tell y ?

U have to download a new separate app form the store try opening the article in browser and then download the app.

Please fix the landscape view in forums. On my DV8P the forums are unusable.

I'm really enjoying the rapid little changes. Improvements here and there make all the difference really! Keep up the good work guys!

I uninstalled the win 8 version and only using this app now. Great work! Continue adding features and improve stability. Posted from Windows Central for Windows 10 with Lumia 950 xl.

That's cuz you don't use forums. The forums section needs more tailoring. There's no way you can get to the last post without scrolling! Imagine a thread having 1000+ posts. Even that is too much :/

Actually you are right with that one. Tried last night on continuum forum to see the thread for compatible continuum apps and was very unpractical to go to latest posts. Hope they can do something about it.
The has room to get better for sure. Especially in forum navigation. Posted from Windows Central for Windows 10 with Lumia 950 xl.

Yes. Waiting patiently. No hurry. The old app is there for now until this app gets better.

The live tile/lock screen article counter badge seem to be still not working and the notifications get turned off all the time. The app doesn't work in background. QR code in the article not needed. Already posted at UserVoice, do upvote.

I've never had the tile badge work either. I wish Daniel would reply and say how the live tile and notification settings need to be set for this to work. He hasn't replied to the UserVoice comments about it either, even though he closed the request as completed.

Scrolling sux now, or may b im d nly one Posted from Windows Central for Windows 10

Nice :) Only is showing the QR-code for an app a bit useless on a phone? I mean to use it i would need another phone. While downloading it via the 'Download app' button is much more easier

It's a universal app, so you can view on a computer and scan on your phone.

I know :) Surely they might be able to hide it when viewing it on the phone and show it on the PC. Or, which might be even beter, a simple toggle in the settings to the QR functionality to show or hide it.

Daniel, my Greetings from Senegal, Africa.
Keep on! Posté depuis l'appli WindowsCentral pour Windows 10

For my lumia 930 is much faster now , maybe is because of the internet but seems much faster.

Stall haven't got it yet...is this updated app onlyfor the US?

No it's worldwide :) You could start the update manually by going to the Store-page of the app. And you can always check which version of the app you have by going (in the app) to Settings -> About.

Any one know why when i click on the download app link it never open's it just goes to a blank screen never makes it to the store. Any one else having trouble with the store, i know the older app had problems but I didn't know about the new one.

Not sure which app I'm running on my 925, but I like it.
Is there a quality app for Surface RT?

Never really worried about apps on my phone, is this why I've been happy with WP? Is this the style of apps apple and android have had for years?? No wonder WP is crippled, seems they've both had a polished product for years and years, MS keeps promising the world but so far all we have is an Atlas.
Enough is enough, time for a quality finished product!

Is there the option to view most recent posts posts in the forum section? And participated threads? I can't find it Posted from Windows Central for Windows 10

Damn it. I just found it. Must have been added in a recent update. Posted from Windows Central for Windows 10

"Jump to last" option in comments still missing. It is really annoying to scroll down all comments to see the most recent one. Sent using Bobs fingers on Lumia 950XL
Windows Central Newsletter
Get the best of Windows Central in in your inbox, every day!
Thank you for signing up to Windows Central. You will receive a verification email shortly.
There was a problem. Please refresh the page and try again.