Windows Central App Update: New layout, Quiet Hours, Podcasts, and more!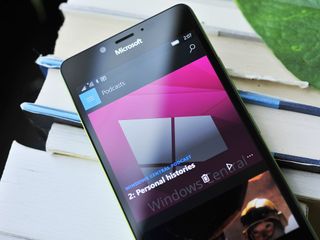 It has been nearly two weeks since our last update for the Windows Central App for Windows 10 and Mobile, but it is well worth the wait!
Build 34 of the Windows Central App is now live in the Store – or should be for many of soon. We're extremely proud of this update due to all the new features and improvements, making it one of the biggest refreshes yet.
Here is what to look for based on your feedback.
Windows Central App Build 34 (1.1.34)
Podcast section. Found under the hamburger menu is the new dedicated Podcast area for the Windows Central Podcast and OneCast. Here you can find current and past episodes as well as play and download the shows for offline playback. (New!)
Option to auto-download new podcasts for offline playback. Found under Settings. (New!)
Podcast articles will load and display correctly; general iframe fixes (Fixed!)
Background audio support for podcasts. You can play the podcast in the app, but then minimize the app and let it play in the background. Use (New!)
Redesigned News Feed. We're adding a cleaner looking feed with all text overlaid on the darkened lead photo instead of a black bar (New look!)
Redesigned Video feed. Matching the redesigned Newsfeed is the same for our dedicated video area (New look!)
Hero images in notifications. For Fast and Slow Ring Insider builds only ('Redstone') you can now get full-width inline photos in new notifications (New!)
Quiet hours for notifications. Under Settings, you can now set quiet hours to prevent audible and vibration notifications when new articles are posted. (New!)
Manual refresh button (Mobile). Although we have Pull to Refresh (PTR) for the news feed, some users wanted an actual button like in desktop to force the feed to refresh. Done! You can now find that under the ellipsis menu at the bottom. (New!)
Stability. You should see fewer (and hopefully no) resuming issues on Mobile as we address memory limitations. (Fixed!)
Live Tiles (especially for mobile) should be more reliable. Note, if you just want a number badge/count of new stories without any image, just leave the Live Tile set to off. (Fixed!)
Comment Signatures. With this build, we are permanently removing the option for signatures in comments. This bonus feature was abused too much by too many, so we are removing it to keep comments cleaner, load times shorter, and posting quality higher. (Removed)
As you can see, there are a lot of new features, improvements, and overall goodness with this update.
Image 1 of 5
More podcasts
I should caution that podcast support is just starting with this release. For now, there are no player controls besides Play within the app itself, so you need to use the system controls to Pause, etc.
However, that is just for now.
We will be adding full inline player controls including seeking, pause, play, in a future release. We're also looking at a hand-off feature so you can play the podcast on your phone, pause, and pick up the show on your PC or Surface.
Still more to come!
Our next release may be just some bug fixes and improvements due to the fact we added so much to this build. Nonetheless, we still have a few more sections to add, improve the forums within the app, and even do things like adding the ability to save and download images from our news articles.
We are also officially removing the beta status of the app today as we feel that the app is now worthy of being a full release, even if we have more to do.
As always, we encourage you to leave a review in the Store for us so that it boosts our app's visibility. We want this app in as many hands as possible, and that is an excellent way to thank us. Likewise, if you have already left a review, and it was negative, please take the time to amend it if you feel our progress warrants it.
Finally, please use our Windows Central UserVoice page to continue to make requests and report bugs, as it helps us tremendously.
From our developer Daniel Gary, myself, and the whole Windows Central team, thanks!
Download Windows Central for Windows 10 and Mobile (opens in new tab)
Windows Central Newsletter
Get the best of Windows Central in your inbox, every day!
Daniel Rubino is the Editor-in-chief of Windows Central, head reviewer, podcast co-host, and analyst. He has been covering Microsoft since 2007 when this site was called WMExperts (and later Windows Phone Central). His interests include Windows, laptops, next-gen computing, and for some reason, watches. Before all this tech stuff, he worked on a Ph.D. in linguistics, watched people sleep (for medical purposes!), and ran the projectors at movie theaters because it was fun.
Love goes both ways @ WindowsCentral. :)

Why doesn't my live tile ever update? Lumia 950

Maybe because you're still using that Lumia 900 stuck on 7.5..... Hahahaha!

Check your app settings if you have enabled the live tile or not.

It is on and has always been in my settings, too. The live tile never worked in any version of the app.

Try unpin-repin & toggle on-off.

Lol these problems seemed to crop up more since 8.1

Very nice, well done team! Looking forward to downloading it.

Comment signature removed because people abused it. This is why we can't have nice things

It was never really even a nice thing. Flair like on Reddit is a nice thing. Signatures were badly designed and therefore impossible to make them non-obnoxious.

Just wondering, how were people abusing signatures? I don't look at the comments section too often.

By putting in signatures that had abusive and indecent language.

Like Posted from Android?

More like "Posted from PornHub" rofl

Android is far more offensive than PornHub!

Oh I've seen those signatures before, but I never thought anything of it. I was thinking there might have been some that were actually offensive.

Thanks to C A T F I S H. Posted from PornHub. (His signature).

That was the only one I could think of... And it's not that terrible... I mean people can still write that word on the comments itself, right?

So glad that the comments signatures are going. They can bey very annoying.

If articles loads from notification, i found comment box hidden. Anyone??

All I hope is that crashing has been fixed
Thumbs up for the the development team.
I wish all apps were like this one

Next thing should be to reduce the text size of the news header on the main page so it's not truncated all the time on pc & mobile.

They should add the option to save articles for reading later . Otherwise the app is great.

Offline save would be nice too. Cache it for a few days so you could read it anywhere you want.

There's already something like that in the app. When you're connected it refreshes articles list and downloads the most recent ones (only the text though). But I agree that having the option to save any artcle to read offline later would be very nice :)

Now this app is seriously becoming the most beautiful app available on any platform... Well done man, well done

In 10586 build notifications don't show images.. Any one with the same problem.?

Only supported on Redstone builds.

Dynamic Theme app shows pictures in notification in build 10586. Why not other apps?

I love how headlines are now superimposed over images. It looks really neat.

So do I, but I don't like that I can no longer see number of comments most of the time.

Downloaded! Hoping for the notification number on the live tile fix to work. So far, nothing, but I have high hopes! Also, any chance of Live Tile Color Customization in the future? Thanks for the hard work!

Great update but crashes have increased unfortunately and still no live tile count badge. Anyways, the app is heading in the right direction with the addition of such new features. Thanks.

It's looks awesome and works perfect

It looks absolutely fantastic! Good job guys.

We appreciate the good work you are doing team wc. Great work.

Oddly podcasts don't play when you click play. And because there is no inapp progress, if a call comes in I think you'd have to start from the beginning again. Nice to see a list though.

From launch this app has been improving every week it feels like! Excellent job. I love the app :).

Thanks for addressing login issue in this update....

Thanks so much for the good work!

Thank you for removing signatures! Are they also being removed from the Android app?

Glad I don't have to see all the posted from adroid signatures any more!!

That's providing they've been removed from the Android app as well, which the article didn't say. I hope so though.

Daniel confirmed just above!

Simply a job superbly done. Excellent work guys, keep it up.mt only gripe with this app os that when I want to leave a comment, the keyboard overlaps on the comment box so I cant see what im typing. Even worse if i have the app running in the background and then open it via a notification, if I then proceed to leave a comment its impossible because of the issue above-mentioned. Even typing this comment I cant see as I type, I have to use the back key to retract the keyboard so I can see the text and then eventually post the comment.

Yeah it's a problem, but in the meanwhile you can move the keyboard up or down holding the space bar.

Ah, I always forget about that feature. Thanks

If the live tile is set to off I would not expect it to update with any sort of numbers... Unless I am missunderstanding something. That's actually one of the reasons I now never pin the Windows Central tile. I want it to be off and just show the Windows Central logo (I also don't want it to be doing any work unless I specifically go into the application) but it insists on updating itself (or it did in the original version, can't remember). To me off, means off, not off but we'll still add something to it. I'm probably in the minority though.

Almost everything is slow in 2G ;]

Swipe to comments is not working for me

Nah, it's fine. You're probably just not hitting the edge right.

I hope swiping from article to comments is as easy as it is for comments too articles.

Now that's a good app almost as good as the old one.. Nah I'm just messing ;) Great work lads keep them updates coming.

Very well done. Looks ace on my 950xl, great layout.

Very beautiful, I really like this app

Very nice, hope it doesn't crash anymore when scrolling too fast trough the comments. The news feed finally looks good!

So. How do I get this app on my phone? I have the old app. Is it not supposed to update to the new one automatically? Or are there two apps now?

There are two apps for those who still prefer the old one Windows Central for Windows 10-Nokia Lumia 830

Additionally, I'm not sure if vincent knows this, but the new app is only on Windows 10.

Ah. Well, that's kind of weird isn't it? But I did do a store search and see there are now two Windows Central apps. Looks like I already have the pink one so let me try the green one now. And I do have a Windows 10 phone, I guess I was just expecting it to be an update to the existing app. Anyway, thanks for clarifying.

I can swipe from comments to article but can't swipe from article to comments. Why is that?

Grab it from the right edge, it's fine, it works.

No it doesn't on my 930???

Touch the edge of the screen. From article to comments you need to touch the edge, not the centre like from comments to article.

Yep, that's right. Many thanks.

Still takes too much time to open a article with many images... You should make the images load after the article is open! This is a real issue for users with slow net.

This is a very nice improvement! Well done guys, please keep the goodies coming!

Can the live tile show unread count? I don't want to have notifications but I want to have new article counts in the live tile, just like 8.1 version.

Keep the Live Tile set to off and see what happens.

For me, nothing :( Couldn't get a counter on the tile since the release of the app, no matter what setting I try.

Same for me, no badge counter

Been a few days now, and still doesn't work for me either, no matter what I try. I have both apps pinned, old app gets notification number no problem, new app still nothing. :'(

Swipe to comments is much smoother now ! Thanks

Still crashes when I open the app.

Did you open again? Crashed for me on first launch, but I figure because the suspend state was not valid for the newly installed version.

Excellent! Except the redesigned news feed with text over darkened picture ...

Okay, got used to it, looks nice!

Nice! There's a lot of good stuff here. I have a suggestion (more of site feedback than app feedback): Add a Hololens category for all Hololens news. Now that HoloLens is out in the wild and you guys have one in-house, there's been an influx of Hololens related news here which is awesome, but finding them can be a bit of a pain sometimes.

Lmfao finally no more 10-line long ​"posted from my Black hairy Microsoft Lumia 1520 Deluxe Edition 5.0" screen with Microsoft (tm) Windows (tm) 10 Mobile 1511 Build 10586.420 (blaze it amirite lelelelellelellel) with Windows Central App Build 23.0.1, personally approved by Daniel Rubino that sexy sumbitch i heard - it's a scary old beast i think :D :D :D :D"

My laptop is still a scary old monster, I think :P :D But I'm proud that my (ex)signature just burnt into your mind :D

Really liking the new update - great new layout, seems (much) faster and great new options and features. TY and great work to everyone involved!

You guys are killing it!! Take a bow!

Notifications for comments doesn't work. It just says "new notification" :S But other than that, the app is great ;)

When will the statusbar be hidden? Its a waste of space imo

Make removing it an option. I like to see that I've spent the last 95.0 minutes on the site, and probably should move on to something else. Like cat videos on YouTube.

Add gray color for notification bar when app is open.

So much happy with the update and improvement

I think the old comment sections are easier to read. It's hard to tell what is what on the new one. Too confusing for me...

Speaking of that... When I try to comment the type window is hidden and irretrievable. On the old app I had that issue but clicking back and clicking the type window It'd be normal. Lol.... Obviously a common issue down the line. 950xl

Mine does that, just drag the above comment up and the box appears, no need to press back bitton

Fantastic, now updating !!!

Live tile looks much better now.

You guys are really taking advantage of Windows 10 features. Amazing job!

Removing signature? Means that I won't be able to send comments from a black hole anymore? Sent from a Black Hole.

Many thanks for the update. Nice work.

Every time I see these news, I miss my 930 so much!! I was using it as a secondary device, but my 2-year-old kid managed to break it... I'm thinking of getting a refurbished 830 now. Posted via the Windows Central App for Android

...the buttons do not wear colored background, only the icon is colored.

Great stuff guys! Keep the updates coming. Thumbs up!

Love the new look, very nice, possibly some work on the speed at which articles load after opening the app would be nicer but hey, all in due time. Keep up the good job

I just wonder why there are two windows central app in the store. Anyone notices it?

One was written for Windows 8 and is no longer updated. The new one is a Windows 10 UWP app. The old one is still needed for those on Windows 8.

Nice. Thank you for the answer.☺

Because the old one still works better than this although being lack of updates.

You guys should add the feature to only download low quality images on data

Dona sarkar is an idiot. She should have resigned. In the latest mobile build .364. The app icons in the notification has gone(currently, it is showing store icon when the app is updated). It was one of the best thing in the last 2 builds.

Dona sarkar is an idiot. She should have resigned. In the latest mobile build .364. The app icons in the notification has gone(currently, it is showing store icon when the app is updated). It was one of the best thing in the last 2 builds.

Dona sarkar is an idiot. She should have resigned. In the latest mobile build .364. The app icons in the notification has gone(currently, it is showing store icon when the app is updated). It was one of the best thing in the last 2 builds.

Nice still wish you would bring back offline list :'(

Nice still wish you would bring back offline list :'(

Hi all , I have never received any notifications from this app. I run the production build. Is notifications present only for redstone builds.

In the settings -> notifications section I can't check the 3 boxes for the notifications for comments and forums.. Am I missing something here? not enabled yet?

Wish the comment tab was next to share tab.. Does anyone else think or just me

Weird. Just got a notification four days after the start of my new data cycle of this month saying I've used all my data. Looking into the Usage details I see that Windows Central is sucking up tons of data. 2.5 GB in the last four days Total. This is odd seeing as though this app has never been a data hog even for how often I use it.
Update: After leaving this comment and editing it I checked again...data usage of this app up to 2.9 GB now.

If you're playing videos or if you checked the option to "download podcast episodes" it will have downloaded them all. In the future, we will add an option to only download a set number.

I don't know if it has been already said before, but could you guys consider adding an ability for the app to match windows accent colour

Still waiting for the option to download images -.-

Still waiting for the option to download images -.-

Very bad update! App now crashes everytime on my Lumia 950 when you try to scroll down, I did reinstall the app but same problem.. Fix asap!

Managed to get rid of the issues by cleaning app cache and signing in. It now works nice and smooth, maybe a rare crash here and there scrolling the comments.

Please add the save to offline feature

I like that swiping between article and comments over a corner down the screen. It wasn't comfortable to do it over the top of the screen.

it does not work. crashes on splash screen. lumia 950 xl.

Glad to have the Refresh Button finally on Mobile, as I tend to use a keyboard and mouse with my Lumia 640 on a fairly regular basis, especially if I'm going to be posting somewhere. If I'm at home, I've got it paired with Bluetooth, and I'm not going to use that on-screen keyboard that takes up too much screen and predicts all my words incorrectly. Yeah, like now.

Good job! Only thing I still miss is a working live tile that shows an unread article count and refreshes the articles shown with new ones and not just with ones from last time I opened the app.

There's still no tile count for unread articles. I've tested with live tile set to off and on and re-pin every time. Already posted in feedback hub for WC app.

For me crashes everytime I want to open it. Somebody else has this problem?

Wish I could adjust the font size in the comments section too.

Such an beautiful update....and now once again WC becomes the best looking and functionality app on my device...beating official twitter app.. :D