New Windows Central App update delivers more reliable Live Tiles, stability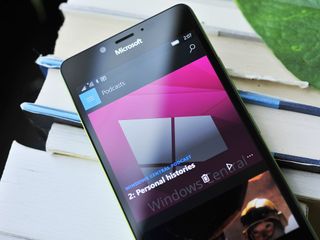 Hot on the heels of yesterday's feature update to the Windows Central app comes a quick bug-fixing one. Build 37 should be rolling out to the Store now and with it comes some significant (we hope) stability fixes for those with lower memory devices.
Update: For some users still experiencing issues, we encourage you to uninstall the app and reinstall this new version as that seems to fix some crashes that we have not documented.
Update 2: We're pushing a hot-fix (build 38) for when a phone is in Airplane Mode and it crashes. It should be live soon.
Here is what you can look for in the latest release.
Windows Central App Build 37 (1.1.37) 38 1.1.38
Live Tile works for real
Fixed crashing issue related to database access
Fixed crashing issues in comments
Fixed large font on Live Tile for non-HDPI devices
Fixed app crashing in Airplane Mode/No data connection scenario
While we have noted similar fixes in the past, Daniel Gary and his team have worked diligently to find some persistent errors that caused Live Tile instability (e.g. they stop working) and general application crashing. While we can't guarantee anything, we're feeling very confident that this update will solve a lot of problems for some users.
As always, if you do encounter some bugs or crashing, please report it to our Windows Central UserVoice page so we can try to reproduce the scenario on our end.
Likewise, if you find this build to be stable, and it fixes your issues we always encourage you to leave a review in the Store (or revise a previous review if you had problems that were fixed). Store ratings and reviews greatly help our app's visibility in the Store so if you want to thank us, that is the best way!
Download Windows Central for Windows 10 and Mobile (opens in new tab)
Daniel Rubino is the Executive Editor of Windows Central, head reviewer, podcast co-host, and analyst. He has been covering Microsoft here since 2007, back when this site was called WMExperts (and later Windows Phone Central). His interests include Windows, Microsoft Surface, laptops, next-gen computing, and arguing with people on the internet.
Fingers crossed it works out for you guys!

My only issue with the app is the comments scroll crash, aside from that you guys have done a wonderful job. Keep up the great work. Looking forward to new features.

The app crashed after updating it several times on the splash screen and when scrolling in the comments. I've uninstalled and reinstalled the app and now it works flawlessly. this makes me wonder if you generate the store app package as an "app bundle" and if the crashing problem is related to it. just a thought Update: after uninstalling and reinstalling the app seems to resume from background without crashing.

Crashes on my L830 with latest "fast" insider

Crashed a few times on my phone.

This build has been out for 2 minutes and it crashed "a few times"?

Yes, when I tried to open app it crashed tree times. When it finally started now it does not crash. Edit: It also crashed when I scrolled comments.

I'm still on build 34 of this app.

Happened on my l950 as well

38 definitely crashes scrolling down comments

Yup.. Not nearly as easily than it used to, but with previous build I couldn't make it crash even when I really tried. 950XL

Me too, would not open properly after update. Had to uninstall and install again

Same here on my 950. Tried to open the app and it crashed 20 times. Uninstalling and re installing worked for me also

Yep crashing for me too on 950xl, working fine on SB

Yes! It always crash on start up for me, I wonder if Lumia 640XL is part of low memory devices.

Yes! It always crash on start up for me, I wonder if Lumia 640XL is part of low memory devices.

Still crashing for me in comments. 640 XL on 14379, hard reseted, seems there are some deeper issues...

Updated!!! Keep on rocking you guys!!!

Crashing at launch quite a few times after update.

Not much of a bug but thumbs up and down isn't working like it should. You can enter endless thumbs up by simply close the app and start the app again. So I can give someone 100+ thumps ups or downs. Found one bug. I can only give one comment.

Thanks for this. I'll see if I can track it down.

You actually can't vote more than once, but you're right, it does seem like you can.

I addressed this months ago, but it is just a visual thing. Once you refresh comments you'll see that you have done a maximum of 1 vote.

Yup crise is right...once i really wanted to down vote this guy cause he was ******* everyone off....the repeated downvoting wasn't permanent...although that -67 was quite satisfying to see for those few moments... :D

AFAICT it doesn't permanently affect the score, though. It will revert when you restart the app.

So when I give a thumbs up, leave the app and come back, my up is gone?

No it's just max +1 or -1.

No, like I said... it's gone. Tried it several times. No worries here, they will fix it.

The thumbs don't stick though, do they?

Live tiles seem ok so far.

Yep, finally. Counter never worked for me. Now it does.

Still sucks. From day 1 first build I've never received a single notification! Unreal. I'm running Lumia 1520. So I keep the old wpc app so I can get notifications. Smh sad

I'd like to help with this issue. One thing to check is go to windowscentral.com/follow, login, and make sure at the top, under mobile, "Articles" and "Comments & Forums" are both checked

I'm not getting notifications either. When I navigate to that address, it tells me notifications for Windows Phone is coming in a future update and there is nothing to check. I've got a screen shot, but no way to post it here.

There is an option in the Windows Central app to enable notifications. Please check there first to see if that solves your problem.

Did that first. No help there either. Still no notifications from the app. I am just getting them by email.

Make sure they're enabled in your Windows settings too. Also, make sure it's allowed to use background services in the battery section.

After update constantly crashing on my phone :(

Can you try uninstall/reinstall to see if that fixes? We haven't seen this, and I'm curious what's causing it.

Thanks, this seems to have worked for now.

Okay, 2 crash scenarios of the app (build 37) I can reproduce always: 1. Turn of data and wifi connectivity and launch the app. Always crashes. 2. Clear the app from the multitask screen. Launch the app. Crashes for the first time, loads the second time.


Thanks for this. Turns out we definitely introduced a bug in build 36 that would cause the app to crash in airplane mode at launch. I am not able to duplicate #2 however. So far, killing/launching works every time. We will push out a fix for the airplane issue today. Thanks again!

You're welcome :). I'll reboot / reinstall the app to see if #2 is fixed.

Tried those and my results are for 2. Am my 950XL this doesn't happen. For point 1, isn't that expected? AFAIK, this app doesn't support offline articles yet and when launched it tries to fetch articles and this process needs a data connection. I maybe wrong however but this seems like the expected action to me(the crash) or the dev can either put a placeholder message stating that data is needed until they implement offline support.

It actually does. All articles are cached offline. Podcast episode fetching is what's causing the crash currently.

Ahhh, I was typing as you posted so didn't sew your reply until after i have posted my comment which made my comment irrelevant. As a thought, is there a way to have the comments section auto refresh to show new comments or even show a little notification within the comment section to say a new comment has been made?

Seems more crashy - sorry, I know that's going to get Dan's goat, but it crashed 4 times now.

Uninstall, reinstall 1.1.37, now it doesn't crash

Getting ringing for new comments on articles I have commented in but so far it's only been while the app is open and never when a new article is posted. (yet) will watch for that thou.

Thanks but...... it's crashing more now, especially while scrolling through the comments and the live tile is still the same (meaning it becomes blank and stays that way for sometime after closing the app) except the font size :| Tried reinstalling. L830 here.

Lumia 830 - are you on redstone?

Yup, build 14379. Also cannot scroll in the Article section on PC. The scroll bar seems to be stuck.

Found another bug. When replying I keep the replybox in my screen. And, again. Can't submit a new comment.

Had to uninstall and install for it to work. :-\

Yep worked for me too... glad its working, just trying to set up notifications and settings again :)

Is it normal that it doesn't show any image in the notifications? (it stopped doing that since one month, more or less)

Seems the crash issue is selective .
I experienced crashing on build 34.
The only thing I would love is links to a comment

I love this app, very nice design and customization features. However, I am not receiving any notifications, and have not been getting them since I first downloaded it two months ago. Setting is enabled within the app, and app is set to allow-always in background tasks, I don't see the app registered in the Notifications & actions page though. Have tried to reinstall and disable/enable the setting, but somehow the setting does not appear to register correctly. 930 Win10 Slow Ring. Any ideas ? Notifications did work in the old app though..

Same here, can't receive any notification

Just realised you have to sign in on the website to change the setting to stop the email notifications. Hehe

Congrats I haven't seen the comments scrolling crash yet this time. One thing I'd love to see is adjustable font size in comments.

Keeps crashing after update.

Crashing for me whenever I try to take advantage of deep comment linking :(.

Delete, reboot... install. No luck, still can't submit a new comment, only reply (like this one).

Just had the scrolling fast app crash a min ago

The app is good overall, but the lve tile fonts are still big.
On PC: https://1drv.ms/i/s!ApcRiFXMBDN5ovtfrTJg_LOtodMJmg
And on mobile: https://1drv.ms/i/s!ApcRiFXMBDN5ovtgDhEujK1MIsNzDw
The other thing is, when I swipe the navigation bar away on mobile, while seeing the newsfeed, the "Pulls to refresh" text appears, like this: https://1drv.ms/i/s!ApcRiFXMBDN5ovthIGa4Wfr3vWAl6Q
This only happens when first starting the app. If I swipe to other news categories, or back to all after it, it doesn't appear.
And I have some feature requests too:
Links should be clickable in comments.
And it would be nice if we could insert images and/or emojis in our comments. If I insert an emoji from the keyboard on mobile, the app can't send the comment until I remove t.
And finally, being able to chose which news category is displayed in the news feed, and/or change the order of those categories would also be nice.
Anyway, keep up the good work guys ;)
P.S.: The comment deep linking is awesome! :D

This man this... Why you cant fix this problem....that pull to refresh statement which appears every time,i hide the navigation bar.... Please fix it

Yes, need clickable links!

It's getting better and better...

Can't add new comments only replies after adding 5 or 6 new comments. But after closing the app one or two times it sorts it out and shows the text input box again.

Had to reinstall....but now works very well...no crash so far... Great work!

UPDATE: oh...no...it started crashing.... more frequent crashed then before....

Deep linking to comments still doesn't work for me. It just goes to the newsfeed.

Didn't this app also support deep linking to articles? Tapping on an article notification is taking me to the last opened page in the app instead of the particular article.

Still keeps crashing even after updating to 1.1.37 build. Lumia 640 LTE fast ring latest build.

It still happens even after reinstallation of the app.

And now please stop adding any new feature in the app. First make the available features usable and smooth... Please

Of course adding features will cause more instability because of the more code used. You can either have a rock solid barren app or a slightly unstable, feature packed app. Once the app is fully tuned for TH1/TH2 and RS1 capabilities, they'll go back to fine tune, polish and optimize as best as possible.

Mine also crashed after upgrading...........

Still dont see the previous update on my 1520. Getting an official os update on my 735 though. No idea what it is about.

Wouldn't update news beyond yesterday after update. Reinstalled & works fine. Keep up the good work.

Live tile works great now! Headline and sub text is finally readable on a L950XL :P

No longer opens after latest update.

Please make live tiles like old app's

I can not see in settings> notifications either, I press the more settings in the app and get this "Push Notifications is currently only supported on Chrome Android, but the next release of our native apps for iOS, Android, Windows Phone, and BlackBerry 10 will enable mobile push notifications" What's that all about ??

In forum area thread titles are trimmed too much. Make font smaller, increase number of visible characters. Thanks.

Still, crashes on my 550 3 times before it opens.

Still crashes. Even more now than before.

The Live tile still only shows the articles until the time I last opened the app. Before the update there was a counter on the tile for a short time but it's gone again now. Already tried reinstalling. I'm on a 1520 with regular release W10M.

Shouldve hired rudy huyn to work on the app. He'll probably make it more user friendly. lol

The current developer/s are awesome. The UWP WC app came a long way since launch. The old WP8.1 WC app never was a truly universal app.

Noticed when you sort by newest post first then add a comment it reverts back to oldest post first. Then you have to change it from newest to oldest let it bring up the comments then change it from oldest back to newest to fix it again.

It just crashed while typing a comment here in reinstalled build 37, Lumia 735 10586.420 Edit: Crashed again while scrolling comments Edit 2: Again. Before it crashes while scrolling(upward), looked like it ran out of comments and exit.

Fairly minor issue in the bigger picture, but you changed the tile design. Don't do that. Nobody likes seeing their start screen customisation changed for them.

Updated... But version is still x.x.37

I am on 1.1.37.0 just did a store check for update and nothing so don't think WC have pushed out a newer build yet.

If I want the app to show tile count only, should I turn on live tile or turn off? Can't seem to get the tile count to work even after several update. Build 37. 950XL DS.

Same for me, what should be the correct settings to get that badge counter working?

Not seeing any more crash. Live tile text font is made smaller which I wanted ☺. Build 37

The app keeps crashing and is unusable. I just redownloaded it. And I know it's not my computer - I have a super hand built gaming PC. Please fix the crashing !

Hi,
First of thanks for the update. Lovely to see that you have fixed the font in the live tile that was bothering me a lot, but unfortunately this hasn't fixed my app crashing issues as it still crashed in the comments section and once while opening. The comments crash seems to be due to fast scrolling when I scroll fast the app takes time to load the comments and it goes black. I am not going to hassle you guys , i see that the app is for free and without ads so i would like to thank you for your efforts and also would like to encourage others to do so Peace

Shows me the version as 37

Seems like crashes in comments section is solved for certain extent. Live tile working for me since day 1 and the thing didn't work was unread article count, which is still not working. Other than that things runs smooth no problem.

The biggest problem I've had with the app is that it almost never resumes properly on my Surface Pro 3. I'm running the latest version of the app and the release version of Windows 10 Pro. If I switch away from the app for a while and go back to it, it is almost always frozen. It either accepts no input, or is a big gray box with a title bar. This happens on both a work computer and my personal Surface, so it's not something particular to my system.

I still don't see build 38 up in store yet. Build 37 crashed on both my phone and pc running build 14379.

In landscape mode, the font of articles become too big. It's ok on comments section, but not on article section.

Make your voice heard here: https://windowscentral.uservoice.com/forums/348765-general/suggestions/1... This issue goes on since day one of this app. -.-

It is a mark improvement. Great job. Thank you.

Still on build 37 no sign of build 38.
But not having an issue with my build

Im still on build 37. Haven't got 38 yet.
This one crashes on app launch again.
Workaround is to start scrolling as soon as the news feed pops up.

App doesn't open properly on my Lumia 950XL, retail/production release. It opens so that the grey background and the headers are there, and then freezes - articles don't appear, the three dots at the bottom are useless, swiping my nav bar down reveals a black bar where the app normally fills the space. Pressing Start to return to my start screen doesn't work, as when you long press the back arrow, 'Start' and 'Windows Central' both share the same screenshot. That only gets solved until the WC app is swiped down and closed. Very weird. Works perfectly on my PC though!

I would wish the ridiculously large font size when in landscape mode would be fixed soon. I simply cannot use the app in Landscape as I can bare see a few lines of text on screen due to the large font size. If you are also annoyed by this:
https://windowscentral.uservoice.com/forums/348765-general/suggestions/1...

Still buggy af on HTC One M8 Windows

It is still freeze then crash. Especialy when my wifi disconnect .

Uninstalled and reinstalled app to what's meant to be build 1.1.38.0 which shows in settings still as build 1.1.37.0 which in the store after following the link in article still shows its build 36. In comments. Section i can now see a button saying show all comments (comments have been filtered) first attempt to scroll down resulted in a ( app close ) crash. Will mess about with it some more and keep you updated. For build 1.1.38.0 follow the download link in this article you will notice Daniel has scored out the 37 and added additional text ie Update: To the article but the download link now points to build 38.

I'm still on version 37 and I installed the app today. So no version 38 for me available in the app store. (lumia 830)

Read my last comment it still shows as build 1.1.37.0

Still crashes many times on start up. Lumia 735.

It crashed on first opening after update, but running perfect now!

Oh and running it on my 920

The app started crashing right after the splash screen. Good thing that is fixed.

the store is not showing the update, im still on 1.1.37, i tried using the link from the site and the store shows me build 36 is the latest? thats kinda weird when i have biuld 37, i am missing something?

Still crashes when reading comments.... It also crashes when we tap the screen while a page is loading.....

My app stopped sending comments to my action center. I'm now getting them through email.

PLEASE for the love of god will you get the small iconic tile to work? That's all I want and I will be forever happy with this app. Every update says "tiles should be better now" and now update 37 says they are totally working. This is wrong as many people including myself are still having issues with them. Im using a 950, uninstalled and reinstalled, still no iconic tile. Why cant this be simplified? Why can't the tile options be like they were in the old 8.1 app? They were perfect. Why all this trickery where some people say to activate tiles but not the flip tile, but then some people say to not activate the live tile at all for an iconic tile? Why make it so confusing? Tile issues have been on uservoice since day 1. I dont get it. Looks like i will be uninstalling and reinstalling the classic app for what is probably the 20th time. Sorry, very frustrated.

Just so you guys know, Action Center notifications rarely take me to their articles if the app is already open. And I couldn't swipe left to get to the comments on this article. Also, this comment was posted on the wrong article the first time I posted it.

Hi, I'll be happy if I can tap on to a link in a comment

Why don't they just retire windows phone!! Posted via the Windows Central App for Android

I had to reinstall as it kept crashing. Now on the latest build and it still crashed but working right now. Still has issues I fear. I also got duplicate articles.

Mobile version constantly crashes

Build 38 crashes consistently on the opening screen for me. I don't even have to interact with the app in any way. On the opening screen it just crashes. Basically the app is unusable. Running the production build of W10 desktop.

Forgot to mention I tried the uininstall/install trick. Made no difference.

Crashes when scrolling through comments, the reply button still not fixed....like WTF!!! And seems like no one is talking about the reply button not working!

Why the live tile cant Just be like the one on the old windows central app. The old one was great.

GOT UPDATE RECENTLY IN INDIA

Still way too many crashes when launching spp.

The latest build crashes a lot on RS, not only on launch but also on use. It's getting worse with every release.

same here for crashing back to the web version for now

can you change the author and date's color on the article to white? because the text are black here and depending on the color of the article's tile image i can't read the author, date and comments counter..
Windows Central Newsletter
Get the best of Windows Central in in your inbox, every day!
Thank you for signing up to Windows Central. You will receive a verification email shortly.
There was a problem. Please refresh the page and try again.