Windows Central app for Windows 10 gets improved article loading, better memory management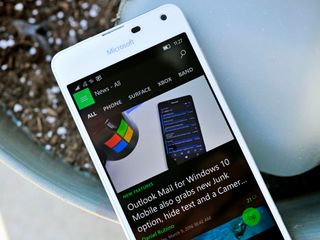 Another day and another release of our new Windows Central App for Windows 10 and Mobile.
Following yesterday's build 19 with the option to hide QR codes comes build 20. That version is now rolling out to the Store and with it hopefully some improvements in app performance and loading especially on Windows 10 Mobile (the PC version is much faster for obvious reasons).
Here is what you can look forward to with today's release, which should be on your devices in the next few hours.
Windows Central build 1.1.20 (Build 20)
Improved article loading experience
Reduced memory usage for article viewing which should result in fewer crashes
Refresh indicator on the main page
Improved article header formatting
Many of these fixes are some of the top issues users have reported on our Windows Central UserVoice page so make sure you keep taking advantage of that tool to help us help you.
There is, of course, still work left to do but as you can see we're tackling groups of issues and pain points as fast as we can. Things like haptic feedback on article loading and some Live Tile improvements are likely slated next.
Update: App update is live now, but we noticed a few small bugs including hyperlinks going back to default blue (instead of matching theme); we'll be pushing out a hot-fix shortly.
Let us know what you think of the update in comments.
Download Windows Central for Windows 10 and Mobile (opens in new tab)
Daniel Rubino is the Executive Editor of Windows Central, head reviewer, podcast co-host, and analyst. He has been covering Microsoft here since 2007, back when this site was called WMExperts (and later Windows Phone Central). His interests include Windows, Microsoft Surface, laptops, next-gen computing, and arguing with people on the internet.
I just posted a feedback regarding a bug in build 19 and here's a new build again. It's good though. Btw, along with the QR code, the extra download link above it could also be hidden. That and the download app button do the same thing. PS: The title text font needs to be made smaller and regular. This update made it gigantic w. r. t. the rest of the article text. Line spacing is ok. Also the size of author name in the article has become huge.

Come to think of how the Windows 8.1 Windows Central app got only one update when I was on Windows Phone 8.1.... *smiles* Makay Chapulets | MTN CCR
Posted from my Lumia 640XL running Windows 10.

Wow where'd you get a white Lumia phone?

When did that happen? Can I get it now

Yes it's available now. Absolutely gorgeous budget Lumia. The Windows Central Universal Application for Windows 10 Mobile on a Nokia Lumia 830

Someone with a Lumia 830...... Someone like me. :'(

reminded me of Adele LOL you should put it as your avatar lol

How to add new comment. Pls there is no option to add new comment in this app. Posted From My Lumia 720 W10M

Though I'm not a fan of white phones because of the sensors at the front but I've loved the white lumia recently displayed as articles image.. Now I wish mine was white.
Makay Chapulets | MTN CCR
Posted from my Lumia 640XL running Windows 10.

Is push notifications working in windows central app for windows 10 (build 20). Please let me know, coz in build 19 when i enable it and reopen app after sometime it's getting disabled automatically.

Thanks guys. Sent from Windows Central app for Hololens

I love how the store hasn't even shown build 19's update information yet. I know it takes 16 hours, but still funny xD. You guys are quick! Zachary Bowling - ZAD Apps

Got the update late last night

Really like the app. Forum section needs a lot of work though and the comment section can be hookie.

Live tile article count doesn't really seem to work either. It's beta though. Will get better.

Thanks for the update! Now if we could have an unread article count on the tile... :D

It's actually there already. Whether it works or not...well, Win programming is complicated. Working on it.

Ok - I'll dig deeper. I haven't had a tile count since installing the beta, so I figured it wasn't there yet.

No, I'm not seeing anything to turn it on or off (other than the live tile, which is on).

Hi daniel..windows central notification not clear automaticaly when opening app from start screen...

I've mentioned it in feedback but mentioning it here again, can we have article bookmarking, as it would make it so much easier to go back to articles, as opposed to having to scroll a lot or remember when the article was published in order to read it.

Now we need jump to 1st and last in the forum chats....and pages is better than 1 long one...

Waiting patiently for the general release of win10m for my Lumia 730

When u ll fix article header size. Header font size is too big and there is empty space on both sides. Do it like WMPoweruser App Posted from Windows Central for Windows 10

Click on notification doesn't redirect to specific article....is the known issue!

We wrote about that in our earlier posts. It's coming, but a lot of work. Not a simple switch we throw or a line of code.

Ok ok, things are getting better by each day, and that's why we love WC's app than any else ☺

Quick comment: Link color in article switched back to blue color.

Already noted in the article.

Any one installed it on lumia 1320 ??? Reply plz ...

Links are difficult to read, but app coming along nicely Posted from Windows Central for Windows 10

See the update note. It's a bug and we'll be doing a hot fix to address that shortly.

Just got the update. I can see the hyperlinks defaulting to the dark blue and also a few formatting bugs. The "add comment" button for comments is half covered by the ellipsis. The Windows Central Universal Application for Windows 10 Mobile on a Nokia Lumia 830

Addressing that in the hot-fix for today.

Great to hear. You guys are doing great with the application. How large is the team working on it?

Thanks. Just me and Daniel Gary.

That's really impressive. I look forward to future updates. Have a good day.

Just downloaded, love the new app! :) P.S it's starting to feel awesome on windows (new instagram, new facebook, new windows central and etc) !

I have no comment because am on windows 8.1 and the app is nothing to laugh about

Cant see no update in the store Posted from Windows Central for Windows 10 mobile

The first page of comments doesn't easily scroll down but it scrolls up to the article!

Great app... Will post this/vote on uservoice too, but could email and toast comment notifications link straight to the relevant article and comment too? Otherwise loving the app, great work too everyone involved. Posted from Windows Central for Windows 10

Is it just me or not who thinks the fonts are horrible? Spacing and size is just out of place. That's why I won't switch

The WP8.1 forum and comment system is much more efficient for speed reading. All that was missing was votes, and to a lesser degree avatars

Article header font too big on 1520

Yeah the header for this article uses mire than half of the whole screen! Make it smaller please!

Much better now, loading time is improved , less freezing too, good work dan Posted from Windows Central for Windows 10 mobile

However notification counter still not working Posted from Windows Central for Windows 10 mobile

What we need is a button to navigate from first/last comment in articles AND forums.
It's impossible to see the last post in a forum post that contains more than 100 posts... It's a pain.
Nice work for every other things.

Live tile isn't working well. It never shows the unread articles counter, the articles it shows don't refresh until I open the app and half the time it's static. Am I the only one? Posted from Windows Central for Windows 10

For the articles that having download apps icon below, I can't see the add new comment icon in portrait mode. I have to rotate my phone to landscape mode to get the icon to write this comment. Posted from Windows Central for Windows 10

Having same issue for me.. Posted From My Lumia 720 W10M

Still it crashes sometimes when I open the app...

Does new unread article counts show on the live tile now? I don't want to see other notifications except the new unread count on live tile just like existing version on WP 8.1

MAJOR improvement over the previous version, I'm liking it!
The behavior of the bottom menu is a bit weird and unlike any other app; moving to the top when viewing comments. Maybe comments could use space more efficiently so we can see more at a single glance.

I have an HP Stream 7 with a large fast SD card... it appears WC4W10 doesn't like being installed on an SD card. Are others experiencing this?

Plz add vibration on content loading feature

That's literally mentioned in this article. Also, use UserVoice.

Wen is it going to have accent colour for tile?

The forums page do not render properly on SP4 in potrait mode or when window isnt set to maximized.

Nice update! Article loading is fast now. Thanks!

Its much better now. Couple more updates will make it better than 8.1 in terms of performance. :) Keep going WC..

Working fantastic on my 950xl, such a smooth feel imo... Live tile same as everyone else but no biggie

The update isn't showing up in the store for me. I am on build 10586.164

I have a L550 and it still takes a good 7 seconds to open if it does open and it is still slow on this device.

Every single time i rollback my 630 to 8.1 a new build goes out, new apps, updates. Then i go to w10m again, 1 month later i'm sick of it crashing all the time.
That's my insider life in a nutshell.

Links color are still blue using dark theme, even if the uservoice issue has been marked as 'solved'

Still crashing, slow and sadly, unreliable...
Windows Central Newsletter
Get the best of Windows Central in in your inbox, every day!
Thank you for signing up to Windows Central. You will receive a verification email shortly.
There was a problem. Please refresh the page and try again.