Windows Central Podcast 137: What's the Shell?
This week on the Windows Central Podcast: Possible Windows Shell updates, Xbox at E3, and the IdeaPad S940.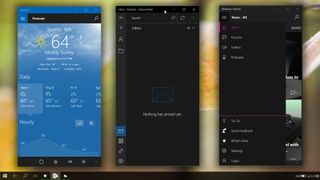 We're back with another exciting episode of the Windows Central Podcast, and this week, Zac Bowden and Daniel Rubino talk about big changes potentially coming to Windows shell. They also have more details (and rumors) about the Xbox news from E3. Finally, Daniel reviews the Lenovo IdeaPad S940 and crowns it King of the Ultrabooks. Windows Central has merch — You can get yours by visiting the link in our show notes!
This episode of the Windows Central Podcast was streamed live on June 14 2019.
Links:
E3 2019 | Windows Central
Subscribe to the podcast
Sponsors
Wix: Creation without limits. Visit wix.com/podcast and get 10% Off Your Wix Premium Plan — enter the code WIXPROMO at checkout.
Hosts
Make this show great by participating!
Send in your comments, questions, and feedback to:
Windows Central Newsletter
Get the best of Windows Central in your inbox, every day!
Zac Bowden is a Senior Editor at Windows Central. Bringing you exclusive coverage into the world of Windows on PCs, tablets, phones, and more. Also an avid collector of rare Microsoft prototype devices! Keep in touch on Twitter: @zacbowden.
Uhm are we ever going to be able to use this CShell/WCOS already? And I don't mean bs like HoloLens/IoT/Hub and other super niche and expensive things that 3 people are using in the entire World. Direct question to WC demanding an honest answer - Don't you feel cringy and stupid talking about vapourware for more than 3 years? Another question - Do you have numbers for usage of Windows IoT compared to Linux distros, because without having any data I can bet its laughably irrelevant to even mention Windows IoT anymore

Why are you on tech sites like this if you don't like to hear about potential future tech? Everything has a chance of not becoming a product or released as something, so if you don't like to hear about them then just wait till things are actually released. Secondly shell/Cshell/WCOS has been continuously evolving from when I first heard about it as Cshell, it will come when it comes. WC reports on Microsoft tech related news and this counts too. They aren't making random news up.

I dare you to go back past three years of WC articles and make a list of everything that materialized.

What, did you even read my comment? WC isn't Microsoft. WC's job isn't to "materialize" Microsoft's products/vision, they are REPORTING on news and developments within Microsoft.

They are not reporting on news and developments. They are reporting rumors and making up stories without any evidence of truth to them as usually turns out for hype and clicks

You have no idea how any of this works, do you? Everything we write about that hasn't been announced officially is based on actual work that's being done internally. We've seen it all with our own eyes. I've even used some of it. These are not rumors. Software is not made in a day. WCOS and CShell are decade long projects that started development almost 5 years ago. We should start seeing it show up more prominently soon. Apologies if you are unhappy with how fast things are moving, but we're not going to not write about the things we KNOW are being worked on just because Oraora will get upset at how long it'll take between him finding out about it and it actually shipping. Get a little perspective.

Interesting discussion about Windows Shell and its evolution. I'm no futurist but I have a vague idea of what my computing experience will be in 20 years. I don't think laptops are going away, they'll just be more flexible. I don't think visual UI's on screens (like a tablet or laptop screen) aren't going away either. (I suspect some of that will be supplanted with really futuristic stuff like brain implants and whatnot, but, yeah, this is why I'm not a futurist!) The point is that the basic windows/Windows metaphor has been with us for 30 years, and while that may be going away for a certain kind of computing (playing music, social media, chat clients) I'm not sure it's going away for serious productivity. Hence the idea that we still need laptop and desktop screens. What opens up the possibilities is how the shell(s) can change for different experiences (work, play, creativity, etc.). </amateur futurism> But we're not there yet. On a related note, I can't wait for Affinity Designer to really, actually support Surface Pen.

That's what the OS on my Note9 should look like.. If only MS had their business together.

That's what the OS on my Note9 should look like.. If only MS had their business together.