Windows Ink and Cortana improvements part of what's new in Windows 10 preview build 14352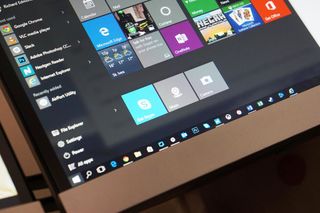 Microsoft has posted a list of what new features have been added in the just released Windows 10 PC preview build 14352 for Insiders in the Fast ring.
Here are the new features added to Cortana, according to Windows Insider head Gabriel Aul:
Cortana, Your Personal DJ: In addition to playing songs via your local files and OneDrive, you also now have the ability to play any song from the entire Groove Music Catalog using Cortana. If you have a Groove Music Pass, just ask Cortana to play your favorite artist, genre, playlist or song. This also works with Cortana on your Lock screen.
"Hey Cortana, play [[ song name ]] "
"Hey Cortana, play [[ artist ]] "
"Hey Cortana, play my [[ groove playlist name ]] "
"Hey Cortana, pause"
NOTE: Groove Catalog support currently for U.S. English only – other regions to come in the future
Set a timer: You can now set a timer using Cortana to remind you to go get a snack, take a break, or while cooking. You can set a timer, query how long is left and cancel using natural language. On your PC, this works logged in or above the Lock screen. On your phone, you can use speech or text. Examples below. We are continuing to improve the overall user experience including conversation mode ("set a timer", then specify the time), and enable turning off a ringing timer using speech. Try out:
"Hey Cortana, set a timer for 10 minutes"
"Hey Cortana, how much time is left?"
"Hey Cortana, cancel my timer"
The Windows Ink improvements include:
Updated Sticky Notes: With the latest update, Sticky Notes are now better than ever* with the ability to create Cortana reminders from your notes that will flow with you across your Cortana enabled devices. You can also ink or type a phone number and it readies itself for calling; write an email address and launch directly to email, write a URL and launch into Microsoft Edge right from the Note. A few jotted-down bulleted items become an easy-to-manage checklist. Don't forget that Sticky Notes is also a standalone app, just launch it from Start if you'd like to use it outside of Windows Ink Workspace.
Certain features are currently limited to EN-US, with more market and language support coming in future updates.
Compass on the ruler: We've updated the Windows Ink ruler to include a compass. If the ruler is oriented in the direction of any of the cardinal points or midpoints, the compass indicator will become bold.
General improvements to the Windows Ink experience: We have made performance and reliability improvements based on feedback including:
Sketchpad will now dismiss if you tap Esc or Windows key combinations (for example, Win + S or Win + D).
We've updated the export icon to be the more familiar floppy disk icon for saving your sketch.
We've polished the experience of opening Sketchpad when many ink strokes are present on the canvas.
We fixed an issue that resulted in Sketchpad sometimes needing to be tapped twice before it would launch from the Windows Ink Workspace flyout.
Sketchpad and Screen Sketch will now default to touch inking ON for non-pen devices. They will also remember the state of the button when you relaunch Windows Ink Workspace.
Going forward from Build 14252, the Windows Ink Workspace icon state (on or off) on the taskbar will be preserved after upgrading.
We have updated Sticky Notes to show a small sticky note icon next to the app name when hovering over the app in the taskbar or in Task View.
There are also plenty of other improvements and new features in this preview build
Get the Windows Central Newsletter
All the latest news, reviews, and guides for Windows and Xbox diehards.