Windows Ink and Cortana improvements part of what's new in Windows 10 preview build 14352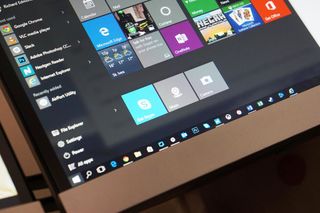 Microsoft has posted a list of what new features have been added in the just released Windows 10 PC preview build 14352 for Insiders in the Fast ring.
Here are the new features added to Cortana, according to Windows Insider head Gabriel Aul:
Cortana, Your Personal DJ: In addition to playing songs via your local files and OneDrive, you also now have the ability to play any song from the entire Groove Music Catalog using Cortana. If you have a Groove Music Pass, just ask Cortana to play your favorite artist, genre, playlist or song. This also works with Cortana on your Lock screen.
"Hey Cortana, play [[ song name ]] "
"Hey Cortana, play [[ artist ]] "
"Hey Cortana, play my [[ groove playlist name ]] "
"Hey Cortana, pause"
NOTE: Groove Catalog support currently for U.S. English only – other regions to come in the future
Set a timer: You can now set a timer using Cortana to remind you to go get a snack, take a break, or while cooking. You can set a timer, query how long is left and cancel using natural language. On your PC, this works logged in or above the Lock screen. On your phone, you can use speech or text. Examples below. We are continuing to improve the overall user experience including conversation mode ("set a timer", then specify the time), and enable turning off a ringing timer using speech. Try out:
"Hey Cortana, set a timer for 10 minutes"
"Hey Cortana, how much time is left?"
"Hey Cortana, cancel my timer"
The Windows Ink improvements include:
Updated Sticky Notes: With the latest update, Sticky Notes are now better than ever* with the ability to create Cortana reminders from your notes that will flow with you across your Cortana enabled devices. You can also ink or type a phone number and it readies itself for calling; write an email address and launch directly to email, write a URL and launch into Microsoft Edge right from the Note. A few jotted-down bulleted items become an easy-to-manage checklist. Don't forget that Sticky Notes is also a standalone app, just launch it from Start if you'd like to use it outside of Windows Ink Workspace.
Certain features are currently limited to EN-US, with more market and language support coming in future updates.
Compass on the ruler: We've updated the Windows Ink ruler to include a compass. If the ruler is oriented in the direction of any of the cardinal points or midpoints, the compass indicator will become bold.
General improvements to the Windows Ink experience: We have made performance and reliability improvements based on feedback including:
Sketchpad will now dismiss if you tap Esc or Windows key combinations (for example, Win + S or Win + D).
We've updated the export icon to be the more familiar floppy disk icon for saving your sketch.
We've polished the experience of opening Sketchpad when many ink strokes are present on the canvas.
We fixed an issue that resulted in Sketchpad sometimes needing to be tapped twice before it would launch from the Windows Ink Workspace flyout.
Sketchpad and Screen Sketch will now default to touch inking ON for non-pen devices. They will also remember the state of the button when you relaunch Windows Ink Workspace.
Going forward from Build 14252, the Windows Ink Workspace icon state (on or off) on the taskbar will be preserved after upgrading.
We have updated Sticky Notes to show a small sticky note icon next to the app name when hovering over the app in the taskbar or in Task View.
There are also plenty of other improvements and new features in this preview build
Windows Central Newsletter
Get the best of Windows Central in in your inbox, every day!
So mobile is mentioned, too; wonder what delayed the release. I do like the new Cortana features, though.

They were probably reading through the comments on Windows Central to see if it was worth releasing or not...

Actually that feature of Cortana has already been available in Windows Phone 8.1

Yeah, true, but where it can play the full Groove music library?

Remember that Cortana gets updated on the backend, so they can probably update Cortana on Windows 10 Mobile with these new capabilities without updating Windows 10 Mobile.

Good that they brought back the yellow icon!

They didn't actually bring back the icon. It's simply another new icon. I hope they don't make all system icons flat like store app icons. Current icons are good though and so was the original file explorer icon. ~Sent from L830

Compass on Inking! Loving this new direction...

Compass on maps would be good too. Lumia 950XL Insider-Fast

Cortana having access to Groove is great, been waiting for that one!

File explorer icon. Finally!!!!

Hasn't Cortana always worked with Groove? Or did it only work with music in your library?

Yes with groove AND yes, only in the devices library, not MSFT's entire collection.

US-only Cortana features always make me think that they will never come to other regions. This is not the way to do it, MS.

This isn't even official stuff yet. They might as well test it before they start coding the other languages, it's not just straight translation either, they do try and compliment their cultures as well.

'Cortana improvements' Great, how about they get off their asses and make cortana available in other regions. Hell, it doesn't even have to be regionalized, just give a disclaimer when you first start it up that it is not customized for your language and thusly fuctionality might be limited for you...

Just set your region to US like the rest of us.

It messes up other stuff. It's not a solution.

Exactly. I tried that trick, but suddenly the store didn't allow me to buy apps. (it didn't want to recognize my credit card or even my paypal).

That and this isn't even official yet!!!

They already did this. I used to point it out, like you, until about two weeks ago when I realized I could activate Cortana with English (my region is Swedish).

Could you walk me through what you did? (My region is Denmark, so maybe it would work for me too)

Nothing to setup, you need to be on latest Insider build then you hit the search icon and settings and activate Cortana.

They did this in the insider slow ring. The cortana language selection is seperate from the region selection.

Great a new build! Shoot, my surface 3 got a BSOD from Spotify

Man sticky notes should be available for mobile to allow us to pin it amd use it on our home screen. To be honest the entire desktop home screen should be on mobile with icons and tiles

I am trying out the reply from the action center! I love it

all so the new store UI in this build

Screenshots aren't showing up for me in the new Store

it like that for me to on mobile

feedback-hub:?contextid=319&feedbackid=77fb0013-b1d8-4f9d-a3f0-d6c2bec5c458&form=1&src=2

Too come in the future LOL

Adblock extensions are not working anymore. Anyone has the same issue?

There is a workaround listed in the article. It says extensions will stop working and need to be redownloaded I believe? Posted from Windows Central for Windows 10
Using the Alcatel OneTouch Fierce XL for Windows 10 (Redstone)

I did uninstall and reinstall the extention again, and it still did not work.

Oh ok. Don't know what to say then. I'm sorry.

What about for devs? can we now have ink recoginition for mobile? Can we install anything ink related on mobile? recognizing language packs? anything?

I don't understand down voting this question. Anyways, I'm not a developer but it's probably not ready for mobile, yet.

Neither do I but I guess somethings we'll never understand. I hope it does become available so that we can take full advantage and start pushing the OS

@Loise, you make $27h thats great going girl good for you! My story is that I quit working at shoprite to work online, seriously I couldn't be happier I work when I want and where I want. And with a little effort I easily bring in $35h and sometimes even as much as $85h…heres a good example of what i'm doing, ===========>>>>> http://Onlinejobs.nypost55.com

Get you ass outta here. No one cares about you quitting your job. Posted via the Windows Central App for Android

YES - Finally can set a timer! I've been waiting so long for this.

MS should work on battery improvement

Oh, good grief. Spending time on a File Explorer icon when they NEED to fix all the wireframe buttons and change to SOMETHING YOU CAN SEE. They need to Fix All Apps. They need to fix the Start Menu. There's so much WRONG with W10.

Wonder why my Surface Pro 4 isn't seeing this yet. My pc got it. SP4 is on fast and i've tried switching to slow and back to fast and rebooted and even stopped receiving builds and reentered.
Windows Central Newsletter
Thank you for signing up to Windows Central. You will receive a verification email shortly.
There was a problem. Please refresh the page and try again.