Windows Insider app for Windows 10 Mobile gets another minor update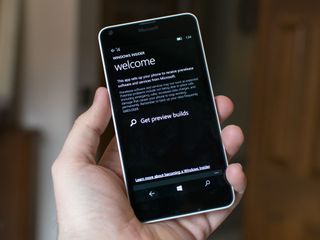 Members of the Windows Insider program can download a new version of the Insider app for Windows 10 Mobile. However, this download looks like it's a minor new version of the app, with no published change log from Microsoft.
The version number for the Windows Insider app has gone up from 1.3.231.3 to 1.3.231.4, which should give you an indication of how small this update is. The app allows users to sign up to test preview versions of Windows 10 Mobile, with the option of joining either the Fast or Slow ring for updates. You can also provide feedback from the app directly to Microsoft to help improve future versions of the mobile OS.
Download Windows Insider for Windows Phone
Thanks to everyone for the tips!
Get the Windows Central Newsletter
All the latest news, reviews, and guides for Windows and Xbox diehards.
It also then allows you to download a small update to your phone system as well.

How is the phone now as far as "waiting" and "loading" goes now?

It is rare that I see that on any UWA anymore. 8/8.1 apps, sometimes. But even then not as bad.

Hmmm... Leaning towards putting it on my 1520.

It runs great on mine. May as well wait for the next build as it has to be coming fairly soon. No need to go through all of that (maybe even refreshing) to have to do it again.

The present build is great. Still less battery time with me, but I think that is more a product of the heating my 930 endured. The 920 gets great battery life on this build. Might hasten my decision in getting a 950.

basically the memory management has gotten way better. for example if you restart the phone meaning zero apps are open. Then go open Messaging app you may get a 'loading..' screen for 1 second but that's it, once you open that app even if you hit back space multiple times, the app is now in memory suspended when you go open it again it just opens. in 8.1 when you hit back space the apps closed definitely so there came the loading and resuming issues. Windows 10 photos is better than Messaging for example even from a cold restart it never shows load screen for me it just opens straight to my collection.

I've had outlook mail close down on me when using 3 email accounts I have synced on their. Edge closes on me if I leave a html5 video playing and then leave edge and come back to it. Ironically it doesn't give me the resume screen it just opens up to a fresh new tab lol go figure. start screen, notification center, panning in multitasking view, its all almost 100% really. I've reset my phone every build, I take that into account why I may have less issues than others.

Twitter and sometime messaging are the only two that stand out to me. (Messaging seems to have been fixed somewhere between the last build and the few app updates.)

I wonder when they'll update the app to match the Windows 10 design guidelines. They've been replacing the Lumia apps like Network+ - which got its update today - slowly to match the new design.

Its not a core app in windows 10.. So spending time to make this app look better is a waste...

Yeah, it's stupid how they are trying to have a clean, consistent UI for folks. They should have a jumbled mess instead.

http://mswin.me/post/132755076278/nokia-microsoft-mobile-oem-apps-update...

How is win10 working on the 640xl I had to roll back but want to roll forward again

This could help ( and almost all of the issues he mentions have been sorted out but the storage app issue )
http://youtu.be/CftOPgoXZag

The only issue is that you can't select the storage and set up SD card as defult after the last built...otherwise works great

Windows phone 10 is incomplete until it's apps section is equal with the iOS or android....

Well Windows 10 Mobile already ticks the boxes for what I need, so maybe it's complete for some people and not for others. I guess that's why Microsoft will keep updating to add new features so they can make more people happy. As for apps, complain to developers not to Microsoft especially since Microsoft does more to help make developers lives easier than any other company out there. For example on the complaining front, I email Pluralsights support department once a day asking about Windows 10 UWA app, they are not making any effort at all, but if enough people spam them with complaints about it then eventually they will make the app to shut people up. So you should do the same for the apps that you think are missing and hence make it an "incomplete" OS.

yes. You got to know today? or you just came up to find a reason to cry about?

All we need is fluid OS with great app design that's it... When you do this Your OS is in the top Microsoft I bet....

I'm checking Gabe's timeline almost every hour, waiting for news about a new build :D

Me too.... He has not been on for a while now. Clearly he is prepping for the release tomorrow or Thursday. He has some time off soon, so within 2 weeks he will be taking a break.

Can we please get a new build!

This isn't the place to ask for it ..

Nope, just to spite you. Thanks for ruining it for everyone.

I cant update the insider fast configuration on my Lumia 920 ...stuck on 536... Does anyone know what to do?... Hardreset didnt helped so far.

You can't update from that build. You need to roll back.

Hey John, do you guys have a macros for "minor update/no changelog"? Seems like that would be much quicker than having to write the same thing over and over.

Another build is coming ?!

On Thursday, most likely.

Is it typical I'm this build or the previous one regarding the keypad which sometimes not working like word flow? Any idea please?

Does anyone know if the preview for developers will ne picking up the update once is close to final roll out

Can anyone give a legitimate answer to the astoundingly inexplicable absence of a dedicated back and ANY kind of forward button in Edge? Use History, a gross sluggard, is not an OK answer for forward.

There is a back button Altho chrome is my preferred browser

Which one is better, fast or slow? Which one is less harmful?