The Windows Marketplace for Mobile Web interface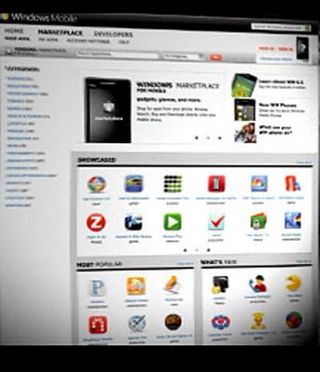 Along with the launch of Windows Mobile 6.5, the other major release we're expecting this fall is the Windows Marketplace for Mobile. We've gotten teasers of what the Marketplace may look like on a phone. We learned that Marketplace will be available to Windows Mobile 6.0 and 6.1 phones, too. Now here's a look at the Web interface, courtesy of pocketnow.
Squint with us after the break as we try to glean every last drop of info from this shot, and more.
Web overview
So above we see three main sections: "Showcased," "Most Popular" and what we believe is "What's New." (Those also match the recent screenshots released by Microsoft.) Now our eyes are notoriously bad, but we do see a few familiar apps here.
SPB Traveler
SimCity Metropolis
Fusion Voicemail Plus
Mobile Manager for Netflix
CNBC Stocks to Watch
Astraware Casino
Zagat to Go
Those match up (and in the same order, no less) with some announced apps we saw back at CTIA. We've reported previously that some 600 apps are expected at launch, and we've run down the list of developers we know to be on board.
Now our eyes are pretty bad, but we also are spotting:
Pandora, SlingPlayer, SPB Wallet, Pac Man, SPB Brain Evolution, and a couple other icons that we totally recognize but just can't put names to at the moment. (Set us straight in the comments.)
Individual app page
Here we see the Netflix Mobile app in greater (but just as blurry -- grrrrrr) detail. Looks like we get a description, (some required specs, perhaps?), ratings and reviews, and screenshots.
Download & Install Information
You may recall that you'll be able to purchase apps from the Web interface and not actually have to connect your phone to load them. You'll note here that it says:
Follow the instructions below to complete your download. Note: You do not need to connect your phone to a PC to finish the download.
On your phone, click the Marketplace icon on your start screen
Sign-in to Marketplace (with the username and password you used for the site) if you have not already. ... If you've already signed in then go to My Apps and selected "Ready to download"
Follow the instructions on your phone.
Note at the bottom that there appears to be an option to download the apps while connected to a PC.
So that's about all we can tell. While we run off to our optometrist, let us know in the comments if you've seen anything we missed.
George is the Reviews Editor at Windows Central, concentrating on Windows 10 PC and Mobile apps. He's been a supporter of the platform since the days of Windows CE and uses his current Windows 10 Mobile phone daily to keep up with life and enjoy a game during down time.
Microsoft needs to push this out as soon as its ready and they have enough apps for a good showing.

Yeah, they really do. I understand that they are trying to sync everything with the release of Windows 7, Windows Mobile 6.5 and the many new WM phones coming to market in the Fall but they do still have a following in Europe. Keep in mind, Europe already has the phone we are waiting so patiently for (Touch Pro2, Touch Diamond2, Touch HD, etc...)

This explains at least one thing, how Microsoft is going to make Marketplace available to 6.0 and 6.1 customers that won't have an access app built into the OS. It also marks a significant departure from the Apple and Andriod stores: making the offerings fully accessible in any browser. One obvious question is: given the accessibility, what prevents any version of WM earlier that 6.0 from using Marketplace? Personally, I don't think Marketplace is going to have a huge impact since most apps at launch are already available elsewhere on the Net (that certainly wasn't true of Apple and Andriod) and fees will probably result in most free and shareware authors not bothering. As to the previous comment: never heard of unlocked phones? HTC has been selling quite a few HD's and D2's in the US for some time. At CTIA this year, virtually every Microsoft developer I talked to was carrying an HD.

To address the last point-- sure, but unlocked HTC phones lack US 3G bands, so you're stuck paying a huge amount for a phone that can't do mobile data above EDGE speeds.

Yes, you can't do 3G on most imported phones, though if you been reading various blogs you'd know that in the US at least, 3G speeds aren't much better than Edge speeds in most locations. Who would of thought that true data rates would depend more on network capacity than the protocol used? Yes, you won't get that big carrier subsidy with your unlocked import. Of course, phone subsidies are like carnival sideshow barkers; you really don't know how good the deal is until you've paid your money and are inside the tent. The deal is never any good. The true cost of a subsidized phone is the contract sighed to get it. Because of contracts, consumers pay through the nose to get their subsidies. That's why when Gizmodo does a TCO comparison, it's such an eye opener. Is an iPhone really worth $2400+ for two years? (Is any phone?) I avoid such costs (and all taxes!) with my unlocked phone by pairing it with A&TT and T-Mobile PayGo plans, buying only voice and data services as needed. So even with my $600 dollar smartphone, my TCO rarely exceeds $1000 over a two year period.

The phone has been tested and works perfectly to the best of our knowledge.

It is smart and style nikia mobile ,staying here for you to chose.
Windows Central Newsletter
Thank you for signing up to Windows Central. You will receive a verification email shortly.
There was a problem. Please refresh the page and try again.