Windows Mobile 6.5: A Whole Lotta Cookin' Going On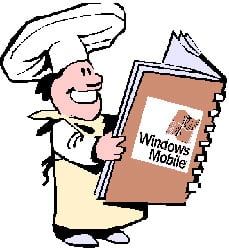 While we are anticipating the "official" release of Windows Mobile 6.5, the "unofficial" versions of the new operating system have been making the rounds through cooked or home-grown ROMs for some time now. Chefs at such sites as XDA Developers, PPCGeeks, and Mobility Digest have successfully cooked WM 6.5 ROMs in their kitchens, and we decided to see what all the fuss was about.
Understand that cooked ROMs are a lot like beta versions of applications. They can work like a charm or turn your phone into a "pretend" phone for you children (if you are so inclined) to play with. If you are considering flashing your Windows Mobile phone with a cooked ROM, extensively research the process as well as the ROM you are considering. Then and only then proceed at your own risk. Just as cooking up these ROMs isn't for everyone, flashing them isn't as well.
Now that the obligatory cautionary statement/words of warning have been tossed out, to see what our experiences has been with the cooked ROM menu, just follow the break.
Understandably, there is a lot of apprehension about installing a cooked ROM. The fear of turning your Windows Mobile phone into a paper weight is not exactly unwarranted. However, with most un-nerving events, the hardest part is often the first step and the more you do something the easier it gets. After conducting a considerable amount of research, as well as conquering my own fears of bricking my phone, over the past two weeks, I've flashed my AT&T a dozen or more times with different cooked ROMs. I found that the process isn't that complicated (as long as you follow the directions and DON'T take shortcuts) and that each ROM has a distinct flavor likely reflective of the personality of the cook.
Keep in mind that not every Windows Mobile phone can operate off a cooked ROM. HTC Windows Mobile phones have a more accessible architecture than other WM phones (as well as being everywhere) so they are found in most kitchens. Before you consider an item off the Cooked ROM menu, I strongly urge you to research things. Two sources helped me tremendously in understanding what I was about to do (essentially wiping out an industry tested OS with a homemade version).
XDA Developers Forum may very well be the leader in cooked ROMs and ported apps. They have a discussion thread about flashing ROMs for newbies that walks you through the process really good. If you're using a Touch Pro/Fuze XDA also has a very informative WIKI Site on your phone. As mentioned earlier, PPCGeeks.com and MobilityDigest are also good sources for information on installing cooked ROMs as well as the ROMs itself.
Choosing From The Menu
There are tons of cooked ROMs out on the internet and each are unique, reflecting the tastes and personality of the chef. Each ROM has customization that can be described as bloatware with a purpose. You won't find one with the AT&T Mall application but you might find one with Total Commander (file manager) or Advanced Configuration Manager (utility) as part of the ROM. Most ROMs are posted as part of a discussion thread on the various developers forums and after reading up on what the various ROMs had and the experiences of those who came before me, I choose XDA member NRGZ28's EnergyROM to begin with.
Based on Windows Mobile 6.5, EnergyROM was advertised as working best with the radio already installed on the Fuze. There was enough apprehension about flashing the ROM that I didn't want to push the envelope and have to flash the radio as well.
As I understand it, your Windows Mobile phone has two major components under the hood; the ROM and radio. Some radios work better with some ROMs as well as working better with certain networks. Being a "newbie" at this, I opted to trust AT&T's choice of radios and choose ROMs that didn't require a radio version change.
The actual installation of the cooked ROM wasn't any different than installing an updated ROM from the manufacturer. You do have to install a Hard-SPL package (installer package) that will facilitate the installation but the steps are very similar. Each installation took about ten minutes to perform and then, depending on how much customized installation (the bloatware with purpose) is needed the entire process can take up to twenty minutes.
One last note on choosing the ROM is that most chefs constantly update their ROMs. It's amazing at the speed these updates are cranked out and it's a shame the "official" ROMs didn't follow suit. Most chefs will post a change log with their ROMs to show diners what's been fixed, added or changed. If something isn't working just right, give it time and the chef will likely iron out the bugs with the next update.
Windows Mobile 6.5
I was impressed with the performance these cooked ROMs brought the the Fuze. The Fuze was noticeably more responsive and newer versions of Touchflo 3D (Rhodium Manilla) that is used in these recipes is equally more responsive. Keep in mind that there's no telling what the "official" version of Windows Mobile 6.5 will look like but I doubt the increased performance will be much different.
The updated Touchflo 3D that has the calendar and stock tabs along with the ability to customize the tabs (delete and change order). I also enjoyed having a horizontal view of the tabs instead of the action menu the original version has.
What I didn't care for was the new "Today" screen. Maybe it was because it was dramatically different from the "Today" screens of old but I just never got the hang of it. I couldn't help but think Microsoft was struggling to put something out there to compete with Touchflo 3D and SPB's Mobile Shell.
I did find that the "Today" screen varied in appearance from chef to chef. Some included the weather panel, fave people or Windows Live panel while others didn't. It's just another way these chefs can make the ROMs reflect their tastes.
Battery Life
Battery life with cooked ROMs varies about as much as it does from device to device. Some simply manage power better than others. Most cooks will alert potential diners that their ROM is a gas guzzler. There is also a school of thought that a battery needs a few charge cycles before the ROM can adjust properly. I had tremendously good battery life with an earlier version of NRG's EnergyROM, terrible with the next version and back to good performance with his current version of the ROM. Herg62123's Cooked ROM over at Mobility Digest had marginal battery life and I'm hoping when the next version comes out battery life will have improved. Herg's work may have been the most responsive versions I tried which likely attributes to the lower battery performance.
Overall Thoughts
As mentioned several times, dabbling with cooked ROMS isn't for everyone and should only be attempted after thorough research. I have to commend all the chefs out there for their ability to create these free ROMs that often gives us better performance and a peek at what's around the corner with Windows Mobile 6.5.
For me, the hardest thing about dealing with cooked ROMs was restoring all my contacts, appointments (thank goodness for Google Sync) and setting up my email accounts. For now I'm settling down with NRG's latest version of EnergyROM but may give Herg62123's latest version a try when he releases it. I just hope that when the "official" version finally comes out it can hold its weight against all these cooked versions.
George is the Reviews Editor at Windows Central, concentrating on Windows 10 PC and Mobile apps. He's been a supporter of the platform since the days of Windows CE and uses his current Windows 10 Mobile phone daily to keep up with life and enjoy a game during down time.
After working up the nerve to flash my long-in-the-tooth HTC Titan I've never looked back. I can't imagine running VZW's bloated official 6.1 ROM after using some of the great 6.5 ROMs from PPCGeeks and XDA Devs. Not to mention the fact that VZW still has the GPS locked down to their VZ Navigator for older phones like this. I plan to upgrade to the TP2 in November, hopefully the GPS is unlocked on it out of the gate, otherwise I will have to be flashing some early TP2 roms.

I'm pretty sure Verizon has unlocked the gps on the TP2 since they've already unlocked it on the Omnia and TP1. It would be a huge mistake otherwise since every other carrier has this device. I'd love to flash my Xv-6800 (Titan) to 6.5 but am afraid of bricking it. I might use this as a test mule when I get a newer device though.

I flashed my Telus Touch (Vogue) to the NFSFAN 6.5 ROM and, well, that breathed a whole new life into the aging device. As mentioned by the above comment, one of the immediate improvements was GPS lock - worked great compared to the locked down Telus-Navigator only version on the stock ROM. One bit of advice for people wanting to use Cooked ROMS. Wait until there is at least one 'official' ROM update for your device, so you can flash BACK to that ROM for warranty repairs. Many carriers will treat a device running an un-official (ie cooked) ROM as a reason to void a warranty!

for backup+restore I use SPB Backup and it also works across different ROMS (not always 100%, but I never had problems and it saved me a few times). there are also other backup tools, eg. Resco's.

@Lee_Nover
Although Sprite will make you think that you backed up your info and restoring it is all you need to do on a new rom, this is simply incorrect. Alot of the chefs have custom registry edits in their roms and the new version has better edit as well as newer files etc. That is what makes these new roms so much better/updated. By using sprite restore (or any other program restore), you have effectivly "restored" most of the parts of the old rom. Somethings cannot be overwritten with a restore (and that is most likly giving sprite a few errors) so you will think you have a great new rom, but in truth you have undone most of the chefs hard work. I recommend learning how to use UC or Shasumi(sp) and setting it up to auto-customize your new rom for you. If you need more proof/help, visit PPCGeeks and search for "sprite backup and new roms".
Enjoy!

Most custom ROM's come with an app called "PIM Backup". It should cover all your backup needs and more. For app reinstall, most custom roms make use of sdconfig.txt, it allows you to list the cabs you want to auto install right after flashing. This makes flashing to rom updates a breeze and saves time .

Good call on flashing EnergyROM. I've been using it on my CDMA Touch Pro on Alltel/Verizon (I was lucky and got an Alltel one before the switch and I would've had to get a VZW nerfed TP) for a few weeks now. And I love it! I switched from Juicy47's Juicy 8 (also a great ROM) I have to say, it's my new favorite. Lots of eye candy with the interface. And I like going back and forth with TF3D and Titanium. I even found a matching S2U2 theme. Just wanted to welcome you to the world of flashing. And you made a good choice for your first ROM. Cheers PS. If restoring your contacts and appointments, etc is a problem, I highly recommend Microsofts Myphone in combination with Sashimi. Sashimi's subprogram Makisu automatically restores your email accounts when you run it.

Add another voice for http://myphone.microsoft.com/install it works great, I used it to migrate from my Touch Vogue to my Touch Pro 2 Rhodium. Only thing is goofs up on is OneNote sync, and it doesn't sync programs.

I've been running EnergyROM on my Fuze for a while and I love it. A couple things though: @Anonymous: how do you configure the sdconfig.txt to auto-install cabs? And I just updated to the newest EnergyROM after a couple months and it looks like the start menu has been changed a little. I can't figure out how to make nested items go to the top menu. Anyone have any suggestions?

Thank you for reviewing my cooked rom George Ponder. If you could make an adjustment to my rom other than improve battery performance what would it be? Again thanks for reveiwing my rom and I look forward to you reveiwing my future roms.

so is there anyway to improve battery life in this Rom?? actually i,m using this ROM on my TD2 now and its the best i,ve been using so far........so it would be nice if some improvements could be done to the battery :))

I have an HTC 8925 tilt that came with WM 6.1 on it.
Can this beast be effectively hot rod'ed to run on wm 6.5 without "nuking" the old phone and if so who can do it and how much would it cost?
About the only thing I can cook is cookies!
This "rom bake" sounds good but I will have to stick with cookies.
Where can a novice find a rom chief?
Windows Central Newsletter
Thank you for signing up to Windows Central. You will receive a verification email shortly.
There was a problem. Please refresh the page and try again.