Windows Phone 7.8 and the Nokia Lumia 510 get demonstrated in new video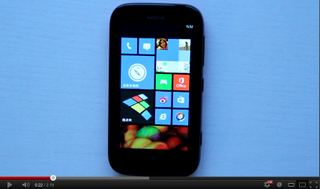 Yesterday we brought you some in depth information of what will be coming in the Windows Phone 7.8 update, expected to appear in China in a few weeks (presumably with the launch of the Nokia Lumia 510). New features such as a revamped Tile design, new Tile sizes and dynamic Lockscreen wallpaper (Bing) were revealed including the current build number.
Now a new video, presumably from Winp.cn, shows the current build of Windows Phone 7.8 (8858) in action. Actually, it's less action and more of a nice, soothing stroll on some of the more superficial changes coming in the OS update. The new tiles are shown off and we even see the Bing lockscreen wallpaper working (we're hoping that third-party apps can take advantage of it too like in Windows Phone 8).
Overall, it's nothing groundbreaking but it does backup what we revealed yesterday. Here the OS is in Chinese, so it may be hard to discern some of the items in Settings but the features should be obvious. Speaking of, we're guessing that the CPU on board is only a 1GHz or so judging by the OS performance, though some of the exact and final specifications need to be confirmed yet for this device.
The Nokia Lumia 510 is expected to be for Asian markets, specifically China. It's a low-cost handset with a 480x800 4" LCD display, 5MP camera (no front facing) and just 256MB of RAM with a 1300mAh battery. Release date is expected before the end of the year.
Thanks, hengxiang32401, for the link
Windows Central Newsletter
Get the best of Windows Central in in your inbox, every day!
Daniel Rubino is the Editor-in-chief of Windows Central, head reviewer, podcast co-host, and analyst. He has been covering Microsoft since 2007 when this site was called WMExperts (and later Windows Phone Central). His interests include Windows, laptops, next-gen computing, and for some reason, watches. Before all this tech stuff, he worked on a Ph.D. in linguistics, watched people sleep (for medical purposes!), and ran the projectors at movie theaters because it was fun.
Hey dan 2nd paragraph is suppose to say 7.8 right?

Its 800 MHz Dan not 1 ghz

Yeah, it packs MSM7227A @ 800MHz right.

This is good to see as I am still using titan 2. I will not hold my breath seeing how I'm on at&t and still don't have the tango update they promised a while back but still good to see.

Thought os updates were through MS why do AT&T need to do anything?

Updates were dependent on Microsoft, the manufacturer, AND the carrier. WP8 updates might not be dependent on carriers though (right?).

They have to test, and I guess incorporate any OEM firmware, then push it out. My Titan is still on Mango...runs good but damn, AT&T. It's been a year. Not a single update.

My OG Focus says hello ;-)

Lumia 900 here, gotten TONs of updates... I'm on build 7.10.8779.8, I've had lots of updates. Besides I thought tango was mango with language support, but no extra features, so what's the big deal?

Voice texts & video texts too

Id like to see that video in English. Had to guess what the changes are

Im not really excited about 7.8 im looking forward to the next 930

Next Nokia 930 is to mainstream. What I'm looking forward is Windows Phone 9 :P

Pretty much the same user interface as WP8. I do speak Chinese and the settings look no different from my Lumia 920 :)

except kernal and apps every thing is near to wp8 features . even 7.9 is also spotted with some more features to add .

Though pressing the startscreen has different animation (right side doesn't show where all the apps are)

Cant see quick status apps :(
Could if there if only he'd scroll down a bit.... can see font sizes either.

Also looks like zune is still there.

That music nearly turned me into a mass murderer! Just a heads up watch it with the sound off.

Right! Totally wrong track for this kind of video.... So annoying!

no news on the rooms function?

It would be interesting to see how my 900 looks without the gutter on the right side. I wonder though how these tile changes will do to existing live tiles. If you shrink them OR increase its size, will that blow out the live tile functionality?

You can try it by using one of the simulators in the marketplace. One example would be "windows phone 8".

The Zune Music+Video app will not be re-designed???

Hopefully this is not the final build, Zune really ticks it off.

Ok so Ben the PC Guy showed us an early demo running on the Lumia 900. This one is running on the Lumia 510. I'll really get excited when I see 7.8 on a non-Nokia device.

I have the final build on my Titan right now. It's pretty cool...better than the 8835 build I was using. Anywho, for all you Titan / and Mozart users who have your phones unlocked...go and install Ultrashot's Dynamics rom over on XDA. Cheers :) BTW, I didn't see a Rooms function ... It is possible that this will come later? I dunno whatever.

Nice! Also, any Lumia 800/710 user with unlocked bootloader can install Rainbowmod 2.0 rom, which is in the final build as well.

http://www.youtube.com/watch?v=1CwIHb8CoH8&feature=player_embedded This is the final build. But with added unlocked feats developed by Ultrashot.

The Office icon is updated like the WP8 phones. Is it supposed to be refreshed too, or is it a consistency thing, I wonder.

consistency... Just like how the new bootscreen was updated to match MS's current logo. Honestly the only thing I see mostly different in 7.8 is the UI. ...of course with the added Bing wallpaper function.

Does anybody need me as a Good Guy Greg? I can read Chinese, though not very well, but still manageable.
Going out now, will do it later if someone hasn't done it yet :)

Looks good. If I was still with sprint and my arrive I'd be estatic. Glad I moved to Verizon now tho.

translation: (according to the texts at the bottom of the screen)
Splash screen: WP7.8 OS Demo
WP 7.8,..
has a new start screen
Uses live tiles of 3 different sizes
By changing the size of the tiles, you can get more information displayed.
Uses a new XBOX, Office & Marketplace icon.
Has the App Menu Arrow moved to the bottom right corner of the Start Screen.
Has many themes to choose from, up to 21 colours.
(nothing new in the Settings Menu, as far as I can see)
Has added Bing's Image to be useable as Lockscreen Wallpaper
Has increased settings for Internet Usage (?)
Users can enable call waiting and call forwarding.
Users can change the coding for text messages to enable longer text messages to be sent (?)
Thanks for watching :) Sorry for bad translation, and for the question mark, I'm unsure about it.

oh shi this might mean mms apn settings are coming!

With no arrow arrow I really find that annoying. I miss tinkering sometimes...*cool it, it's just a phone Jack*

That music put me to sleep.

510 is launched in India......

Wait a minute...I don't see the GREY tiles colour in the settings...now...did they removed it? Or do I have it on my Lumia800 courtesy of T-Mobile Deutschland ? 'cause I'll be really pissed if they take it off...it's the one I use (in the absence of Black tiles)

There's no gray in WP7.5. Yours must be the OEM color, and you won't loose it with the upgrade. Also, there is "steel" in WP8 which is gray and WP 7.8 should have it too.

And Xbox Music+Video? This will continue Zune in the WP7.8?? This is the only thing that I did hope to comes in the update.

There's nothing different in functionality between Zune and Xbox music besides cloud functionality.

Lumia 510 has released in India with 7.5 mango version

Can wait to get 7.8 on my Omnia w.. Too bad can't afford a 920 or 8x :(

Same case with me... I too own Omnia w :(

I hope the Nokia blue colour is kept fir my Lumia 800

did anybody else notice at 0:40 the marketplace app is the WP8 market place logo and when it is resized to a medium tile it changes to the Nokia Store Logo.

I did get stranged by that. I don't like it :(

now when shud we expect 7.8 on our devices, I hope it doesn't start as a Nokia exclusive for a month

Not to worry, it'll be a Nokia exclusive thanks to carrier inacton for non-Nokia devices.

I have a nokia, but it would not be fair.

I'm sure I'm not the only one to wonder what the name if the song is playing in the background... Lol. It would make a filthy DubStep...

It's already avaliable in India for ₹9999. You can choose from 3 different colours. Here's the link:- NOKIA LUMIA 510

i wish the 7.8 update comes soon, like on Christmas :D

Dejan,

Good news...!!!

i have a nokia lumia 510, and i have updated my phone to windows 7.8.

just go to a nearby nokia care centre and they will update your nokia lumia 510 or any other nokia lumia phone.
Windows Central Newsletter
Thank you for signing up to Windows Central. You will receive a verification email shortly.
There was a problem. Please refresh the page and try again.