Dragon Revenge for Windows Phone 8, destroying everything in sight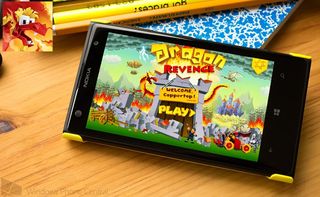 Dragon Revenge is an arcade styled game for Windows Phone 8 that has you playing the role of a dragon intent on destroying everything in sight. From buildings to trees to cows, your job is to wreak destruction upon the lands all the while avoiding the villagers arrows.
The game has an unlimited number of gaming levels where you guide your dragon across the sky, attacking villages and collecting gold. And Dragon Revenge isn't just thoughtless destruction with several missions or challenges to tackle for extra gaming points. It may take a little time to get used to the gaming controls but for the most part, Dragon Revenge comes across as an entertaining game for Windows Phone 8.
Game Layout
Dragon Revenge's main menu is laid out in straightforward fashion with options to jump into the game, setting your player name and accessing the game's settings. Settings cover options to turn on or off the game's sound and music, replay the gaming tutorial, and view the about screen.
Game play is spread out across countless levels where you are tasked with destroying any number of buildings. There are also side missions or challenges attached to game play that can earn you bonus points such as using your special abilities ten times in a game or kill twenty-five units in a game.
While Dragon Revenge's game play is set up in levels, the game does not map out the levels. You advance through the levels in game play and if you leave Dragon Revenge in mid-game, you can resume where you left off. This isn't necessarily a bad thing but if your dragon bites the dust you have the option of spending coins to resurrect the beast and continue at the current level of play or start from scratch. On the plus side, the gaming engine does a decent job of avoiding too much repetition when you re-play levels.
Game Play
Prior to jumping into a game you will be given options to set up your special abilities (the game has seven) and purchasing boosts with the gold you earn during game play. Abilities range from boulder throws where your dragon hurls boulders at the villagers to health regeneration. The abilities become available as you progress with game play or can be purchased with your coins.
The game screen for Dragon Revenge has your health meter in the upper left corner of the screen, your destruction counter in the upper center and your gold count in the upper right corner. Gaming controls are spread across the bottom of the screen with flight controls in the lower left corner and your weapons controls in the lower right corner.
The flight joystick does take a little time to get used to and don't be surprised if you slam into the ground often or find yourself flying around in a circle at first. Your primary weapon, as you might guess, if your dragons fire breath. While you have unlimited fireballs to spit at your targets, it takes a few seconds to regenerate your incendiary spit. The same can be said of the special abilities. For example once you hurl a boulder, it'll take a few seconds before another rock becomes available to throw.
Game play is simple. Fly your dragon around and destroy everything in sight. You can burn down the trees, bar-b-que the cows, and torch the buildings. Each level is completed when you destroy the set number of buildings listed in the destruction counter.
And don't think the villagers will sit by idly while you flatten their villages. They will shoot arrows at you, show up in hot air balloons to shoot arrows from and generally be a pain in your side. If struck by an arrow, slam into the ground or fly too high and get struck by lightning you'll lose health points. Should fate have you losing all your health, the game is over and you fail that particular level. Again, you do have the option to resurrect your dragon and continue at the current level by spending your coins or start from scratch at level 1.
However, once you destroy all the buildings to complete the level a scoring summary will appear, gold coins will be awarded and you can either visit the abilities store or advance to the next gaming level. Again, if you duck out of the game all your progress will be lost.
Overall Impression
Dragon Revenge is a nicely animated, entertaining gaming option for Windows Phone 8. It does take a little time to get used to the flight controls but nothing detrimental. The game has been updated several times over the past few days and while there isn't a change log, it feels as though the flight controls are improving. I'm not seeing my dragon fly uncontrollably into the ground as much.
While I wouldn't mind seeing the playing levels mapped out where you don't lose ground when your dragon dies, the current game design doesn't ruin the gaming experience completely. You do get to keep your gold coins and I would image if you mapped out the levels, the game would have to have a set number of levels. As is, Dragon Revenge has unlimited gaming levels.
Overall, Dragon Revenge may not be a perfect Windows Phone 8 game but it's not too shabby as is. I wouldn't mind seeing customized dragons though.
Dragon Revenge is a free, ad-supported game that is available for Windows Phone 8. You can pick up your copy of Dragon Revenge here in the Windows Phone Store.
Get the Windows Central Newsletter
All the latest news, reviews, and guides for Windows and Xbox diehards.
George is the Reviews Editor at Windows Central, concentrating on Windows 10 PC and Mobile apps. He's been a supporter of the platform since the days of Windows CE and uses his current Windows 10 Mobile phone daily to keep up with life and enjoy a game during down time.