Developers: Update for Windows Phone 8 SDK now live, adds four new emulator images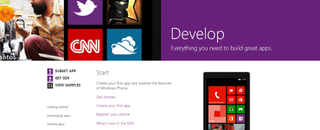 If you have a Nokia Lumia 520 (on AT&T), 925 or 1020 you already have the GDR2 update for Windows Phone 8. Otherwise the update is slowly rolling out, devices like the HTC 8X and Samsung ATIV S have been seeing it show up for their devices. GDR2 (aka OS build 10327) brings some new features and fixes to Windows Phone for consumers as documented here by Microsoft, in addition to the Other storage fix and new hardware support.
But what about developers? Evidence for an update to the Windows Phone SDK recently appeared and disappeared last night.
Robert McLaws noticed the upcoming update on Microsoft's website, but it has since been pulled. Although the Twitter page still gives a hint as to what was there. Check out the screenshot of the Tweet below and read on for some quick analysis of what's coming.
So what does it mean to add four new emulator images to an existing installation of the Windows Phone SDK? For that, I am not your man to ask. But I did ask Jay Bennett, co-host of the Windows Phone Central Podcast and developer of our awesome app what it could potentially mean. He outlined two potential scenarios for why Microsoft would add four new emulator images to the SDK.
Microsoft is either replacing the Windows Phone 8 images because GDR2 is a significant enough update to be a new development target (and devs will have to submit updates to their apps to use new GDR2 features) or we're getting new device configurations. He thinks it's the former and not the latter. Which is a bit of a bummer because the latter would mean potentially two new screen resolutions with two emulator images tagging along (those additional displays are expected with the GDR3 release, later this year). Quick update: the screenshot below confirms what Jay suspected. That this update instead is a new development target for developers.
But why wait to see or hear what Microsoft has to say officially on the matter when the download link is still live? If you're curious, you can download the update right here (clocks in at 920 MB). Another update: The download link and web page is live on Microsoft (opens in new tab).
Screenshot of the SDK from winphoneviet
What do you guys think this SDK update for Windows Phone 8 could bring? Sound off down below or download the SDK for yourself to see what's new.
Source: Twitter, WinPhoneViet Via: WMPU
Thanks for the tip Robert!
Windows Central Newsletter
Get the best of Windows Central in your inbox, every day!
The States still don't have GDR2 for the 8X even though TMo said it would come on 7/22. What's the holdup?

GDR2 for 8X caused the phone got bricked after listening to music for a longer time (audio chip probably overheated). The update was AFAIK paused and HTC is working on a fix.

That sounds like a brilliant bit of engineering. I'm going to hope your theory is incorrect.

This makes me sad. Windows.phone really moving along at a snails pace....

Download link is alive sam...

Its official https://www.windowscentral.com/e?link=https2F%2Fclick.linksynergy.co...

Those are coming with GDR3.

On WMPU they found something what has to do with blocking calls/SMS. Could be interesting, an app to block annoying people ;-) See here: http://wmpoweruser.com/windows-phone-8-gdr2-has-new-apis-for-call-and-sm...

Saw that tweet too. I wish WP devs would be able to create such apps for this as we're defenseless against those unwanted callers and sms. I even have 2 that got some of my bank personal info like cmplete name, address, contact nos., bank branch, waiting for me to spill the beans on acct infos saying something like promos or something needs verification, I immediately called the bank and there are no such promos, names, and company link ups... Really need this type of app.! Miss it back on Android, was using Kaspersky then.

You need a brain more than an app - giving away bnaking info over the phone #facepalm

Wow, criticizing w/o reading, r u.? Maybe it would be better to have a brain 1st before commenting on a lovely site such as WPC.
First of all, let me explain it to u as I would explain it to a grader, I didn't give out d info (personal banking info such as name, address, phone nos., bank branch) that's the strange thing about it, how did some company get this from banks.?! And d telemarketer seem to want me stir in giving my bank credentials and infos stating it's just for verification... Did u get it now.?
Remember boys and girls, reading makes one smart... Ur d epic fail, there i said it.

They don't actually add new emulators, they replace the existing WP8 ones. Which makes testing on GDR2 and pre-GDR2 kinda tricky.

Ha! But. Anyone can give me offline installer? ._. My network is super unstable so it's crap with online installer. It takes 3 days. When i downloaded offline installer, it just completed in 1 hour 35 minutes, and ready to install. #sorry english

I bought an HTC 8X back in November because I thought Windows Phone would be growing a lot faster than it is now. It's been slowing in growth tremendously lately. Also, I feel like Microsoft isn't succeeding in their goal of unifying the tablet, phone, and desktop experiences together. There's just too much separation in my opinion. Here's how it should be: Unbuntu Phone. You plug that phone into a dock, and it's a desktop. Now that is just awesome.