Windows Phone 8 launch poll results show majority pleased with presentation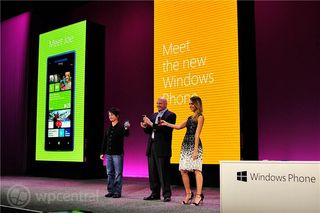 Microsoft held the Windows Phone 8 launch event on the Monday just passed where Joe Belfiore was joined by Steve Ballmer and Jessica Alba in presenting what the next version of the company's mobile platform has to offer consumers. How did everyone feel about what was presented?
We set up a poll as the event came to an end, which was also during a rather busy publishing spree on our part. Readers took part in answering the simple question, "How was Microsoft's Windows Phone 8 event for you?"
The poll accumulated a number of votes, represented in the chart and data breakdown below.
As one can see in the image, four choices were available in the poll:
It was great! Just what I expected.
It was good, but would have liked more.
I didn't think it was that special.
I wasn't at all impressed with what was presented.
With these options in mind, and going by the visual representation of the pie chart, we can safely assume majority of those who took part in our poll were pleased with the Microsoft Windows Phone 8 launch event. Now, that's not to say those who voted 'yes' didn't have a few concerns on-mind, such as carrier availability and pricing, but 74% to 26% is a good indication.
Of the 2,500 that participated in the poll, 29% voted that the event was outstanding and was exactly what they wanted from Microsoft. The largest 44% slice of the pie believed the event to be good, but were left wanting more, 15% didn't rate the Windows Phone 8 launch much, while a mere 11% weren't impressed one single bit.
We've still got carrier announcements to completely roll out, as well as Microsoft to reveal further detail on Windows Phone 7.8, but the next version of the mobile OS has been announced and we're to take away what was presented on-stage. It's a gradual process, that's for sure, but November will prove to be a busy month with handsets making their way into consumer hands.
To conclude this poll results wrap-up, the majority of viewers were pleased with what was presented on-stage, as well as how Windows Phone 8 was launched. Should you find yourself in a position where you don't know what all the fuss is about, you may want to check out our event summary, which contains all links to information you need to know.
Windows Central Newsletter
Get the best of Windows Central in your inbox, every day!
Rich Edmonds was formerly a Senior Editor of PC hardware at Windows Central, covering everything related to PC components and NAS. He's been involved in technology for more than a decade and knows a thing or two about the magic inside a PC chassis. You can follow him on Twitter at @RichEdmonds.
I don't understand why Microsoft hasn't done anything for us wp7 users. One could argue that we were the beta testers for wp8. When we took a risk and joined a new platform with almost no apps and yet all we get is the promise of 7.8 update sometime in the future. I don't work in marketing but it would go a long way if they gave everyone with a wp7 who is under contract a free upgrade to a wp8. Just on word of mouth alone it be worth it for them. Not to mention wp8 sales.

Beta tester? i dont consider myself as a beta tester for WP8. i rly enjoyed using my first/second gen WP devices
Im under contract till march 2013 with a Lumia 800..... I just sold the phone (for 220 euros) and pre-ordered the 8S (270 euro)
who cares bout 7.8

The people who just want to keep their already awesome phone care bro. I love my Titan. I just want the new update. Heck, I'll settle for the Tango update.smh

How can fix your fingers to type, "who cares about 7.8"?! How about everyone who jumped into a Titan, Titan II or Lumia 900 on a new contract and want to keep their phones but want the new features?

dude seriously stop complaining about not being any anouncements about wp7.8 at a WP 8 launch. The name says it all, windows phone 8 launch... They will anounce details on 7.8 very soon so for the goodness sake people stop complaining and have some patience

Lol, I do chuckle when I think about that Beta Yester commercial. Who knew they were talking about their own phones and customers.

@carlosrdd
The older devices couldn't be updated to WP8 due to one very bold and major change, i.e. discarding WinCE and replacing it with WinNT kernel, which is indeed unfortunate, and reason why I sold my Lumia 800. Although they haven't totally forgotten the early adopters and will port some back via WP 7.8. Hopefully it will arrive sooner.
On the brighter side, IF this bold move by MS pays off, floodgates may open for app development on all Win8 platforms.

To better compensate us early beta testers, I think it's best they give us a discount upon purchase of a new WP8 phone. That way, they get sales while keeping WP7 users happy.

Good idea, or exchange WP7 smartphone to WP8 with some mapping (e.g. Lumia 800 owners -> Lumia 820, 900 -> 920, HTC Titan --> HTC 8X and so on).


Great idea!
I would LOVE, FOREVER, Nokia, if they would exchange my L900 with the 920 (without additional fees or 50$ not higher).
Nokia do you listen? !!

I sure do hope that Sony lets me exchange my PS3 I bought this year for the PS4 they are releasing next year, free of chage...
I hope that Ford lets me exchange my 2012 Escape I bought this year for a 2013 Escape free of charge...
I hope Panasonic lets me turn in my HD TV for the new 4k model they are releasing next year....

Unreasonable demands, except when it come to phones apparently. #entitlementCulture

@Odog4ever none of your comparisons are remotely the same. Better comparisons would be: they release the PS4 in 2007 a year after the PS3 and told you that you had to buy the new one to play new games; you weren't allowed to drive on roads in your 2012 Escape but were with the 2013 Escape; and you couldn't watch new (non 3D) TV shows unless you upgraded to the new HDTV 7 months later. The point being is planned obsolescence (and this was planned, the flagship Lumia 900 and Titan II were released 7, SEVEN months ago) could turn out to be an economic problem and this problem could be rectified with a simple discount for WP7 users to upgrade to WP8. There's NOTHING unreasonable about that. Sure this is a first-world problem but your argument doesn't mention that.

Don't agree, you can still use your L900 or Titan just as it was when it was launched, moreover, they will bring forward some of the new features (excluding those possible due to hardware limitations...). If you want the next phone, move on and pay for it... JMHO.

Actually, you are pretty much agreeing with my comparisons. You can still play PS3 games when PS4 comes out, you can still drive on roads and still watch TV. The difference is, those things didn't get usurped 7 months later. All I'm saying is I agree that it would be nice for them to offer some sort of trade in for discount program.

Do you think you will be able to play PS4 games on a PS3? Expect forwards compatibility like that is ridiculous.
Fact of the matter is your current WP7.x phone won't stop working magically when WP8 comes out. Did you not do any homework before you bought your phone? Shame on you for buying something that didn't meet your needs if that is indeed what happened. For me the the 2 yrs of updates on my Focus have been welcome editions but I was fine the first day I bought my phone. If there was something crucial missing for me I would have waited and bought another device/OS.
WP was having problems getting games and apps before. So nothing has really changed if you still need to use a WP7.x device is it (as far as not getting WP8 apps). Also as of todays date 99% of WP users are on 7.x and it will take many months before there are more WP8 user than WP7.x users.Devs will still be suporting/making WP7.x apps especially if they plan on not giving them away for free. The games weren't really coming at a good clip anyways so again nothing has really changed.
Your options are: Move to another phone platform , upgrade early, or wait till your upgrade is ready.


The exchange idea is great sounds very fair but there like a 1/10 chance they do that.

How about stop being a moaner and just sell your device and purchase WP8 Sim Free?!?

That will never happen and expecting so would unrealistic and will only set yourself up for disappointment. Technology moves fast bro and you will always be left behind at some point, please learn to understand this.

@blackprince not unrealistic as AT&T & Apple did this for many iterations of the iPhone.

Yes but even apple didnt change platforms so radically that the previous phone iteration couldnt update to the new firmware ie the 4s can run the same os as the 5. That being said I welcome our new NT kernel overlord and, will praise it with the purchase of an unlocked 920 when it is available.

I sure hell did when a celebrity like Jessica Alba took the stage! For a moment I lost my manhood.

Seriously? For a moment my manhood expressed itself boldly! JK!

Wp8 reader by seles games will replace wpcentral

I voted it was good but wanted more cause was quite dissapointed they didn't mention 7.8 once. I'll be getting a 920 early 2013 but would love to know what 7.8 has and what i'll have the next few months as i wait.

Alba wasn't in her fantastic 4 suit... :-( No really though, they've made progress with their presentation technique. They did less live demo, more following the prompt and prepared video demonstrations. It was very smooth. Nice touch with the sliding screen blocks/tiles.

it was great! different from other kinds of presentation, very family orientated feel

Sorry but no VPN support in WP8!??? :(

Wtf! No vpn support. Well my employer will never adopt it.

I've been doing IT support for 20 years. Not once has someone asked for VPN on their phone. Laptops, tablets, home computers... sure, but never a phone.
And now im rolling out remote desktop and Sharepoint solutions to replace it completely.
I understand your complaint, I'm just saying it seems overblown.

Good Messaging might be a PITA at times, but it's a usable app and gets you in your email and calendar w/o VPN.

Loved the presentation but voted for the second choice because I wanted to hear more hard data like pricing and availability for countries other than the 3 U.S. carriers. When, for instance, is it coming to Southeast Asia?!!

Why would they give pricing and availability for Southeast Asia at a US event?

It was just more of the same nothing...

Don't get me wrong I do love my lumia 900 and believe the 7.8 would suffice but as a previous Zune HD owner that was promised apps, i know how MS can just turn there backs first hand. And i do feel like a beta tester. 900 is a great phone but only if i would've waited for the 920 or even until the 900 price drop became .01 at att.

I thought it was really good :P

I expected to hear that you can now change the ringtone and general volume independently, have a system-wide explorer with Bluetooth file transfer, attach ZIP and RAR files to emails and in general hearing about how limitations have been lifted.
Microsoft is following Apple in this sense. People buy iPhones because of this Apple bubble; in their minds "Apple is always the best" not because the iPhone has "Kids Corner". Microsoft should focus its attack on the Android market instead because that would be easier to penetrate, with users who weigh their options better than the Apple users.
The painful thing is, adding 2 or 3 simple features like USB On The Go and a built-in explorer app would sway many Android users because they won't feel "limited" anymore but Microsoft refuses to do this. It's not like these simple features are going to mess with the valued simplicity of the OS. It really hurts me!

I disagree 100% because the average user could care less about USB on The Go or even Bluetooth file transfer and care even less about zip or RAR files. I have spent a lot of time asking everyday people what they use their phones for and also a lot of time just watching how people use their phones on public buses and trains. From what I have heard and seen with my own eyes there is only two things that normal people do with their phones (normal people to me are not the type of people that read these forums and just want a mobile phone) are Facebook and Twitter. So why do people pick other OS's over wp? The answer is simple, Marketing and sells reps. Lets take the HTC Arrive on Sprints for one, it had the highest customer rating of any phone they sold but still Sprint dropped the phone.
Also they never even once advertised the phone or had a display in any of the Sprint locations I had visited.
The problem with WP is not the phone at all it is all marking and perception. When I say perception I mean the way the sells reps fell about the phone so therefore they never pushed the platform.
I know you and maybe many others will disagree with what I have to say but that is fine. I care about wp because I think it is by far the best operating system but to be honest I don't really care if it is ever the top selling phone because why is that my concern? I don't care about the amount of apps it has because if you look at my phone today I only have 11 apps on my phone that wasn't preinstalled. I also know like I stated above the normal consumer walk into a store just looking to get a phone and most don't care what phone they come out with. That is the main reason Android can sell so many of their low end phones. People are not walking into AT&T or Verizon and asking for a LG Spectrum or any other LG phone (I am not talking about the nexus).
AgentTheGreat I would bet you any amount of money if you took the time like I did and ask random people what they use their phones for you would be hard pressed to find even one that say anything about RAR or Zip files. And then next ask them if they have heard of WPC website and again the average person has no idea about this website, that is not a knock on WPC at all it is just reality.

I agree with parts of your argument. The perception thing was a good point. Who, do you think, steers those general users towards Android and iPhone? Well, to be fair many already know the iPhone and just want it when they go to a store. But other than that, the many sales reps are either geeks like us or geek wannabes. They recommend Android to the consumer exactly because of the perception, which comes from those exact features.
Many consumers ask their geeky cousins or friends about what phone to get. Windows Phone doesn't have either the feaures of Android or the maturity of the iPhone. My point was, that with little cost, Windows Phone could be on par with Android but MS refuses to pay that little cost and introduce the features that could keep us geeks happy too.
Let me give you an example: I wanted to get my mom a Window Phone (7.5) but I knew that where I live, sending and receiving photos and music over Bluetooth is a huge deal. She loves taking pictures and sending them to my dad, and no, here in the Middle East 3G and LTE networks are not an option. MMS doesn't really work and if it does, we have to pay a lot for it. So when you do have a Bluetooth radio, and every feature phone since 10 years ago has supported file transfer over it, could you explain to me why shouldn't an advanced OS allow file transfers?
I should mention that my mom doesn't use a PC so all her photos would get stuck in her phone until I came along with my laptop and did something. So you see? Those little things count. The reason why desktop Windows is so popular around the world, is the same reason why feature phones are popular. They are dynamic and flexible. They have almost everything feature-wise. They provide alternatives. It's the same reason why Android is so popular where I live. If I told my friend to get a Windows Phone, he'd be pissed at me because the phone wouldn't have the basics he had with a cheap Android phone. Locking people in some form of life style maybe an option in the U.S. and Europe, but not anywhere else and that's what MS needs to see. That's why many people here still prefer Windows Mobile because it is as flexible as it gets. I understand that level of flexibility creates a problem; the problem we have with Android. What I am saying is if MS covers the basics that don't interfere with the whole idea of Windows Phone - like an explorer or bluetooth file transfers, then many more people around the world feel they can count on Windows Phone. You don't know how bad it is here, when a friend says "can you do that?" and you have to say "no, my phone doesn't support it". It's *bad perception*.

I disagree 100% because the average user could care less about USB on The Go or even Bluetooth file transfer and care even less about zip or RAR files. I have spent a lot of time asking everyday people what they use their phones for and also a lot of time just watching how people use their phones on public buses and trains. From what I have heard and seen with my own eyes there is only two things that normal people do with their phones (normal people to me are not the type of people that read these forums and just want a mobile phone) are Facebook and Twitter. So why do people pick other OS's over wp? The answer is simple, Marketing and sells reps. Lets take the HTC Arrive on Sprints for one, it had the highest customer rating of any phone they sold but still Sprint dropped the phone.
Also they never even once advertised the phone or had a display in any of the Sprint locations I had visited.
The problem with WP is not the phone at all it is all marking and perception. When I say perception I mean the way the sells reps fell about the phone so therefore they never pushed the platform.
I know you and maybe many others will disagree with what I have to say but that is fine. I care about wp because I think it is by far the best operating system but to be honest I don't really care if it is ever the top selling phone because why is that my concern? I don't care about the amount of apps it has because if you look at my phone today I only have 11 apps on my phone that wasn't preinstalled. I also know like I stated above the normal consumer walk into a store just looking to get a phone and most don't care what phone they come out with. That is the main reason Android can sell so many of their low end phones. People are not walking into AT&T or Verizon and asking for a LG Spectrum or any other LG phone (I am not talking about the nexus).
AgentTheGreat I would bet you any amount of money if you took the time like I did and ask random people what they use their phones for you would be hard pressed to find even one that say anything about RAR or Zip files. And then next ask them if they have heard of WPC website and again the average person has no idea about this website, that is not a knock on WPC at all it is just reality.

I wish they had more features to announce. I wish the official "We built it for" ad had Jessica in the busy mom slot, like it did during the presentation (no offense to the busy mom actress). But I have to say I'm glad to say I didn't wince while Joe delivered his generally polished presentation. Steve's presentation could have used a little spot and polish, though--felt a little overbearing compared to Joe.

Is it possible the results were skewed a little because AT&T was asleep at the wheel w/ no dates or prices?

I thought the presentation was excellent and I loved the parents angle because it's something that needed to be addressed for phones, not that I am the type to hand a $500 phone to a child. ;-). It was what I expected and I'm not exactly upset about the 7.8 update as it will come when it comes, I still have a kick-butt phone in the meanwhile. Also not upset at all by not getting full WP 8 because when a company does give out full OS updates, I realize it's a bonus and not an obligation.

I liked it but Day 1 of BUILD '12 was way more awesome and informative.

Day one of Build 12 was much better. The speakers was more confident and has a better voice. The presentation had more excitement and gave a better impression of the major improvements and maturity of the OS while keeping the audience captivated. Thanks to WP Central for the links to both live events.

Why are you guys expecting 7.8 news during a w8 lunch 1st to the people with older phones i get that you love them i held on to my palm pre into this year but how long did you think you would be keeping it when you heard wp8 was coming i knew it was coming when i got my 900 i made that decision and i have way more room to cry about them not making my phones hardware compatible with w8 but i still dont cry about every little thing wp wont be big if we just beg for updates and free phones we need to buy new phones!!! Just picture your at the mall airport or wallmart and when people pull out their phones there are more wp then androids and iphones choose to support wp or switch to something else cause i dont see any other os handing out coupons well i got one for my touchpad cause of my pre and you know how that ended

I thought it was great though it could have been much longer. Jessica Alba needs to be integrated into the marketing program and commercials. Steve Ballmer needs to spend less time talking. Overall good momentum.

Less Steve. More Jessica. Works for me!

It was clearly obvious from the presentation that they are trying to capture 'moms' with the wp8 phone. the two biggest focuses were on steve's kids and watching them fumble through a demonstration of kids corner, and the rather painful onstage time of jessica alba. i understand that have to find the right spokesperson to promote the os and phones, but could they have picked a more worse candidate than her? Saying 'um' way to many times, when asked to comment what she liked about the os, she said the camera, babbling, stumbling, etc. it was painful to watch, just because it really looked as if she didnt actually rehearse for this, and because shes so cute and pretty, she gets a pass for that. wow.
microsoft still does not know how to do keynotes properly. as much as i hate to admit it, you have to look to apple who has the best ones...always. their consistency is something to be proud of. other incorporate too much copy, too many presenters, too many transitions, and cheesy cheesy attempts at being different.
the presentation was not as great as the poll suggests.

The presentation was very good but the content was very sad considering the secrecy of this launch. I thought they would show a lot more integration with the gaming console plus I expected a smart glass demo. This was not worth holding up the sdk release for. I think a 2 month head start on app developing would have been more beneficial to the platform rather than trying to keep kids corner a secret. My 2 cents.

Tony

<p>So Rich, you see &quot;It was good, but would have liked more.&quot; as a positive? I would view that phrase as a nice way to say &quot;It works, but I&#39;m not impressed, La ti da.&quot; so when I look at the same pie chart I see almost 3/4s of the people polled were not satisfied with the product. Microsoft&#39;s simply lost their edge, and needs to find their way again (not coat tail them selves after another popular smart phone manufacturer&#39;s business model.)</p>