Windows Phone 8 updates come to SoundHound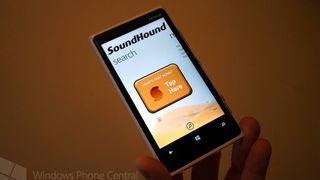 Microsoft kindly built in music recognition into Windows Phone a while back but for the power user they generally need to seek other solutions. One such solution is the SoundHound instant music and discovery service.
With advent of Windows Phone 8 we got some nice new features and many apps have been picking up updates to take advantage of them. SoundHound picks up improved search, fast app resume, enhanced Live tiles and more. Read on to check out the changes.
For those of you that are new to this type of app, essentially it allows for any track or even humming to be identified by the service. If it can determine what the track is it will spit out the song and artist, Windows Phone has this built in but services like SoundHound and Shazam potentially do a better job and offer a richer experience such as the song lyrics and so on.
The update released today sees the following changes:
Improved search performance
Fast app resume and switching
Integration with music app and player controls for song previews
Live tiles and multiple tile size support
Multiple screen size support
Voice command integration - launch SoundHound with your voice
The app certainly includes the double wide tile and fast app resume but in testing the app wasn't able to do the job of actually matching songs. Firstly I tried some typically obscure electronica and failing that switched to some very well-known pop music, not one match. The Windows Phone built in matching found the obscure electronica right off and so did Shazam. Also if there are voice controls built into this update they might be US only as I do not see them here in the UK.
**UPDATE**
After checking with the helpful folks at SoundHound looks like it was my obscure music causing the problems and some gaps in their database? I can confirm it all works well, sorry for any confusion.
The app is free and ad supported for unlimited matches but that could be a sticking point..
We certainly welcome the addition of some Windows Phone 8 features but have concerns that all might not be well with this iteration. We'd like to hear from you folks if you have tried the app, all working for you? Let us know in the comments below. In the meantime we'll try to contact the developers to see if there is an issue with this release.
Download the app in the Windows Phone Store here or scan the QR code below for the same result.
Get the Windows Central Newsletter
All the latest news, reviews, and guides for Windows and Xbox diehards.