Windows Phone 8 updates come to SoundHound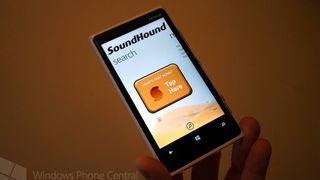 Microsoft kindly built in music recognition into Windows Phone a while back but for the power user they generally need to seek other solutions. One such solution is the SoundHound instant music and discovery service.
With advent of Windows Phone 8 we got some nice new features and many apps have been picking up updates to take advantage of them. SoundHound picks up improved search, fast app resume, enhanced Live tiles and more. Read on to check out the changes.
For those of you that are new to this type of app, essentially it allows for any track or even humming to be identified by the service. If it can determine what the track is it will spit out the song and artist, Windows Phone has this built in but services like SoundHound and Shazam potentially do a better job and offer a richer experience such as the song lyrics and so on.
The update released today sees the following changes:
Improved search performance
Fast app resume and switching
Integration with music app and player controls for song previews
Live tiles and multiple tile size support
Multiple screen size support
Voice command integration - launch SoundHound with your voice
The app certainly includes the double wide tile and fast app resume but in testing the app wasn't able to do the job of actually matching songs. Firstly I tried some typically obscure electronica and failing that switched to some very well-known pop music, not one match. The Windows Phone built in matching found the obscure electronica right off and so did Shazam. Also if there are voice controls built into this update they might be US only as I do not see them here in the UK.
**UPDATE**
After checking with the helpful folks at SoundHound looks like it was my obscure music causing the problems and some gaps in their database? I can confirm it all works well, sorry for any confusion.
The app is free and ad supported for unlimited matches but that could be a sticking point..
We certainly welcome the addition of some Windows Phone 8 features but have concerns that all might not be well with this iteration. We'd like to hear from you folks if you have tried the app, all working for you? Let us know in the comments below. In the meantime we'll try to contact the developers to see if there is an issue with this release.
Download the app in the Windows Phone Store here or scan the QR code below for the same result.
Windows Central Newsletter
Get the best of Windows Central in in your inbox, every day!
Is the song search from SH better than the built-in search?

I tried SH, Shazam, built-in
what I find is that there are some songs that one won't find and the other can, Shazam seems to be doing the worst right now though, I switch between SH and built-in every so often and especially when one can't find it the other one will almost do the trick (not that I use it that much... not knocking Shazam either, just my experience)

True but I like how SH tracks the lyrics while the singer is singing the song. Great for singing along while listening to the singer! I'm a frustrated singer LOL!

Bing audio search is not available in my WP8 handset, is there any way to fix that?

How do you change location?

I tried changing it to UK and US, but that didn't help.

Change browser language to US English

I had browser language on UK English all the time, no music search, now I have changed it to US English, no music search. As I've written before, this feature was available on Windows Phone 7 for me.

It's only available if your Microsoft account's region is set to a specific region that supports it (US etc.). This really should have been changed with WP8 though, since the music store is available in a lot more countries now.

Sure it isn't just a simple change of browser language?

I don't think so, I just updated and I know I have mine set to US and still it's not showing.

I've had incredible success with Soundhound so I'm not sure exactly what you were doing wrong. Shazam is useless for me and the inbuilt detection is alright.
Soundhound picks up on music over a ton of ambient noise, picks up on all sorts of obscure music etc. Couldn't believe the humming detection.
Overall on WP ... Soundhound > All
The integrated one does, naturally, start quicker which may be necessary if it's a song on an ad, so that's okay. otherwise, SH!!!!!

I have to agree on WP Soundhound is a better choice than Shazam, it identifies songs faster and more accurate than Shazam.

Yeah, soundhound is waaaay better than shazam

I was able to match the two songs I tried. The voice command is useless... "Soundhound launch" which just opens the app, something we can do for any app already lol

I use the majority of voice commands in pair with my car phone kit. This will make a great addition to my commands as I normally tag songs for later downloading

It'd be nice if it automatically started tagging when you launched it though. It does the same thing as the standard "open Soundhound" would have done. Unless I am mistaken

You can say "Soundhound, search" and it will open the app and start tagging automatically. Not sure what other commands it will recognize.

The live tile is terrible: in low-res and all pixelated and grainy.
Meh...

Got the update in the UK. SH recognises singing and humming which Bing doesn't do so it's useful to have both (or three in my case, including Shazam).

The Bing music search was on my Windows Phone 7 devices, but since I have Windows Phone 8 it's just gone in my area. Don't ask me why, Microsoft's way to show its love for other countries I guess. But I have to rely on software like this.

Used SoundHound on my L900 before, worked pretty well on reconizing some indie songs.

Nice! I love using SoundHound since my days with Android. In case you care, I also got updates for PhotoFunia, Fhotoroom and Phototastic. The last two seem sizeable improvements.

Soundhound's been a solid app and glad to see its continued to be supported

Haven't compared this version to others yet, but I have run the previous version of Sound Hound up against the same app on another platform (Android) by having two phones side by side. The Android phone found the songs while the WP8 phone did not. I have also compared it to Shazam on my Lumia 920 and Shazam had a much better hit rate. So after switching from Shazam to Sound Hound on my old phone, I am now ready to switch back.
Also my saved searches were lost in this update, although I only had about three since I haven't gotten it to find much of anyting except very mainstream stuff. Having said that I'm keeping Sound Hound to see what future updates will bring.

Robert, Bing or shazam can't even show real time lyrics! No more scrolling lyrics as you hear music!

Anyone know the list of voice commands? So far I've found that "Soundhound, search" works and starts the app in tagging mode automatically.

They should add a voice command from the start screen like "soundhound listen"

Just kidding it already exists, that's pretty awesome

Does not identify finnish songs. Otherwise very good and functional.
Video - SoundHound VS Shazam:
http://youtu.be/YQKY4xhBkIk

I dont get the live lyrics after i upgraded to this version. why is this happening?
Windows Central Newsletter
Thank you for signing up to Windows Central. You will receive a verification email shortly.
There was a problem. Please refresh the page and try again.